Projector-based home theaters can be ideal for gamers, giving you a massive screen that lets you really get immersed in the world. A projector with a low input lag is necessary to get an immediate picture response. You also need a projector with a good resolution and contrast for a sharp, clear image. Looking at the BenQ HT2150ST vs Optoma GT1080Darbee you'll see both meet these criteria, and indeed both are designed with gamers in mind.
In our opinion, the Optoma GT1080Darbee is the better option for most users. >>> Check price on Amazon It outpaces the BenQ on pretty much every point. Let's break them down feature by feature to show you what we mean.
BenQ HT2150ST vs Optoma GT1080Darbee Side by Side
| | BenQ HT2150ST | Optoma GT1080Darbee |
| --- | --- | --- |
| | | |
| Measurements | 4.80" x 14.90" x 10.90" | 3.50" x 12.37" x 8.80 |
| Resolution | 1920x1080 | 1920x1080 |
| Brightness (Lumens) | 2,200 | 3000 |
| Contrast Ratio | 15,000:1 | 28,000:1 |
| Input Lag | 16ms | 16ms |
| Lamp life (Hours) | 7,000 | 8,000 |
| Built in Speakers | 20W | 10 W |
| Price | BHPhotoVideo.com | Check on Amazon |
Brightness
A brighter lamp gives you a more visible, sharper image. It's an especially important statistic to look at if you'll be using it in a room with ambient light sources you can't control, like large windows.
The BenQ has a lamp that puts out 2,200 ANSI lumens. That's on the lower end of the acceptable range for a home theater and will require a dim viewing room. The Optoma Darbee has a brightness of 3,000 ANSI lumens, which will serve you better if it has to compete with other light sources.
Brighter projector: Optoma 1080 Darbee
Throw ratio
The size of a projector's image changes depending on how far it is from the screen. The further away it is, the larger the picture will be. Not all projectors are created equal in this regard. The shorter the throw ratio, the less distance you need to get the same image size.
The BenQ HT2150ST has a variable throw ratio of .69 to .83. This is pretty good, giving you a 100" screen from 3-4 feet away. The Optoma 1080 Darbee has an even shorter throw ratio, though, at .49, making it even more flexible for small or oddly-shaped spaces.
Shorter throw ratio: Optoma 1080 Darbee
Lag latency
The image signals on a TV screen don't have to go very far, so they appear on the screen basically instantaneously. Older-model projectors often had quite a bit of delay, though, which is annoying for basic users and makes them unusable for gaming.
Both the BenQ and the Optoma have a relatively low lag latency. The Optoma is superior in this regard, however, thanks to its Enhanced Gaming Mode. This gives you a response time of only 16ms, one of the fastest you'll find in home theater projectors.
Most responsive projector: Optoma 1080 Darbee
Image adjustment options
You can always move a projector to change the image angle or size, but some spaces limit your placement options. Many projectors offer further controls to adjust the image size or shape without moving them, and that makes it easier to find your ideal placement.
The BenQ HT2150ST does give you a 1.2x zoom so you can tweak your screen size after installing the projector. The Optoma 1080 Darbee takes it one better and also gives you keystone adjustment. This lets you install the projector slightly off-kilter without skewing or distorting the image.
Better image adjustment options: Optoma 1080 Darbee
BenQ HT2150ST vs Optoma 1080Darbee: Full Reviews
BenQ HT2150ST
T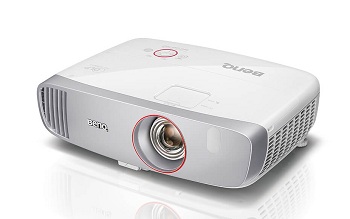 he BenQ HT2150ST is a flexible and powerful projector that's ideal for gaming. The short throw ratio and zoom option make it easy to set up and get to playing. It's extremely responsive, as well. This kind of smooth on-screen action is a must for gaming, but it's also handy when you're navigating menus to choose movies, and other home theater uses.
The brightness of 2,200 ANSI lumens is plenty for most home theater set-ups, especially considering the short throw ratio. It might look a bit washed out in a well-lit space but you won't need a completely dark room. You'll be impressed by the overall quality of the image. The contrast ratio of 15,000:1 means you'll get true, deep blacks. The Rec.709 color wheel gives you the same vibrancy and accuracy for all the colors on the screen.
As a home theater projector, the BenQHT2150ST is missing a couple features you'd expect in the price point. It has the basic native resolution of 1080p, but can't view 4K UltraHD content or 3D content. It also has somewhat limited connections, with just 2 HDMI ports. If you just need it for gaming, though, it's an excellent option to get big screenplay at a very reasonable price.
Pros
Excellent picture quality
High contrast ratio and color accuracy
Easy to set up and use
3-year limited warranty covers parts and labor
Screen up to 100" from just 3 feet away
Cons
Won't work as well in brightly-lit rooms
No 3D capability
Connections a bit limited
---
Optoma GT1080Darbee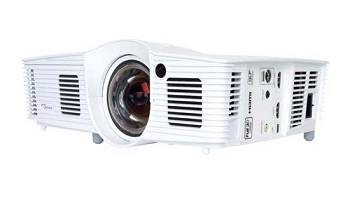 At first blush, the Optoma GT1080Darbee appears remarkably similar to the BenQ above. They're nearly identical in price, and both give you a short throw ratio and a low lag time. As they often say, though, the devil is in the details, and it's in those small details that the Optoma Darbee proves itself a better projector than the BenQ.
We'll start with image quality. The contrast ratio of 28,000:1 produces purer, deeper black levels than you'll get from even most TV screens. This is paired with an even brighter lamp than you'll find on the BenQ. At 3,000 ANSI lumens, it's bright enough to cope with even moderate to high levels of ambient light without losing clarity.
There are also lots of features on the Optoma Darbee you won't find on the BenQ. It has full 3D compatibility for both movies and games. It also comes with keystone adjustment, which gives you more flexibility in terms of projector placement. Finally, the advanced Gamer Mode is a handy feature, giving you the lowest lag time on the market at 16ms.
All of these extras make the Optoma GT1080 Darbee an exceptional value, considering you won't find some of these features on projectors that cost a grand or more. Since it's just as good as a home theater projector as it is for gaming, it's a versatile option, too, that will give your whole family hours of big-screen fun.
Pros
Includes a keystone adjustment
Bright enough to use in well-lit spaces
Extremely high contrast ratio
Enhanced Gaming Mode for ultra low lag
Capable of playing 3D content
On-board wireless casting and screen monitoring
Cons
Lamp life a bit shorter on average
---
User Impressions
Both of these projectors are consistently well-reviewed. Users of the Optoma 1080 Darbee did report some rainbow effect on their screen, something not reported by users of the BenQ HT2150ST. If you're sensitive to these kinds of screen effects, this could be enough to make you go with the BenQ, especially if you don't need features like 3D or keystone adjustment.
Conclusion
Both the BenQ HT2150ST and the Optoma 1080 Darbee are short-throw home theater projectors with a relatively low lag and high image quality. Both of them would be appropriate options for both gaming and watching movies. As you can see from these reviews, though, the Optoma 1080 Darbee is simply the superior machine. We'd recommend it without qualms to anyone who wants to set up their own projector-based home theater. >>> Check current price on Amazon
Really, though, it's all about finding the right projector for your space and needs. Hopefully, this article has helped you figure out the difference between these two models! Whichever way you go, you're getting a great unit at an exceptional value.