BenQ is often on the forward edge of projector technology, so it stands to reason they released two of 2018's best 4K UHD projectors. The TK800 is the second one they released and is designed to provide a cinema-quality 4K viewing experience in even rooms with moderate ambient light levels. UltraHD technology has been around for a little while, but it's still new enough it's not cheap. The BenQ TK800 comes in at just over $1,000—about twice as much as most of their 1080p projectors. >>> Check current price on Amazon The big question I'm sure you're asking is whether the TK800 is enough better than its predecessors to justify the hike in price. Read on below the BenQ TK800 review to find out what we decided.
BenQ TK800 Review: Main Characteristics
| | BenQ TK800 |
| --- | --- |
| | |
| Measurements | 5.31" x 13.90" x 10.71" |
| Resolution | 3840x2160 |
| Brightness (Lumens) | 3,000 |
| Contrast Ratio | 10,000:1 |
| Throw Distance | 3.8' - 32.1' |
| Lamp life (Hours) | 10,000 |
| Built in Speakers | 5W |
| Price | Check on Amazon |
Design
The BenQ TK800 certainly has a sleek and modern look to it. It's relatively slim and compact, weighing in just under 10 pounds. That's not exactly what you'd call portable, but it won't be difficult to fit into most home theater layouts, and the front-facing fan is relatively quiet and unobtrusive.
Like most modern projectors, the BenQ TK800 comes with 2 HDMI ports. There are USB connections, but those are more for the power than content. This is plenty if you mostly plan to use it for a game system or a streaming stick, but it's a bit limiting as far as getting content from computers, phones, and tablets.
Design features:
Weight: 9.2lbs
Dimensions: 13.9" X 10.7" X 5.3"
Connections: HDMI (2)
Set-up and placement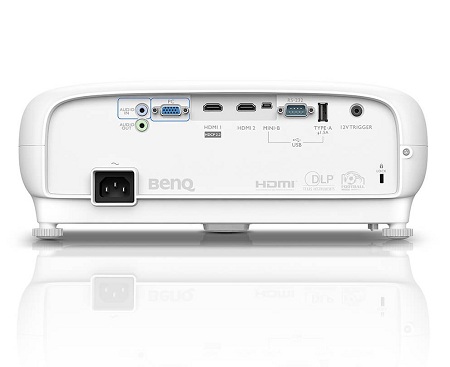 Setting up the projector itself is a breeze. It's plug-and-play, and comes with an image-based start-up guide that's easy to follow. You can use either the remote or the on-projector controls to navigate the menus, adjust the picture, or change your viewing mode. Basically anyone who can use a TV can use this projector.
The throw ratio on the BenQ TK800 is relatively standard. You'll need about 11 feet between the projector and the screen to get a 100" screen, making it suitable for medium to large rooms. The inclusion of vertical keystone correction does give you the option of a ceiling-mounted set-up. Combined with the high lamp brightness, this makes it ideal for living rooms and family rooms—relatively large, open spaces. For smaller spaces and more complicated layouts, you might want to look for something with horizontal keystone adjustment or a shorter throw ratio.
Set-up features:
Keystone correction: Vertical
Zoom: 1.2x
Throw ratio: 1.47-1.76
Max screen size: 200"
Image quality
This is where the BenQ TK800 really shines. The picture you get with this projector is absolutely stunning, even in relatively well-lit rooms. It's incredibly life-like, a combination of the sharpness of the picture and the accuracy of the colors. You'll especially notice this watching live sports—it feels like you're right there on the field with the players.
Along with a full range of image adjustment options, the BenQ TK800 has five pre-set picture modes: Bright, Cinema, Football, Sport, and Vivid TV. The sharpness of the picture in Sport Mode is especially impressive, and it stays sharp no matter how large the image gets. Switch to Cinema Mode and you'll turn your living room into a true home movie theater. >>> Learn about the never, the TK800 model here
Image quality features:
Resolution: 4K UHD
Brightness: 3,000 lumens
Color: 92% Rec. 709
Pros
4K UHD resolution
Colors are vibrant and accurate
High brightness of 3,000 lumens
Five picture modes for easy image optimization
Includes 3D capability
Cons
No horizontal keystone adjustment
Relatively high price point
Connection options limited to HDMI (no on-board Wi-Fi)
Live Sports in 4K! BenQ TK800 Home Entertainment Projector
Customer Impressions
Pretty much everyone is blown away the first time they see this projector in action. It's definitely one of the best projectors we've seen on the consumer market in that regard, especially when you're talking about this mid-point price range.
Having said that, it's not perfect. It's less flexible in terms of placement than similarly priced projectors from Epson and Optoma, and some customers who made the switch were forced to adjust their viewing room layout.
Since the BenQ TK800 was only released in 2018, there's no knowing yet about its long-term durability. Users who bought it in the initial release report it's still going strong, though, and the lamp has a stated life of over 10,000 hours. Given the reliability of BenQ projectors overall, it's reasonable to assume this projector will give you many years of viewing enjoyment before it needs any repairs.
So is the BenQ TK800 worth the price?
In our opinion, the BenQ TK800 is a great value. Any 4K projector is going to carry a higher price tag, but we've honestly seen 1080p projectors sell for not much less. The picture on the BenQ TK800 is crisp, clear, and definitely worth spending a thousand dollars to get.
The only reason we wouldn't recommend the BenQ TK800 is if you have space limitations. The good news is it's bright enough you can put it right in your living room without making any adjustments to the lighting.  Overall, while the BenQ TK800 isn't perfect, the overall quality makes it well worth the investment if you have $1,000 in your budget for a projector. >>> Check current price on Amazon