The JVC DLA-NX5 is a powerful projector built to provide theater-quality images in a dedicated home theater. With a native 4K resolution, true HDR, and a high contrast ratio, it can deliver a picture to satisfy even the most critical movie buff.
While it's definitely a high-performance machine, the JVC DLA-NX5 also costs a lot compared to other home theater projectors. (>>>Check it's pricing on Amazon) So is it worth the investment—and just what kind of user was the JVC DLA-NX5 designed for? Let's dig into the specs to find the answer.
JVC DLA-NX5 Review – Main Specs:
| | JVC DLA-NX5 |
| --- | --- |
| | |
| Resolution | 4K Ultra HD |
| Brightness (Lumens) | 1,800 |
| Contrast Ratio | 40,000:1 native (400,000:1 dynamic) |
| Throw ratio | 1.26-2.75:1 |
| Screen size | 60"-200" |
| Input lag: | 40-50ms |
| Price | Check on Amazon |
Set-up and Installation
The JVC DLA-NX5 is a standard-throw projector. This means you'll need a large room to get a big screen—as much as 20 feet or more if you want the full 200" image it's capable of. That tighter throw ratio has its advantages, however, keeping the picture clearer and more detailed at all screen sizes.
At a weight of nearly 45 pounds, the JVC DLA-NX5 is a hefty projector. It's designed to be permanently installed in one room, not taken from room to room or used outdoors. The higher weight may also be a concern for ceiling-mounted set-ups. It's not a projector you'll want to try installing by yourself, and you'll need to make sure it's screwed into a ceiling stud to avoid falls and damage.
Aside from its weight, the JVC DLA-NX5 is relatively easy to set up. It has a dedicated Installation Mode that lets you manage 9 key image adjustment settings in one convenient menu. As far as connecting content sources, you get two HDR-enabled HDMI ports.
Pros
Native 4K resolution
Supports multiple 3D formats
Easy to set up and install
Smooth action and movement with Motion Enhance feature
Auto Tone Mapping optimizes picture settings in real time
Cons
Not designed for multi-room use
Relatively low lamp brightness
Picture Quality
You'd be hard-pressed to find a better picture quality outside a movie theater than what you get with the JVC DLA-NX5. It starts with true HDR10 compatibility with 10-bit color depth. That translates to over 1,000 different shades, resulting in vibrant and true-to-life color in every frame. In addition, the JVC DLA-NX5 uses an Auto Tone Mapping technology that adjusts the image based on mastering information for the most accurate picture possible.
The contrast ratio of the JVC DLA-NX5 is equally impressive. You'll get deep blacks with equal detail to the brighter areas of the screen. This is also a great projector for sports, action movies, and other fast-paced content. There's no motion blur, even at the highest definition and screen size.
As for the resolution, the JVC DLA-NX5 is impressive even compared to other 4K projectors. (>>> Find comparison vs Sony VPL VW295e here) It combines native 4K with a high-definition lens and a high frame compiling speed. Even 3D content is remarkably sharp and clear, and that's not something all home theater projectors can boast.
Ease of Use
One problem with many high-end home theater projectors is that they're designed for A/V geeks—in other words, not very easy for the average layman to use. The menu layout of the JVC DLA-NX5 is comparatively intuitive, and the included remote is functional, if not exceptional.
The ability to save picture presets is another convenience function of the JVC DLA-NX5 that's worth noting. You can save up to 10 image setting combinations and call them up easily when it's time to switch. That saves a lot of time when you're switching from games to TV to movies and want to have the perfect picture on each.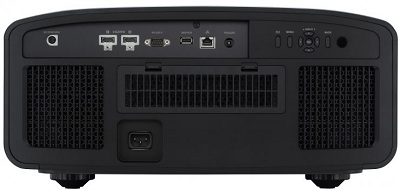 Can gamers use the JVC DLA-NX5?
The input lag of the JVC DLA-NX5 is around 40-50ms in Low Latency Mode. While competitive gamers prefer an input lag lower than 30ms, this is within the acceptable range for most gamers, even high-speed, multi-player, and graphic-intensive games. If you are searching for a great gaming projector check this review.
The Bottom Line
The JVC DLA-NX5 isn't for everyone. It's best utilized in a dedicated home theater space—in other words, a large room with limited lighting to interfere with the lamp. In that application, it's arguably the best projector you can buy. (>>>Check it's pricing on Amazon)
Really, it comes down to what you're looking for. If you want a projector to replace the TV in your living room, you can find models that cost half as much and will work much better. If you already have a dedicated home theater, though, the JVC DLA-NX5 is worth the investment. It's easy to set up and use, and you won't find a better picture on the home theater market.
REFERENCES AND FURTHER READING: