Laser-based projectors as a group have significant advantages over their lamp-based predecessors. They typically have a better resolution and picture quality, first of all, along with an impressively short throw distance for more installation flexibility. The flip side of this is that laser projectors carry a higher price tag, leading many home theater consumers wondering if they're worth the investment.
This LG HU85LA review sets out to answer that question. the LG HU85LA is certainly not cheap (>>> Check its pricing on Amazon). Let's break down the features and functions in more detail so you can decide if this high cost is justified for your home theater.
LG HU85LA Review of Features:
| | LG HU85LA |
| --- | --- |
| | |
| Resolution | 4K Ultra HD |
| Brightness (Lumens) | 2,700 |
| Contrast Ratio | 2,000,000:1 |
| Throw Distance | 1'3" – 1'7" |
| Screen size | up to 120" |
| Input lag: | 50-55ms |
| Price | BHPhotoVideo.com |
Picture Quality
The LG HU85LA has a native 4K UltraHD resolution for the sharpest and most detailed picture possible. This clarity is maintained at all image sizes. Combined with this high resolution is LG's TruMotion video processing, which makes the on-screen movement noticeably smoother than other projectors, with absolutely no motion blur.
The color accuracy of the LG HU85LA is equally top-notch. Modifications to the laser technology widen the color gamut beyond what you get with Rec. 709. Since there's no color wheel involved, you won't have to worry about hot spots, rainbow effect, or other visual inconsistencies. The HG85LA also uses dynamic tone mapping, optimizing the color and quality of every single frame. Find our top laser projector picks here: https://projectortop.com/best-laser-projector/
Normally, a brightness of only 2,700 lumens would be concerning. The ultra-short throw helps make the most of the lumens provided, though. You can watch the LG HU85LA day or night without worrying about washout (though you'll still want to close the curtains on sunny days).
Set-up and Installation
For the most part, setting up the LG HU85LA is a breeze. It can be placed either in front of or behind the screen, and the throw distance is measured in inches rather than feet. This eliminates the need for complicated ceiling-mounted set-ups.
Now the LG HU85LA doesn't include common image adjustments features like lens shift, zoom, or keystone correction. It seems like LG thought these features unnecessary, given the ultra-short throw—and, for most people, they're right. Some users do report having difficulty using the 12-point Adjustment function of the LG HU85LA, though, especially as the screen gets larger.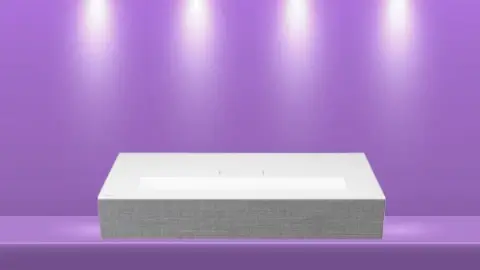 Pros
Smart TV features, including magic remote and ThinQ AI
Built-in compatibility with Google Assistant
Ultra-short throw ratio gives you a 120" screen with mere inches of distance
Class 1 laser is bright with vibrant colors
Supports Bluetooth for connecting external speakers
Can be used in moderate light conditions without a problem
Cons
Lack of lens shift can make picture adjustment difficult
Smart TV interface lacking some popular apps (YouTube, etc.)
Built-in sound is a bit weak
The LG HU85LA has the connectivity to fit seamlessly into any home theater set-up. It has dual HDMI ports along with 3 USB ports. Bluetooth support makes it easy to pair speakers and allows Miracast streaming from smart iOS devices. The only major content source the HU85LA doesn't work with easily is the Xbox One—you'll need to tweak the settings on both the projector and the gaming system before they'll work together.
Smart Features and Usability
The HU85LA comes with LG's AI ThinQ technology, which includes Google Assistant compatibility for easy smart home integration. For navigation, it uses the LG Smart TV interface, which you can control using the included magic remote. This mostly eliminates the need for streaming sticks, though there are some notable gaps in the app support, such as the YouTube app.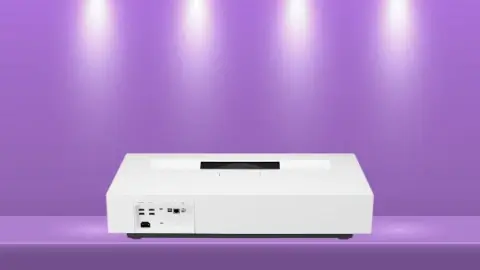 Gamers will appreciate the LG HU85LA's performance, as well. The input lag is around 55ms—not the lowest on the market, but low enough for even multi-player and graphic-intensive games.
The Verdict of LG HU85LA Review
There's no denying the LG HU85LA is a powerful projector. Looking just at the stats, it's a no-brainer. The native 4K resolution and advanced color processing combine for an exceptionally clear, vibrant image. It's also easy to set-up, includes an array of smart features, and has a low enough input lag for most gamers.
If you're looking for the best projector money can buy, the LG HU85LA is worth the high price tag (>>> Check its pricing on ProjectorScreen). Having said that, you can get a native 4K resolution and a short-throw ratio for half the cost from other manufacturers. Buyers on a budget will likely find it within their price range, but if you have the money to spend, you won't be disappointed by the performance of the LG HU85LA.
REFERENCES AND FURTHER READING: