The LG HU85LA and the Optoma CinemaX P1 are two of the most impressive laser projectors on the current market. Comparing the LG HU85LA vs Optoma P1, they seem very similar at first glance. Both offer improved color accuracy and stunningly sharp 4K resolution. So where do they differ—and which one is better?
When we looked at all the factors, the LG HU85LA is the better projector by a hair—but we'd likely buy the Optoma CinemaX P1. >>> Check price on Amazon Why the discrepancy? Let's look at key features that differ between the LG and the Optoma before we dive into the full reviews.
LG HU85LA vs Optoma P1 Side by Side Comparison:
| | LG HU85LA | Optoma P1 |
| --- | --- | --- |
| | | |
| Resolution | 4K | 4K |
| Brightness (Lumens) | 2700 | 3000 |
| Contrast Ratio | 2000,000:1 | 1,500,000:1 |
| Throw Ratio | .19:1 | .25:1 |
| Screen size | 90" - 120" | 85"-120" |
| Input lag | 50-60ms | 55ms |
| Price | BHPhotoVideo.com | Check on Amazon |
Throw Ratio
Both the Optoma and the LG have an ultra-short throw ratio. This means both of them can be placed within just inches of the wall and still give you a large picture. The difference between them is slight but noticeable. The LG HU85LA should be placed 2"-7" from the screen, which is definitely within the range you can put it on an entertainment center. The Optoma's throw distance is 5"-15" from the screen—still very short, but you may need to make a few adjustments to your space.
Projector with the shorter throw ratio: LG HU85LA
Sound
The Optoma P1 comes with a NuForce soundbar built-in. With 40-watts of power, it can get plenty loud for TV watching. It's especially solid in the mid-range, ideal for crisp dialogue. In contrast, the two 5-watt speakers on the LG have comparable volume and sound quality to a TV's speakers.
Projector with the better sound: Optoma CinemaX P1
Smart Features
The LG HU85LA uses a smart on-board navigation system, and also comes with Google Assistant. The Optoma P1 offers this and then some. Compatibility with Alexa and IFTTT mean you can integrate it into any smart home set-up, regardless of which system and devices you use.
Projector with better smart features: Optoma CinemaX P1
Connectivity
A projector isn't much good if you can't use it to watch your content. The LG HU85LA has two HDMI ports for devices. It can also connect to speakers via Bluetooth and stream content from iOS devices using Miracast. With the Optoma CinemaX P1, you'll get two HDMI ports as well as a USB port for content. This makes it a bit easier to hook up wired devices and allows playing content from a portable drive. The Optoma also has  Bluetooth for sound, though it lacks streaming ability.
Better wireless connectivity: LG HU85LA
Better wired connectivity: Optoma CinemaX P1
---
LG HU85LA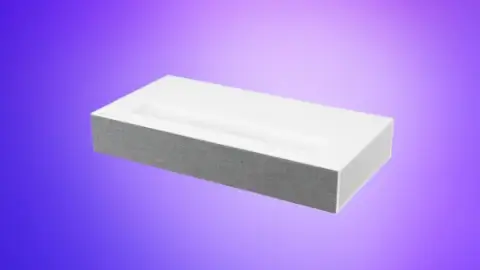 The picture quality of the LG HU85LA is unarguably beautiful. The color accuracy is where it really impressed us. The colors popped off the screen, even though the lamp itself is on the dimmer side. It uses tone mapping to optimize the image, and this helps give each frame the same vibrant detail. With a 4K resolution, the image is detailed and sharp even at the full 120" size. (Find guide of top projectors with 4k resolution here)
The throw ratio on the LG HU85LA is short, even for a laser projector. A 120" screen needs just over 7 inches of distance. You can put this projector on the entertainment center right next to your gaming system. >>> Find on Amazon
While the initial set-up of the projector is easy, we did find the image alignment to be a bit tricky. The LG HU85LA does give you a lot more options for adjusting the picture than many laser projectors, so it's a good choice for people who are picky about their picture.
The LG HU85LA can replace a TV in every sense. Its input lag is in the "good enough" range—not exceptional, but low enough for most gamers. It also has decent built-in sound, at least on par with a flatscreen. The big question in our minds is value. At over $5,000, it's a pretty big investment for even a serious movie watcher. Click for full LG HU85LA Review
Pros
Easy to set up and navigate
Lots of options for adjusting the picture
Ultra-short throw ratio easily works in any space
Smart functions with built-in Google Assistant control
Stunning, accurate colors
TruMotion technology for a smooth viewing experience
Allows connection of speakers through Bluetooth
Cons
Lack of lens shift can make picture alignment tricky
Cost is high, even for a laser projector
---
Optoma P1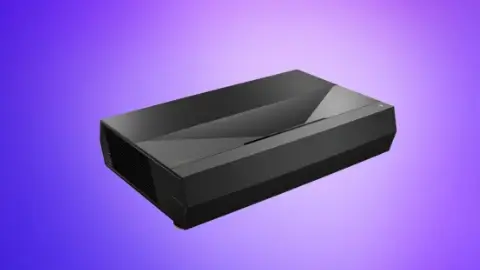 The Optoma CinemaX P1 is a smart laser projector built to integrate easily into any home. The throw ratio is longer than on the LG above—you'll need about 15" to get a 120" image. This still makes the Optoma P1 very flexible in terms of installation, though. >>> Find on Amazon
We love the ease of the Optoma P1. Set-up is a breeze, and the SmartFIT app is very helpful in getting the picture just right. The Optoma P1 also integrates easily into an existing smart home set-up. You can use it with either Google Assistant or Alexa, and it supports IFTTT for writing your own smart programs and routines.
The picture on the Optoma CinemaX is stunning and sharp, with no washing out even in bright rooms. We love how even the Optoma picture is, with the same brightness on white spaces and colors, and the same amount of detail in dark and light parts of the image.
The built-in sound is impressive, as well. It's one of the few projectors that sounds better than most televisions, especially in the mid-range. Dialogue has nice clarity, though audiophiles will still want to connect their own speakers to get more bass. (Check full review of Optoma Cinemax P1 here)
Pros
Compatible with both Alexa and Google Assistant
Supports IFTTT for smart home integration
SmartFIT app makes aligning picture easier
Ultra-short throw ratio can be used in any space
Excellent built-in sound
Can play content through USB
Cons
SmartFIT feature won't work with all screens
Use of color wheel could cause a rainbow effect
---
Overall User Experience
While the LG HU85LA edges out the Optoma P1 in a side-by-side comparison of picture quality, buyers of both are overall happy with the picture. The advanced color wheel in the Optoma prevents most of the negative effects associated with "the rainbow effect." Still, reports of striations or pixel over-spray are the most common complaints against the Optoma P1.
One recurring theme from owners of the LG HU85LA is that they felt like they should have gotten more for their money. It lacks some image adjustment features that are typically standard on high-end projectors. It can also be difficult to hook up to certain gaming systems, most notably Xbox One.
The Bottom Line
If the prices on the Optoma P1 and LG HU85LA were closer, this would be a much tougher decision. Both are well-built projectors with incredible picture quality and easy connectivity features. And that's what it comes down to in our minds. The LG just isn't enough better than the Optoma to justify the jump in price. >>> Find the current price on Amazon Both of these projectors are included among best 4k projectors
The good news is, there's no wrong way to go. Either one of these projectors will function beautifully in any home theater set-up. Hopefully, this review has helped you determine which one is right for you!
REFERENCES AND FURTHER READING: