There are some features that you'd expect to push a projector's cost into the high-end range, including things like smart capabilities and 4K resolution. The Optoma UHL55 offers both of those features for a very affordable price. Which begs the question: what functions does the Optoma UHL55 sacrifice to achieve that, and is it really as good of a value as it seems? >>> Check it's pricing on Amazon
We set out to answer that question for you. The short answer is that the Optoma UHL55 does have some limitations, especially when it comes to the lamp brightness. Having said that, it's still a very impressive projector for the price, and an excellent value overall. Let's look at some of its key features to show you what we mean.
Optoma UHL55 Review – Main Specs:
| | Optoma UHL55 |
| --- | --- |
| | |
| Resolution | 4K Ultra HD |
| Brightness (Lumens) | 1,500 |
| Contrast Ratio | 250,000:1 |
| Throw distance | 2'7" – 17'5" |
| Screen size | 30"-200" |
| Weight: | 8.7lbs |
| Price | Check on Amazon |
Picture Quality
The Optoma UHL55 starts with Ultra HD definition that gives you a sharp, detailed picture on all content sources. It pairs this with a wide color gamut and High Dynamic Range (HDR) support, for vibrant, true-to-life colors. You'll see the same colors from this projector as you would watching a movie in the theater.
We also found the contrast of the Optoma UHL55 impressive. It uses Optoma's proprietary Dynamic Black technology to ensure shadows and dark areas don't lose definition. For fast action scenes, the PureMotion system used in the display gives smooth frame-by-frame movement, with no choppiness or judders. All told, we found the viewing experience on-par with high-end projectors from their catalog.
Brightness
Here's where the Optoma UHL55 shows one of its few weaknesses. It puts out about 1,500 lumens—enough for a completely dark room, but not enough to compete with ambient light. You'll want to invest in blackout curtains if there are a lot of windows in your viewing area. For outdoor use, it's a nighttime-only projector. Find a list of top projectors for outdoor use.
Pros
Wide DCI-P3 color gamut with HDR10 technology
Smart TV interface allows you to play content right from the projector
Compatible with both Google Assistant and Amazon Alexa
Portable build is easy to carry from room to room
High contrast ratio with Dynamic Black technology
Good variety of connection options
Cons
Low brightness
Apps in the store are limited
Some users have difficulty pairing remote through Bluetooth
Smart Features
The Optoma UHL55 uses an Android-based operating system for its smart TV interface. Navigation is intuitive and will be familiar to anyone accustomed to using streaming services. While you can't download apps through your standard channels like the Google Play store, the Optoma Marketplace app includes the most popular streaming services. This includes TV and movie platforms like Netflix and YouTube, along with web browsers and music streaming services.
If you use a smart home system for your home theater, the Optoma UHL55 integrates into it easily. It's compatible with both Alexa and Google Assistant voice control services. Use your voice to change content sources, turn on the projector, change the volume, and more.
Portability
At less than 10 pounds, the Optoma UHL55 has a lightweight and easily portable design. It's built to function both indoors and outdoors. In addition, it comes with a backpack-style carrying case to keep it safe during transportation. The sliding lens cover protects its delicate components from damage in all settings.
Set-up and Installation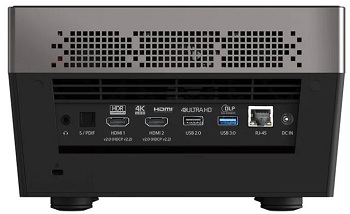 Connectivity of Optoma UHL55 projector
The image adjustment options on the Optoma UHL55 give it a pretty quick and easy set-up. It includes both auto-keystone correction and auto-focus, taking most of the work out of getting it up and running.
There are also a good range of input options. Dual HDMI ports are basically the standard for projectors today. The Optoma UHL55 also lets you connect devices and content sources through VGA and USB, and is compatible with both Windows and Mac devices.
One thing to note is that the Optoma UHL55 has a standard throw distance. You'll need about 9 feet for a 100" screen, and up to 17'5" for its full 200" image capacity. Since you'll probably only want a screen that big outside it's not a huge concern, but those in smaller spaces should take note.
Who Should Buy the Optoma UHL55?
For those who want an affordable, versatile 4K projector, the Optoma UHL55 is a godsend (it's even included among best projectors under $1,000 here) When it comes to picture quality, it's by far the best you'll get for the money. While the smart TV system has its quirks, our only major complaint is the low brightness. Still, if you're willing to take additional steps to reduce the ambient light level in your viewing area, the Optoma UHL55 is a great way to get the best picture quality in a budget-friendly, portable package. >>> Check it's pricing on Amazon
REFERENCES AND FURTHER READING: