Laser projectors have a sharper image and wider range of available colors than lamp-based models. If you're looking for the best picture quality in your home theater, a laser projector is a good way to go. Since this is a newer technology, it can be hard to figure out which is the best, especially if you're comparing high-quality equipment like the Vava 4K vs Optoma P1 projector.
In our opinion, the Optoma P1 Home Theater Projector is the stronger option between the two (>>> Check price on Amazon). These models have an equally sharp picture and impressively short throw ratio but differ on some other key specs. Before going into the full reviews, let's take a look at the most important features and how these models compare in each.
Vava 4K vs Optoma CinemaX P1 Side by Side:
| | VAVA 4K | Optoma CinemaX P1 |
| --- | --- | --- |
| | | |
| Resolution | 4K | 4K |
| Brightness (Lumens) | 2500 | 3000 |
| Contrast Ratio | 1,500,000:1 | 1,500,000:1 |
| Throw Ratio | .233:1 | .25:1 |
| Screen size | 80"-150" | 85"-120" |
| Input lag | 100ms | 55ms |
| Price | ProjectorScreen.com | Check on Amazon |
Brightness
The general rule of thumb is that a projector brightness of around 2,500-3,500 lumens is ideal for a home theater. Laser projectors typically have a short-throw ratio, which can make a lamp look brighter since the light has less distance to travel before reaching your screen. (Our guide of best laser projectors can be found here)
Brighter isn't always better. In large, well-lit spaces, you may want a brighter lamp, even as high as the 6,000 lumens produced by the Vava 4K. In a smaller, darker room, though, a lamp that bright can cause eye strain and be less appealing to look at.
Best brightness for small spaces: Optoma CinemaX P1
Best brightness for large spaces: VAVA 4K
Sound
Traditionally, the speakers on projectors aren't good enough to give you an immersive viewing experience. Both the Vava 4K and the Optoma P1 buck this trend by building soundbars into the projector. While neither soundbar will give you true surround sound, the Harman Kardon soundbar on the Vava 4K is louder and gives better audio quality—enough you may not need additional speakers.
Best sound quality: VAVA 4K
Input Lag
The delay between your input and what you see on the screen is often longer with a projector than a flat-screen TV. While this isn't likely to affect your viewing experience for movies and TV, it's a very important stat for gamers. An input lag of 40ms or lower is ideal for gaming. Anything above 60ms will be frustrating for players of fighting games, first-person shooters, racing games, and anything else that demands quick reactions. (Click here for best 4k gaming projectors guide).
Lowest input lag: Optoma CinemaX P1
---
VAVA 4K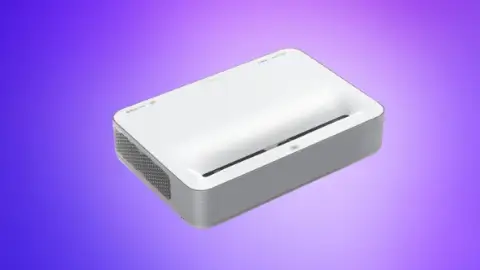 The Vava 4K Laser Home Theater Projector is a versatile projector. Thanks to the ultra-short throw ratio and the high lamp brightness, it will work in any room, big or small. This combination of features also makes it very easy to set up. We also found the interface intuitive and easy to navigate. You can even adjust the image while you're watching a movie, something some projectors won't allow.
Sound is another strength of the Vava 4K Laser Projector. The 60-watt Harman Kardon soundbar built into this unit is loud enough to be used without external speakers in smaller rooms. You can also easily attach additional speakers through Bluetooth or a wired connection.
Our complaints against the Vava 4K Laser Projector are minor. The brightness is high—maybe even too high, for users who want to replicate the darkness of a movie theater. You'll want to use this projector in a room with some ambient light to avoid eye strain. The only other significant lack is with the input lag, which is high at around 100ms. This won't affect movie watching but is far too high for gaming.
>>> Full VAVA 4K projector review.
Pros
High dynamic contrast ratio
Ultra-short throw and flexible installation
Direct streaming of content through smart TV system
Wide range of wired and wireless connection options
Good sound quality from built-in speakers
Cons
Installed Harman Kardon soundbar gives excellent audio quality
Durable build with a long lamp life
Short throw ratio for flexible installation options
Smart software is easy to use and navigate
Sets up quickly out of the box
Variety of connection options for any home theater configuration
On-board Wi-Fi and Bluetooth
[/joomdev-wpc-pros][joomdev-wpc-cons]
Long input lag makes it unsuitable for gaming
Lamp may be too bright for some users
---
Optoma CinemaX P1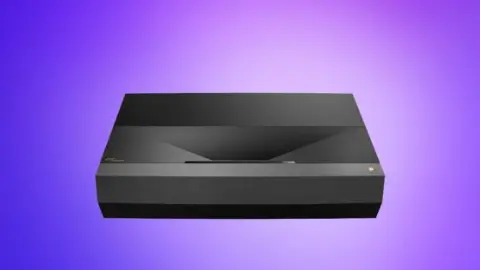 On first glance, the Optoma CinemaX P1 Laser Projector is very similar to the Vava above. The Optoma also gives you the flexibility of a short-throw ratio, an integrated soundbar, and an incredible picture quality. 
The first difference you'll notice with the Optoma CinemaX P1 Home Theater Projector is the lamp brightness. It's about half that of the Vava, at 3,000 lumens. This is more what you'd expect from a home theater projector, and better for smaller or darker spaces.
The Optoma CinemaX P1 Projector is also smarter, with a better interface. It's easier to navigate, first of all. It's also easier to integrate into a smart home system. Along with built-in support for voice control services like Alexa and Google Assistant, it also has support for IFTTT. This lets you customize your display and even program new features.
Gamers will also prefer the Optoma CinemaX P1 Projector. While the input lag is still a bit high for fast-paced gaming, it's much faster to respond than the Vava 4K Projector. All-told, the Optoma CinemaX P1 is a more versatile option for all your home theater needs.
Pros
Flexible installation thanks to ultra-short throw
Built-in compatibility with Google Home, Alexa, and IFTTT
Smart FIT technology automatically aligns the image
No complicated set-up required
Long lamp life
Allows for media playback through USB
Supports 3D content
Cons
On-board sound quality not as high
---
Customer Impressions
Both the Optoma CinemaX P1 and the Vava 4K Projector get high marks overall for being user-friendly and easy to set up. The smart features built into the Optoma CinemaX P1's software give it a slight edge from a usability standpoint (>>> Check current price on Amazon). Along with easy navigation, the auto-focus makes it easier to set up, even for users without a lot of projector experience. Both of these models are included in our best 4k projectors list.
The Final Word
If you need a short throw ratio but still want a sharp, clear, and detailed picture, a laser projector is your answer. They're comparable in price to lamp-based 4K projectors and generally exceed them in nearly every category, from lamp life to color accuracy. Both the Optoma CinemaX P1 and the Vava 4K Projector are designed for a home theater. Whichever one you buy, you'll get an easy to use projector with a beautiful picture, for years of high-definition entertainment.
REFERENCES AND FURTHER READING: