Laser projectors like the ViewSonic LS700-4K tend to greatly outpace their lamp-based counterparts when it comes to both picture quality and usability. You'll definitely love the theater-quality picture offered by the ViewSonic LS700-4K. But is it worth the higher price—and is it the best projector for your home theater?  This ViewSonic LS700-4K review sets out to answer those questions. Let's take a deeper look at every aspect of the ViewSonic LS700-4K so you can better see what all it has to offer.>>>Check the price on Amazon
ViewSonic LS700-4K Review – Main Specs:
| | ViewSonic LS700-4K |
| --- | --- |
| | |
| Resolution | 4K Ultra HD |
| Brightness (Lumens) | 3,300 |
| Contrast Ratio | 3,000,000:1 |
| Throw ratio | 1.13-1.47:1 |
| Screen size | up to 300" |
| Input lag: | 100ms |
| Price | Check on Amazon |
Set-up and Installation
Most projectors are very rigid in terms of how they can be positioned. Not so with the ViewSonic LS700-4K. It can be oriented in any position and at any angle, greatly expanding your options for how you set it up. Vertical keystone adjustment lets you fine tune the image once you have it in place.
The only downside of the ViewSonic LS700-4K from a set-up perspective is that it doesn't have the short throw ratio many laser projectors offer. You'll need around 9-10 feet of distance for a 100" screen, so it's not the best choice for smaller spaces.
The ViewSonic LS700-4K has dual HDMI inputs, as well as the option to get content through USB, VGA, or RCA connections. It supports game consoles and media players as well as content from computers.  Basically you can use any content source with this projector, and it's equally easy to hook up external speakers and other peripherals.
Pros
Sharp, detailed 4K resolution
Instant start-up with no warming up period
Supports 3D content with full HDR color
Long-lasting lamp needs less maintenance
360° orientation makes installation easier
Bright lamp keeps image vibrant even in well-lit rooms
Smooth picture even in high-speed scenes
Cons
Not the best option for small spaces
Input lag too long for gaming
Picture Quality
4K resolution is the highest available on the current market. The picture on the ViewSonic LS700-4K is sharp and detailed, even when you push the image to its maximum size. With a high lamp brightness, it delivers that same stunning picture quality in any light levels with no wash-out.
The ViewSonic LS700-4K also supports true HDR content. This translates to more vivid colors on the screen with a higher degree of accuracy. For content without HDR, the LS700-4K uses SuperColor Technology. The brightness is equal across both color and white areas, so you don't have to worry about hot spots and the accompanying eye strain.
We also love that you get that same great picture quality no matter what kind of content you're viewing. The HDR support extends to 3D content, for example, giving you a truly immersive experience when you're watching movies in 3D. There's also no stuttering or blurring in high-speed sequences since the ViewSonic LS700-4K uses frame interpolation technology for smooth on-screen action.
Design and Durability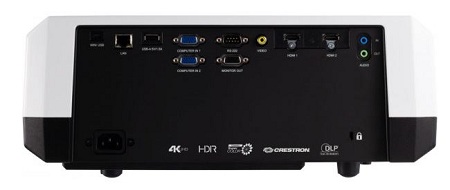 ViewSonic LS700-4K connections
The ViewSonic LS700-4K feels like a very solid projector. The housing is durable and the lens well-protected against damage. This is definitely a projector you can move around your house without being worried that you'll break it. It's a very portable design, as well. It only weighs about 15 pounds, which is light enough you can ceiling-mount it without worrying it'll fall.
We also love how little maintenance the ViewSonic LS700-4K requires. The lamp is very long-lasting, giving up to 20,000 hours of performance in some cases. That's long enough you may never need to change it. The fan is efficient, too, and it uses dust-proof technology to prevent contamination inside the projector. You'll still want to wipe off the vent every once in a while, but compared to other projectors the upkeep is minimal.
The Verdict
In most home theaters, the ViewSonic LS700-4K is a great choice. It has a high brightness to compete with existing light sources, and the resolution and color use the best technology available on the current market.
While the longer throw ratio does mean some time setting up and installing the ViewSonic LS700-4K, it's more flexible than many standard-throw projectors. Try our throw distance calculator. Getting started is simple once you have it installed, too. The projector will walk you through adding your content and adjusting the picture, and the process is very intuitive. >>>Check the price on Amazon
If there are any gamers in your family, they won't be big fans of the ViewSonic LS700-4K. The input lag is high at 100ms—from a gaming standpoint, at least. For best 4k gaming projectors check this guide. The delay won't be a concern if you're just watching movies and TV. Overall, this is an excellent choice if you want 4K resolution in a user-friendly and portable projector.