The price for projectors that offer Ultra HD video resolution has been dropping steadily since the technology first became available. With the ViewSonic X10-4K, you get that top-level resolution, HDR color, and a bright lamp in a convenient, portable package—and all for just over a thousand bucks. >>> Check it's pricing on Amazon
But is the ViewSonic X10-4K too good to be true? Let's take a deeper look at its full range of features to give you a sense of what this little projector is capable of.
ViewSonic X10-4K Review – Main Specs:
| | ViewSonic X10-4K |
| --- | --- |
| | |
| Resolution | 4K Ultra HD |
| Brightness (Lumens) | 2,400 |
| Contrast Ratio | 3,000,000:1 |
| Throw distance | 1.7' - 11.6' |
| Screen size | up to 120" |
| Input lag: | 66ms |
| Price | Check on Amazon |
Set up and Installation
First of all, you can use the ViewSonic X10-4K in almost any room. The combination of a short throw ratio with a relatively bright lamp gives it flexibility for smaller spaces, oddly-shaped rooms, and rooms with a high level of ambient light.
The short throw makes it easier for most people to install, too. Since it needs less space for the image, you likely won't need to ceiling-mount the projector or otherwise permanently install it.
Getting the image set up is easy with the ViewSonic X10-4K, too. Both the focus and the vertical keystone correction are automatic—you can get a perfect picture quickly, no experience necessary. Overall, we found it to be one of the most user-friendly projectors on the current market. Find it's comparison vs BenQ HT3550 here
Picture Quality
4K resolution is just the start of the great picture quality from the ViewSonic X10-4K. It gives you immersive, life-like colors with its Cinema SuperColor+ system. You'll also get HDR support, so the color will be just as vibrant from all your content sources. >>> Check the best options of 4k projectors under $2,000 here
On-screen motion is smooth with the ViewSonic X10-4K, as well. The frame interpolation technology reduces motion blur and stuttering by filling in the image between the frames. Whether you're watching sports or playing games, you'll get the same smooth viewing experience.
Pros
True 4K ultra HD resolution
Short throw ratio for more set-up flexibility
Lamp bright enough to handle ambient light
Built-in speakers have high audio quality
Comes with Google Assistant and Amazon Alexa included
Automatic focus and keystone correction
Uses frame interpolation technology for smooth on-screen action
Cons
Not all apps can download onto smart TV interface
Input lag on the high side for serious gaming
Smart Features
The ViewSonic X10-4K has an integrated smart TV interface. Stream content from popular apps and channels directly to your projector. While you'll still need to use a streaming stick for select apps, since not everything is compatible with the ViewSonic interface, it's certainly an easy way to start watching content. Check the review of the newer generation model, ViewSonic X11-4K
If you have a smart home system in your home theater area, the ViewSonic X10-4K is ready to integrate easily into it. It's designed to be compatible with both the Alexa and Google Assistant voice control systems. You can also control the sound through the built-in speakers via Bluetooth.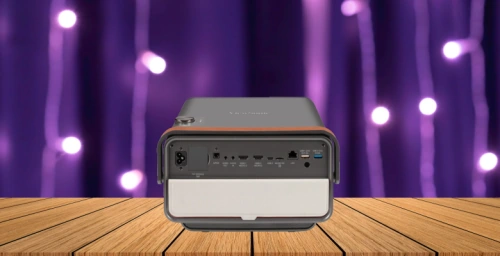 Design and Performance
The ViewSonic is designed to be an all in one entertainment machine that you can use anywhere. Toward this end, it includes Harmon Kardon speakers. While they're no substitute for a surround sound system, the sound quality and output are higher than on most TVs or home theater projectors.
It's also great that the ViewSonic X10-4K is so portable. You can take it easily from room to room since it weighs less than 10 pounds and comes with a convenient carrying handle.
The only place we found the performance of the ViewSonic X10-4K fell short was for gamers. The input lag in Gaming Mode is around 66ms. That's acceptable for most casual players, though you may notice slight delays during fast-paced action sequences. For competitive or serious gamers, you'll want to look for something that's a bit more responsive.
What's the Bottom Line?
For a home theater projector, the ViewSonic X10-4K delivers on all fronts. >>> Check it's pricing on Amazon It's easy to set up, has a great picture quality, and integrates easily into most existing home theater set-ups. While serious gamers may find it frustrating to play with, it's a generally versatile and flexible option and a great value for the price.