In the field of 4K home theater projectors, ViewSonic and BenQ are two of the top names. Both companies offer consistent quality and reliability. When you're comparing their 4K projectors—such as the ViewSonic x10-4K vs BenQ HT3550 — it can be tricky to tell what differentiates them, and which one is the right one for your home.
Taking all the features together, the ViewSonic x10-4K is, in our opinion, the better projector of the two. >>> Find the current price on Amazon Having said that, there are some users who will find the BenQ HT3550 more suitable to their needs. Before jumping into the full reviews, let's go in more depth on the key features so you can see what we mean.
ViewSonic x10-4K vs BenQ HT3550 comparison:
| | ViewSonic x10-4K | BenQ HT3550 |
| --- | --- | --- |
| | | |
| Resolution | 4K UltraHD | 4K UltraHD |
| Brightness (Lumens) | 2,400 | 2000 |
| Throw Ratio | .80:1 | 1.13-1.47:1 |
| Screen size | up to 120" | 30"-200" |
| Input lag: | 66ms-100ms | 50ms |
| Price | Check on Amazon | BHPhotoVideo.com |
Brightness
The level of ambient light in your viewing area determines how bright of a projector lamp you need. In a completely dark room, a lamp of 1,000-1,500 lumens is fine. For well-lit rooms, however, you'll want a projector more in the range of 2,500-3,000 lumens. You'll still be able to see the picture from a dimmer lamp, but you'll lose a lot of the vibrancy and detail.
Neither the ViewSonic X10-4K nor the BenQ HT3550 has a very bright lamp. Having said that, the 2,400 lumens of the ViewSonic allow it to work in moderately-lit spaces. The shorter throw distance helps with this, as well—the less distance the light has to travel, the brighter it will look on the screen.
Brighter projector: ViewSonic X10-4K
Input Lag
Projectors naturally have a longer delay between input and screen than most TVs. This is mildly annoying for watching movies or TV, but a huge problem for gamers. While no projector will truly give you an instant response, anything with an input lag of 50ms or lower is considered acceptable for most gamers. Anything above this, and you'll likely be frustrated, especially in racing games, fighting games, and first-person shooters.
Shortest input lag: BenQ HT3550
Throw Ratio
More distance between the projector will yield a larger screen. The amount of distance required is measured by the throw ratio. A lower throw ratio lets you get a bigger image without as much horizontal distance. That helps the picture clarity along with making the projector more flexible in terms of installation.
Shortest throw ratio: ViewSonic X10-4K
Connectivity
You'll find dual HDMI ports on most modern projectors, and that includes both the ViewSonic X10-4K and the BenQ HT3550. The ViewSonic adds built-in Wi-Fi to this, which allows streaming of content from many phones and tablets. It's a winner for smart home connectivity, as well, built to be compatible with both Google and Amazon voice control services.
Best projector for connectivity: ViewSonic X10-4K
Full Reviews: ViewSonic x10-4K vs BenQ HT3550
ViewSonic x10-4K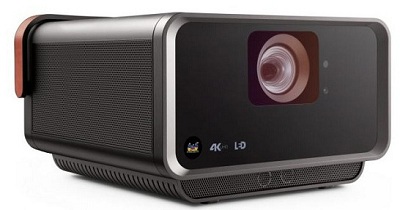 The ViewSonic x10-4K is a modern, versatile 4K projector that's easy to integrate into any home theater. It automatically adjusts and focuses the image, and that cuts down significantly on the set-up time (and potential user frustration). An ultra-short throw ratio increases the set-up flexibility of this ViewSonic projector, letting you get a 120" screen from just 7 feet away. Find the list of top ultra-short-throw projectors here.
Smart home users will also enjoy how easy it is to integrate the ViewSonic x10-4K. It's compatible with both Amazon Alexa and Google Assistant for voice control. It also comes with on-board Wi-Fi, allow you to stream content straight from your phone or tablet. The smart TV system that comes installed on the x10-4K is easy to navigate, and in many cases can eliminate the need for streaming sticks.
The picture on the ViewSonic x10-4K is fully-modern, too. Along with the superior ultra HD definition, it uses an anti-blur technology called Frame Interpolation. Even fast-paced scenes will be smooth and blur-free. The only weakness in this regard is the brightness. It's dimmer than we'd like, at only 2,400 lumens. If you can't control the light in your viewing area, you won't see the best picture from the ViewSonic x10-4K. Find full review of x10-4K here
This issue aside, the ViewSonic x10-4K is a versatile and well-designed projector. The carrying handle on the case and quick set-up time mean it's ideal for multi-room use, and can even be taken outside for backyard movie nights. An integrated Harmon-Kardon soundbar is the icing on the cake. With sound as good as most TVs, you might not even need to add external speakers.
Pros
Excellent color accuracy and picture detail
Automatic focus and keystone correction for easy set-up
Wi-Fi allows streaming of content from devices
Compatible with Alexa and Google Assistant
Higher quality sound than most projectors
Easily portable for indoor or outdoor use
Cons
Low lamp brightness
Input lag too high for serious gaming
---
BenQ HT3550
It's hard to beat the picture quality of the BenQ HT3550. The 4K ultra HD resolution is just the start. The most impressive part of its operation is the color and contrast. It has a large DIC-P3 color range, giving you more of the visible spectrum than other projectors. Added to this, the tone mapping technology provides better contrast and detail, making the most of that 4K resolution.
The BenQ HT3550 has a fairly dim lamp for a home theater projector. The Active Iris optical system compensates for this, enhancing detail to reduce the impact of ambient light. Having said that, you'll still want to avoid rooms with large windows if you want to use this projector during the day.
You will have to put in a bit more effort to set up the BenQ HT3550 than the ViewSonic X10-4K—though not too much, honestly. It's calibrated at the factory so you won't need to make many (if any) adjustments out of the box. The BenQ HT3550 also includes zoom and vertical lens shift. While the throw distance is a bit longer than the ViewSonic above, it's designed to match BenQ's 1080p projectors, so the HT3550 can be a seamless 4K upgrade for an existing projector.
Gamers will certainly prefer the BenQ HT3550. The input lag of 50ms is within the acceptable range for most games. Serious multi-player gamers may still notice some delay, but it's not long enough to cause problems for the majority of players. Most 4K projectors with a comparable input lag cost well over $2,000, so in our eyes the BenQ HT3550 is a great balance of value and performance. It also included among top 4k projectors for gaming: http://projectortop.com/best-4k-projector-for-gaming/
Pros
Excellent picture quality, color accuracy, and contrast
Relatively quick and easy set-up
Dynamic Iris technology makes the most of the lamp brightness
Input lag low enough for most gamers
Supports 4K in 3D (glasses included)
Cons
Longer throw ratio
Requires light-controlled room
---
The Verdict
Most people will prefer the ViewSonic X10-4K. It has a brighter lamp, an easier set-up, and offers modern conveniences like on-board Wi-Fi and voice control compatibility. In addition, the ViewSonic X10-4K is more flexible. It's very portable, with a shorter throw ratio that lets it work as well in a small room as a large space. >>> Find price on Amazon
The exception to this is people who want to use their projector for both viewing and gaming. The input lag on the BenQ HT3550 is low enough for most players. The ViewSonic X10-4K has a gaming mode, but even when it's active, the lag is 66ms—far too high for modern gaming systems and players.
As you can see, the best projector choice truly depends on how you'll use it. Now that you know what each does well, we hope you know exactly which of these projectors belongs in your home theater.
REFERENCES AND FURTHER READING: