Looking for a smart 4K projector? There are some great options out there—some of which don't cost as much as you might expect. When comparing projectors like the ViewSonic X10-4K vs Optoma UHL55, it's really a question of what's more important to you: the most impressive stats or the best value.
Taking price out of the equation, the ViewSonic X10-4K is in our mind the obvious winner. It has a shorter throw distance, a higher lamp brightness, and an overall better picture quality. >>> Check current price on Amazon This isn't to say the Optoma UHL55 is a bad projector, though. It definitely has its own strengths, even aside from its relatively low cost. Let's take a look at the main differences between them.
ViewSonic X10-4K vs Optoma UHL55 Side by Side:
| | ViewSonic X10-4K | Optoma UHL55 |
| --- | --- | --- |
| | | |
| Resolution | 4K Ultra HD | 4K Ultra HD |
| Brightness (Lumens) | 2,400 | 1,500 |
| Contrast ratio | 3,000,000:1 | 250,000:1 |
| Screen size | up to 120" | 30"-200" |
| Throw distance | 1.7' - 11.6' | 2'7" – 17'5" |
| Input lag | 66ms | No data |
| Price | BHPhotoVideo.com | Check on Amazon |
Brightness
The color accuracy and resolution won't matter much if you can't see them. The brightness of the lamp is especially important if you don't have a light-controlled room for the projector. Neither of these projectors has a high lamp brightness, but the 2,400 lumens put out by the ViewSonic X10-4K allows for more lighting flexibility than the 1,500 lumens of the Optoma UHL55.
Brightest projector: ViewSonic X10-4K
Throw Distance
How much space you'll need to get a big screen can have a big impact on the set-up and installation ease. A short-throw projector spares you from needing a ceiling mount and gives you more set-up flexibility. You can get a 120" screen from 8 feet away with the ViewSonic X10-4K. That same screen size will need about 10.5 feet of distance using the Optoma UHL55.
Shortest throw: ViewSonic X10-4K
Sound Quality
The built-in sound is especially important for a portable projector, sparing you the need to also carry and set up speakers. The ViewSonic X10-4K uses Harman Kardon speakers for the sound. Their volume potential is impressive, and the sound quality is slightly higher than what you'd get from a typical high-end TV. The Optoma UHL55 does have speakers, but they're not as effective. You'll definitely want to use outside speakers with the Optoma if you want immersive sound to go with your big picture.
Better sound quality: ViewSonic X10-4K
ViewSonic X10-4K vs Optoma UHL55: Full Reviews
ViewSonic X10-4K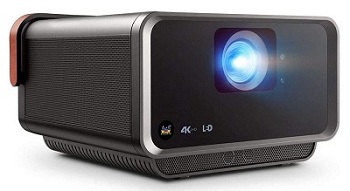 The ViewSonic X10-4K has a smart design inside and out. This light-weight projector is built to be portable, with a handle built right in so you can take it anywhere. It's easy to set up, too, with automatic focus and vertical keystone correction that take the effort out of aligning the picture. The short throw distance can produce a 120" screen from just 8 feet away. With a lamp life as long as 30,000 hours, this is a low-maintenance choice for big screen entertainment.
You'll also get a Smart TV interface with the ViewSonic X10-4K, as well as built-in Wi-Fi and compatibility with both Google Assistant and Amazon Alexa voice control systems. Other connection options include mini USB and HDMI, so you can use it with pretty much any content source.
As far as the picture quality, the resolution and color accuracy are both as high as you'll find in a home theater projector. The advanced image processing uses Cinema SuperColor+ and Frame Interpolation technology. Colors are vivid and the picture is sharp and clear, even when there's a lot of action on the screen. And you'll get sound to match the picture, too. The built-in Harman Kardon speakers are impressive in terms of both volume and sound quality.
The brightness of the ViewSonic X10-4K is definitely high enough for a dark space and can compete with some low levels of ambient light. Combined with its other impressive stats, it's the obvious best choice for those who don't have a dedicated home theater room. >>> More detailed review of Viewsonic x10-4k can be found here
Pros
Great sound with dual Harman Kardon speakers
Portable with built-in carrying handle
Smooth action and sharp colors
Smart TV interface compatible with Alexa or Google Assistant for voice control
Built-in Wi-Fi connectivity
Automatic focus and keystone correction
Low-maintenance with long lamp life
LED technology has low power consumption rate
Cons
Higher cost
Not as many content options through the Smart TV interface
---
Optoma UHL55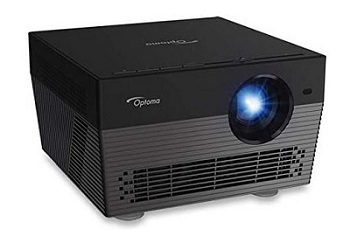 For portability and set-up ease, the Optoma UHL55 has a lot in common with the ViewSonic above. It's light and has a removable handle, as well as coming with a padded backpack for transportation. While the throw distance is longer, it includes the same automatic keystone correction and focus, so it's quick to set up.
The Optoma UHL55 is smart, too, working with both Alexa and Google Assistant voice control. The app options of its smart TV interface are more robust than those of the ViewSonic X10-4K. It also includes a wider range of connection options for other content sources, with VGA as well as USB and HDMI.
There are two aspects where the Optoma UHL55 is clearly outmatched: the brightness and the sound. It can only produce 1,500 lumens, which means it needs a completely dark room to give a good picture quality. While it does have speakers, they're not very powerful, and their placement in the projector further limits their output.
Having said that, the Optoma UHL55 is an affordable 4K projector well-suited for a dedicated home theater, where you're likely to already have good speakers and light control methods. The HDR10 color gamut and high contrast ratio give you vibrant colors and deep blacks for an overall stunning picture quality. You can find our more detailed review of UHL 55 projector here
Pros
Compatible with voice control
Smart TV interface can download content straight to the projector
Super portable, with handle and backpack included
HDR10 color with DCI-P3 color gamut
Wide array of connection options
Automatic focus and keystone correction
More affordable
Cons
Lamp isn't as bright
Longer throw distance
---
What's the Bottom Line?
If your budget isn't a concern, the ViewSonic X10-4K outperforms the Optoma UHL55 in most respects. The brighter lamp, better sound, shorter throw, and smoother on-screen action are the main points in its favor. >>> Check it's pricing on Bhphotovideo
Having said that, though, the Optoma UHL55 is less than half the price of the ViewSonic X10-4K. It still gives you a lot to love, too, including voice control compatibility, a well-designed smart TV interface, and a high picture quality. It's certainly the best value in smart 4K projectors on the current market, especially if you have a dedicated home theater that can accommodate a dimmer lamp.
As is so often the case, it really comes down to your needs. We hope the reviews above have helped you pick the right smart 4K projector for your home!