If you're looking for a 4K home theater projector, the BenQ HT3550 has probably come up in your search. Its innovative lens array and advanced picture technology give viewers a movie theater-level experience right in their own home. You'll find two versions of this projector: the HT3550 and the HT3550i. The difference between the BenQ HT3550i vs HT3550 comes down to the user interface and the options for how you'll access your content. Let's take a closer look at these differences before we get into each projector's full features.
BenQ HT3550i vs HT3550 Side by Side:
| | BenQ HT3550i | BenQ HT3550 |
| --- | --- | --- |
| | | |
| Resolution | 3840x2160 | 3840x2160 |
| Brightness (Lumens) | 2,000 ANSI | 2,000 ANSI |
| Contrast Ratio | 30,000:1 | 30,000:1 |
| Zoom | 1.3x manual zoom | 1.3x manual zoom |
| Input lag | No data | 60ms |
| Throw Distance | 3.2' - 16.4' | 3.2' - 16.4' |
| Screen size | 30" - 200" | 30" - 200" |
| Speakers | 5.0 Watts × 2 | 5.0 Watts × 2 |
| Price | BHPhotoVideo.com | BHPhotoVideo.com |
Streaming Capabilities
This is the primary difference between these BenQ projectors. The HT3550i has a built-in Android TV interface that can download all the apps available on the Google Play store, including most popular streaming apps. Along with that, it supports mirroring of content from phones and tablets through either AirPlay or Chromecast, so you'll get a lot of ways to wirelessly view movies and shows.
You won't get any of these options with the BenQ HT3550. It has a good variety of wired inputs, including both HDMI and USB, but you'll need to use a streaming stick or similar device to use apps like Hulu or YouTube on the projector.
Better streaming capabilities: BenQ HT3550i
Voice Search
The Android interface on the BenQ HT3550i comes with built-in support for Google voice searches. Just say the title of what you want to watch and it will bring up results to match, a much quicker process than manually searching all your streaming services.
You can also conduct more general voice searches on the HT3550i, as well as using Google Assistant functions like checking the weather or traffic. Since the BenQ HT3550 doesn't have the Android TV interface, it doesn't have any direct voice control capabilities.
Voice search capabilities: BenQ HT3550i
Value
When it comes to picture quality and usability, the BenQ HT3550i and HT3550 are identical. Both these projectors are in the under-$2,000 price point, but the MSRP on the HT3550 is a few hundred dollars lower. If you already have a streaming stick or don't plan to use voice search functions, you can save yourself some money with the more affordable BenQ HT3550.
Better value: BenQ HT3550
---
BenQ HT3550i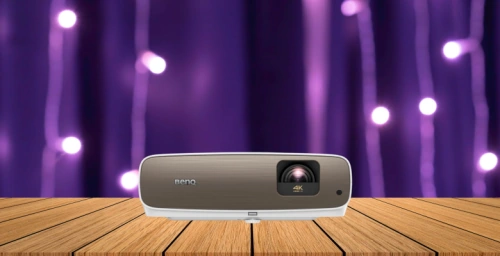 The BenQ HT3550i uses the same 10-element lens and advanced picture technology as the HT3550 above. That includes its true 4K resolution, wide color gamut, and high dynamic contrast, with cinematic color technology for an immersive, realistic picture.
The main advantage of the BenQ HT3550i is its connectivity. It can download any app available on the Google Play store. That includes games and music streaming services along with content apps like Hulu, letting the HT3550i function as the hub of your home entertainment system. You can also wirelessly mirror content from both Apple and Android devices without needing to download an extra app on your phone.
There is one notable omission from the BenQ HT3550i's app list: it doesn't support Netflix. You can still watch Netflix by mirroring or using a streaming stick, of course, but that kind of defeats the purpose of the built-in streaming.
Some voice control is available on the BenQ HT3550i. You can use Google Assistant to search for content or retrieve basic information. The lack of playback controls keeps it from being a true "smart" projector, but these functions are still helpful time savers and the main reason we give the HT3550i higher marks for convenience and usability. Click here for a more detailed BenQ HT3550i review.
Pros
True 4K resolution with Dynamic Iris contrast
Excellent color
Built-in Android TV interface with Google voice search
Supports screen mirroring through AirPlay and Chromecast
Easy to set up and use
Cons
Netflix isn't supported
Higher cost
---
BenQ HT3550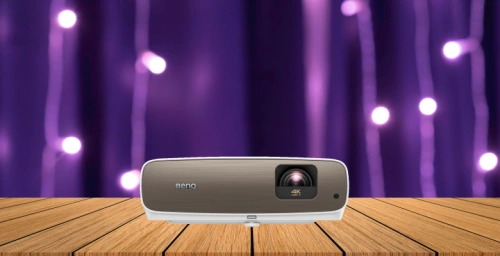 The BenQ HT3550 uses an all-glass, 10-element lens array for superb sharpness and clarity. Its native 4K resolution means you'll get 8.3 million pixels on the screen, 4 times the resolution of full HD. That detail is supported by the use of Dynamic Iris, which increases the contrast to give you rich black levels and excellent picture depth.
For color, the BenQ HT3550 uses a 6-segment color wheel with HLG and HDR10 support. Its advanced DLP technology expands the color gamut to cover about 95% of the DCI-P3 color space, which is about 50% wider than the Rec. 709 spectrum supported by most projectors in the price point. Every BenQ projector is calibrated at the factory by certified technicians (and comes with the calibration report to prove it) so you can count on the HT3550 to give you an accurate, vibrant picture from all content sources.
From an installation standpoint, the BenQ HT3550 is relatively flexible but not particularly versatile. On the plus side, it has vertical lens shift and keystone correction, along with a 1.3x zoom, so you have a lot of options to tweak the alignment during set-up.
Where the versatility suffers is the throw distance and lamp brightness. The BenQ HT3550 is on the shorter side of things compared to other standard-throw projectors, but you'll still need around 8-10 feet for a 100" screen. It also won't work in rooms with lots of windows or other bright light sources. The lamp puts out about 2,000 lumens, plenty for a dark room but prone to washout from ambient light. That's why we'd mostly recommend the HT3550 for dedicated home theaters and similar spaces.
Pros
Sharp, detailed image with 4K resolution
Dynamic Iris contrast
Wide color gamut with HLG and HDR10 support
Flexible installation and easy set up out of the box
Excellent value for the picture quality
Cons
No direct streaming or mirroring capabilities
Lamp has low lumens and short lifespan
---
The Verdict
Choosing between the BenQ HT3550i vs HT3550 ultimately comes down to convenience vs. value. The direct streaming and voice control of the BenQ HT3550i make it a great all-in-one projector (>>> Check on Bhphotovideo), and it's especially appealing for those setting up their first home theater.
On the other hand, you can add those same capabilities to the BenQ HT3550 with a FireStick or Nvidia Shield. Considering most streaming sticks cost around $40-$50, that's definitely the more budget-friendly option even if you're starting from scratch.
Ultimately, either projector is a great way to bring cinematic color and resolution into your home. We hope this review has helped you decide which projector is the best choice for you!
Related Comparisons: