A 4K laser projector like the Bomaker Polaris is an easy, versatile way to bring big-screen entertainment into your home. They carry a higher price tag than lamp-based home theater projectors, though, so you want to make sure you're getting a unit that works right for your needs.
In this Bomaker Polaris review, we'll take an in-depth look at all its key features and functions so you know what to expect before you get it home. Overall, its high picture quality and easy set-up make it a great choice for most home theaters (>>> Check the current price on Amazon).
Bomaker Polaris Review of Main Specs:
| | Bomaker Polaris |
| --- | --- |
| | |
| Resolution | 3840x2160 |
| Brightness (Lumens) | 2,500 ANSI |
| Contrast Ratio | 15,000:1 |
| Throw Distance | 0.25-1 |
| Screen size | up to 200 inches |
| Price | Check on Amazon |
Installation
The Bomaker Polaris doesn't need a dedicated home theater space. Its ultra-short throw ratio lets it produce a 100" screen with less than 1 foot of distance, so you won't need to worry about ceiling-mounting it or changing your room's layout to accommodate it.
The light source on the Bomaker Polaris is powerful, bright enough you don't need light control measures. You can use it in spaces that have lots of windows and natural light with no worry about the picture quality.
From a connectivity standpoint, the Bomaker Polaris has a good range of both wired and wireless options. Its Android operating system is easy to navigate and supports some direct streaming, though some popular apps like Disney+ and Netflix aren't supported so most people will want to use external content sources. You can also mirror content from a device using services like Miracast if you want to go wireless.
Picture Quality
The advanced picture technology in the Bomaker Polaris includes a .47" DMD chipset and a 3-channel laser, with support for image technology like HDR10 and XPR. In layman's terms, the picture is sharp, clear, and colorful. Its true 4K resolution produces around 8.3 million pixels on the screen. Along with that, the wide-angle Ricoh lens enhances the contrast so the picture has rich black levels and excellent texture.
You can watch any kind of content using the Bomaker Polaris. Its Motion Estimation and Motion Compensation (MEMC) technology keeps the frame-to-frame movement smooth, with no blur or choppiness even in fast action sequences. That's great for everything from live sports to the latest blockbuster action movies.
We also appreciate that the Bomaker Plus is comfortable to watch. The lamp brightness can be adjusted and it has a proximity sensor on the light source, reducing the brightness to avoid hurting or injuring your eyes when it detects someone is within 1 meter of the lens. Not only does that reduce eye strain while viewing, it makes it a safe choice for families and households with small children.
Pros
True 4K resolution with excellent image contrast
3-channel laser produces wide color gamut with no rainbowing
Supports full HDR10 and BT.2020 color signals
Ultra-short throw distance
Built-in Hi-Fi speakers with Dolby Audio support
Long light source lifespan (up to 30,000 hours)
Cons
Direct streaming options are limited
Picture sometimes glitches when mirroring content
Sound Quality
The Bomaker Polaris has a built-in StandBy soundbar that produces a three-dimensional hi-fi sound. This is backed by Dolby DTS technology to ensure the integrity of the audio signal. You'll still need external speakers for a true surround sound experience, but it's much better on its own than the typical projector.
Something else that helps with this is the relatively low operating noise. Its fan is remarkably quiet, running at an unobtrusive 25dB, so it won't interfere with the sound from the speakers. For most TV watching and all-purpose set-ups, it's plenty powerful to use on its own.
Can the Bomaker Polaris be used for gaming?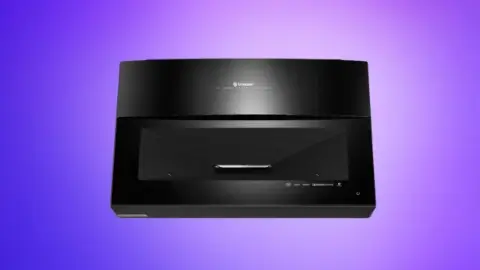 We'll start by saying we wouldn't consider the Bomaker Polaris to be a gaming projector. Its input lag is a bit on the high side for serious or competitive gamers, especially those who play on a PC, though it's low enough most casual gamers won't notice any lag. The Polaris also has a high frame refresh rate with a  powerful 3GB processor, so you'll enjoy a smooth playing experience.
In Summary: Bomaker Polaris Review
Versatility is the main strength of the Bomaker Polaris. Its picture quality is impressive, too, with a powerful light source and decent built-in sound so you can get immersed in the viewing experience in any type of space. While its smart features and streaming capabilities are limited compared to similar projectors, its overall performance still makes it an excellent investment (>>> Check on Amazon).