These days, you don't need to be independently wealthy to enjoy big screen entertainment in your own home. Epson's Home Cinema line of projectors offer high picture quality and an easy-to-use design at an affordable price, and can be a great option if you're designing a home theater on a budget. Comparing the Epson 880 vs. 1060, you'll see both use a 3LCD color system that prevents rainbowing, for consistent flicker-free colors for all types of content.
If pressed to pick a winner, the Epson 1060 will be the better choice for most (>>> Check on Amazon), though the 880 has its strengths, too. Let's take a closer look at the differences so you can decide which one is right for you.
Epson 880 vs 1060 Side by Side:
| | Epson 880 | Epson 1060 |
| --- | --- | --- |
| | | |
| Resolution | 1920x1080 | 1920x1080 |
| Brightness (Lumens) | 3,300 ANSI | 3,100 ANSI |
| Contrast Ratio | 16,000:1 | 15,000:1 |
| Input Lag | No data | 52ms |
| Throw Distance | 2.2' - 34.0' | 4.5' - 22.3' |
| Screen size | 25" - 386" | 50" - 300" |
| Speakers | 2.0 Watts Mono | 2.0 Watts Mono |
| Price | BHPhotoVideo.com | Check on Amazon |
Brightness
With the lamp at full power, the brightness of the Epson 880 and Epson 1060 is comparable, with both putting out over 3,000 ANSI lumens. That's plenty to keep the image looking great in most indoor light environments without worrying about light control measures.
The main difference in this category becomes clearer when the projector is in Eco mode. The Epson 1060 is a bit dimmer in power-saving modes but can still be used for lights-on viewing. The Epson 1060 puts out only about 1,900 lumens in Eco mode, low enough you may need light control measures depending on your viewing environment.
Brighter projector: Epson 880
Throw Distance
Both of these projectors use a standard throw distance and will need a larger space to produce a big picture. Having said that, there's a lot of variation within the broad category of standard throw projectors and some have larger space requirements than others.
The Epson 880 will need around 9 feet to produce a 100" screen. That's on the long side, though should still fit adequately in living rooms and other communal spaces. The throw distance of the Epson 1060 is a bit shorter, only needing around 7-8 feet for a 100" screen, giving it more flexibility for spaces on the smaller side.
Shorter throw distance: Epson 1060
Connectivity
The Epson 880 has a single HDMI port for content. While it also supports Miracast, this can be annoying for those with more complicated home entertainment set-ups because you'll need to manually switch between them.
The rear panel of the Epson 1060 has many more options, including RCA and VGA inputs along with dual HDMI ports. You can also set it up for wireless networking if you need more ways to access your content, giving it much more versatility for more complicated home theater systems.
Better connectivity: Epson 1060
---
Epson 880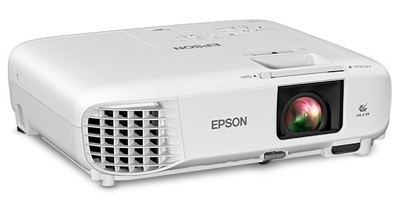 The Epson 880 is an excellent value for anyone who needs a high-quality home theater projector on a budget. From a picture quality standpoint, it uses a full HD resolution with Dynamic Iris contrast that maximizes the sharpness and detail of the picture. The color performance is just as strong, with a 3LCD display that provides flicker-free color and 4 selectable color modes that let you optimize the image to your content.
The Epson 880 also gets high marks for its usability. While it does have a throw distance on the long side, it includes all the features you need to align the picture quickly. This includes a skew sensor that automatically corrects the on-screen geometry, along with a digital zoom and manual focus controls for fine-tuning.
The only major lack of the Epson 880 is its connectivity. It only has a single HDMI port for content sources, which may be frustrating for more complicated set-ups. You can also mirror content through Miracast, but there are no on-board streaming or other wireless options to make up for this lack of input options. Still, if you only use a couple of content sources anyway, this may not be a concern. Click here for our more in-depth Epson Home Cinema 880 review.
Pros
Full HD resolution with 3LCD color
Automatic alignment with picture skew sensor
4 color modes to optimize display
Bright lamp suitable for lights on viewing
Screen mirroring through Miracast
Cons
Longer throw distance
Limited connectivity (only 1 HDMI port)
---
Epson 1060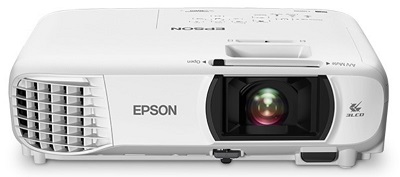 From a picture quality and value standpoint, the Epson 1060 is similarly impressive to the 880. It has full HD resolution with the same 3LCD color and high Dynamic Iris contrast. While it may not give you the cinema-level picture of a more expensive 4K projector, its performance is impressive for a projector in the under $1,000 price point.
When it comes to the set-up, the shorter throw distance of the Epson 1060 is an advantage for smaller spaces. This also helps to maximize the brightness if you do want to use a lower energy setting. While it lacks the skew sensor of the Epson 880, it has all the features you'll need to adjust the image manually. This includes a horizontal image slider as well as digital zoom and keystone correction, so it offers similar installation flexibility to the Epson 880.
Something else we love about the Epson 1060 is its portability. It only weighs about 6 pounds, with a slim 3.4" profile that makes it easy to take from place to place, making it an excellent choice for backyard movie nights, camping trips, and RVers. The expanded connectivity is helpful, too, giving users a wider mix of wired and wireless options for accessing their favorite content.
Pros
High image quality and color performance
Bright lamp in full performance mode
Shorter throw distance
Good array of image adjustment options
Robust connectivity
Cons
Low lamp brightness in Eco mode (1,900 lumens)
No automatic image correction
---
Epson 800 vs. 1060: The Verdict
Choosing between the Epson 880 and 1060 comes down to your space and home theater set-up. If you have multiple content sources, the Epson 1060 will be the more convenient option (>>> Find on Amazon), and its shorter throw distance gives it more space flexibility. On the other hand, the automatic skew correction and brighter lamp of the Epson 880 could make it the more appealing choice for some. Whichever one you buy, you'll get a portable, user-friendly full HD projector.