Home theater users aren't the only ones who need a projector. Their big-screen potential is equally valuable for classrooms and business presentations, and Epson's EX line of projectors are made with this use in mind. As you'll see from this Epson EX3280 review, business projectors have different strengths and features than those made for a home theater. So what are the differences—and who will get the best use out of the EX3280? Read on to learn the answers. (>>> Check on Amazon)
Epson EX3280 Review of Main Specs:
| | Epson EX3280 |
| --- | --- |
| | |
| Resolution | 1024x768 |
| Brightness (Lumens) | 3,600 ANSI |
| Contrast Ratio | 15,000:1 |
| Input Lag | No data |
| Throw Distance | 2.8' - 33.9' |
| Screen size | 30" - 350" |
| Speakers | 2.0 Watts Mono |
| Price | |
Presentations and Business Use
The Epson EX3280 is easy to take with you from your home to the office. It has a slim 3.2" profile and weighs just over 5 pounds, so won't add much bulk or weight to your travels. The included carrying bag is convenient, too, with a front pocket to keep the cords and remote organized during transportation.
The bright lamp of the EX3280 is helpful for presentations, too. It puts out a consistent 3,600 lumens, so you can leave the lights on for note taking, or use it in a classroom or conference room with lots of windows. Whether you're displaying text, graphics, or Zoom conference calls, The Epson EX3280 is a great way to put them on a big screen so everyone can see them.
Installation
The Epson EX3280 is intended for use in relatively large spaces and uses a standard throw distance. It's on the shorter end of the standard throw spectrum, though. For a 100" screen, you'll need about 9.5" between the lens and screen.
One helpful feature of the EX3280 is its built-in skew sensor. This lets it analyze the picture's geometry and automatically correct the vertical keystone to ensure a square image. It also has digital horizontal keystone and zoom controls for fine-tuning, though the fixed lens does limit its placement versatility somewhat compared to other projectors, and you'll need to be precise with measurements during ceiling-mounted installations.
If you only plan to connect one device at a time to the EX3280, its connection panel has the options most will need. This includes HDMI or VGA ports for content and a USB input for devices. To use multiple devices, you'll need to physically change the plugs, and that can get annoying in some home theaters. It also lacks the networking inputs required for some professional installations.
Pros
Lightweight and portable design
Vibrant colors with no rainbowing
Picture skew sensor for automatic alignment
Accepts content up to 4K
Affordable price
Cons
Low resolution for home theater use
Limited connectivity
Picture Quality
The XGA resolution of the Epson EX3280 is on the low side for home theater contexts. It can accept content with resolutions up to 4K, but it will play at standard definition, losing some of the sharpness and detail of the original. This is fine for presentations, though, with a  high dynamic contrast that brings excellent clarity for text, graphics, and other static graphics.
Like many Epson projectors, the EX3280 uses a 3LCD display that gives it impressive color performance. The wide color gamut ensures accurate, realistic hues. Its 3-chip system also eliminates issues like flickering and color brightness that some viewers report from 1-chip color wheel based systems.
Sound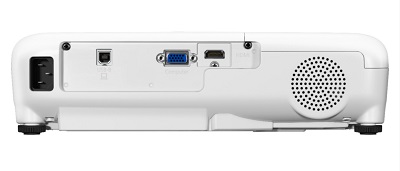 Similar to the picture quality, the built-in sound of the Epson EX3280 is fine for business and classroom use but falls short in a home theater. Its single 2-watt speaker has good mid-range clarity for speech in video calls or presentations. It's not very loud, though, and lacks the bass frequencies necessary for music or sound effects.
The Bottom Line: Epson EX3280 Review
At an MSRP of around $500, the Epson EX3280 is one of the most affordable presentation projectors on the market, and an excellent value for the quality. While it's better for professional uses than in home theaters, it can work for movies and shows in a pinch, and can be a budget-friendly option for those who don't want to spend a ton on their entertainment setup. (>>> Check the current price on Amazon)
REFERENCES AND FURTHER READING: