Epson Introduces the PowerLite 815E: A New Addition to Its Extreme Short Throw Laser Display Lineup
Last week, Epson unveiled the PowerLite 815E, shortly after the recent launch of the PowerLite 810E. This new projector, distinctively designed with a black chassis, integrates seamlessly into the company's lamp-free extreme short throw laser display lineup. It offers 4K Enhancement Technology and has been crafted to suit a wide range of applications including corporate meetings, museum displays, digital signage, and immersive entertainment settings.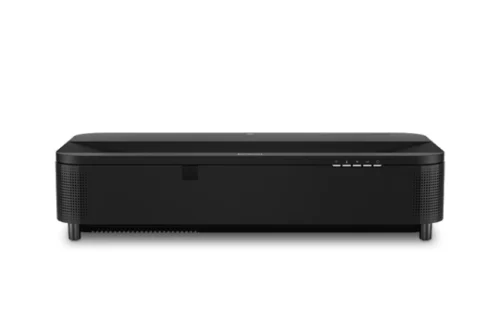 With 5,000 lumens for both color and white brightness, the PowerLite 815E promises sharp detail and minimal glare. The device incorporates the 3-Chip 3LCD with 4K Enhancement technology, ensuring rich visuals and clarity.
Tom Piche, product manager at Epson America, Inc., highlighted that the PowerLite 815E goes beyond conventional display tech, designed to cater to modern-day requirements. Its lightweight design, advanced laser light engine, and a range of display ratios (standard 16:9, ultra-wide 21:9, and 16:6) make it a versatile addition to the market.
One of the standout features of the PowerLite 815E is its ability to project vast images despite its close proximity to a surface. When positioned 14 inches from a wall or screen, the projector can deliver images as large as 160 inches, significantly larger than standard flat panels. Moreover, with an impressive throw ratio, it can project an 80-inch image from just an inch away from the wall, ensuring clear, obstruction-free viewing.
The projector also boasts a durable laser light source expected to last up to 30,000 hours, an efficient cooling system, and multiple connectivity options like HDBaseT, HDMI, USB, and RS-232. In addition, its built-in dynamic dual speaker system and support for wired/wireless networking, including Miracast, enhance its functionality.
Ease of setup and flexibility in placement are evident with the PowerLite 815E. Weighing under 28 pounds, it can easily be moved between rooms or mounted permanently with an optional wall mount. Users can also benefit from advanced edge-blending features and versatile 360-degree placement capabilities, making it suitable for captivating displays in various settings.
Other notable features include:
4K Enhanced resolution for smoother and more detailed picture quality.
Streamlined setup with digital zoom and image shifting.
Timesaving tools for hassle-free installations.
Simple fleet management with Epson's projector management software.
A three-year limited warranty with next-business day exchange.
The PowerLite 815E is currently available for purchase through authorized Epson distributors and resellers at a suggested retail price of $3,299.