Do you need a business projector on a budget? You've come to the right place! In this Epson VS260 review we'll look at one of the best presentation projectors you'll find in the under $500 price point. While it's lacking some features you'd want in a home theater context, its bright lamp, clear image, and versatility makes it an ideal fit for classrooms, conference rooms, and anyone who needs a big display at a great value. (>>> Check on Amazon)
Epson VS260 Review of Main Specs:
| | Epson VS260 |
| --- | --- |
| | |
| Resolution | 1024x768 |
| Brightness (Lumens) | 3,300 ANSI |
| Contrast Ratio | 15,000:1 |
| Input lag | No data |
| Throw Distance | 3.2' - 36.9' |
| Screen size | 30" – 350" |
| Speakers | 2.0 Watts Mono |
| Price | BHPhotoVideo.com |
Overall Design
The Epson VS260 is nicely compact. It weighs just over 5 pounds and has a slim 3.2" profile, small enough to fit into most briefcases and laptop bags for easy transportation. This also makes it nicely unobtrusive once it's set up.
There are two ways to control the VS260: either using the top-mounted button panel, or with the included remote. Both are well-labeled and straightforward, so the projector gets high marks from a usability standpoint.
The 210W UHE bulb in the VS260 will last around 6,000 to 12,000 hours, depending on the brightness and performance settings. That's several years' worth of use before you need to replace the lamp, and it won't need any other regular upkeep aside from an occasional check for dust build-up around the fan vent. This makes it a nice low-maintenance option for permanent installations in spaces like conference rooms and classrooms.
Pros
Bright lamp suitable for any indoor space
Crisp, legible text at all screen sizes
Vibrant colors with no rainbowing
Easy set-up with built-in skew sensor
Lightweight and compact
Accepts content up to 4K
Low price
Cons
Low resolution for video content
Limited connectivity
Long throw distance
Installation
The throw distance of the Epson VS260 is on the longer side. For a 100" image, you'll need around 10-11 feet between the lens and screen. As long as you have room to support this, it's relatively versatile in terms of the installation, supporting flat, angled, or ceiling-mounted set-ups. Its bright lamp helps here, too. It's powerful enough to produce a bright, clear picture indoors. If your space has lots of windows you'll still want to cover them, but you won't need to turn the lights out to get a crisp image.
One helpful option on the VS260 is that you can fine tune the image using the remote. Its e-zoom and digital shift modes let anyone make quick adjustments to make sure your content is clear and readable every time. It also doesn't need to be installed head-on to the screen, with a built-in skew sensor that automatically corrects the screen geometry to square the image.
The rear panel of the Epson VS260 has 1 HDMI input, along with a USB-B port and VGA port for computers. That's a decent variety of input options if you'll only be presenting from one device, though it does limit how many total devices you can plug in at once. There's also no built-in wireless connectivity—if you want to stream content or mirror a device screen, you'll need a Chromecast stick or similar accessory.
Image Quality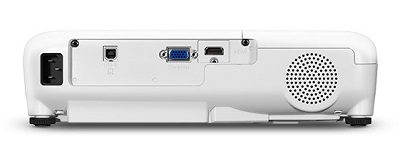 In a home theater context, the XGA resolution of the Epson VS260 would be on the low side. That's equivalent to standard definition, and won't produce the same pixel-by-pixel detail of high-definition resolutions. That said, it's still plenty sharp enough for text, graphs, or video content like Zoom calls and training materials, where you don't necessarily need an immersive 4K experience. You can still play higher-resolution content, too, it'll just be downgraded to the supported resolution of the projector.
Epson projectors use a 3-LCD chip format for the color production, and this is ideal for presentations. The color stays consistent across the image, without the distracting flickering and rainbowing issues that can be caused by color wheels and single-chip displays. The high contrast of the Epson VS260 is another point in its favor in a presentation context, with Dynamic Iris technology to enhance the on-screen contrast for maximum visibility and legibility.
Epson VS260 Review In Summary
No projector in this price range is going to be perfect, and the Epson VS260 is no exception. Its long throw distance could be a deal-breaker for smaller spaces, while its single HDMI port may be an issue for more complex set-ups. On the plus side, it's portable, easy to install and use, and produces clear text and colorful images on a wider range of screen sizes than most projectors. In the end, how and where you plan to use the VS260 will be the main factor in deciding if it's the right model for your needs. (>>> Check the current price on Bhphotovideo)