Hisense is a leading name in home theater projection technology. Their line of laser TV systems are a great way to bring big-screen entertainment to your home, with everything you need to enjoy shows, games, and movies in one convenient package.
Looking at the Hisense L5G vs L9G side by side, the L9G is the winner on just about every category except for price (>>> Check on Amazon). Having said that, though, the L5G still outperforms most home theater projectors, and arguably offers the better value. Let's look at the full details so you can decide which one is right for you.
Hisense L5G vs L9G Side by Side:
| | Hisense L5G | Hisense L9G |
| --- | --- | --- |
| | | |
| Resolution | 3840x2160 | 3840x2160 |
| Contrast | 1,000,000:1 | 1,000,000:1 |
| Brightness (Lumens) | 2,700 ANSI | 3,000 ANSI |
| Input lag | 34.5ms | 34.1ms |
| Throw Distance | 1.8' - 2.2' | 1.8' - 2.2' |
| Screen size | 100" - 120" | 100" - 120" |
| Speakers | 15.0 Watts × 2 | 20.0 Watts × 2 |
| Today's Best Price | | |
Brightness
The 2,700-lumen laser light source of the Hisense L5G is bright enough for most spaces, especially considering its ultra-short throw distance and when used with the included ALR screen. For bright spaces, though, the 3,000-lumen Hisense L9G will be the way to go.
Brightest projector: Hisense L9G
Color
Either of these projectors will give you a sharp image with the full detail of a true 4K display. The main difference is they use a different style of laser, and this mostly impacts their color. With the L5G, it has an X-Fusion Laser that covers the full Rec.709 spectrum. The TriChroma laser in the L9G expands this further, displaying the over 1 billion colors of the BT.2020 color space. That gives it a more realistic and immersive picture overall.
Better color: Hisense L9G
Installation Ease
The ultra-short throw distance of the Hisense L5G gives it a straightforward setup in most spaces. Just place it on a table or entertainment center, power it on, and shift the projector until the image is sized and aligned to the screen. The L9G has an identical ultra-short throw distance but also adds both horizontal and vertical keystone correction, letting you get a square image even in angled or off-center installations. This gives users even more flexibility for fitting the projector in their space.
Easier to install: Hisense L9G
---
Hisense L5G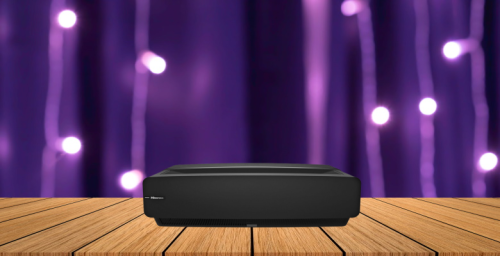 You'll get everything you need to enjoy your favorite shows and movies when you buy the Hisense L5G. For one thing, it comes with an Ambient Light Rejecting (ALR) screen that's designed to pair perfectly with ultra-short throw laser projectors. The features built right into the L5G help here, too, like its integrated Android TV streaming platform and 30-watt Dolby Atmos stereo speakers.
Those with smart home systems will find just as much to love about the Hisense L5G. It has both Wi-Fi and Bluetooth connectivity built in and comes with a voice remote that works with both Alexa and Google Assistant voice commands. You can also mirror content to the projector from a phone or tablet through Chromecast, so you'll have multiple ways to access and control your content.
The Hisense L5G can bring big-screen entertainment to nearly any space. Its ultra-short throw lens fills the included 100-inch screen with less than 2 feet of distance, giving it a straightforward installation with no need for extra hardware along with versatility for different sizes of room. This also helps maintain the full image brightness, with less space for ambient light to affect the picture quality, so while it may still get washed out in especially bright spaces you don't need to turn all the lights off to use it.
The DLP display and X-Fusion Laser Engine of the Hisense L5G produce a true 4K resolution with a color gamut wider than the Rec.709 spectrum. Support for HDR10 ensures a sharp contrast and high image accuracy, and it also has a Filmmaker Mode that disables image optimization settings so you can see films and shows as they were originally intended. It can also be used for casual gaming, with an input lag just over 30ms in Game Mode. That's still on the high side for competitive gamers but makes it suitable as an all-purpose entertainment option. Click here for our more in-depth review of the Hisense L5G.
Pros
True 4K resolution with strong color and contrast
Ultra-short throw distance
Integrated Android streaming interface
Good sound from built-in speakers
Suitable for casual gaming
Comes with a 100-inch ALR screen
Cons
May struggle in especially bright spaces
No keystone correction features
---
Hisense L9G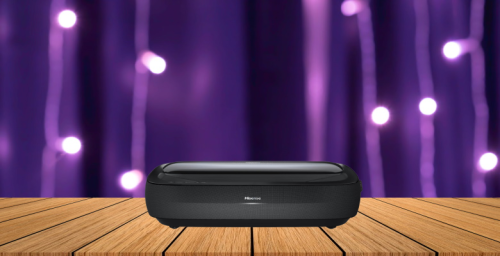 The Hisense L9G shares a lot of the strengths of the L5G above. It has a similar ultra-short throw distance and also comes with an ALR screen designed to pair perfectly with this lens style. In addition, it has the same Android TV streaming interface built-in, with a similar array of options including Chromecast mirroring and Hey Google voice control.
One advantage of the Hisense L9G is that it offers more space versatility. Its 2D keystone correction lets you adjust the image geometry to compesate for off-center or off-axis installations, an option you don't get on the L5G. It's also a bit brighter, giving it more flexibility for use in brighter spaces.
The biggest difference, though, isn't something you can see on first glance. The L9G uses a TriChroma laser engine with dedicated RGB lasers. This gives it an impressive color gamut, with coverage exceeding the BT.2020 color space. Combined with its true 4K resolution and MEMC processor to keep action sequences smooth, this gives you a realistic and immersive image for all types of content. Click here for our full Hisense L9G review.
Pros
True 4K display with TriChroma color (107% of BT.2020 color space)
Ideal lamp brightness for most indoor spaces
Ultra-short throw distance with 2D keystone correction
Powerful built-in sound
Integrated streaming interface with built-in TV tuner
Suitable for casual gaming
Cons
---
The Bottom Line: Hisense L5G vs L9G
The Hisense L5G has a lot to offer, with integrated streaming, high-quality speakers, an easy installation, and a high image quality. While the Hisense L9G performs a bit better on just about every point, it also costs about a grand more (>>> Find on ProjectorScreen). Whether the improvements are worth the extra cost is something each user has to decide. We hope this comparison has helped you see the difference between these models and which one you should buy!