An ultra-short throw laser projector is a convenient choice for a home theater, giving users the versatility to get a big-screen image without a ton of space. Comparing the Hisense L9G vs Formovie Theater, the Hisense L9G is the better overall projector based on performance (>>> Check price on Amazon), though the Formovie Theater offers buyers a better value. Let's take a closer look at where these two models differ.
Hisense L9G vs Formovie Theater Side by Side:
| | Hisense L9G | Formovie Theater |
| --- | --- | --- |
| | | |
| Resolution | 3840x2160 | 3840x2160 |
| Contrast | 1,000,000:1 (dynamic) | 3,000:1 |
| Brightness (Lumens) | 3,000 ANSI | 2,800 ANSI |
| Input lag | 34ms | 34-42ms |
| Throw Distance | 1.8' - 2.2' | 1.4' - 2.5' |
| Screen size | 100" - 120" | 80" - 150" |
| Speakers | 20.0 Watts × 2 | 15.0 Watts × 2 |
| Today's Best Price | BHPhotoVideo.com | ProjectorScreen.com |
Picture Quality
The display you'll get from the Hisense L9G and Formovie Theater is very similar. Both have exceptional color, exceeding the BT.2020 color space. They also share a true 4K resolution and frame interpolation technology to keep action sequences smooth.
Where the Hisense L9G takes a slight edge is its image contrast. The Formovie Theater does support HDR10 and has a relatively high native image contrast for the price point, but the dynamic contrast of the L9G blows it out of the water. This means richer black levels, a sharper image, and more detail in dark areas of the screen.
Better picture quality: Hisense L9G
Smart Features
You'll get a built-in Android streaming interface with either the Formovie Theater or Hisense L9G. On the L9G, you'll also get support for Alexa or Google Assistant voice control, though you'll need a third-party device like an Echo speaker to make it truly hands-free.
While the Formovie Theater only offers Google voice control, it gives those who use it more options. Its far-field voice control technology makes it more responsive to voice commands. It also has built-in Chromecast mirroring and a more advanced Android TV 11.0 interface.
Better smart features: Formovie Theater
Gaming Performance
Neither of these models are what we'd call a true gaming projector, and competitive players look for a lower input lag than you'll get from either one. However, the Hisense L9G is a bit more responsive, with a low enough lag that casual players likely won't notice any issues. It also has a sharper image contrast, good news for players of RPGs, horror games, and other games where you need to see the full details in every shadow.
Better for gaming: Hisense L9G
Built-in Speakers
The Formovie Theater is Dolby Atmos certified for cinema-quality sound signals. Its dual 15-watt Bowers & Wilkins speakers are optimized for home theater sound by audio engineers, and can match many wireless speakers for their frequency response, sound balance, and overall output and quality.
As strong as the sound from the Formovie Theater is, the speakers on the Hisense L9G go a step further. It has two 20-watt Dolby Atmos speakers that deliver clear mid-range dialogue and powerful bass for sound effects or music, and can fill any listening area with sound.
Better speakers: Hisense L9G
Price and Value
At an MSRP of about $5,500, the Hisense L9G may be out of some buyers' home entertainment budget. The Formovie Theater delivers similar performance for around two grand less, giving buyers a better bang for their buck. Granted, the L9G does come with a screen included, but that's not enough of a value add to make up for the marked price difference.
Better value: Formovie Theater
---
Hisense L9G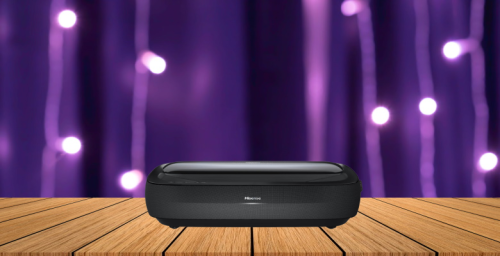 The Hisense L9G takes the concept of all-in-one to another level. Its integrated Android operating system lets you stream content directly from any app in the Google Play store and also adds Hey Google voice control to your navigation options. Along with this, its stereo Dolby Atmos speakers are comparable in audio quality and output to many standalone soundbars, so you don't need external speakers to enjoy your shows, games, and movies. Best of all, it comes with a 100-inch Ambient Light Rejecting (ALR) screen, giving you everything you need to start watching right in the box.
The Hisense L9G uses a TriChroma laser engine for color, producing a phenomenal range of hues that exceeds the BT.2020 color space. Its native 4K resolution, high dynamic contrast, and support for HLG and HDR10 ensures a crisp and life-like image, with MEMC technology to ensure that detail stays clear even when it's in motion. Movie buffs will love the Filmmaker Mode, which adjusts the frame rate and other settings automatically to match the director's original intent.
The laser light source of the Hisense L9G also gives it an ultra-short throw distance. You only need about two feet to fill the included screen. While it doesn't have a ton of image adjustment options, that short throw means most won't need them. It does have a 2D keystone correction, too, so you can get a square image even in off-center or angled installations. For our more in-depth review of this projector, click here.
Pros
4K resolution with excelelnt color and contrast
Ultra-short throw distance
Low enough lag for casual gaming
Includes an ALR screen
Works with Google or Alexa voice control
Built-in streaming interface
Built-in 40-watt Dolby Atmos speakers
Cons
---
Formovie Theater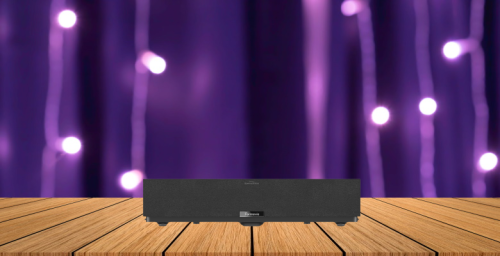 The ALPD 4.0 RGB+ triple laser light source in the Formovie Theater matches the wide color gamut of the Hisense L9G, with 107% coverage of the BT.2020 spectrum for accurate and lifelike hues and a sophisticated Color Management System for fine-tuning. Its 4K resolution means detail to match, while its speckle elimination technology makes sure you only see your content, not artifacts from the laser or display. Support for Dolby Vision and HDR10 ensures you'll see shows and movies at their best, and its MEMC technology keeps the display smooth.
The Formovie Theater can produce an image from 80-150 inches, all without needing more than 2.5 feet between the lens and screen thanks to its ultra-short throw. This gives it a relatively fast and flexible installation, though it lacks features like keystone correction and zoom, meaning you'll need to adjust the projector's placement to adjust the image. You also won't need external speakers unless you want to add surround sound thanks to the stereo Bowers & Wilkins speakers that are built-in.
The wireless connectivity of the Formovie Theater makes it a great choice for modern home entertainment setups. This starts with its Android 11.0 interface, giving access to any streaming app in the Google Play store and adding Chromecast mirroring to its capabilities. Its far-field Google Assistant voice control gives users truly hands-free navigation through Hey Google. The only thing to bear in mind is that it doesn't support other voice control or home automation services, so its compatibility is limited in that regard. Click here for our more in-depth review of the Formovie Theater.
Pros
Sharp and colorful 4K image
Ultra-short throw distance
Android streaming interface with Chromecast
Far-field Google Assistant voice control
Excellent sound from built-in speakers
Cons
Input lag may be too high for many gamers
No keystone correction or zoom
---
The Verdict: Hisense L9G vs Formovie Theater
The difference between the Hisense L9G and Formovie Theater really comes down to the details. The L9G is more flexible to install, comes with a screen, and is slightly better on features like sound, image contrast, and input lag (>>> Check the current price on ProjectorScreen). However, the Formovie Theater almost matches the performance of the L9G for a much lower price.