Today's 4K home theater projectors bring viewers an incredible picture quality in an affordable and user-friendly package. Compared to the massive professional projectors of the past (and their accompanying massive 5-figure price tags), the accessibility of models like the JVC NX5 and Sony 325ES is impressive. Comparing the JVC NX5 vs. Sony 325ES, the JVC is the slightly better option for home theater use (>>> Check on Amazon), while the Sony is a better choice for gaming. Let's take a closer look at the key features so you can see how they differ.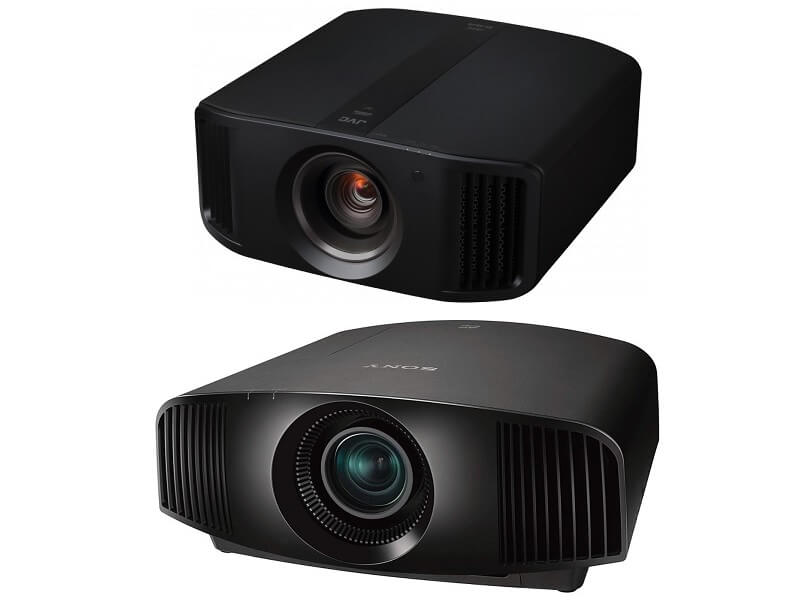 JVC NX5 vs Sony 325ES Side by Side:
| | JVC NX5 | Sony 325ES |
| --- | --- | --- |
| | | |
| Resolution | 4096x2160 | 4096x2160 |
| Brightness (Lumens) | 1,800 ANSI | 1,500 ANSI |
| Contrast Ratio | 40,000:1 | 9,000:1 |
| Input Lag | 40ms | 27ms |
| Throw Distance | 12.3' - 20.7' | 12.5' - 30.5' |
| Screen size | 60" - 201" | 60" - 300" |
| Speakers | No | No |
| Today's Best Price | ProjectorScreen.com | BHPhotoVideo.com |
Brightness
Neither of these projectors is a great choice for well-lit spaces. Having said that, though, the JVC NX5 performs slightly better in this regard, putting out about 1,800 lumens. This allows for a bit of lights-on viewing better than the 1,500 lumens of the Sony 325ES.
Brighter projector: JVC NX5
Picture Quality
Again, this is a category where these projectors are very close in their performance—although this time on the plus side. Both feature sophisticated lens designs with advanced image processing technology, including motion enhancement, high contrast, and incredibly realistic, bright colors.
The Sony 325ES takes a slight edge here thanks largely to its Advanced Reality Creation and Dynamic HDR tone mapping. Together, these provide a cinema-quality picture with a wide color gamut and sharp contrast, resulting in one of the best picture qualities you'll find at the price point.
Better picture: Sony 325ES
Gaming Performance
While you wouldn't call either of these a "gaming projector", both can be suitable for casual players. The same smooth motion engines that enhance movies and shows are helpful here, too, and both have a reasonable (if not exceptional) input lag.
The Sony 325ES is slightly more responsive, with a measured input lag around 27ms in Game Mode. It also has a high 60Hz frame rate for both HD and 4K gaming, making it a great choice for casual players of all game styles.
Better for gaming: Sony 325ES
---
JVC NX5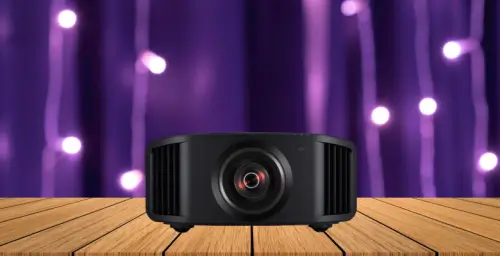 The impressive picture quality of the JVC NX5 starts with its 17-group all-glass lens. This is paired with a 3 D-ILA chip display and dynamic iris contrast, producing a sharp, crisp Ultra HD image that accurately reproduces the full detail of your content. The Clear Motion Drive has Motion Enhance technology to keep those images smooth and blur-free even during fast sequences. For color, the HDR10 Auto Tone Mapping optimizes the hues to suit your content. In total, this means an immersive, realistic picture for all types of content.
The JVC NX5 can also be used for casual gaming, though it does have some limitations here. Its measured input lag is around 40ms in Low Latency Mode. That's low enough most players won't notice a delay, though competitive online gamers will want something a bit more responsive.
From a set-up standpoint, the JVC NX5 offers a good amount of flexibility. Along with a wide 2x zoom and vertical keystone correction, its 2D lens shift (34% horizontal, 80% vertical) lets users easily adjust the image alignment once the projector is mounted. Most will want to mount it, though, since the throw distance is on the long side even for a standard-throw projector. You'll also need to use it in a room with good light control measures. At 1,800 lumens, the light is bright enough to compete with some ambient light, but will struggle in well-lit spaces.
Pros
Sharp, high-contrast true 4K image
HDR automatic tone mapping
Improved clear motion drive for smooth action
Low Latency Mode suitable for casual gaming
Flexible installation with lens shift and wide zoom
Cons
Input lag may be too high for serious gamers
Low lamp brightness
---
Sony 325ES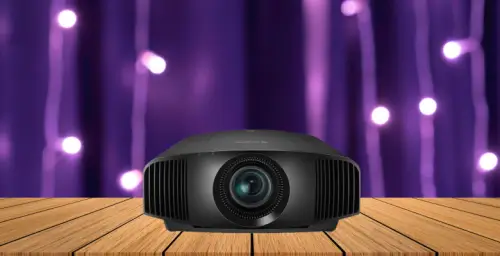 For picture quality, it's hard to beat the Sony 325ES. Its 3-SXRD display produces a resolution even more detailed than typical 4K, with an aspherical lens that further enhances the clarity. Its Motionflow technology prevents motion blur, while the Triluminos display produces bold, bright colors on par with what you'd see in a professional theater. It also features 4K upscaling for lower-resolution content with its Reality Creation technology, along with frame-by-frame HDR tone mapping and noise reduction, so some of what you watch will look even sharper than the original source material.
When it comes to the space and set-up, the Sony 325ES is similar in performance to the JVC NX5. Its wide zoom and lens shift are helpful for getting the perfect alignment, though it does have a long throw distance that can make it tricky to use in smaller spaces. The lack of keystone correction can be an issue here, too, as can the lamp brightness—at 1,500 lumens, it's designed for use in completely dark spaces, and will struggle if there's ambient light.
On the plus side, the measured input lag of the Sony 325ES is a reasonable 27ms in Game Mode. This is paired with a 4K 60Hz frame refresh rate and the same smooth motion engine that keeps on-screen action blur free during movies. This makes it a versatile projector in terms of its function, provided you have a large, dark enough space for it.
Pros
Exceptionally crisp, detailed image
4K upscaling with Advanced Reality Creation
Frame by frame dynamic HDR tone mapping
Smooth on-screen action with Motionflow
Wide zoom and lens shift
Input lag low enough for most players
Cons
Long throw distance with no keystone correction
Low lamp brightness
---
The Verdict: JVC NX5 vs Sony 325ES
Both the Sony 325ES and JVC NX5 are considered to be entry-level projectors (>>> Find on ProjectorScreen), though that means a different thing for A/V professionals than some consumers might expect. They're priced similarly, in the $5,000-$6,000 range—affordable compared to a $10,000 professional projector, but a bit more than some people might have room for in their budget. Still, if you're looking for a projector that can give you a truly cinema-quality image, either of these models can be an excellent option.
REFERENCES AND FURTHER READING: