Leica Camera, the iconic German photography company, unveiled its first Laser TV at CES 2023, marking a pivotal moment for the brand. Named the Leica Cine 1, this 4K, triple-laser ultra-short throw (UST) projector was birthed through a collaboration with Hisense. Come September 2023, American households can add this premium device to their living rooms, with two size variants, 100-inch and 120-inch, priced starting from $8,995.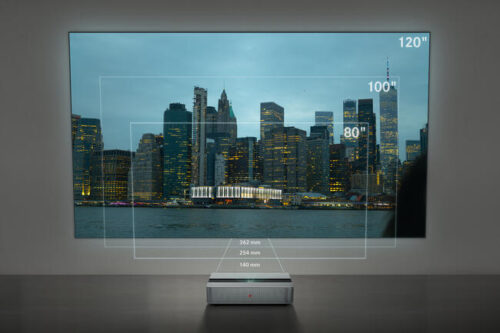 While Hisense takes the lead in crafting the laser core, Leica is assuring consumers that the Cine 1 will resonate with the brand's hallmark quality. A distinct Summicron lens, engineered exclusively by Leica, is meticulously paired with the projector's image dimension. In addition, to enhance the viewing experience, Leica has incorporated its proprietary image processing, known as the Leica Image Optimization (LIO), that harnesses specialized algorithms to optimize picture quality.
The Cine 1 boasts impressive visual credentials. With a brightness that hits 2,500 lumens for both model sizes and over 100% coverage of the BT.2020 color space, the laser TV promises an immersive experience. While Leica remains tight-lipped on its HDR format support, Hisense's top-tier models are known to be compatible with HDR10 and Dolby Vision.
The design, too, bears the unmistakable Leica touch. The sleek aluminum-wrapped body, punctuated by tiny perforations, aids in better ventilation. These holes also allow the rich sounds from the embedded 50-watt Dolby Atmos sound system to flow freely. Further, to safeguard the invaluable Leica lens, the projector comes equipped with an ingenious sliding dust cover that activates automatically when the device is not in use.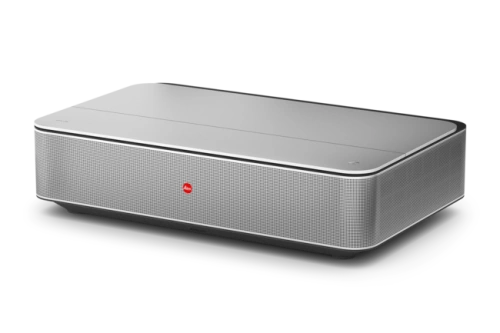 In a deviation from the norm, Leica emphasized the health benefits of the Cine 1. According to a press release, "The projected image of the Leica Cine 1 is considerably less fatiguing for the eyes than conventional TV displays," hinting at the possibility of longer, comfortable movie marathons at home.
Technology-wise, the Cine 1, like the newly launched Laser TVs from Hisense, is powered by Google TV's smart TV platform and comes with an integrated ATSC 1.0 tuner for terrestrial broadcasts. Connectivity is comprehensive, with two HDMI 2.1 ports (one supporting HDMI ARC/eARC) and an HDMI 2.0 port. For added convenience, it also includes two USB ports (1 x USB 2.0, 1 x USB 3.0).
While the stage is set for the Cine 1, it remains to be seen if it can outshine Hisense's L9G model. For context, Hisense's L9G, initially priced at $5,500, is now available for under $4,000. The ball is in Leica's court to validate the Cine 1's elevated price point. Stay tuned for our hands-on review of Leica's laser projector.