These days, you don't need a huge budget to set up a high-quality projector-based home theater. Comparing the Optoma HD146X vs. BenQ TH585, you'll see both are responsive, easy to use, and priced low enough they won't break the bank. The BenQ TH585 will be the better choice for most buyers (>>> Check on Amazon), with more installation options and better built-in sound, though the picture quality of the Optoma HD146X is better overall. Let's take a closer look at what each projector has to offer.
Optoma HD146X vs BenQ TH585 Side by Side:
| | Optoma HD146X | BenQ TH585 |
| --- | --- | --- |
| | | |
| Resolution | 1920x1080 | 1920x1080 |
| Brightness (Lumens) | 3,600 ANSI | 3,500 ANSI |
| Contrast Ratio | 25,000:1 | 10,000:1 |
| Input Lag | 16ms | 16ms |
| Throw Distance | 3.3' - 32.2' | 3.6' - 32.7' |
| Screen size | 28" - 302" | 30" - 300" |
| Speakers | 3.0 Watts Mono | 10.0 Watts Mono |
| Today's Best Price | BHPhotoVideo.com | BHPhotoVideo.com |
Installation Flexibility
Both the Optoma HD146X and the BenQ TH585 have a standard throw ratio, so they will need a larger space to be at their best. On the plus side, they also both have powerful lamps, with a brightness of 3,600 lumens and 3,500 lumens respectively, so they can be used in brighter rooms without worrying about light control measures.
Where the BenQ TH585 takes the edge here is its array of adjustment options. While the zoom is relatively narrow (1.1x), it also has a 10% vertical lens shift and automatic vertical keystone correction, making it easier to square the image and align it with the screen.
More flexible installation: BenQ TH585
Connectivity
The Optoma HD146X has a single HDMI port, along with an audio jack and a USB port for peripherals. The rear panel of the BenQ TH585 is much more expansive, including a VGA input and output for PCs and dual HDMI ports, along with an audio jack and USB port.
Broader connectivity: BenQ TH585
Color and Contrast
The BenQ TH585 has a 10,000:1 contrast ratio, giving relatively sharp lines and details for both games and movies. Its 6-segment color wheel covers most of the Rec.709 space, though you may miss some hues and detail compared to more sophisticated projectors.
With the Optoma HD146X, you'll get a 25,000:1 Dynamic Black contrast and full coverage of the Rec.709 spectrum. This means richer black levels, more nuanced colors, and an overall more immersive and accurate viewing experience.
Better color and contrast: Optoma HD146X
Built-in Sound
You'll definitely want to pair the Optoma HD146X with an external speaker or sound system. Its 3-watt speaker is tinny and weak, especially lacking in the bass end of the spectrum.
In contrast, the BenQ TH585 has a 10-watt speaker with a much higher output volume and more balanced sound across frequencies. While it's still a bit thin in the low end, it's good enough you can use it to watch movies or play games without missing any sound effects or dialogue.
Better built-in sound: BenQ TH585
---
Optoma HD146X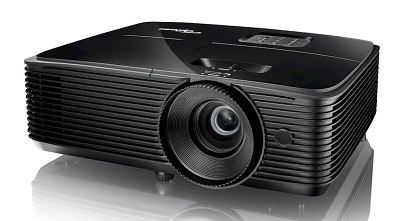 The Optoma HD146X uses a Texas Instrument DLP display that brings the same clarity and perfect alignment you'll get from the brand's more expensive models. This is paired with a powerful 3,600-lumen lamp that keeps images bright and saturated, even in viewing areas that have lots of windows or other ambient light. Add in the high Dynamic Contrast ratio and 6-segment color wheel, and the result is an immersive full HD picture.
Gamers will appreciate the Optoma HD146X, too. Putting it in Enhanced Gaming Mode drops the input lag down to around 16ms, responsive enough for even serious and competitive gamers. The Game Display Mode also boosts the contrast in dark areas of the screen, making sure you see every detail, even in shadowy horror games and RPGs.
While the HD146X is overall easy to set up and use, it does have some limitations. Its standard throw distance means you'll need around 11-12 feet for a 100" screen, and you'll need to be fairly precise with your placement of the projector since it doesn't have many options for adjusting the image alignment. It's also not ideal for more complicated set-ups since it only has a single HDMI input for content.
Pros
Crisp full HD image with high Dynamic Black contrast
Vivid colors with 6-segment color wheel
Bright enough lamp for any indoor light environment
Low input lag in Enhanced Gaming Mode
Quiet motor and long lamp lifespan in Eco Mode
Cons
Limited image adjustment options
Built-in speaker is weak
---
BenQ TH585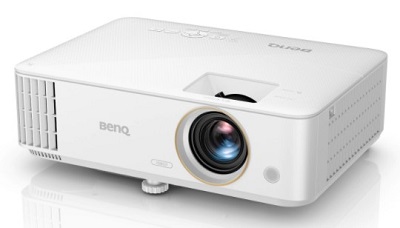 The BenQ TH585 matches the performance of the Optoma HD146X for gaming. It has the same fast 16ms input lag, as well as a Game Picture Mode that enhances detail in shadowy areas. Its main advantage for gamers is its broader connectivity, which includes a VGA input along with 2 HDMI ports, ideal for both PC and console gamers.
One place the BenQ TH585 thrives is its versatility. While it has a similarly long throw distance to the HD146X, it has more options for quickly aligning the image to the screen, including a 10% lens shift and automatic vertical keystone correction. You also won't have to worry about the light level in your viewing area thanks to the powerful 3,500-lumen lamp.
From a picture quality standpoint, the BenQ TH585 is acceptable, if not exceptional. It has a full HD resolution with HDR contrast, for sharpness and detail on par with 1080p TVs. The 6-segment color wheel covers about 95% of the Rec.709 spectrum—not the broadest color gamut on the market, but enough to produce a realistic, immersive picture for your games and movies.
Pros
Bright lamp won't be washed out by ambient light
Vibrant colors covering 95% of Rec.709 spectrum
Low input lag in Game Mode
Decent volume and sound quality from built-in speaker
Vertical lens shift and automatic keystone correction
Robust connectivity
Cons
---
Optoma HD146X vs BenQ TH585 In Summary
The Optoma HD146X and BenQ TH585 are both excellent projectors for gamers, with a reasonable price tag that makes them accessible for everyday entertainment. While the picture quality of the Optoma is slightly better, the BenQ is superior when it comes to installation ease, connectivity, and built-in sound (>>> Find on Bhphotovideo). This makes it the more convenient option for most users.
REFERENCES AND FURTHER READING: