It used to be that you needed a completely dark space to use a projector for entertainment, but with the latest laser-based models from Optoma you won't need to turn the lights out. These responsive full HD projectors are ideal for bright spaces and versatile enough to fit a variety of uses, from business presentations to block parties. Comparing the Optoma HZ39HDR vs GT1090HDR, the GT1090HDR will be the better choice for most people (>>> Check on Amazon), though the HZ39HDR has its strengths, too. Let's look at the main differences so you can see which one is your best option.
Optoma HZ39HDR vs GT1090HDR Side by Side:
| | Optoma HZ39HDR | Optoma GT1090HDR |
| --- | --- | --- |
| | | |
| Resolution | 1920x1080 | 1920x1080 |
| Contrast | 300,000:1 | 300,000:1 |
| Brightness (Lumens) | 4,000 ANSI | 4,200 ANSI |
| Input lag | 16ms | 16.4ms |
| Throw Distance | 3.2' - 26.4' | 1.3' - 10.9' |
| Screen size | 30" - 300" | 36" - 301" |
| Speakers | 10.0 Watts Mono | 10.0 Watts × 2 |
| Today's Best Price | BHPhotoVideo.com | BHPhotoVideo.com |
Installation Ease
The Optoma HZ39HDR has a reasonable throw distance for a standard-throw projector but it still needs upwards of 9 feet to fill a 100 inch screen, which could limit its use in smaller spaces. The short-throw GT1090HDR needs less than half the space to produce the same size of image, and also has an auto 2D keystone correction that makes it faster and easier to align.
Easier installation: Optoma GT1090HDR
Brightness
By the specs, the Optoma GT1090HDR is a smidge brighter than the HZ39HDR. In practice, however, that difference will be more profound because of that short throw distance mentioned above. Since the light doesn't have as far to travel, it won't be as affected by other sources of illumination, giving you a more powerful picture even in brighter spaces.
Brighter projector: Optoma GT1090HDR
Gaming Performance
Both of these projectors are responsive enough for any type of gaming, even online play and reflex-based first-person shooters. The Optoma GT1090HDR takes the edge on two points, though. Its input lag is a bit quicker, first of all. It also has a wider variety of input options, including RCA and VGA, which lets you use it with more systems.
Better for gamers: Optoma GT1090HDR
Value
The MSRP of the Optoma HZ39HDR is a few hundred dollars less than that of the GT1090HDR, and their typical price in retailers follows that same trend. If you don't need a short throw distance, the HZ39HDR performs equally to the GT1090HDR in most categories but at a lower cost.
Better value: Optoma HZ39HDR
---
Optoma HZ39HDR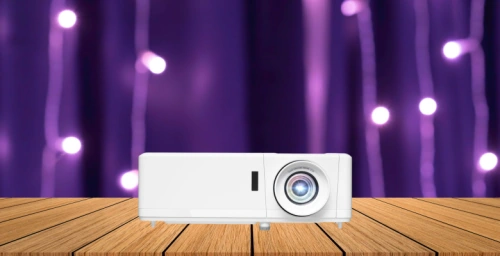 The DuraCore Laser light source in the Optoma HZ39HDR is as powerful as it is durable. It can put out up to 4,000 lumens, enough to maintain a clear picture even in bright spaces. It'll also maintain that brightness for around 20,000 hours, or up to 30,000 on dimmer settings. Since it's also compact and weighs less than 10 pounds, this also makes it ideal for outdoor movies or classrooms.
The Optoma HZ39HDR uses a DLP display with HDR10 compatibility that gives it a high dynamic contrast. The 4-segment color wheel covers the full Rec.709 spectrum, so colors are accurate and lifelike. You can also use it for all types of entertainment. It supports 3D content from multiple sources and gamers will appreciate the low input lag. It also can play 4K content, though it will be downscaled to Full HD.
The standard-throw lens on the HZ39HDR makes it best-suited to larger spaces. It can produce a clear picture from as little as around 3 feet away, but you'll need at least 9 feet to fill a 100-inch screen. There also aren't many options for adjusting the picture alignment, or adjustments for off-center or tilted installations, which can make it tricky to install in some spaces.
Pros
Colorful Full HD image with HDR contrast
Low lag is great for gaming
Accepts 4K content
Bright, long-lasting lamp
Supports multiple 3D formats
Compact and portable design
Cons
Standard throw distance
Limited image alignment features
---
Optoma GT1090HDR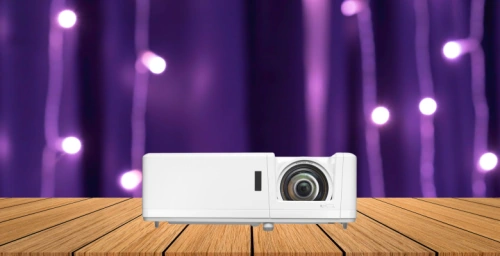 The Optoma GT1090HDR can bring big-screen entertainment to nearly any space. Its 4,200-lumen laser phosphor light source won't get washed out by ambient light. Along with that, its short-throw lens only needs 16" to produce a clear image, and fills a 100-inch screen from less than 4 feet away. It also has automatic 2D keystone correction, so it's flexible across different spaces in a variety of ways.
The rear panel of the GT1090HDR also gives users more versatility than the typical home theater projector. Along with the standard dual HDMI inputs, its RCA and VGA inputs let it work with camcorders, PCs, older gaming systems, and other devices beyond the typical home theater equipment.
The Optoma GT1090HDR uses a similar DLP display and DuraCore light source to the HZ39HDR, and produces an equally crisp and clear full HD image. Support for HLG and HDR10 ensures accurate, vibrant colors and it can play 3D content from most sources, along with downscaled 4K content. Its single-digit input lag makes it a great choice for gamers, too.
Pros
Full HD image with HLG and HDR10 support
Great choice for gaming
Short throw distance
Bright DuraCore laser light source
Auto keystone correction
Low-maintenance with IP6X dust protection
Cons
---
Optoma HZ39HDR vs GT1090HDR In Summary
Based solely on their performance, the Optoma GT1090HDR is the better option for most users, with a shorter throw distance, brighter lamp, and lower input lag. It also costs a bit more, though, and the HZ39HDR comes close to matching it on a lot of key points. In the end, it comes down to whether you want to spend a few hundred dollars more for a short throw distance and the other slight improvements you'll see with the GT1090HDR (>>> Find on Bhphotovideo).