Looking for a new 4K projector for your home theater? Optoma's UHD line is a great way to go. Looking at the Optoma UHD30 vs. UHD60, both have a sharp, colorful ultra HD picture, and will work well in a similar range of spaces. The newer and more responsive Optoma UHD30 will be the better choice for most homes (>>> Check on Amazon), though the UHD60 has its strengths, too. Let's take a closer look at the differences.
Optoma UHD30 vs UHD60 Side by Side:
| | Optoma UHD30 | Optoma UHD60 |
| --- | --- | --- |
| | | |
| Resolution | 3840x2160 | 3840x2160 |
| Brightness (Lumens) | 3,400 ANSI | 3,000 ANSI |
| Contrast Ratio | 500,000:1 | 1,000,000:1 |
| Input Lag | 16ms | 56ms |
| Throw Distance | 4.2' - 33.0' | 4.3' - 30.5' |
| Screen size | 34" - 302" | 27" - 302" |
| Speakers | 5.0 Watts Mono | 4.0 Watts × 2 |
| Today's Best Price | | |
Brightness
Both these projectors are bright enough for the majority of viewing areas. The UHD60 is rated for 3,000 lumens, which is plenty to compete with most indoor lighting, though you may need heavy curtains in rooms with lots of windows. The UHD30 puts out a bit more power, rated for 3,400 lumens, making it the better choice for semi-outdoor spaces or particularly bright rooms.
Brighter projector: Optoma UHD30
Installation Flexibility
The Optoma UHD30 can be installed on a table top or with a ceiling-mount, and has both front- and rear-facing options. The alignment options are limited, however, so you'll need to be precise with your measurements during installation.
The Optoma UHD60 supports a similar variety of installations, and has more alignment features to work with, including a wider zoom, vertical keystone correction, and vertical lens shift. This makes it easier to install overall, despite it having a slightly longer throw distance.
More flexible installation: Optoma UHD60
Gaming Performance
Input lag and frame rate are the main considerations for gamers. The first tells you how much delay will be added between your input on the controller and what you see on the screen. A high frame refresh rate, meanwhile, means smoother movement, with less risk of frame tearing, motion blur, or other issues.
The input lag of the UHD60 is in the mid-50 milliseconds. Casual players may not notice the delay, especially if they play RPGs or puzzle games. It's too high for serious gamers, however, and can become an issue for online multiplayer and reflex-based games. The Enhanced Gaming Mode of the Optoma UHD30 drops the input lag as low as 16ms, paired with a high 240Hz refresh rate, making it the better option for gaming.
Better gaming performance: Optoma UHD30
---
Optoma UHD30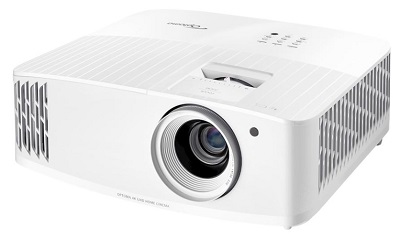 The DLP display of the Optoma UHD30 produces a true 4K resolution, with 8.3 million on-screen pixels. That detail is further enhanced through Optoma's UltraDetail and Dynamic Black technology, which gives it a sharp contrast and exceptional clarity across the entire image. Its color performance is equally impressive, using an enhanced 8-segment color wheel and HDR tone mapping to ensure the accuracy of the hues.
Gamers will appreciate the performance of the UHD30, too. In Enhanced Gaming Mode, it has an input lag as low as 16ms for full HD, and a reasonable 25ms in 4K. The 240Hz frame rate keeps the on-screen action smooth, too, and it has the connectivity to support both PC and console gaming.
The lamp of the Optoma UHD30 can put out a consistent 3,400 lumens, so you can keep the lights on while you're watching. It does need a good amount of space, however, and you'll need to be fairly precise when aligning the lens to the screen. There is a vertical keystone correction for squaring the image geometry, but the zoom is narrow and there aren't any lens shift or other alignment features.
Pros
Sharp, high-contrast 4K image
Enhanced color wheel with Rec.2020 tone mapping
Low lag with 240Hz refresh rate in 1080p
Bright lamp supports indoor and outdoor uses
3D ready
Inputs include VGA and dual HDMI
Cons
Limited alignment and set-up features
Weak built-in sound
---
Optoma UHD60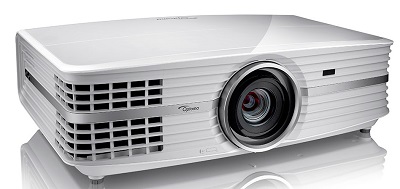 From a picture quality standpoint, the Optoma UHD60 has similar strengths to the UHD30. This includes a true 4K resolution with UltraDetail and Dynamic Black technology. Its 5-segment color wheel covers the full DCI-P3 color gamut, too, with support for HDR10 and HLG.
The throw distance of the UHD60 is similarly long, too, but you'll get more flexibility within that space. Its 15% vertical lens shift and wide 1.6x zoom make it easier to install using either a table-top or ceiling-mounted installation. You can also use it without external speakers if you'd prefer. The stereo speakers built in have a good mid-range clarity and enough volume output for most viewing areas.
The P-VIP bulb used in the UHD60 has a maximum lifespan of around 10,000 hours, and that could be as low as 4,000 hours depending on your brightness settings. Most users will need to replace the bulb much sooner in the UHD60 than the UHD30, and this could become more of an issue in the future since the UHD60 is discontinued.
Pros
True 4K resolution with UltraDetail and Dynamic Black
Full coverage of the DCI-P3 color spectrum
Stereo speakers with crisp mid-range for dialogue
Flexible installation with wide zoom and lens shift
Bright enough for most viewing areas
Cons
Input lag is too high for many gamers
Short lamp lifespan, even in eco mode
---
The Verdict: Optoma UHD30 vs UHD60
Installing the Optoma UHD60 is easier, and this could make it the better choice for first-time projector owners. That's not to say the UHD30 is difficult to use (>>> Find on Amazon), however, and its brighter, more durable lamp and lower input lag will make it the best projector for most.