The Sony VPL line of projectors are designed for true home theater buffs. Their advanced display technology brings users an image quality on par with what you'd see in a professional cinema, perfect for a high-end or luxury home theater space. Of course, that kind of advanced performance doesn't come cheap. At a cost of more than $25,000, you want to be absolutely sure the VPL-XW7000ES is the right projector for your home before you buy it. That's why we're unpacking its full features in this Sony VPL-XW7000ES review (>>> Check on Amazon). Read on to learn this impressive projector's strengths and weaknesses so you can decide if it's worth the investment.
Sony VPL-XW7000ES Review of Main Specs:
| | Sony VPL-XW7000ES |
| --- | --- |
| | |
| Resolution | 3840x2160 |
| Contrast | 2,000,000:1 |
| Brightness (Lumens) | 3,200 ANSI |
| Input lag | 13-21ms |
| Throw Distance | 8.3' - 19.7' |
| Screen size | 40" -200" |
| Speakers | No |
| Today's Best Price | BHPhotoVideo.com |
Installation and Space Requirements
The Sony VPL-XW7000ES is built primarily for use in dedicated home theater spaces and this is reflected in its design. It's a hefty projector, for one thing, weighing over 30 pounds and taking up more space than your average home theater projector. It also needs a similarly large room to reach its full potential. It needs 10-20 feet between the lens and screen to produce a 100-inch image, so it's not a great choice for smaller spaces. There are also no built-in speakers, so you'll need an external sound system before you can use it to watch content.
One advantage of the VPL-XW7000ES over similarly-priced projectors is its lamp brightness. It puts out a consistent 3,200 ANSI lumens so you won't need to turn out all the lights or use black-out curtains on your windows to maintain an immersive picture. The image is bright, colorful, and detailed even in rooms with ambient light.
This projector is flexible to install in other ways, as well. It has a motorized lens with a wide 2D lens shift (+/-36% horizontal and +/-85% vertical) and 2.1x powered zoom, so you can easily adjust the image to match the needs of your space. The Picture Position Memories function lets you store up to 3 profiles, inlcuding the focuz, zoom, lens shift, and aspect ratios, so you can quickly switch to match your content or different viewing areas.
Pros
Exceptional 4K image with true-to-life colors
Bright lamp supports lights-on viewing
Flexible installation
Seamless integration into many home automation systems
Responsive enough for gaming
Cons
High cost
No built-in streaming or voice control
Picture Quality
The VPL-XW7000ES uses Sony's flagship X1 image processor, with a Silicon X-tal Reflective Display (SXRD) that has a native true 4K resolution. Object-based super resolution enhances details even further than what you'd expect from a typical 4K display. For fast-paced action scenes or live sports, Motionflow technology reduces motion blur. You can also turn on the True Theater Mode if you'd prefer to see content with its original frame rate.
The aspherical Advanced Crisp-Focused lens ensures you'll see every detail clearly from edge to edge, and uses a floating focus system with low dispersion glass to produce images free of distortion or color loss. Its Digital Focus Optimizer is the final piece in this puzzle, identifying potential degradation before it happens to maintain a sharp focus.
The color technology employed by the Sony VPL-XW7000ES is equally impressive. Its Live Color Enhancer selectively increases the size of the color gamut, producing lifelike skin tones and texture. The color gamut is pretty wide already. Its Triluminos Pro algorithm produces over a billion colors for more nuanced shading, while Wide Dynamic Range Optics give it coverage for around 95% of the DCI-P3 spectrum.
The VPL-XW7000ES also supports all the modern image technology your content is likely to use. This includes IMAX Enhanced, HLG, and HDR10, ensuring you'll see movies, shows, and games at their best.
Smart Home Integration
The Sony VPL-WX7000ES integrates easily with many home automation systems, including AMX, Control 4, Crestron, OvrC, and Savant. However, it doesn't have the built-in voice control and smart home functions you'll find on many mid-range projectors. There's no streaming interface or integrated support for services like Alexa or Google Assistant, so whether this will fit your needs as a smart home theater projector depends on which systems and services you use.
Gaming Performance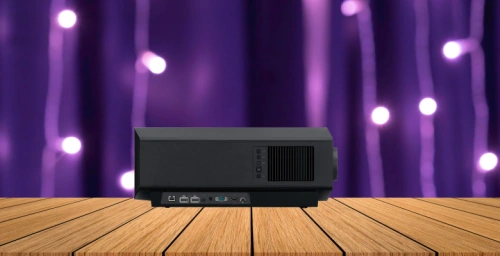 Both HDMI inputs on the Sony VPL-WX7000ES support 4K input at 60Hz and 1080p input at 120Hz. This is paired with an input lag under the 30ms threshold for reflex-based games, as low as 13ms for full HD gaming. All of this makes the VPL-WX7000ES an excellent choice for gamers.
The Bottom Line: Sony VPL-XW7000ES Review
You'd be hard pressed to find a home theater projector with a higher image quality than what you'll get with the Sony VPL-XW7000ES. It's also more versatile and easier to install than many luxury home theater projectors, with a powerful lamp and the responsiveness you need for gaming. If money is no object, we absolutely recommend this projector. That said, its high price is likely well outside of many buyers' budgets, and even those who can afford it may not be able to justify spending this kind of money for entertainment. Ultimately, it's up to you to decide if the VPL-XW7000ES is worth the investment for your home (>>> Find on Bhphotovideo).