Not every home theater projector can produce an image of the same quality and detail you'd seen in a movie theater. The projectors that do don't come cheap, but you can find a few options on the consumer market that will satisfy even the most demanding movie buff. Looking at the Sony VPL-XW7000ES vs JVC NZ9, the JVC will be the better option for most, as you'll see in this side-by-side comparison (>>> Check on Projectorscreen).
Sony VPL-XW7000ES vs JVC NZ9 Side by Side:
| | Sony VPL-XW7000ES | JVC NZ9 |
| --- | --- | --- |
| | | |
| Resolution | 3840x2160 | 4096x2160 8K w/pixel shifting |
| Contrast | No data | 100,000:1 |
| Brightness (Lumens) | 3,200 ANSI | 3,000 ANSI |
| Input lag | 13ms | 25ms |
| Throw Distance | 8.3' - 19.7' | 11.9' - 19.9' |
| Screen size | 40" - 200" | 60" - 200" |
| Speakers | No | No |
| Today's Best Price | BHPhotoVideo.com | ProjectorScreen.com |
Resolution, Color, and Contrast
The image quality of the Sony VPL-XW7000ES is head-and-shoulders above what you'll get from most home theater projectors. Its SXRD display, Triluminos color, and other advanced image technology produces a crystal-clear Ultra HD image to give professional movie theater projectors a run for their money.
As strong as the image of the XW7000ES is, the JVC NZ9 takes it a step further. This starts with its 8K resolution, producing roughly twice the on-screen pixles of the Sony model. It also has a wider color gamut (100% coverage of the DCI-P3 spectrum, compared to 95% coverage from the Sony) with automatic tone mapping and scene-by-scene adjustment.
Better image quality: JVC NZ9
Responsiveness
Both the Sony VPL-XW7000ES and the JVC NZ9 are responsive enough to be used for modern gaming, with input lags that register below the 30ms threshhold that's the standard for gamers. While they're fairly evenly matched in this regard, and the VPL-XW7000ES actually has a lower input lag for 1080p games, the JVC NZ9 has a faster refresh rate for 4K content.
Better for full HD gaming: Sony VPL-XW7000ES
Better for 4K gaming: JVC NZ9
Installation Ease
The motorized lens and advanced Installation Mode on the JVC NZ9 give users a good variety of options for aligning the image to your screen, with features like lens shift and keystone correction to square the image even when the projector is installed off-center or at an angle. However, its size can be an issue in some homes. It's large and heavy enough you'll need specialized equipment to mount it securely, and many people go with a professional installation as a result.
The Sony VPL-XW7000ES is about 25 pounds lighter than the NZ9, as well as more compact in its overall dimensions. Since it also has a similar set of image adjustment options, including a wide 2D lens shift and powered zoom, this gives it an easier installation overall.
Easier to install: Sony VPL-XW7000ES
---
Sony VPL-XW7000ES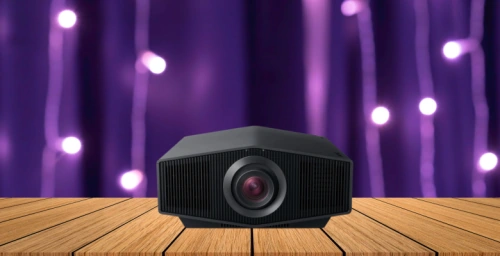 The sophisticated Silicon X-tal Reflective Display (SXRD) in the Sony VPL-XW7000ES produces a native Ultra HD resolution that exceeds the pixels of a typical 4K display. This is combined with their flagship X1 video processor that provides real-time optimization of your content, with object-based HDR remastering and super-resolution, along with a dynamic HDR enhancer and digital focus optimizer. The Triluminos Pro algorithm and Live Color Enhancer ensure lifelike, vibrant hues, with coverage for 95% of the DCI-P3 color spectrum.
As you might guess from this impressive array of visual technology, the VPL-XW7000ES is a high-end projector designed for use in dedicated home theater spaces. That means no built-in speakers and a fairly long throw distance. The good news is, you won't need to worry about the room's light level, with a 3,200-lumen laser phosphor light source powerful enough to compete with the ambient light in most spaces, with Wide Dynamic Range Optics to make the most of that light output. Motorized zoom and lens shift give it good flexibility during the installation, with Picture Position Memory slots so you can quickly switch between settings for different types of content.
The Sony VPL-XW7000ES supports home automation systems like Control4, Crestron, Savant, and several others. That said, it doesn't have the wireless connectivity or microphone for use with voice control services like Alexa or Google Assistant, and it lacks the built-in streaming interface you'll find on many home theater projectors today. Basically while it can be used in some smart home systems, it's not what we'd call a smart projector.
Pros
Exceptionally sharp native 4K resolution
Infinite contrast with lifelike color
Responsive enough for gaming
Ideal lamp brightness for most spaces
Flexible installation with lens shift and powered zoom
Supports IMAX and 3D content
Cons
Doesn't support 8K content
---
JVC NZ9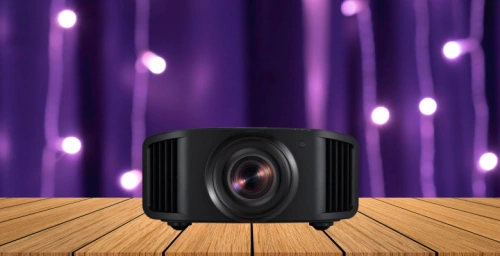 The JVC NZ9 was one of the first home theater projectors to offer 8K resolution, using an advanced e-shiftX Display to double the on-screen pixels of a 4K display. The all-glass lens and high-contrast optical block make the image as sharp as it is detailed. Its color is equally impressive, exceeding the DCI-P3 color space then optimizing it scene-by-scene with Auto Tone Mapping and Frame Adapt HDR.
Like the Sony above, the JVC NZ9 is built for high-end home theaters and has the long throw distance you'd expect in this context. There are lots of ways to fine-tune the image setup in Installation Mode, though, including keystone correction and a wide 2D lens shift. The only thing that might make it trickier to install is its weight. At over 50 pounds, you'll need a heavy-duty mount to install it on a ceiling safely and securely.
The JVC NZ9 is similar to the VPL-XW7000ES when it comes to responsiveness and connectivity. Its lag is low enough for all but the most serious, competitive gamers and its 120Hz frame refresh rate ensures both games and movies will play smoothly. It also has networking connections like RJ-45 and RS232, integrating easily with a range of home automation protocols.
Pros
8K resolution
High contrast with frame adapt HDR
Wide color gamut exceeds DCI-P3 spectrum
Good variety of options in Installation Mode
Easy integration with home automation systems
Cons
Too heavy for many standard ceiling mounts
---
The Verdict: Sony VPL-XW7000ES vs JVC NZ9
Whether you go with the Sony VPL-XW7000ES or JVC NZ9, they're both an investment, and one you want to be sure is the best choice for your home before you buy it. Since most buyers in this price range are looking for the ultimate in image quality, the JVC NZ9 comes out on top (>>> Find price on Projectorscreen). That said, the more compact design of the Sony VPL-XW7000ES, along with its lower lag for full HD gaming, could make it the right choice for some buyers.