With the release of their VW1025ES, Sony has once again raised the bar for home theater projectors, with an image quality that exceeds what you'll find in most movie theaters. It's also an investment, however, with an MSRP of nearly $40,000. At that price, you want to make sure you're getting exactly what you need before you take the plunge on a purchase. This Sony VW1025ES review will break down the details so you know whether it's the right fit for your high-end home theater. (>>> Check the current price on Amazon)
Sony VW1025ES Review of Main Specs:
| | Sony VW1025ES |
| --- | --- |
| | |
| Resolution | 4096x2160 |
| Brightness (Lumens) | 2,200 ANSI |
| Contrast Ratio | No data |
| Throw Distance | 7'8" – 38'4" |
| Screen size | 60" – 300" |
| Speakers | No |
| Price | BHPhotoVideo.com |
Installation
The Sony VW1025ES is intended for installation in dedicated home theater spaces, and its lens and light source reflect this intent. It puts out about 2,200 ANSI lumens—plenty for a dark room, and enough to compete with low ambient light levels. It won't be at its best in a well-lit space, however. There also aren't any speakers built-in since it's made with the assumption it'll be used with a receiver and surround sound system.
Out of the box, the VW1025ES has a fairly long throw distance. You'll need around 13 feet for a 100" image. If that won't work in your space, you can buy the optional short zoom lens (VPLL-Z7008). This cuts the throw distance in half, with only 6.5 feet of distance needed for a 100" image.
Whichever lens you use, you'll probably want to ceiling-mount the Sony VW1025ES. Pay attention to the weight limit of the mount you buy. At nearly 50 pounds, this projector is too heavy for many cheaper mounts to support. Once you have the right mount, the installation is flexible, with a wide horizontal and vertical lens shift and powered focus and zoom controls.
Pros
Exceptional clarity with 18-piece ARC-F lens
SXRD display has a display resolution better than 4K
Reality Creation upscales lower-resolution content
Dynamic Iris maximizes brightness and contrast
Flexible installation with lens shift and powered zoom
Optional short throw lens for small spaces
Cons
Weight is too high for many ceiling mounts
Long throw with the standard lens
Image Quality
Sony has perfected every stage of the image production process with the VW1025ES. The X1 processor and 3SXRD display panel faithfully reproduce any content with an impressive level of texture and depth. This clarity is further enhanced by the all-glass lens, with 18 precision-tooled components and a large diameter front lens for ultimate focus clear up to the picture's edge.
One of the most impressive things about the Sony VW1025ES is its ability to improve content, not just play it. This includes features like Reality Creation, upscaling 1080p content to nearly 4K quality. The Dynamic HDR Enhancer and digital focus optimizer further optimize the image, with Motionflow to prevent blur when watching fast-paced content like live sports. Its Triluminos display gives it a wide color gamut with nuanced gradation, for realistic and accurate colors that are consistently bright across the image.
Gaming Performance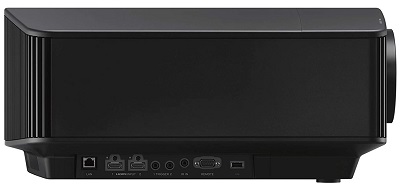 The Sony VW1025ES supports 4K gaming from the latest consoles and platforms. Technology like blur reduction and Dynamic contrast are as helpful for gaming as they are for movies, ensuring you'll catch every detail on the screen.
The responsive processor of the VW1025ES gives it a low input lag, measuring around 27ms for 4K gaming. That's below the 30ms threshold that's the standard for reflex-based and online gaming, and is low enough you won't notice any delay when you're playing.
Sony VW1025ES Review: The Bottom Line
In a luxury home theater, the Sony VW1025ES is hard to beat. Not only is the picture quality exceptional, it has a user-friendly setup and is responsive enough for gamers, giving it good versatility. If you want the absolute best viewing experience—and are willing to pay a premium to get it—the Sony VW1025ES is the best projector on the market. (>>> Check on Bhphotovideo)