If you're considering the VAVA Chroma vs. VAVA 4K for your home theater, it can be hard at first glance to see just what the difference is between them. By the specs, they look practically identical. So are they really the same from the user perspective—or is there an advantage to buying one over the other?
Both these VAVA projectors have the features most need in a home theater. The difference between them ultimately comes down to a question of advanced technology vs. value. The newer VAVA Chroma will be the better choice for a tech-forward home theater (>>> Check on ProjectorScreen.com), but the VAVA 4K performs almost as well at a lower price point. Let's take a closer look at the details so you can see what we mean.
VAVA Chroma vs VAVA 4K Side by Side:
| | VAVA Chroma | VAVA 4K |
| --- | --- | --- |
| | | |
| Resolution | 3840x2160 | 3840x2160 |
| Brightness (Lumens) | 2,500 ANSI | 2,500 ANSI |
| Contrast Ratio | 1,500,000:1 | 1,500,000:1 |
| Throw Distance | 1.3' - 2.5' | 1.4' - 2.5' |
| Screen size | 80" - 150" | 80" - 150" |
| Speakers | 60 Watts | 30.0 Watts × 2 |
| Price | ProjectorScreen.com | BHPhotoVideo.com |
Model Age
The VAVA Chroma is the updated version of the VAVA 4K, so if it seems like they share the majority of their features, you're not wrong. The VAVA 4K was released in October 2019, and used advanced technology for the time. The VAVA Chroma is slated for release in late 2021, so it benefits from the further development in projector technology that's taken place over the last 2 years.
Newer model year: VAVA Chroma
Color Performance
When the VAVA 4K was released, its ALDP 3.0 laser light source was cutting edge technology. It does provide a clear and colorful picture, covering the majority of the DCI-P3 color space. The VAVA Chroma has upgraded to an ALDP 4.0 3-channel light source. This expands its color space beyond the DCI-P3 color space, covering 106% of the Rec.2020 gamut for even more precise and authentic color performance.
Better colors: VAVA Chroma
Smart Features
The VAVA 4K uses an Android operating system that can download streaming apps from the Aptoide store—and this is where its smart features end. The VAVA Chroma adds the option of Alexa voice control right through the projector, no accessories needed. This makes the Chroma an easier projector to integrate into an existing smart home entertainment system.
Better smart features: VAVA Chroma
Connectivity
The VAVA Chroma has robust connectivity for modern home theater systems. This includes 3 HDMI inputs, more than most offer, as well as both Bluetooth and Wi-Fi connectivity for wireless set-ups.
Here is one place where the VAVA 4K does have an advantage. It has an RCA input along with 3 HDMI inputs and wireless capability. This is helpful for attaching older content sources, sparing you the need for an HDMI adapter.
Wider connectivity: VAVA 4K
Price
The current MSRP for the VAVA 4K is around $2,800. Since it's a couple of years older, you may also find some great deals on the VAVA 4K as stores have sales to clear out old inventory. The brand new VAVA Chroma has an MSRP of about $4,700, nearly twice that of the 4K, and you'll be more likely to pay full price since it's a recent release.
Lower price: VAVA 4K
---
VAVA Chroma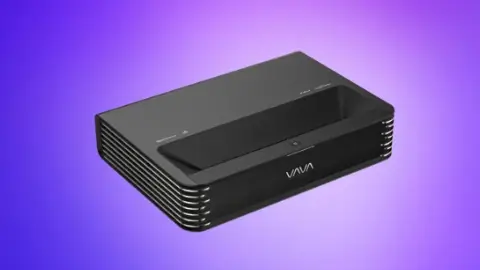 The VAVA Chroma uses an ALPD 4.0 3-channel laser light source that's among the most advanced you'll find on the home theater market. This gives it full coverage of the Rec.2020 color space and then some, for truly vibrant, realistic colors. Combined with the true 4K detail and high dynamic contrast, the end result is a cinema-level picture right in your home.
You can get that exceptional picture quality in just about any space, too. The light source isn't super powerful, putting out about 2,500 lumens, but the ultra-short throw distance comes into play here. Since the light doesn't have to travel far, it looks brighter than the lumen rating suggests, and copes well with lights on viewing. You'll still want to cover large windows for daytime viewing but you won't have to worry about making your space fully dark.
Another benefit of the VAVA Chroma is its all-in-one performance. Its dual Harman Kardon speakers are each powered by 30 watts and backed by Dolby audio, providing powerful sound with a clear midrange and decent low-end depth. Along with this, the integrated Android operating system supports direct streaming and Alexa voice control for easy integration into smart home entertainment systems. For our more in-depth VAVA Chroma review, click here.
Pros
Sharp picture with true 4K resolution
Exceptional wide color gamut
Bright enough for lights-on viewing
Ultra-short throw distance
Android 9.0 OS with Alexa voice control
Powerful sound from built-in speakers
Robust wired and wireless connectivity
Cons
High cost
No composite (RCA) input
---
VAVA 4K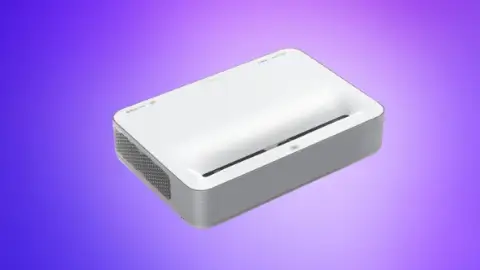 The VAVA 4K shares a lot of strengths with the VAVA Chroma. It's just as easy to install and align, with an ultra-short throw that only needs about 2.5 feet for a 150" screen, just like the Chroma. Along with this, its 60-watt Harman Kardon speakers and smart Android streaming interface give it similar all-in-one operation.
The picture quality of the VAVA 4K is also high, if not quite as exceptional as the VAVA Chroma. It still uses a 3-channel laser light source with dynamic black contrast and sharp, true 4K detail. Its light source is an ALDP 3.0 model, the generation prior to the one used in the Chroma, and you'll notice this in its color performance. The VAVA 4K covers around 83% of the P3 color space—that's a wide range, but not the full coverage you'll get from the Chroma.
Users integrating the VAVA 4K into an existing home entertainment set-up will appreciate its robust connectivity. Its wired inputs include 3 HDMI ports and a composite input for content, along with networking and USB inputs for devices. You can also connect wirelessly through Bluetooth or Wi-Fi, in addition to the option of direct streaming through the Android interface.
Pros
True 4K resolution with excellent contrast
Wide range of connection options
Android streaming interface built in
Strong sound from built-in speakers
Great value
Cons
No built-in voice control
Color performance isn't as strong
---
VAVA Chroma vs. VAVA 4K: The Bottom Line
If you're a habitual early adopter, you'll want to get in on the first release of the VAVA Chroma (>>> Find on ProjectorScreen.com). Its advanced laser light source provides an exceptional picture quality, with good versatility for different environments thanks to its short throw distance and built-in speakers and streaming interface.
You'll get a lot of these same things from the VAVA 4K too, though, and at about half the price it's a much better value for buyers on a budget. It's up to you whether a superior picture quality is worth the higher price tag. Whichever way you go, you'll get a user-friendly home theater projector that can provide an immersive picture in almost any space. We hope this review has helped you figure out the right one for you!
REFERENCES AND FURTHER READING: