ViewSonic projectors bring together the latest in video technology with convenient features and easy installation, all at a price that fits into the average home owner's budget. In this ViewSonic X11-4K review, we look at a short-throw projector that gives users a true 4K resolution, a short throw distance, and multiple control options, all tucked into a stylish and compact package (>>> Find on Amazon).
If you need a new projector for your home theater, check out the full details below to see if this one fits the bill.
ViewSonic X11-4K Review of Main Specs:
| | ViewSonic X11-4K |
| --- | --- |
| | |
| Resolution | 3840x2160 |
| Contrast | 3,000,000:1 |
| Brightness (Lumens) | 1,000 ANSI |
| Input lag | 37ms |
| Throw Distance | 1.7' - 11.6' |
| Screen size | 30" - 200" |
| Speakers | 8.0 Watts × 2 |
| Today's Best Price | BHPhotoVideo.com |
Space and Installation
The short-throw lens of the ViewSonic X11-4K can produce a 100-inch image with less than 6 feet between the lens and screen, so you don't need a ton of space to use this projector. It also has good flexibility within that space, with 4-corner and keystone correction to ensure a square image that's perfectly aligned to your screen.
The only thing limiting this ViewSonic projector's versatility is its brightness. It uses an LED light source, which is more efficient than other styles but doesn't produce as much light, only putting out around 1,000 lumens. It's at its best in a completely dark space and can't handle much ambient light before the picture will start to look washed out.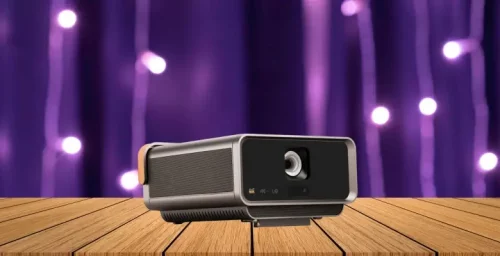 Pros
4K image with high contrast and exceptional color
Easy installation with 4-corner adjustment
Pairs with vCastSender app for smart phone control
Custom Harman Kardon speakers
Short throw distance
Cons
Low lamp brightness
No voice control or streaming apps
Image Quality
One advantage of an LED light source is its color performance. The ViewSonic X11-4K uses the company's Cinema SuperColor+ technology, giving it a color gamut wider than the Rec.709 spectrum. That means true-to-life colors, with the nuance and realism that let you get truly immersed in what you're watching.
The clarity of the image is impressive on the ViewSonic X11-4K, as well. Its 4K resolution and HDR contrast mean you'll see the full detail of every frame, with phenomenal depth and texture thanks to the high dynamic contrast ratio. Along with this, its frame interpolation technology eliminates motion blur to maintain that clarity during fast-paced action sequences.
Navigation and Usability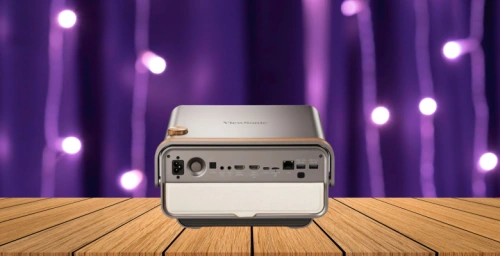 Along with the usual array of HDMI and USB inputs, the ViewSonic X11-4K has embedded Wi-Fi and Bluetooth connectivity. This means it can stream content wirelessly from a phone or tablet, or send audio out to wireless speakers and headphones. Unfortunately, it doesn't have an interface for downloading and using streaming apps right on the projector, so you will need some kind of device to access your content.
The remote that comes with the ViewSonic X11-4K is intuitively laid out, with light up buttons so you can use it even in a dark room. This projector also pairs with ViewSonic's vCastSender app, which you can download to control it through a phone or tablet. This is a nice touch since it lacks the voice control and other hands-free options you'll find on many smart projectors.
ViewSonic X11-4K Review In Summary
At an MSRP of around $1,500, the ViewSonic X11-4K is a great value, especially considering its overall image quality (>>> Check on Amazon). That said, it does have its limitations. The low lamp brightness may be an issue in some homes, while the lack of streaming and voice control can be an annoyance in a modern home theater. We hope this review has helped you decide if it's the best choice for your home!
FAQs
Can the ViewSonic X11-4K be used for gaming?
For most players and games, yes, it will work for gaming. It has an average measured input lag of 37ms, which is low enough most players won't notice it, especially for RPGs and other games that don't rely on reflexes. However, that is still on the high side for serious gamers, who will want to look for a projector with a lower latency.
Do you need external speakers with the ViewSonic X11-4K?
That depends on what kind of sound you want. The stereo Harman Kardon speakers built into the ViewSonic X11-4K are powerful enough to fill most rooms with sound, and the quality of that audio is roughly on par to a typical standalone Bluetooth speaker, so you certainly can use the projector without an external speaker. However, if you're looking for surround sound, you'll need to use its audio output to connect an external system.
Is the ViewSonic X11-4K portable?
You can certainly take this projector on the road with you. It's relatively compact, measuring around 10 inches on a side and with a height of around 6 inches. It also weighs under 10 pounds, so it won't add too much bulk to your luggage if you want to take your entertainment with you when you travel.