The international projector market has expanded dramatically over the past few years, opening up even more options for those looking for a solid home theater projector. Chinese projector brands like Wemax and Xiaomi offer advanced technology for an exceptional value. If you're considering the Wemax One Pro vs. Xioami 4K, you'll see these two projectors have a lot in common. Both use a laser light source for an ultra-short throw ratio and a long usable life. Looking at all factors together, the Xioami 4K will be the better choice for most buyers. (>>> Find on Amazon) Let's take a closer look at the key differences between them so you can decide which is the best option for you.
Wemax One Pro vs Xiaomi 4K Side by Side:
| | Wemax One Pro | Xiaomi 4K |
| --- | --- | --- |
| | | |
| Resolution | 1920x1080 | 3840x2160 |
| Brightness (Lumens) | 7,000 | 5,000 |
| Contrast Ratio | 3,000:1 | 3,000:1 |
| Throw Distance | 1'2" – 4'10" | 7" – 2'11" |
| Screen size | 60" – 250" | 30" - 150" |
| Price | Check on Amazon | Check on Amazon |
Brightness
Ambient light is the enemy of a projected image. The more ambient light is in your space, the brighter the projector needs to be. In a completely dark home theater, you can get away with a lamp brightness as low as 1,000 lumens. You'll want at least 2,000 lumens for lights-on viewing, and as much as 3,500 lumens or more in a well-lit space with natural daylight.
The Xiaomi 1S 4K puts out about 2,000 ANSI lumens, a good brightness level for use in low ambient light conditions. For brighter spaces, the more powerful lamp of the Wemax One Pro will work better.
Brighter projector: Wemax One Pro
Resolution
The Wemax One Pro has a full HD resolution on par with what you'd expect from most modern televisions, and maintains this resolution at all screen sizes. With the Xiaomi 1S, you'll get full 4K Ultra HD, with roughly 8.3 million on-screen pixels. That means a sharper image with more depth and detail than you'd get from Wemax.
Higher resolution: Xiaomi 1S 4K
Direct Streaming
The Wemax One Pro has an Android TV interface but most buyers will likely find they don't use it. It's very difficult to find and install streaming apps and many of the most popular services aren't supported. Basically, you should expect to use your usual streaming stick, cable box, or other content sources when you get this projector.
The Android TV interface on the Xioami 4K is much smoother to navigate and more robust in terms of its streaming app options. While there are some gaps in its availability (it doesn't support Netflix, for example), it's a better option for those who all-in-one operation from their projector.
Better direct streaming: Xioami 1S 4K
Wemax One Pro vs. Xiaomi 4K: Full Reviews
Wemax One Pro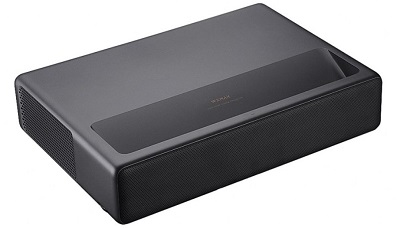 The Wemax One Pro has the versatility to give you big screen entertainment in any kind of space. It's one of the brightest home theater projectors on the market, first of all, so it can be used even in full natural daylight without any effect on the picture. It has a short throw distance, too, giving you a 100" image with right around 2 feet of distance. That makes the Wemax One Pro easier to set up along with expanding on its placement versatility.
Adding to this set-up ease is the range of image adjustment options on the Wemax One Pro. It has 4-point and 8-point keystone correction, as well as a 30% image correction, so it's a fast, easy process to align the image perfectly with the screen. The only potential downside from a set-up ease perspective is that the language is set to Chinese by default. This can be quickly changed in the settings, but initially navigating the menus to find that option can be tricky for some.
The Wemax One Pro has the potential to be an all-in-one projector. Its 30-watt speaker system has four drivers, two each to handle the high and low frequencies, putting out both more volume at a better sound quality than the speakers on most projectors. It also has an Android TV interface, although it can be difficult to use and doesn't have many streaming app options. Most people will be better off with a streaming stick or other external content source.
For movies and TV watching, the Wemax One Pro performs well. It produces a colorful, sharp full HD image, and can play 3D content, too. While its high input lag limits its use for gamers, it's a great choice for those who only need their projector for watching content.
Pros
Long 25,000-hour light source lifespan
Android TV interface for direct streaming
Ultra-bright to work in any light levels
Short throw distance
30-watt speakers produce better sound than most projectors
Comes with adapter for US outlets
Supports 3D content
Cons
Language settings need to be changed before use
Not suitable for gaming (input lag over 100ms)
Android TV interface is clunky
---
Xiaomi 1S 4K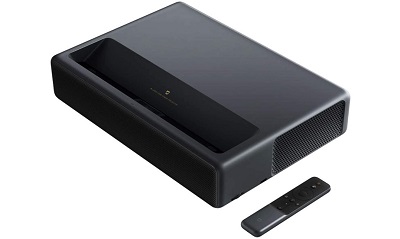 The picture quality of the Xiaomi 1S 4K projector is impressive. Its native 4K Ultra HD resolution gives you about 4 times the pixels of the Wemax One Pro above for an incredibly sharp, detailed image. Along with that, it has HDR10 support and a wide color gamut that covers the entire Rec. 709 spectrum, so you can count on it to give you a realistic picture that plays as it was meant to be viewed.
The direct streaming interface on the Xiaomi 1S 4K gives users access to the Aptoide App Store. That means you can easily watch content straight through the projector using popular streaming apps like YouTube and Amazon Prime Video. It also has support for voice control, although only through XiaoAI—not the service most western users have.
The sound on the Xiaomi 4K projector is impressive, as well. Its dual speaker system has DTS-HD and Dolby Audio certification, for an audio output that's loud enough and has a high enough sound quality you likely won't need to use external speakers.
The ultra-short throw of the Xiaomi 1S makes it easy to install and relatively versatile across spaces of different sizes. The lamp brightness is on the lower side, however. The 2,000 ANSI lumens it puts out can compete with low ambient light level, so you can leave a few lights on, but it's not the best choice for well-lit spaces.
Pros
True 4K image with good color and contrast
Easy to install with ultra-short throw distance
Good app availability for Android TV system
Bright enough for most viewing areas
Dual speaker system has good sound quality
Light source lifespan up to 25,000 hours
Cons
Not compatible with US voice control systems
Lamp brightness is on the lower side
Netflix isn't available in the app store
---
So What's the Verdict?
When you're choosing between the Wemax One Pro vs. Xiaomi 4K, it really comes down to what you need in a projector. The brighter lamp on the Wemax is its main advantage (>>> Check on Amazon), giving it more versatility for use in well-lit spaces. On the other hand, the Xiaomi has a sharper resolution and better streaming support, making it the better option for most homes and users.