These days, you don't need a dedicated home theater to enjoy big screen entertainment at home. In this AWOL Vision LTV-3500 review, we'll look at a laser projector that produces a hyper-real picture in just about any space thanks to its high brightness, short throw distance, and effortless setup. If you're in the market for a versatile projector, the LTV-3500 just may be your perfect fit (>>> Check the current price on Amazon). Let's take a closer look at what makes this model so impressive.
AWOL Vision LTV-3500 Review of Main Specs:
| | AWOL Vision LTV-3500 |
| --- | --- |
| | |
| Resolution | 3840x2160 |
| Contrast ratio | 1,000,000:1 |
| Brightness (Lumens) | 3,500 ANSI |
| Input lag | 34.7ms |
| Throw Distance | 1.5' - 2.7' |
| Screen size | 80" – 150" |
| Speakers | 36 Watts |
| Today's Best Price | ProjectorScreen.com |
Installation and Space
The RGB laser light source of the AWOL Vision LTV-3500 puts out a consistent 3,500 lumens, enough to keep the image clear and detailed even in relatively bright spaces. You also don't need a ton of space to get a big screen. Its ultra-short throw lens can fill a 100-inch screen with less than two feet of distance, giving you a lot of versatility for how to set up your projector. You can find more ultra-short throw projector options here.
That ultra-short throw also gives it a fairly easy setup. Most users won't need to worry about mounts and other hardware—just set it up on a table and turn it on. The 8-point keystone correction help here, too, letting you get a square image even if the projector isn't perfectly centered.
Connectivity
The rear panel of the LTV-3500 has the standard options for a modern projector, including dual HDMI inputs as well as USB, network, and audio ports. While it doesn't have a streaming interface built-in, it does come with an Amazon Fire TV Stick 4K Max that uses an Android 9.0 operating system for navigation. This gives it similar streaming capabilities out of the box as other models, though it's a bit annoying you need to sacrifice one of the HDMI ports to get it.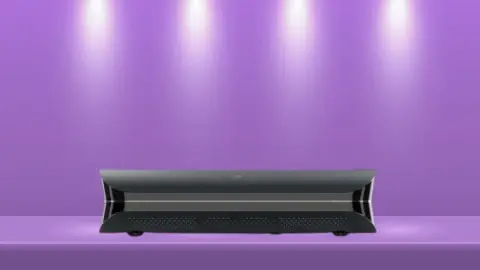 Pros
Sharp and colorful 4K image
Bright lamp
Ultra-short throw distance
Supports active 3D
Suitable for casual gaming
Includes a Fire Stick for streaming
Cons
Some laser speckle
No built-in wireless connectivity or streaming
Image Quality
The AWOL Vision LTV-3500 produces a stunningly clear and detailed Ultra HD image, with a high dynamic contrast and HDR10+ support that keep that picture sharp. Those details stay sharp even during fast action sequences thanks to MEMC blur reduction. It also supports 3D content using active shutter glasses, so you'll get that same quality whatever you're watching.
One advantage of the tri-laser light source in the LTV-3500 is the depth and realism of its color production. It has one of the widest color gamuts of any home theater projector, exceeding the DCI-P3 color space and producing over a billion colors in all. The only downside to this impressive color range is that some users do notice an artifact on the image called laser speckle. This looks like a thin colored layer floating over bright objects on the screen, and can be distracting for some viewers.
Gaming Performance
In Low Delay Mode, the measured input lag of the AWOL Vision LTV-3500 is around 35ms, just over the 30ms maximum serious gamers look for in a projector. Casual players probably still won't notice any issues, particularly if you play mostly puzzle games or other styles that don't rely on quick reflexes. However, competitive players of first-person shooters or other fast-paced games will likely want to look for a more responsive projector.
The Verdict: AWOL Vision LTV-3500 Review
The one major factor we haven't discussed yet is price. At an MSRP of $5,500, the AWOL Vision LTV-3500 is more affordable than high-end projectors, but costs double the price (or more) compared to many 4K home theater projectors. While its picture quality is higher than those models on average, it's also missing convenience features like built-in streaming and voice control, or a super-low input lag, that could be a deal-breaker for some buyers.
In the end, it comes down to what you want from your projector. If you want a cinema-quality picture in a convenient and flexible package, the LTV-3500 is a strong contender (>>> Check current price on ProjectorScreen).
FAQs
Does the AWOL Vision LTV-3500 have built-in speakers?
Yes, and quite powerful ones compared to most projectors. The 36-watt stereo speaker system has an output and sound quality on par with most stand alone soundbars, though it's a bit lacking in the low end. If you want more bass or full surround sound, you can easily connect them through the optical audio output.
Can the AWOL Vision LTV-3500 be controlled with voice commands?
Not really. The Fire Stick included with the projector also comes with a voice remote that adds voice search capability through Alexa. For full hands-free control, though, you'll need to have a third-party Echo speaker or similar device.
Do I need a screen for the AWOL Vision LTV-3500?
You can project the image onto any flat, white wall, and it will look pretty good. For the highest image quality, though, it's best to pair this projector with an Ambient Light Rejecting (ALR) screen designed for use with ultra-short throw projectors.