(Last Updated On: May 23, 2019)
One potential disadvantage of projectors versus televisions is that they require more space to work correctly. If this is a problem for you, consider buying the best ultra short throw projector. It'll give you the same massive screen with less than half the distance, giving you the option of using a projector in a smaller room.
While you won't find any ultra-short throw projectors priced in a true budget range, you might be surprised by how affordable some of them can be. You can also get the same array of options and features you'll find on standard projectors, like gaming modes or 3D capability.
Are you looking for a good ultra-short throw projector? You've found the right article! Five excellent options are reviewed below, along with their stats and strong points so you can pick out the right one for your home theater. No matter what kind of content you'll use your projector for, there's a model here to give it the proper treatment.
Best Short Throw Projectors in 2019
| | Optoma GT5600 | Epson LS100 | ViewSonic PX706HD | BenQ TH671ST | Optoma GT1080Darbee |
| --- | --- | --- | --- | --- | --- |
| | | | | | |
| Resolution | 1920x1080 | 1920x1200 | 1920x1080 | 1920x1080 | 1920x1080 |
| Brightness (Lumens) | 3,600 | 4,000 | 3,000 | 3,000 | 3,000 |
| Contrast Ratio | 20,000:1 | 2,500,000:1 | 22,000:1 | 10,000:1 | 30,000:1 |
| Throw Distance: | 1.5' - 1.8' | 1.3' - 2.5 | 3.6' - 6.0' | 3.6' - 15.0' | 1.6' - 11.0 |
| Lamp life (Hours) | 15,000 | 30,000 | 15,000 | 15,000 | 10,000 |
| Built in Speakers | 16W | 16W | 5W | 5W | 10W |
| Price | Find Best Price | Find Best Price | Find Best Price | Find Best Price | Find Best Price |

The three most important stats when you're choosing an ultra-short throw projector will be the throw distance, the lumen rating, and the input latency. Considered together, these three factors will paint the most complete sense of the projector's overall performance.
Throw distance
The throw distance or throw ratio determines the minimum distance separating the screen and the projector. Any model whose throw ratio is under 1 is considered a short throw projector. Short throw projectors can produce a 100" picture at only 4-5 feet away, as opposed to the 7-9 feet of distance most projectors would require to get the same screen size. With an ultra-short throw projector, that distance can decrease even further.
A short-throw projector is ideal for small spaces, where you only have a few feet to work with. They are also better for well-lit rooms. The less distance separating screen and lamp, the less diffusion the light will experience along the way. This means a brighter-looking picture from a short-throw projector, even if its lumen rating is the same.
Projector with the shortest throw ratio: Epson LS100(1.3′ – 2.5′)
Lumen rating
Lumens are a measure of brightness. A higher rating gives you a brighter picture. This is especially important for projectors that will go in well-lit rooms, especially if there are a lot of windows or it's otherwise difficult to control the ambient light level.
For a dark room, a lamp brightness of 1,000-2,000 lumens is ideal. This gives you a clear picture without being so bright that it's hard on your eyes. Most people don't watch TV in a completely dark room, though. To compete with the interior lighting of a typical living space, you'll want a projector that puts out at least 3,000 lumens. In a room with daytime sunlight, kick that up to around 3,500.
The brightness of the lamp is adjustable on most projectors. If you'll be dealing with a variety of lighting situations, buy a projector that can cope with the brightest. You can always turn the lamp down if it ends up being too powerful.
Projector with the brightest lamp: Epson LS100 (4,000 lumens)
Input latency
Also called the input lag or lag time, this tells you how long it takes to process your content and send it to the screen as an image. This is usually mentioned in the context of gaming. A high input lag means there will be a delay between your actions and what you see. You can see why this is a problem for fast-paced gaming.
A high input lag can be frustrating for non-gamers, too. If you plan to mirror content from a phone or laptop, a long delay will create an echo effect. Even navigating the menu of a streaming service gets more difficult when there's a screen delay. Every projector on this list has a low enough lag to use in a home theater. Gamers should keep their eyes out for models with gaming-specific modes and an extremely low lag.
Projector with the lowest input latency: Optoma GT1080Darbee (16ms)
Top 5 Ultra Short Throw Projectors Reviewed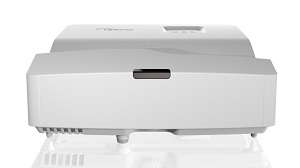 Specs:
Throw ratio: .25
Brightness: 3,600 lumens
Contrast: 20,000:1
Resolution: 1080p
Max screen: 100"
Gamers have very specific needs like we mentioned above. The clarity of the image is important, but the lag time is even more important. Ideally, the picture will respond instantly to your commands, so the lower it is the better.
These qualities make the Optoma GT5600 an optimal projector for non-gamers, too. The image quality is on par with a flatscreen TV. The black levels are especially impressive, even when there's a bit of ambient light in the room. It's not the brightest lamp out there but it does the job, especially at close distances. Detail and clarity are what you can expect from an Optoma projector, and that's what the GT5600 delivers.
This projector also gets high marks for usability. It's pretty much plug-and-play, with an automatic keystone adjustment so there's no fiddling with the picture. No matter what source your content comes from, getting it on a big screen is simple.
The GT5600's maximum screen size is around 100", which is relatively small as projectors go. Then again, if you're buying an ultra-short throw projector it's probably for a fairly small space, so 100" will still feel pretty massive.
A 1080p resolution puts the Optoma GT5600 on-par with the industry standard. It won't support 3D content or the latest UltraHD resolution formats, so if you want the absolute cutting edge in projector technology you'll have to shell out a bit of extra dough. What it will give you is a quality picture in an easy-to-use package.

Pros
Plug and play operation, no time-consuming set-up
Good picture correction options make it easier to set up the image
Low screen lag
Long-lasting and durable (lamp life up to 15,000 hours)
Also includes display mirroring through USB

Cons
No capability for 3D or 4K content
Will require external speakers
---
Specs: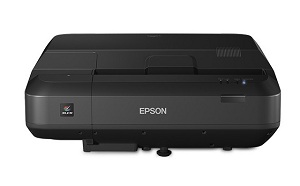 Throw ratio: .27
Brightness: 4,000 lumens
Contrast: 2,500,000:1
Resolution: 1080p
Max screen: 120"
Lag time: 30ms
If you want the ultimate home theater projector, the Epson LS100 should be on your list. Its specs are among the best of any short-throw projector, including the brightest lamp and a ridiculously high contrast ratio.
Of course, those great stats do come at a price—in this case right around $2,000, or twice what you'll pay for the Optoma above. This is a pretty serious piece of equipment overall. It's a lot bigger than your typical projector, weighing almost 25 pounds. While this does mean it's quite sturdy, it's certainly not easily portable.
That caveat aside, this is an excellent projector. It has a bright, detailed, and realistic picture. The brightness is balanced across whites and colors, with an exceptional contrast ratio for true, deep blacks. We didn't notice any lag, either, or any of the annoying visual quirks that plague most projectors.
Considering all of these factors, we thought it would be a hassle to set up the Epson LS100. It's surprisingly fast to get started, though, and it's easy to mount despite its bulk and weight. If money is no object, this is the best short-throw projector. The only question is whether the improved performance is worth twice the money.

Pros
Bright, vivid colors with high black contrast
No issues with rainbow effect or white segments
Super short throw projects massive images from just inches away
Includes a remote for easy control
Long lamp life even in the normal operation mode
Quick and easy set-up and adjustments

Cons
High cost
Weight and size make it less portable
Epson EH-LS100 Laser 3LCD Projector Review
---
Specs: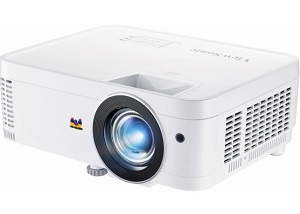 Throw ratio: .69
Brightness: 3,000 lumens
Contrast: 22,000:1
Resolution: 1080p
Max screen: 300"
Lag time: 16ms

On the lower end of the cost spectrum, here's a projector that's both very portable and super-affordable (The most affordable projectors reviews can be found here). The ViewSonic PX706HD is the most affordable short-throw projector available on the current market. It's also one of the lightest and smallest options, making it a very convenient choice if you plan to use the projector in multiple rooms.
Looking at the stats, the ViewSonic PX706HD holds its own against other brands. The contrast and brightness are noticeably lower than the specs on more expensive projectors in a side-by-side comparison. Having said this, the picture from the ViewSonic will still be comfortable to view, especially if you're willing to dim the lights a bit.
The versatility of the ViewSonic is positive, too. It has more input options than even many high-end projectors and works with pretty much any device, including cell phones and laptops as well as set-top boxes and game consoles.
This projector won't give you the absolute best picture possible. What it will give you is a very enjoyable large-screen experience at an unbeatable value. The portability also makes it a great choice for apartments, RVs, and dorm rooms.

Pros
Excellent value
Beautiful theater-level colors
Variety of connection options makes it more versatile across content sources
Large potential screen size
Eco Mode gives you a longer lamp life
Can display 3D images from Blu-ray

Cons
Not ideal high ambient light levels
---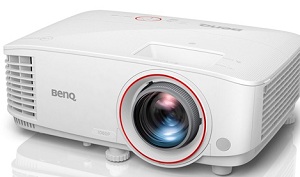 Specs:
Throw ratio: .69
Brightness: 3,000 lumens
Contrast: 10,000:1
Resolution: 1080p
Max screen: 100"
Lag time: 16.67ms
Most people don't watch TV in the dark. This means one of the first questions most people have about any projector is whether the picture can still be seen through ambient light. This BenQ projector has an ambient light sensor, automatically adjusting the picture for maximum clarity and viewing comfort.
Basically, everything about the BenQ TH671ST is designed to be easily customizable, even for people who aren't A/V experts. There are on-board modes for different uses, letting you quickly and easily adjust the screen to be ideal for sports, movies, or games.
It's also a viable gamer projector thanks to the low input latency. The advanced DLP chips used inside this projector can work up to 1,000 times faster than LCD-style projectors. The BenQ TH671ST has an impressively low lag time that gives you immersive, hassle-free gaming.
This BenQ gets high marks for ease of use, too. It's portable and compact, weighing right around 7 pounds, so you can easily take it anywhere. The automatic keystone adjustment and instant wireless content streaming also make it easy for anyone to use. The only downside we could find is that no hardware comes included. Other than that, this is a fantastic projector at a very reasonable price.

Pros
LumiExpert light sensor modifies screen for your room's lighting conditions
Low input latency makes it suitable for viewing or gaming
Custom modes for sports, cinema, and games
Comes with option of QCast for wireless content mirroring
Lamp lifespan up to 15,000 in Eco mode

Cons
Doesn't come with mounts and other hardware
No 3D capability
---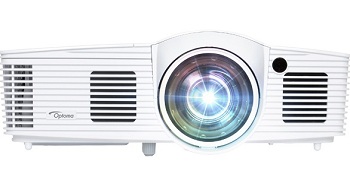 Specs:
Throw ratio: .49:1
Brightness: 3,000 lumens
Contrast: 28,000:1
Resolution: 1080p
Max screen: 100"
Lag time: 16ms
Optoma sells several great options for those shopping for short-throw projectors—and they're especially appealing for any gamers out there. The Optoma GT1080Darbee is equally viable for home theater or gaming. Since it's also a couple hundred dollars cheaper, this is arguably the best value for a high-quality short-throw projector. (This projector is also included to best golf simulator projectors list)
The resolution and screen size are the same here as on the Optoma 5600. The lamp isn't quite as bright, at 3,000 lumens, although it's still plenty bright enough for most rooms and uses. The color accuracy and contrast are also high, giving you good clarity and a better picture.
You'll find features GT1080Darbee that don't come standard on every projector. Most notably, it can play 3D content, whether it's a movie played on Blu-ray or a game on your PlayStation. The Advanced Gaming Mode is a nice feature, too, making sure the picture and response are right for your gaming session.
With its short throw ratio, this is an incredibly versatile projector. It'll work for any space and any use, and you can get it at a very reasonable price. It's definitely a great choice for anyone who wants to use their projector as their main method for watching content.

Pros
High color accuracy and contrast
Great value for a 1080p short-throw projector
Even faster response in Gaming Mode
Excellent textural realism from the DarbeeVision processor
Full 3D capability

Cons
Lamp life is on the shorter side
---
User Impressions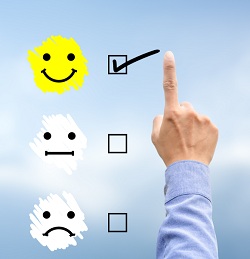 The most impressive model on the list is the Epson LS100. It's no coincidence this is also the most expensive projector reviewed here. If you need a very bright lamp, this is the best option for you. It can produce up to 4,000 lumens, which is enough for even well-lit rooms. It also has one of the shortest throw ratios, at .27, expanding its versatility in terms of placement.
If you're looking for something at a slightly lower price-point, the Optoma GT5600 is a great overall projector that's about half the price of the Epson. It has a high brightness and contrast ratio, which means a clear picture and vibrant colors. It's versatile enough to use for gaming or home theater, and its price is about average for a projector of this quality level.
For more budget-minded consumers, the other Optoma on the list—the GT1080Darbee—will give you a very similar performance at a lower price. It's not quite as bright, but at 3,000 lumens it should be sufficient for most home theater uses.
Finally, if you're looking for the ultimate value, you'll want to check out the ViewSonic PX706HD or the BenQ TH671ST. The ViewSonic has the advantage of giving you the largest potential screen size on the list. It can get up to 300" with enough distance and will look clear and bright at any size. The contrast ratio is a bit on the low side, so you may not get as deep of blacks as with the models above. The throw ratio is also longer, so you'll need more space to get a bigger screen.
The BenQ TH671ST just might be the most usable projector on the list. It's very easy to set up and use, and it's also one of the more portable 1080p projectors out there. While the brightness is on the low side, the ambient light sensor lets it adjust better to your home's light conditions. The multiple usage modes also help you adjust the picture to perfectly match your needs.
What's the bottom line?
To a certain extent, you do get what you pay for when it comes to ultra-short throw projectors. The higher-priced models will generally have a better overall picture. All five of these projectors will give you a 1080p resolution, though, so the differences will be largely based on the contrast ratio and brightness.
In terms of function, there won't be much difference between the cheapest and most expensive option on this list. Even features like 3D capability come standard on many projectors in the $500-$1,000 price range, so don't think you need to make big sacrifices just to get something in your budget.
Think about where you'll be using the projector when you're shopping. You'll often have to pay more for higher brightness, but if you like your viewing space to be relatively dim, anyway, there's no reason to shell out the extra cash.
Don't forget to leave space in your budget for any necessary peripherals and accessories. Most projectors don't come with hardware, so if you want to mount it on the ceiling, you'll need to buy that yourself. The screen can also be very important to getting a good picture, so you'll want to save part of your budget to invest in a good one if you don't have one already.
Hopefully, this article has helped you see the advantages and disadvantages of different projector models. Best of luck in buying the best one for your home! No matter what you need out of an ultra-short throw projector, we know one of the above models will suit your needs.
REFERENCES AND FURTHER READING: