One potential disadvantage of projectors versus televisions is that they require more space to work correctly. If this is a problem for you, consider buying the best ultra short throw projector. It'll give you the same massive screen with less than half the distance, giving you the option of using a projector in a smaller room.
While you won't find any ultra-short throw projectors priced in a true budget range, you might be surprised by how affordable some of them can be. You can also get the same array of options and features you'll find on standard projectors, like gaming modes or 3D capability.
We've picked out the best ultra-short throw projectors available today and reviewed them here, along with their stats and strengths. If pressed to pick a favorite, we'd have to go with the Hisense PX1-PRO (>>> Check on Amazon).
It can be used without content sources or speakers thanks to its integrated streaming interface and Dolby Atmos sound, and has the lowest input lag on the list along with a high picture quality.
Each of the projectors reviewed below as its strengths, though. No matter what kind of content you'll use your projector for, there's a model here to give it the proper treatment.
The stats of most concern when picking an ultra-short throw projector are the throw distance, the lumen rating, and the input latency. Considered together, these three factors will paint the most complete sense of the projector's overall performance. Let's take a look at how they stack up!
Best Ultra Short Throw Projectors in 2023:
| | LG CineBeam HU715 | BenQ V7050i | ViewSonic X2000B-4K | Samsung LSP9T | Optoma P2 | Hisense PX1-PRO |
| --- | --- | --- | --- | --- | --- | --- |
| | | | | | | |
| Resolution | 3840x2160 | 3840x2160 | 3840x2160 | 3840x2160 | 3840x2160 | 3840x2160 |
| Brightness (lumens) | 2,500 ANSI | 2,500 ANSI | 2,000 ANSI | 2,800 ANSI | 3,000 ANSI | 2,200 ANSI |
| Contrast ratio | 2,000,000:1 | 2,000,000:1 | 3,000,000:1 | 2,000,000:1 | 2,000,000:1 | 1,000,000:1 |
| Input Lag | 53.9ms | 69ms | 40ms | No data | 67ms | 30ms |
| Throw Distance | 1.3' - 1.9' | 0.2' - 1.1' | 1.0' - 2.4' | 0.4' - 0.8' | 1.5' - 2.2' | 1.6' - 2.4' |
| Screen size | 80" - 120" | 70" - 120" | 65" - 150" | 100" - 130" | 85" - 120" | 90" - 130" |
| Price | BHPhotoVideo.com | BHPhotoVideo.com | BHPhotoVideo.com | BHPhotoVideo.com | BHPhotoVideo.com | BHPhotoVideo.com |

Throw distance
The throw distance or throw ratio determines the minimum distance separating the screen and the projector.
Any model whose throw ratio is under 1 is considered a short throw projector. Short throw projectors can produce a 100" picture at only 4-5 feet away, as opposed to the 7-9 feet of distance most projectors would require to get the same screen size. With an ultra-short throw projector, that distance often drops to mere inches.
All of these models have a short throw distance, producing a 100" image with 2 feet of distance or less. The Samsung LSP9T deserves a shout-out for making a 120" image with around 9" between the lens and wall, though the BenQ V7050i edges it out with the shortest throw distance, needing as little as 3" to produce a clear image.
Projector with the shortest throw distance: BenQ V7050i
Lumen rating
A higher lumen rating translates to a brighter picture. This is especially important for projectors that will go in well-lit rooms. In a dark space, 1,000-2,000 lumens is ideal, while a well-lit space calls for a projector of 3,000 lumens or higher.
One advantage of ultra-short throw projectors is that the light doesn't have to travel as far, giving ambient light less of an impact on the picture quality.
Thanks to that, projectors like the BenQ V7050i or LG HU715 can still be used in moderately-lit spaces, even though their lumen rating is on the lower side. Even so, you'll want a brighter lamp for rooms with lots of natural light. The 3,000 lumens of the Optoma P2 makes it the best choice to avoid washout in well-lit spaces.
The brightness of the lamp is adjustable on most projectors. If you'll be dealing with a variety of lighting situations, buy a projector that can cope with the brightest. You can always turn the lamp down if it ends up being too powerful.
Brightest projector: Optoma P2
Input latency
Also called the input lag or lag time, this tells you how long it takes to process your content and send it to the screen as an image. A high input lag means there will be a delay between your actions and what you see.
This is obviously a problem for fast-paced gaming, but can be just as frustrating when you're navigating streaming menus and can create annoying echo effects when mirroring content from a phone or tablet.
Every projector on this list has a low enough lag to use in a home theater. For gamers, the 30ms input lag of the Hisense PX1-PRO falls within the acceptable range for competitive or online games, with an ALLM feature in Game Mode and microsecond-level processing speeds for clear images with no motion blur.
Projector with the lowest input latency: Hisense PX1-PRO
---
Top 6 Ultra Short Throw Projectors Reviewed

LG CineBeam HU715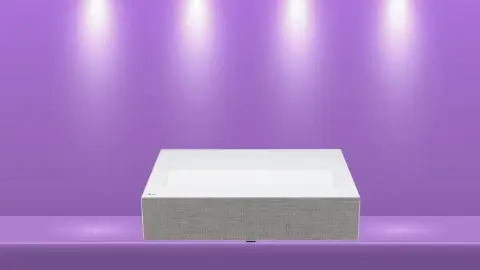 Pros
True 4K resolution with SuperResolution upscaling
Bright enough for most indoor spaces
Flexible installation with Edge Adjustment
Built-in webOS with voice recognition
Screen mirroring hrough AirPlay or Miracast
Great sound and output from built-in speakers
Cons
Input lag is too high for serious gamers
Not a great choice for outdoor use or bright rooms
The LG CineBeam HU715 uses XPR technology and a DLP display that together produce a detailed true 4K resolution. The Super Resolution upscaling adds even more detail compared to other Ultra HD displays.
It's also compatible with HLG and HDR10, with TruMotion technology to prevent motion blur and adaptive contrast and brightness modes. The result is an immersive and detailed picture for everything you watch.
This is a fully-modern projector, and offers the connectivity today's users need. This includes Bluetooth output for connecting speakers, though many users find they don't need to use it, since the dual 20-watt speakers built in have an output and quality on par with most soundbars.
It also has an integrated webOS browser and interface, connected to the app store for downloading streaming apps, and can stream content from other devices through AirPlay 2 or Miracast.
Since it's an ultra-short throw projector, the 2,500 lumens produced by the lamp will keep the picture vibrant and visible in most indoor light environments. It's also flexible in terms of placement, with the option of 4-, 9-, or 15-point anti-warp correction through its Edge Adjustment feature.
---
BenQ V7050i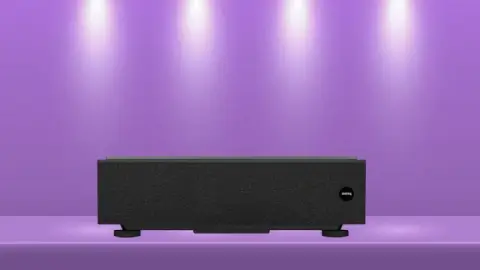 The BenQ V7050i is an excellent user-friendly centerpiece to a movie-lover's home theater. Its true 4K DLP display is supported by HDR-PRO and CinematicColor technology, producing a realistic and accurate image for all types of content, including 3D.
The Filmmaker Mode further optimizes the picture to match the director's intent for movies.
Like other projectors that use an Android TV streaming interface, the BenQ V7050i has support for Google Assistant voice searches and can use any streaming app available on the Google Play store. You can also wirelessly cast content through Chromecast or AirPlay, so its wireless connectivity is solid.
The BenQ V7050i is easy to both set up and maintain. Its throw distance is one of the shortest on the list and its surround sound support makes connecting external speakers a snap.
You also won't need to do much once it's installed. The laser phosphor light source lasts up to 30,000 hours, with a dust-reducing design that keeps it running efficiently without any user hassle.
Pros
True 4K resolution with wide color gamut
Optimized content in Filmmaker Mode
Android TV streaming with Google Assistant
Good wired and wireless connectivity
Low-maintenance
Cons
Input lag is too high for gaming
Lower lamp brightness
---
ViewSonic X2000B-4K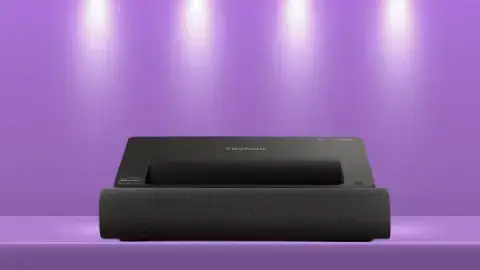 The incredible picture of the ViewSonic X2000B-4K starts with a true Ultra HD resolution and compatibility with HLG and HDR. The Cinema SuperColor+ technology gives it a color gamut that's wider than the Rec.709 spectrum, producing remarkably lifelike colors so you can get fully immersed in your movies and shows.
This is one of those rare projectors whose sound is as impressive as its picture. Its 50-watt Harman Kardon speakers are backed by Dolby and DTS support, with dedicated tweeters and woofers to ensure a balanced, high-quality sonic output.
The ViewSonic X2000B-4K also offers expanded placement flexibility. The sophisticated 4-corner adjustment allows the image to be adjusted to fit even curved or angled walls without any picture warping.
Its connectivity is equally flexible, with embedded 5GHz Wi-Fi as well as the dual HDMI ports and networking inputs on the rear panel. Its control is just as flexible, with the option of the included backlit remote or control through your phone using the ViewSonic vCastSender app. Click here for our more in-depth ViewSonic X2000B-4K review.
Pros
Native true 4K resolution
SuperColor with HDR and HLG
Frame interpolation keeps the image smooth
Room-filling sound with Harman Kardon speakers
4-corner adjustment with 60 points of correction
Easy to control with the remote or app
Cons
Not bright enough for well-lit spaces
Input lag is too high for serious gamers
---
Samsung Premier LSP9T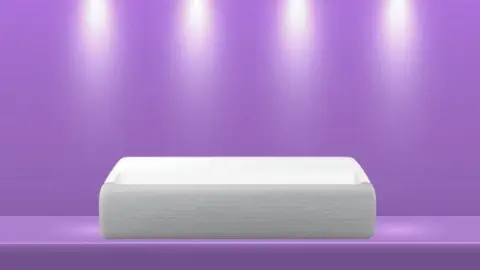 The picture quality of the Samsung Premier LSP9T is exceptional. Its 3-laser DLP display technology produces a detailed true 4K image with a high dynamic contrast for rich black levels. The colors are just as impressive, especially in Filmmaker Mode, which optimizes the picture to the content you're watching.
The 40-watt soundbar system built in to the Samsung LSP9T effectively emulates the surround sound experience, with Acoustic Beam technology that makes the sound more immersive. For content, it has one of the best smart TV interfaces you'll find on a projector.
Not only can you stream content through apps like Prime Video and Apple TV, but it also has apps that enhance your viewing experience and add helpful functions and features, making it a truly smart projector.
We also love how easy it is to set up the Samsung Premier LSP9T. Even a massive 130" screen requires less than 1 foot of distance. This maximizes the lamp brightness, too, and the picture is sharp and clear enough you can use this projector without a screen.
The only downside of the LSP9T is that it's an investment, with a price tag that might be outside some buyers' budgets.
Pros
Triple laser array with powerful UHD processor
Purcolor technology for wide, accurate color gamut
Doesn't require a screen
40-watt 4.2 channel sound system
User-friendly Tizen Smart TV interface
Supports Alexa, Google, and Bixby voice control
Super-short throw distance
Cons
Higher price point
Input lag is on the high side
Full review: Samsung Premier LSP9T
---
Optoma CinemaX P2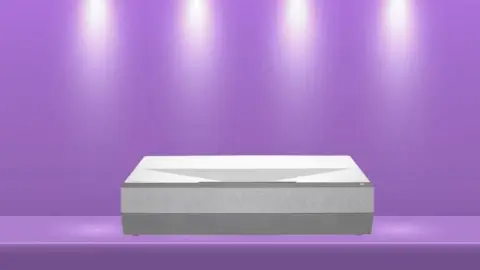 The Optoma CinemaX P2 is the best projector for smart home owners. It's compatible with multiple voice control systems, first of all. Even better, it works with IFTTT, making it easy to integrate with other smart devices and letting you write it into home automation recipes and routines.
The CinemaX P2 is smart in other ways, too. The accompanying SmartFIT app is especially helpful during set-up, with automatic image alignment and geometry correction so you can get right to watching.
You'll still get full manual alignment controls if you need them, something gamers will likely need to take advantage of. Using the SmartFIT system pushes the input lag higher than the acceptable range for even casual play, something to keep in mind if you want to use the projector with your gaming systems.
Most viewers will be impressed by the Optoma P2's picture quality. It's sharp and realistic with excellent depth and vibrant colors, covering the entire range of the DCI-P3 color space. It does use a color wheel, however, so those who are sensitive to the rainbow effect may want to consider a different projector.
Pros
Bright, high-contrast true 4K picture
SmartFIT app for automatic geometry correction
6-segment color wheel produces the full DCI-P3 spectrum
Excellent sound with integrated 40-watt soundbar
Works with Google and Alexa voice control
Supports IFTTT
Cons
Using SmartFIT makes input lag too high for gaming
Color wheel may cause rainbowing
---
Hisense PX1-PRO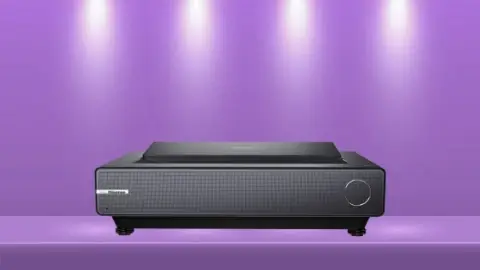 The Hisense PX1-PRO uses a TriChroma laser light source with a DLP display to produce a true 4K image with exceptional color and contrast. Its advanced processor maintains that clarity during fast action sequences, while the Filmmaker Mode disables image adjustments so you can watch movies in their original form.
If you want a projector with all-in-one capability, the Hisense PX1-PRO is a great choice. Its integrated Android TV interface supports all the streaming apps available on the Google Play store, and it can also mirror content through Chromecast.
You also won't need external speakers with the PX1-PRO thanks to its 30-watt speakers with Dolby Atmos sound. Dialogue is clear even during loud soundtrack moments or sound effects, and it can produce enough sound to fill most spaces.
The responsiveness of the Hisense PX1-PRO also makes it a great choice for multi-use entertainment spaces. Its 30ms input lag is low enough most gamers won't notice any delay. Activating Game Mode also turns on Auto Low Latency Mode (ALLM), automatically adjusting the settings to ensure a smooth, immersive playing experience. Click here for our more in-depth Hisense PX1-PRO review.
Pros
Sharp 4K image with great contrast
TriChroma laser provides full coverage of BT.2020 color spectrum
30-watt Dolby Atmos speakers
Android TV interface with Google Play store apps
Good choice for gaming
Voice control through Google or Alexa
Cons
Limited alignment and adjustment features
Lamp brightness on the low side for brighter spaces
---
What's the bottom line?
To a certain extent, you do get what you pay for when it comes to ultra-short-throw projectors. The higher-priced models will generally have a better overall picture. This starts with the resolution, and you should budget at least $2,000 if you want 4K resolution along with an ultra-short throw.
If pressed to pick a favorite, the Hisense PX1-PRO is our top choice (>>> Check on ProjectorScreen). It has a low enough latency for gaming as well as an exceptional picture quality. The powerful sound and built-in streaming and voice control are points in its favor, too.
As we said in the beginning, though, each of these projectors has its strengths. Smart home owners will love the easy integration of the Optoma CinemaX P2, while its powerful lamp makes it a great choice for bright spaces.
For the absolute best picture quality, the Samsung Premier LSP9T is the top choice, while the BenQ V7050i has the shortest throw distance on the list.
Don't forget to leave space in your budget for any necessary peripherals and accessories. The screen can also be very important to getting a good picture, so you'll want to save part of your budget to invest in a good one if you don't have one already.
Hopefully, this article has helped you see the advantages and disadvantages of different projector models. Best of luck in buying the best one for your home! No matter what you need out of an ultra-short throw projector, we know one of the above models will suit your needs.
REFERENCES AND FURTHER READING: