One potential disadvantage of projectors versus televisions is that they require more space to work correctly. If this is a problem for you, consider buying the best ultra short throw projector. It'll give you the same massive screen with less than half the distance, giving you the option of using a projector in a smaller room.
While you won't find any ultra-short throw projectors priced in a true budget range, you might be surprised by how affordable some of them can be. You can also get the same array of options and features you'll find on standard projectors, like gaming modes or 3D capability.
Are you looking for a good ultra-short throw projector? You've found the right article! Five excellent options are reviewed below, along with their stats and strong points so you can pick out the right one for your home theater. No matter what kind of content you'll use your projector for, there's a model here to give it the proper treatment. If pressed to pick a favorite, the Optoma CinemaX P1 is our top choice. (>>> Check the current price on Amazon)
Best Short Throw Projectors in 2020
| | LG HU85LA | VAVA 4K | Optoma P1 | LG HF85LA | Epson BL1485Fi |
| --- | --- | --- | --- | --- | --- |
| | | | | | |
| Resolution | 4K Ultra HD | 4K Ultra HD | 4K Ultra HD | 1920x1080 | 1366x768 |
| Brightness | 2,700 lumens | 6,000 lumens | 3,000 lumens | 1,500 lumens | 5,000 lumens |
| Contrast ratio | 2,000,000:1 | 1,500,000:1 | 1,500,000:1 | 150,000:1 | 2,500,000:1 |
| Throw Distance | 1.3' - 1.7' | 1.4' - 2.5' | 1.5' - 2.2' | 1.5' - 1.9' | 1.3' - 2.0' |
| Max screen size | 120" | 150" | 120" | 120" | 100" |
| Price | Check on Amazon | Check on Amazon | Check on Amazon | Check on Amazon | Check on Amazon |
Table of Contents

The three most important stats when you're choosing an ultra-short throw projector will be the throw distance, the lumen rating, and the input latency. Considered together, these three factors will paint the most complete sense of the projector's overall performance.
Throw distance
The throw distance or throw ratio determines the minimum distance separating the screen and the projector. Any model whose throw ratio is under 1 is considered a short throw projector. Short throw projectors can produce a 100" picture at only 4-5 feet away, as opposed to the 7-9 feet of distance most projectors would require to get the same screen size. With an ultra-short throw projector, that distance can decrease even further.
A short-throw projector is ideal for small spaces, where you only have a few feet to work with. They are also better for well-lit rooms. The less distance separating screen and lamp, the less diffusion the light will experience along the way. This means a brighter-looking picture from a short-throw projector, even if its lumen rating is the same.
Projector with the Shortest Throw Ratio: LG HU85LA
Lumen rating
Lumens are a measure of brightness. A higher rating gives you a brighter picture. This is especially important for projectors that will go in well-lit rooms, especially if there are a lot of windows or it's otherwise difficult to control the ambient light level.
For a dark room, a lamp brightness of 1,000-2,000 lumens is ideal. This gives you a clear picture without being so bright that it's hard on your eyes. Most people don't watch TV in a completely dark room, though. To compete with the interior lighting of a typical living space, you'll want a projector that puts out at least 3,000 lumens. In a room with daytime sunlight, kick that up to around 3,500.
The brightness of the lamp is adjustable on most projectors. If you'll be dealing with a variety of lighting situations, buy a projector that can cope with the brightest. You can always turn the lamp down if it ends up being too powerful.
Projector with the brightest lamp: Epson BL1485Fi
Input latency
Also called the input lag or lag time, this tells you how long it takes to process your content and send it to the screen as an image. This is usually mentioned in the context of gaming. A high input lag means there will be a delay between your actions and what you see. You can see why this is a problem for fast-paced gaming.
A high input lag can be frustrating for non-gamers, too. If you plan to mirror content from a phone or laptop, a long delay will create an echo effect. Even navigating the menu of a streaming service gets more difficult when there's a screen delay. Every projector on this list has a low enough lag to use in a home theater. Gamers should keep their eyes out for models with gaming-specific modes and an extremely low lag.
Projector with the lowest input latency: Optoma Cinemax P1
Top 5 Ultra Short Throw Projectors Reviewed

LG HU85LA

If you want the ultimate in picture quality and color accuracy, the LG HU85LA is hard to beat. Its 3-channel color technology reduces color loss compared to other projectors. The color vibrancy is enhanced with Dynamic Tone Mapping, which optimizes the color frame by frame. It's one of the smoothest projectors, too, thanks to the TruMotion technology that fills in-between frames for more fluid viewing.
The LG HU85LA also comes with good functions for aligning and adjusting the image. It has a 12-point on-screen adjustment for fine-tuning. This means you'll never have to worry about warping or other issues based on the placement. You can get a massive 120" screen with about 17" of distance, perfect for a table-top installation in any room. Thanks to its smart system, you don't necessarily even need to connect external content sources. Full compatibility with Alexa and Google Assistant makes it easy to integrate into a smart home theater, too.
Our only complaint about the LG HU85LA is the price tag. You'll pay a pretty hefty premium for this projector compared to the others reviewed here. As impressive as its performance is, it won't be worth the extra expense for everyone. >>> Full LG HU85LA Review
Pros
TruMotion technology for smoother frame-to-frame motion
Compatible with HDR10 with Dynamic Tone Mapping
Smart LG Thinq AI with built-in voice control compatibility
Bluetooth connectivity
12-point picture adjustment for easy fine-tuning
Attractive, innovative design
Cons
High price
A bit dim for well-lit rooms
---
VAVA 4K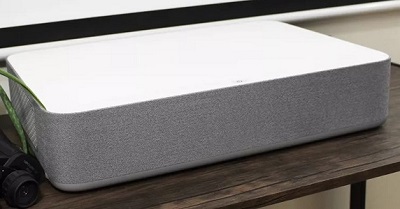 The VAVA 4K Home Theater Projector is an all-in-one entertainment package. The Harman Kardon soundbar has far superior sound to most projector speakers. Not only can it get louder than other speakers, it has Dolby Audio to reduce loss and distortion.
For content, the VAVA 4K has a smart Android-based system that lets you watch some content straight through the projector. That said, though, the system is a bit limited. Most users will want to still use a streaming stick, game console, or TV box. You can hook them all up easily—there are 9 inputs on the VAVA 4K, so you can hook up whatever peripherals you need.
As far as performance and picture quality, the VAVA 4K is ideal for dedicated home theaters. It's not the brightest projector out there. So long as you can limit light levels in the room, though, the picture quality is exceptional. Details are sharp, colors are vivid, and the on-screen motion is fluid. That said, the VAVA 4K isn't the most versatile option and has a higher input lag than you want for gaming. (It's also included to out best laser projectors list here)
Pros
Cinema-quality color
Smart Android navigation system
Wide variety of input options
Excellent audio quality with Dolby Audio support
Easy to instal
Ultra-short throw, even compared to other short throw projectors
Cons
Built-in navigation system has limited app support
Input lag is too high for gaming
---
Optoma CinemaX P1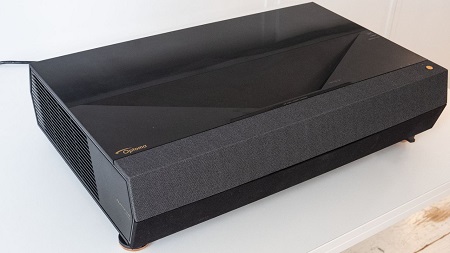 The Optoma CinemaX P1 is another great choice if you're looking for a smart projector. It works with voice control systems and also has an on-board content manager, so you can stream from Netflix or Prime right on the projector.
The set-up options on the CinemaX P1 are pretty smart, too. You can use the SmartFIT app for automatic 4-corner alignment and auto geometry correction. It also has auto-focus so you don't have to mess with the lens to make the picture clear.
Another thing that makes the set-up easier is that you might not need external speakers. The 40-watt NuForce soundbar uses Dolby 2.0 audio. Dual speakers and woofers give you full frequency response, even in the low end that projector speakers often neglect.
With 4K resolution and HDR10 support, the picture quality on the Optoma P1 is phenomenal. It has a high contrast ratio, too, giving it rich black levels and equal detail in bright or dark regions of the screen. While its input lag is a bit on the high side for serious gaming, casual gamers won't find it too disruptive, giving the Optoma P1 the versatility for use in media rooms and living rooms, not just dedicated home theaters. Check our Optoma CinemaX review here.
Pros
Wide color gamut with HDR10 support
Built-in support for Alexa and Google Assistant
Smart on-board navigation with Netflix and Prime Video
Bright enough to use in moderate ambient lighting
SmartFIT system automatically aligns image
Lamp lasts up to 30,000 hours
High on-board sound quality
Cons
Input lag is too high for serious gaming
---
LG HF85LA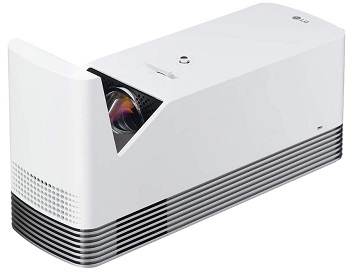 Here's another excellent option from LG. The HF85LA is a great 4K projector for a home theater. That said, it does also have the lowest lamp brightness on the list, at only 1,500 lumens. For lights-on viewing, it's not going to do as well as other projectors.
In a dark environment, the picture on the LG HF85LA really pops. It uses LG's TruMotion technology to smooth frame transitions and limit blurs or judders. The high contrast ratio provides rich, detailed blacks. It also has an enhanced color system for remarkably true-to-life pictures from all content sources.
We like that the LG HF85LA can be set up with very few wires or connections. Along with the on-board content system, you can stream content directly from phones or tablets via Wi-Fi. There's also Bluetooth for connecting speakers, which you'll want to do. There are speakers on the HF85LA but they only have 3 watts of power, and aren't suitable for anything but basic TV watching.
Another advantage of the LG HF85LA is its price. It's one of the most affordable ultra-short throw projectors you'll find. While it doesn't have the 4K Ultra HD resolution you'll find on the more expensive models above, it's an excellent choice if you're setting up a home theater on a budget.
Pros
Compatible with LG smart TV system
Good color and contrast
TruMotion technology for smooth on-screen action
Bluetooth audio
Wireless screen sharing for phones and tablets
Affordable price
Cons
Low lumen rating
On-board speakers are weak
---
Epson BL1485Fi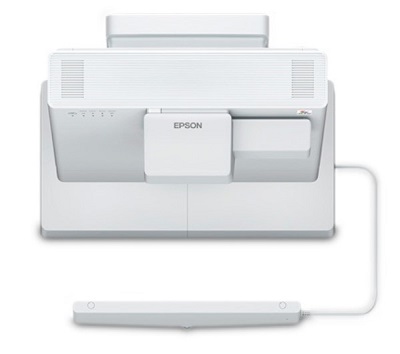 Finally, let's look at a projector that's versatile in a different way: the Epson BL1485Fi. With an ultra-short throw and an ultra-bright light, this projector can work in any space easily. That makes it an excellent choice for teachers and business leaders who want to make presentations, as well as those looking for a home theater projector.
The design of this projector is very user-friendly. The lamp on the Epson BL1485Fi can last up to 30,000 hours in Eco Mode. You can use this projector for years without needing to do any maintenance, and it's also easy to set up and navigate. It also supports wireless connection via Miracast, which is as helpful for meetings and classroom work as it is for watching movies.
The main thing setting this projector apart from others is its interactive capabilities. Its interactive touch module comes with two pens for writing or drawing straight on the display. Up to 8 people can collaborate at the same time, too, making the Epson BL1485Fi a powerful creative and educational tool.
Pros
Bright lamp suitable for any light level
Great for presentations as well as home theater uses
Long lamp lifespan
Wirelessly streams content through Miracast
Interactive touch display and collaboration features
Comes with 1 year subscription to SMART notebook and app
Cons
No smart features or voice control compatibility
No 4K support
---
What's the bottom line?
To a certain extent, you do get what you pay for when it comes to ultra-short-throw projectors. The higher-priced models will generally have a better overall picture. This starts with the resolution, and you should budget at least $2,000 if you want 4K resolution along with an ultra-short throw.
If pressed to pick a favorite, the Optoma CinemaX P1 is our top choice. (>>> Check the current price on Amazon) It has a low enough latency for gaming as well as an exceptional picture quality, and its smart features and speakers are points in its favor, too.
Think about where you'll be using the projector when you're shopping. You'll often have to pay more for higher brightness, but if you like your viewing space to be relatively dim, anyway, there's no reason to shell out the extra cash.
Don't forget to leave space in your budget for any necessary peripherals and accessories. Most projectors don't come with hardware, so if you want to mount it on the ceiling, you'll need to buy that yourself. The screen can also be very important to getting a good picture, so you'll want to save part of your budget to invest in a good one if you don't have one already.
Hopefully, this article has helped you see the advantages and disadvantages of different projector models. Best of luck in buying the best one for your home! No matter what you need out of an ultra-short throw projector, we know one of the above models will suit your needs.
REFERENCES AND FURTHER READING: