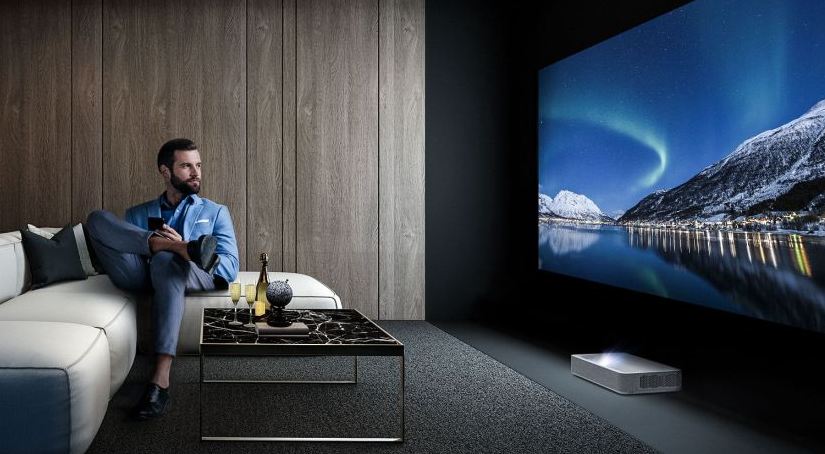 Most home theater projectors use an LED lamp design to project the image. Laser projectors use a different internal design, however, that allows them to provide a broader range of colors and a sharper image. Generally speaking, the best laser projector will offer a superior picture to a lamp-based projector.
We've rounded up our six favorite laser projectors and reviewed them below. Taking everything together, the LG HU85LA True 4K Laser Projector is our top choice. There are a lot of factors that might go into your decision, though.
Best Laser Projector Options for 2020
| | LG HU85LA | Optoma P1 | VAVA 4K | LG HU80KS | LG HF80LA | Epson LS100 |
| --- | --- | --- | --- | --- | --- | --- |
| | | | | | | |
| Resolution | 4K Ultra HD | 4K Ultra HD | 4K Ultra HD | 4K Ultra HD | 1080p | 1080p |
| Brightness | 2,700 lumens | 3,000 lumens | 6,000 lumens | 2,000 lumens | 2,000 lumens | 4,000 lumens |
| Contrast ratio | 2,000,000:1 | 1,500,000:1 | 1,500,000:1 | 5000,000:1 | 150,000:1 | 2,500,000:1 |
| Throw ratio | .19:1 | .25:1 | .233:1 | 1.32:1 - 1.58:1 | 1.40-1.54:1 | .27:1 |
| Max screen size | 120" | 120" | 150" | 150" | 120" | 120" |
| Price | Find Best Price | Find Best Price | Find Best Price | Find Best Price | Find Best Price | Find Best Price |
Laser projectors are newer technology than the traditional design, and this does tend to raise the price. That's the main trade-off when you're comparing laser projectors to other designs. It's rare to find one that costs less than $1,000. This is on-part with what you'd expect to pay for a high-quality projector of any design, but you aren't as likely to find them in the lower end of the budget.
Just like with any home theater equipment, there are a few features you want to consider when you're buying a laser projector. Let's take a look before we dig into the full product reviews.
Brightness
Laser projectors are typically brighter than their lamp-based counterparts. There's still some variation from one model to another, though. A quality laser projector can range anywhere from around 3,000-4,000 lumens on the low side to as much as 20,000 lumens or more.
Keep in mind that brighter isn't always better. A lamp that's too bright will be hard to watch for long spans of time, and can lead to eye strain and pain. Somewhere in the neighborhood of 3,000-6,000 lumens is the best for home use. Where your space falls in that range depends on how much ambient light there is. (More info about recommended projector brightness here).
Brightest projector: VAVA 4K
Throw Distance and Ratio
Another advantage of laser projectors is that they can often get a shorter throw ratio than most lamp-based projectors. The throw ratio is the measurement of how far away from the screen your projector needs to be to create a large image, so this is especially important if your home theater space is on the smaller side.
Where many lamp-based projectors need several feet of distance, some laser projectors measure their throw distance in inches. Even if you have plenty of space, this can give you more flexibility when you're setting things up.
Shortest throw ratio: LG HU85LA
Resolution
The native resolution of a projector determines whether it's capable of playing HD content with its full detail. As you might expect, a higher resolution typically comes with a higher price tag. Most home theater projectors have a 1080p resolution, though there are many that offer full 4K UHD. (Find out best 4k projectors options for 2020)
Along with 4K resolution, many laser projectors offer enhanced detail through technologies like Dynamic Tone Mapping. This optimizes each frame to ensure you're getting the 4K resolution you were promised. Motion blur reduction systems are also helpful, especially for action movies and fast-paced sports.
Projector with the best resolution: LG HU85LA
Sound
It used to be that laser projectors were designed more for presentations and offices than they were for home theaters. Because of this, they don't as often come with speakers installed, the way many home theater projectors do.
There are exceptions, however—and on the plus side, laser projectors that do include speakers tend to give you a higher sound quality. Most home theater projectors have speakers rated for only 10 to 20 watts of power, but some laser projectors include soundbars that give much better volume and audio quality.
Best projector for sound: Optoma CinemaX P1
Best Laser Projector: Full Reviews

The LG HU85LA is arguably the smartest laser projector on the market. It comes with built-in Bluetooth connectivity and compatibility with Google Assistant. It also uses LG's proprietary Smart TV interface with ThinQ AI. Navigating is easy with the included magic remote, and it's equally simple to integrate into an existing smart home system.
Gamers will also love the LG HU85LA. It has a fairly low input lag of around 55ms. That's not in the exceptional range but is definitely suitable for most gamers, even fast-paced and graphic intensive multi-player games.
The LG HU85LA also has one of the shortest throw distances on the home projector market. The .19 throw ratio is impressive even for a laser projector. You can truly use it in any room and get the same excellent resolution and picture quality.
While the LG HU85LA is on the pricier side, it's worth the investment if you want the most versatile home theater projector. It also has the highest picture quality on the list. True 4K resolution and HDR10 with Dynamic Tone Mapping provide an image that's optimized frame by frame, with TruMotion processing to make on-screen movement more fluid. Find a full review of this projector here.
Excellent color accuracy and contrast ratio
Easy to set up and use
Ultra-short throw ratio (120" screen from only 7" away)
Built-in Bluetooth connectivity
Smart TV interface and Google Assistant voice control
Low input lag for gamers
Smooth frame movement with TruMotion
High cost
No built-in speakers
---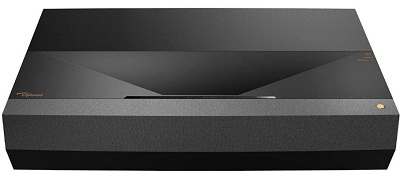 The Optoma CinemaX P1 provides the outstanding picture quality and ultra-short throw ratio you expect from a laser projector, as well as some unexpected extras.
One unexpected feature of the Optoma P1 is its integrated NuForce soundbar. The dual subwoofers actually put out pretty decent bass—a serious weak point for most projector speakers. The mid-range has excellent detail and clarity, key for dialogue, and the 40 watts of power give sufficient volume for most viewers. It's the next best thing to surround sound, far exceeding the sound quality from most projectors and televisions.
The Optoma P1 also integrates easily into smart home systems. It's compatible with both Google Assistant and Amazon Alexa for voice control. In addition, it supports IFTTT protocols, letting you create your own smart programs.
A throw ratio of .25:1 gives you a 120" screen from about 15" away. That's one reason setting up the Optoma P1 is so easy. You can also download the SmartFIT app for easy 4-corner alignment through your smartphone.
An excellent picture is just the start of what you'll get with the Optoma CinemaX P1. It's the easiest way to integrate a truly cinema-quality home theater into your life, especially if you're a smart home user. For more detailed Optoma CinemaX P1 review here.
High sound quality
Ultra-short throw ratio
True HDR10 color and 4K resolution
Easy to set up with Optoma's SmartFIT system
Compatible with both Alexa and Google Assistant
Supports IFTTT for smart home integration
High input lag makes it unsuitable for gamers
Must be placed flat (no ceiling-mounted or angled installations)
---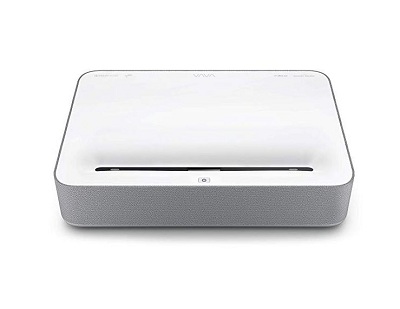 Let's start things off with this VAVA 4K home theater projector. If high picture quality is your main priority, you'll want to check out this beauty. The native 4K resolution and high lamp brightness provide a sharp picture with excellent color accuracy. Some of the specs even exceed the projectors in movie theaters.
Another strong point of the VAVA 4K projector is its sound. The built-in soundbar far exceeds the wimpy 10-watt speakers you'll find on many projectors. You don't need external speakers to use the VAVA 4K Laser TV projector, which is nice if you have a cramped space.
Speaking of space—the ultra-short throw ratio on the VAVA 4K makes it incredibly versatile when it comes to set-up, too. You don't need a massive room to get a massive picture. Since the lamp is bright, too, it'll work in basically any space. This VAVA projector is on the pricey side, but if you have the budget for it, it's the best laser projector out there. (Find more detailed review of VAVA 4K here)
Contrast ratio and resolution exceed movie theater projector stats
Bright lamp can compete with any ambient light level
Short throw ratio for more installation flexibility
Built-in sound is fantastic
Lamp life of up to 25,000 hours
Connects through Bluetooth, Wi-Fi, or wired connections
---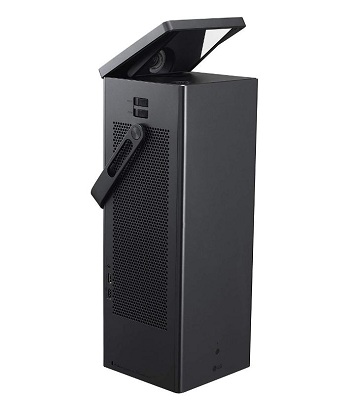 LG makes an assortment of smart home theater technology, and their HU80KS 4K UHD laser projector is one of the most impressive products in the line. It gives you a lifelike image in sharp true 4K resolution, and allows you to connect and stream content wirelessly with no additional dongles or set-up.
Now our only quibble with this LG laser projector is the lamp brightness. It's a bit on the low side, especially if your viewing area has lots of ambient light. Otherwise, though, the picture is very detailed and clear, with good color accuracy.
The LG HU80KS also uses a unique design from most home theater projectors. The dimensions and built-in carrying handle make it very portable, but it isn't as stable once it's set up as other projectors—something to keep in mind if you'll be using it around kids and pets.
Lamp life of up to 20,000 hours
Smart TV technology built-in
Picture is detailed and accurate
Short throw ratio gives you more set-up flexibility
Portable design with built-in handle
Not bright enough for rooms with high ambient light
Is prone to tipping and breaking in certain set-ups
---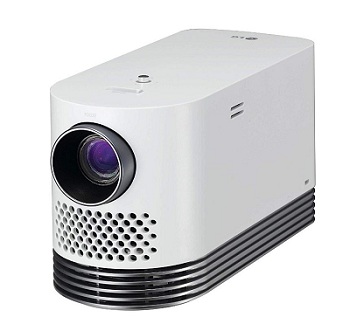 Most laser projectors are on the high side of the price spectrum, as we said above. If you're on a budget, though, the LG HF80LA is much more affordable than most of the options. The LG HF80LA also has the advantage of being very user-friendly and easy to set up. There's a keystone adjustment option for perfecting your picture alignment, and you can even stream content or send audio via Bluetooth—an impressive feature for a projector in this price range.
Now the picture quality from the LG HF80LA isn't as high as you'll get from other projectors. The brightness of 2,000 lumens can look washed out if there's ambient light. The 1080p resolution is high enough for standard HD, though it's not quite as sharp as a 4K projector. Basically, the LG HF80LA isn't your best choice if you're looking for the ultimate picture quality, or if you're using it in a well-lit area.
On the other hand, there are quite a few features here you wouldn't expect for the price. It's compatible with LG's smart TV software, for example, which lets you easily access all your content in one place. It also offers 2 HDMI ports along with wireless connectivity, making it simple to integrate into your home theater set-up.
Very affordable option
Lamp is durable with a long life
Compatible with LG's smart TV system
Streams audio through Bluetooth
Keystone adjustment makes image set-up easier
Capable of mirroring content from phone or tablet
Relatively low brightness
Resolution and contrast not as good as other projectors
---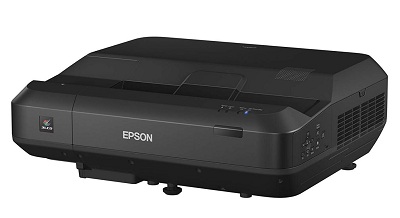 The picture quality of the Epson LS100 is one of the best from any laser projector. The full detail resolution and bright 4,000-lumen lamp makes it an ideal way to watch your favorite movies. While it doesn't provide 4K resolution or 3D, the sharpness and detail exceeds most flat screen TVs, no matter how large you make the picture.
The visual technology inside the Epson LS100 is impressive. It uses a 3LCD design that prevents common projector image problems like rainbow effect, color inconsistencies, and white segments. It also has a high contrast ratio, which gives you deep black levels with high detail.
The Epson LS100 is also very easy to set up and connect to your home theater system. It has three HDMI ports, first of all. It also provides an ultra-short throw ratio—just inches of distance gives you a massive picture, so you don't have to worry about space constraints. (You can  even find the LS100 among best ultra short throw projectors) If you're looking for a high-quality, versatile laser projector, the Epson LS100 is a good way to go.
Extremely short throw ratio
High contrast ratio with deep, detailed blacks
Equally bright for white and color
3-chip design eliminates rainbow effect
Three HDMI ports increase connection versatility
Lamp lasts up to 20,000 in Normal Mode
Doesn't offer 4K resolution or 3D
---
Customer Impressions
Most modern projectors are very easy to use and set-up. The smart features and short-throw ratio offered by these projectors make it even easier. The only complaint from users on this front was from those ceiling mounting the Epson and VAVA models, which are on the heavy side. Given their short throw, though, most users won't need to mount them before use.
As far as long-term quality, all of these projectors have a good longevity and good support from their manufacturers. Some customers report the LG HU80KS feeling flimsy so that's something to keep in mind, especially in high-use situations. Some users have also been frustrated by the customer support for the Optoma P1, especially if they're having trouble making the image align with the SmartFIT app.
Of the six, the Epson LS100 has the lowest overall ratings. These low marks tend to be for two reasons: the volume of the fan and the native 16:10 aspect ratio. Some users also report occasional crashing, especially after extended use. If you're looking for the most reliable projector, both the VAVA and the Optoma P1 have high marks, with long usable lifetimes and low maintenance requirements.
So What's the Best Laser Projector?
If you're going to spend the money it takes to get a laser projector, you might as well go for the best. In our opinion, that's the LG HU85LA. While the brightness is on the low side, it's the most versatile projector, with a low input lag for gaming and built-in voice control support. It also has the shortest throw ratio, making it the most flexible when it comes to installation.
That being said, the LG HU85LA isn't perfect for everyone. Users who need a brighter lamp will love the VAVA 4K, and the built-in soundbar on the Optoma CinemaX P1 is hard to beat. The best way to find the right projector for your home theater is to do your research. We hope the reviews above have given you a good start on finding the perfect projector for you.
REFERENCES AND FURTHER READING: