Most home theater projectors use an LED or bulb-based lamp design to project the image. Laser projectors use a different light source that allows them to provide a broader range of colors and a sharper image. Generally speaking, the best laser projector will offer a superior picture to a lamp-based projector.
We've rounded up our favorite laser projectors and reviewed them below. Taking everything together, the BenQ V7050i is our top choice. It combines a phenomenal picture with an ultra-short throw and bright lamp, as well as wireless streaming.
That said, each of the projectors below has its strengths. Let's compare them side by side on the key features.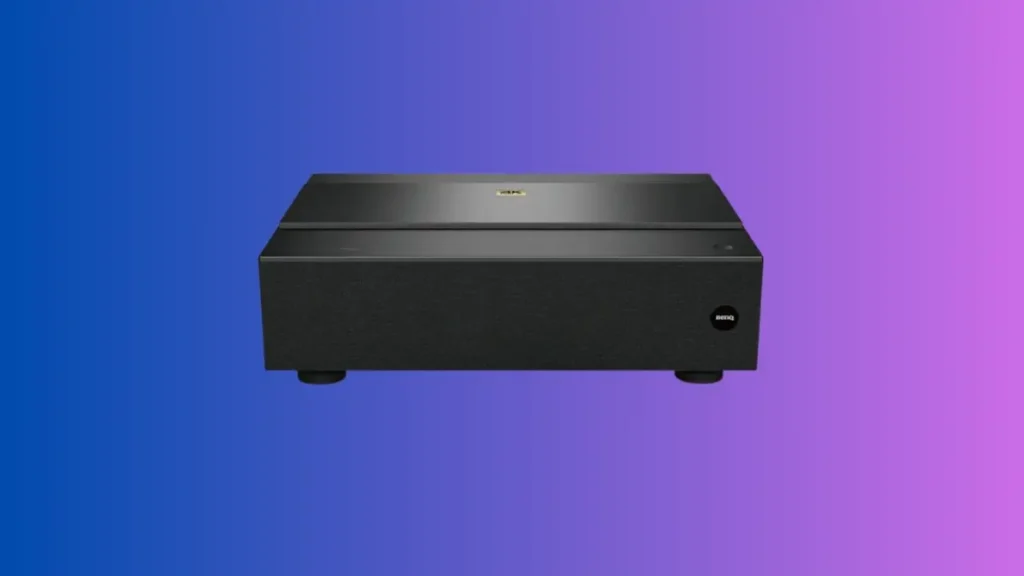 Best Laser Projectors – Top Picks for 2023:
| | BenQ V7050i | ViewSonic X2000B-4K | Optoma CinemaX D2 | LG HU810PW | Samsung LSP7T | Epson LS800 | Optoma UHZ50 |
| --- | --- | --- | --- | --- | --- | --- | --- |
| | | | | | | | |
| Resolution | 3840x2160 | 3840x2160 | 3840x2160 | 3840x2160 | 3840x2160 | 3840x2160 | 3840x2160 |
| Brightness | 3,000 ANSI | 2,000 ANSI | 3,000 ANSI | 2,700 ANSI | 2,200 ANSI | 4,000 ANSI | 3,000 ANSI |
| Contrast ratio | 2,000,000:1 | 3,000,000:1 | 1,800,000:1 | 1,000,000:1 | 2,000,000:1 | 2,500,000:1 | 2,500,000:1 |
| Throw Distance | 0.2' - 1.1' | 1.0' - 2.4' | 1.5' - 2.2' | 6.1' - 28.4' | 0.8' - 1.4' | 0.9' - 1.8' | 4.0' - 26.6' |
| Max screen size | 70" - 120" | 65.09" - 150.20" | 85" - 120" | 40" - 300" | 90" - 120" | 80" - 151" | 34" - 303" |
| Speakers | 5.0 Watts × 2 | 50.0 Watts | 10.0 Watts × 2 | 5.0 Watts × 2 | 30 Watts | 20 Watts | 10.0 Watts × 2 |
| Check Price | $2,799 at ProjectorScreen.com | $2,899 at ProjectorScreen.com | $2,699 at ProjectorScreen.com | $2,222 at Amazon | $3,496 at ProjectorScreen.com | $3,499 at ProjectorScreen.com | $2,799 at ProjectorScreen.com |

Important Features to Consider
Resolution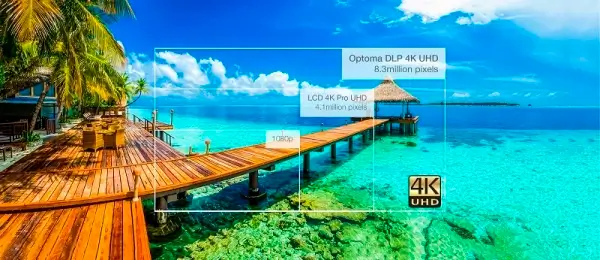 The native resolution of a projector determines whether it's capable of playing HD content with its full detail. As you might expect, a higher resolution typically comes with a higher price tag.
While 4K projectors aren't nearly as expensive as they used to be, they still tend to cost at least $1,500, where Full HD projectors can be found for $1,000 or less. There are also an increasing number of projectors capable of 8K resolution, though these are still relatively rare and usually cost $10,000 or more.
All of the selected best laser projectors can produce at least 4K resolution (except Optoma GT1090HDRx). While none of the projectors on this list quite reach 8K resolutions, the HU810PW uses Super Resolution upscaling, adding even more detail to Ultra HD content and producing the sharpest, clearest picture on the list.
Projector with the best resolution: LG HU810PW
Throw Distance and Ratio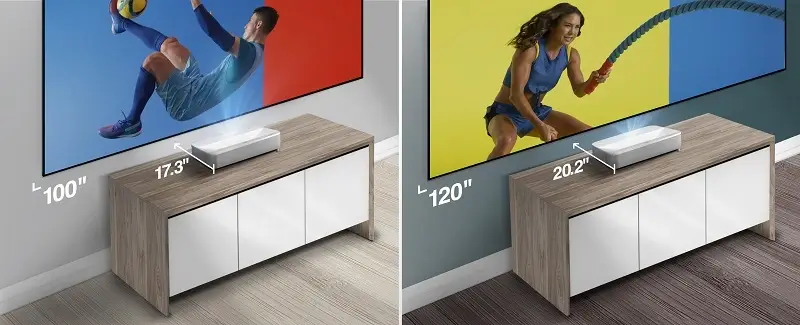 Another advantage of laser projectors is that they often have a shorter throw distance than lamp-based models, in some cases producing a 100-inch or larger image with two feet or less between the screen and wall. A short throw is especially important in smaller rooms, but even if you have plenty of space, this can give you more flexibility when you're setting things up.
The Epson LS800, Samsung LSP7T, ViewSonic X2000B-4K and Optoma D2 are all ultra-short throw projectors, and can produce a 120" image with 2 feet or less between the screen and lens. We tested, that for the absolute shortest throw distance, the BenQ V7050i needs only 13" of distance for a 120" image and can produce a clear picture from as little as 2 inches away.
Best Short Throw Laser Projector: BenQ V7050i
Brightness
Laser projectors are typically brighter than their lamp-based counterparts. There's still some variation from one model to another, though. A quality laser projector can range anywhere from around 1,500-2,000 lumens on the low side to as much as 20,000 lumens or more.
Keep in mind that brighter isn't always better. A lamp that's too bright will be hard to watch for long spans of time and can lead to eye strain and pain. In a dedicated home theater or other dark space, 1,500-2,500 lumens is an ideal range. During our test in the bright space, the 4,000 lumens of the Epson LS800 ensured a high image quality in any space and was perfect for indoor/outdoor use, so you won't need to wait until nighttime to see the picture. (More info about recommended projector brightness).
Brightest projector: Epson LS800
Sound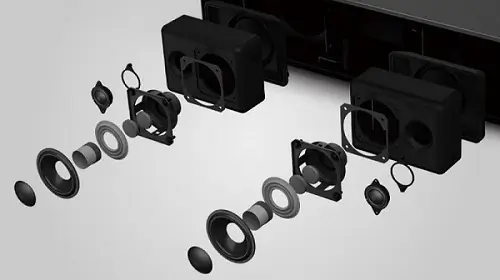 It used to be that laser projectors were designed more for presentations and offices than they were for home theaters. Because of this, they may not have any speakers built-in, and if they do they're often weak and have a low sound quality, especially for bass frequencies.
There are exceptions, however—and on the plus side, laser projectors that do include speakers tend to give you a higher sound quality. Most home theater projectors have speakers rated for only 10 to 20 watts of power, but some laser projectors include soundbars that give much better volume and audio quality.
The Optoma CinemaX D2 has dual 10-watt speakers that have an output on par with a standalone Bluetooth speaker. During our sound test, the audio quality was fairly high, with good midrange clarity, though the low end is a bit thin compared to what you'll get from a full sound system.
The Epson LS800 includes a 2.1-channel soundbar, with a dedicated woofer that gives it a fuller low end. The ViewSonic X2000B-4K scored the highest mark on our loudness test. The reason for it-  dual 25-watt Harman Kardon speakers that each have a dedicated woofer and tweeter, producing rich and detailed sound that can truly fill any listening area.
Best projector for sound: ViewSonic X2000B-4K
---
Reviews of the Best Laser Projectors 2023
BenQ V7050i – Best Overall Laser Projector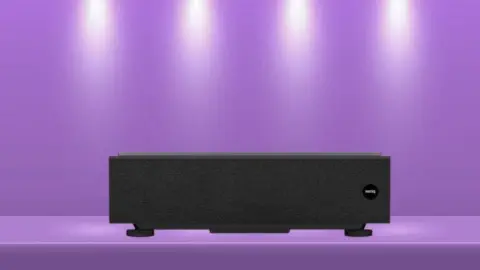 Pros
Sharp, high-contrast 4K image
Cinematic color (98% of DCI-P3 spectrum)
Filmmaker Mode enhances movie quality
Automatic tone mapping
Comes with Android TV dongle
Ultra-short throw distance
Low-maintenance, dust-resistant design
Cons
Netflix isn't supported
Android interface isn't built in
The BenQ V7050i is a low-maintenance and user-friendly home theater projector. It's designed to repel dust and has a lamp lifespan of up to 20,000 hours, so it doesn't need frequent upkeep. Setting it up is a breeze, too, with an ultra-short throw distance that will produce a massive picture from just about a foot away.
During our video quality testing, the picture quality of the V7050i was impressive, too. It uses HDR-PRO tone mapping to optimize the color and contrast of the image. The wide color gamut and Filmmaker Mode bring cinema-level quality to movies.
While it's not the brightest projector on the list, its short throw limits the impact of ambient light. You'll still want to have good curtains for your windows, but you won't need to turn all the lights off to watch.
The BenQ V7050i comes with an Android TV dongle for streaming. Keep in mind you'll need to use one of the HDMI ports for it, which we experienced can be a bit annoying if you have lots of devices, especially since it only has 2 HDMI inputs total. Having said that, it is wirelessly equipped and can mirror content from devices, so it still has ample connectivity for many users.
Our hands-on review of the BenQ V7050i
ViewSonic X2000B-4K Best Budget Laser Projector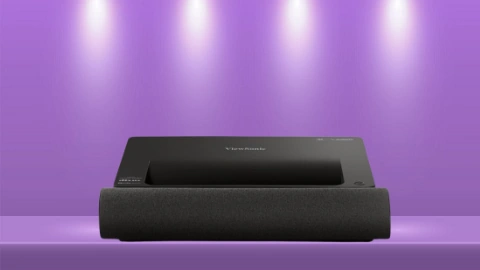 Pros
Sharp true 4K image with bright, accurate colors
Ultra-short throw
Flexible, fast installation
Room-filling sound from built-in speakers
Good range of wired and wireless connectivity
Cons
No voice control or smart features
Not a great choice for bright spaces
The ultra-short throw lens of the ViewSonic X2000B-4K allowed us to produce a massive screen without a ton of space. This already makes it easier to set up than standard throw projectors, and its 4-corner adjustment adds even more flexibility. You can even project images on curved or angled surfaces without distorting the picture, so it can work in almost any space.
That short-throw also reduces light diffusion from the lamp, making its 2,000 lumens look brighter that it would from a standard-throw projector. It's still not the best choice for bright spaces with lots of ambient light, but you can use it with the lights on and not lose any image quality. (Here is our guide if you looking for a projector more suitable for bright spaces)
The ViewSonic X2000B-4K uses a DLP display with a laser phosphor light source and support for HDR and HLG. Its SuperColor+ technology gives it coverage for 125% of the Rec.709 color space, resulting in realistic and accurate colors for all content. Action sequences will be smooth, too, thanks to its frame interpolation technology, which reduces motion blur to keep the image sharp and detailed even during fast-paced action.
The ViewSonic X2000B-4K is also one of the few projectors that sounds as good as it looks. Its Harman Kardon stereo speakers each have a dedicated tweeter and woofer, giving it a full bass end without losing mid-range clarity.
The sound is on par with standalone soundbars, and you can even use the projector as a speaker thanks to its 2-way Bluetooth connectivity. It also has embedded 5GHz Wi-Fi, along with dual HDMI ports and network connections, giving users the full range of connection options they need in a home theater.
Read the full review: ViewSonic X2000B-4K
---
Optoma CinemaX D2 Smart Laser Projector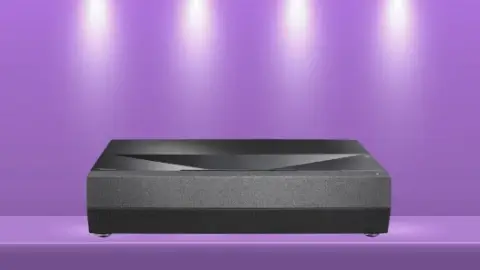 Pros
Colorful and sharp true 4K image
Excellent choice for gaming
Streaming interface with Google Assistant voice control
Ultra-short throw distance
Flexible installation with or without a screen
Three HDMI inputs
Cons
Costs more than many home theater projectors
Automation and smart controls are limited
Gamers looking for a new laser projector will want to check out the Optoma CinemaX D2 Smart. We tested its input lag of just over 4ms for Full HD content, with a 240Hz frame refresh rate to ensure a smooth on-screen response. It can be used for 4K gaming, too, with a 16ms input lag for Ultra HD games that still falls within the range competitive and professional gamers look for.
The space versatility of the Optoma D2 is another point in its favor. Its ultra-short throw distance and 3,000-lumen light source mean it can be used in just about any indoor space. It also has a 3X3 anti-warp function, ensuring a square image even in off-center or off-angle installations, with a Wall Color adjustment feature that lets you use it on colored walls without a screen.
The D2 is just as versatile from a connectivity standpoint, with an included Android TV interface for streaming content directly to the projector, as well as three HDMI inputs for other content sources.
Wherever you get your content, the Optoma CinemaX D2 will do it justice. It supports true 4K resolutions for 2D content, and has full 3D support in 1080p. Its color gamut covers the full Rec.709 spectrum, with a Color Management System that lets you fine-tune the hues to your space and preferences.
This combination of usability and performance is what earns the CinemaX D2 a spot on our list of best 4k laser projectors.
Our in-depth review of the Optoma CinemaX D2 Smart
---
LG HU810PW 4K Laser Projector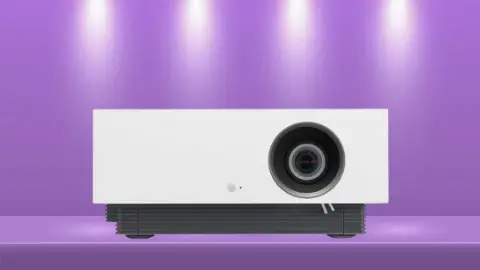 Pros
Exceptional color performance
Super Resolution upscaling with adaptive contrast
Good brightness for moderately-lit spaces
Flexible installation with 2D lens shift
Built-in streaming and screen sharing
Voice control through multiple platforms
Cons
Long throw distance
Comparatively weak built-in speakers
We already knew, that the LG CineBeam line of projectors are all strong performers when it comes to picture quality, and the HU810PW is no exception. Its color performance is especially impressive, covering 97% of the DCI-P3 spectrum and Dynamic Tone Mapping technology.
It also uses a similar adaptive contrast to other LG's laser projectors, enhancing the image depth for rich black levels and an overall more immersive picture. Movie buffs will love its Filmmaker Mode, which adjusts the video processing to faithfully recreate films the way you'd see them in the theater.
Now, you will need a larger space for the LG HU810PW than you do for most laser projectors. It uses a standard-throw lens, and needs upwards of 9 feet of distance to produce a 100" image. The good news is, it has a very flexible installation, with a wide 1.6x zoom and lens shift (+/-22% horizontal and +/-55% vertical).
When we tested this projector, its 2,700-lumen lamp was bright enough to produce a fully-saturated picture in most viewing areas, though you may need to use black-out curtains or other light control measures in bright rooms. Click here if you're searching for a 4K projector in a similar price range.
The LG webOS 5.0 interface of the HU810PW supports direct streaming, with built-in apps including Disney+, YouTube, and Amazon Prime. It also uses ThinQ voice recognition and supports voice control through Amazon Alexa or Google Assistant, with Bluetooth AV Sync Adjustment to seamlessly support wireless speakers.
More in-depth review: HU810PW
---
Samsung LSP7T Home Theater Projector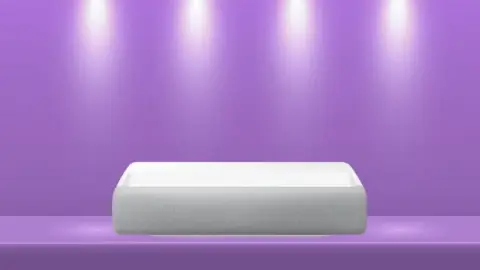 Pros
Ture 4K resolution with powerful UHD processor
Cinema-quality movie watching experience in Filmmaker Mode
Ultra-short throw distance
Supports multiple voice control services
Wireless connectivity and smart TV system for streaming
Powerful, clear sound with built-in sound system
Cons
No keystone correction or other adjustment options
No dynamic contrast
After testing the Samsung LSP7T we are sure that it is an excellent projector for those who want all-in-one performance. Its 2.2-channel sound system has dual woofers and mid-range drivers, providing a balanced and clear sound across the frequency range. With 30 watts of power, it puts out enough volume to fill any viewing area.
We are happy that The LSP7T also has built-in wireless connectivity and comes with a TIZEN smart TV system. It supports popular streaming apps like Prime Video, Apple TV, and YouTube, letting you watch your favorite content with a streaming stick or other content source.
With its powerful processor and vivid picture, the Samsung LSP7T produces a clear, colorful image on any white surface, whether that's a white wall in your home or a bedsheet hung up in the backyard. Since it doesn't need a screen, this makes the LSP7T one of the few projectors you can use straight out of the box, no extra accessories needed.
Setting up the Samsung LSP7T is relatively easy, as well. Its throw distance is short even by laser projector standards. It only needs about 1 foot of distance for a 100" screen, giving it a lot of versatility for different spaces and set-ups.
While it doesn't have the lens shift or keystone correction options you'll find on other projectors, its ultra-short throw eliminates the need for them in most homes, so for most that won't complicate the installation in any way. Check our full review of the Samsung LSP7T.
---
Epson LS800 Ultra Short Throw Projector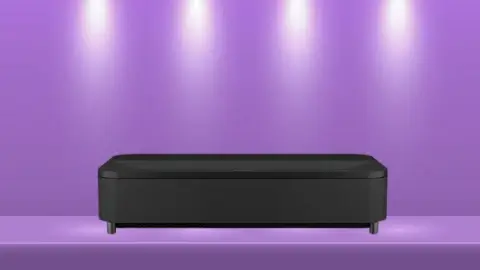 Pros
High-contrast 4K image
Realistic colors with no rainbowing
Low lag for gaming
Ultra-short throw distance
Bright lamp works in any light level
Wireless connectivity and streaming
Comes with a screen
Cons
If you're looking for a projector that can bring big-screen entertainment to any space, the Epson LS800 is a great choice. During our test, Its ultra-short throw lens produced a 150-inch image with less than 2 feet of distance, while the laser phosphor light source was bright enough to maintain a clear picture in any ambient light environment.
This is a versatile projector in other ways, too. Its low 16.7ms lag makes it suitable for gaming. It also has built-in Wi-Fi and Bluetooth connectivity along with dual HDMI ports, giving users more ways to access their content.
The integrated Android TV OS lets you stream directly from platforms like Hulu and HBO, along with built-in Chromecast for screen mirroring and Google Assistant voice control.
The Epson LS800 uses a 3LCD display, producing lifelike hues and a wide color gamut without the rainbowing that can be caused by color wheels. This is paired with a sharp 4K resolution and 10-bit HDR processing. The end result is a sharp and realistic image, with no blur even during fast-paced sequences.
We also appreciate the all-in-one capability of the Epson LS800. Along with the streaming above, it has an integrated 2.1-channel Yamaha soundbar that can fill most listening areas with high-quality sound.
You can also get this projector bundled with an ALR screen, a convenient value add for first-time projector owners.
Our in-depth review of the Epson LS800
---
Optoma UHZ50 Laser Projector For Gaming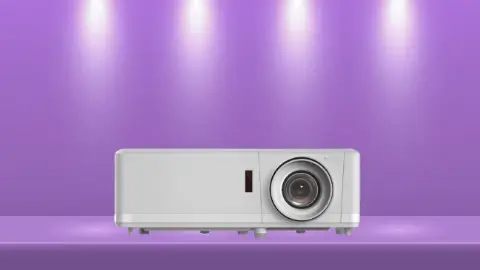 Pros
Sharp, high-contrast true 4K resolution
240Hz refresh rate with super-low input lag
Bright enough for most indoor light environments
User-friendly installation
Good sound from built-in speakers
Supports IFTTT as well as Google and Alexa voice control
Cons
Standard throw distance
3D content plays at full HD (not 4K)
For gamers seeking the best 4K laser projector, the Optoma UHZ50 should be at the top of your list. Put on Enhanced Gaming Mode and the input lag drops as low as 4ms in full HD, with a reasonable 16.7ms input lag in 4K.
During the gaming test, we liked, the high refresh rate (240Hz in 1080p and 60Hz in 4K) which prevented frame tearing and other image issues that can interrupt your play, so we can ensure you it is suitable for gamers of all levels and styles.
The picture quality of the UHZ50 is equally impressive. The smooth display is just as excellent for fast action sequences as it is for gaming, with support for HDR10 and HLG to maintain the accuracy of video signals.
The DLP display and laser phosphor light source produce a true 4K image with 3,000 lumens of brightness and a high dynamic contrast, for realistic detail and sharp clarity in any indoor light environment.
The Optoma UHZ50 has a standard throw distance and will need about 9-11 feet for a 100" screen. You won't necessarily need to install it head-on to the screen, however, with a 10% vertical lens shift and 2D keystone correction for squaring the image geometry.
The built-in speakers also have a higher output and sound quality than we thought and can be used on their own for games, shows, and movies. For smart homeowners, compatibility with Amazon Alexa and Google Home, as well as IFTTT support, gives it a seamless integration in to automation routines.
Our more detailed Optoma UHZ50 Review
---
Epson LS11000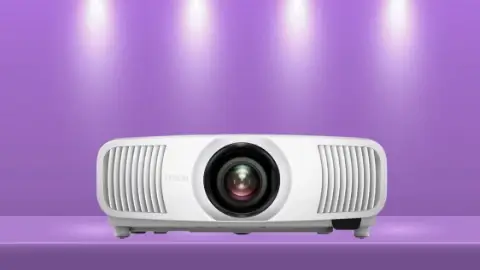 Pros
Detailed 4K picture with excellent depth and realism
Wide color gamut
Real-time adaptive image correction
Low input lag and high frame rate for gamers
Powered zoom and lens shift
Cons
Long throw distance
No built-in speakers
In the past, projectors that used pixel-shifting couldn't quite achieve the same sharpness as other 4K display styles. The Epson LS11000 takes this technology to the next level, with a precision shift glass plate and ZX picture processor that produce the full 8.3 million pixels you'd expect from an Ultra HD display. This is paired with 3LCD color that displays the full RGB signal for every frame, and HDR10 and HLG compatibility to ensure the accuracy of the image.
The Epson LS11000 is as great for gamers as it is for movie lovers. It has a measured input lag below 20ms, with a 120Hz frame refresh rate and frame interpolation technology to keep the on-screen action smooth for both games and movies.
The three-way motorized lens of the Epson LS11000 gives it a flexible installation, with 2.1x powered zoom, 2D keystone correction, and lens shift (+/-96% horizontal, +/-47% vertical). While it's easy to install, the long throw distance and moderate lamp brightness do limit the types of spaces where it can be used. You also will need to connect external content sources and speakers since the LS11000 has no built-in speakers, wireless capability, or direct streaming interface. For our more in-depth review of LS11000, click here.
---
Sony VPL-XW5000ES

Native 4K Laser Projector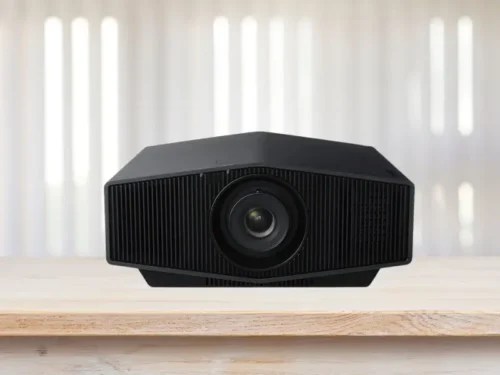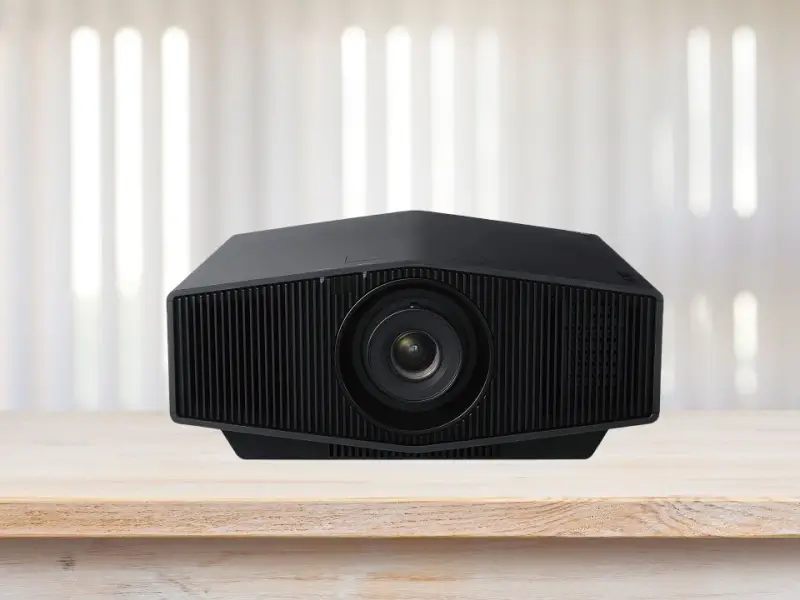 Pros
Exceptional true 4K resolution delivers crystal clear imagery.
Infinite black contrast enhances depth and detail.
Extensive connectivity options offer great versatility.
Laser phosphor lamp ensures long-lasting optimal brightness.
Low input lag offers smooth gaming experience.
Cons
Oversized, confusing remote control hinders usability.
Ceiling mounting is slightly challenging due to design.
The Sony VPL-XW5000ES takes home cinema to an unprecedented level. Its native 4K resolution, coupled with the 0.61 inch SXRD panel, delivers an impressive 8.3 million pixels, ensuring every frame is a feast for the eyes. Its powerful video processor, the X1 Ultimate, provides smooth and clear motion, enhancing the viewing experience, especially for action-packed movies and fast-paced gaming. The inclusion of a reliable laser phosphor lamp that provides optimal brightness for up to 20,000 hours is a testament to the projector's longevity.
Despite its impressive technical specs, the Sony VPL-XW5000ES is not without its downsides. The remote control is confusing and overloaded with functions, detracting from the overall user experience. The projector's three-point mounting system also poses challenges, particularly for ceiling mounting, which may discourage some users.
Nonetheless, these minor shortcomings do not overshadow the overall brilliance of the Sony VPL-XW5000ES. Its superior picture quality, color accuracy, and minimal input lag make it a must-have for home cinema enthusiasts and gamers alike. It may come with a hefty price tag, but for those seeking an unparalleled viewing experience, it is a worthwhile investment.
---
Hisense PX1-Pro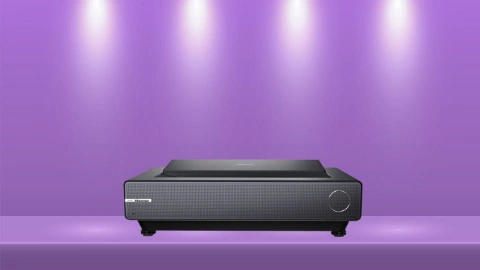 Pros
4K resolution with minimal rainbow effect.
Impressive 25,000-hour lamp lifespan.
Versatile connectivity including smart home integration.
Android OS with built-in streaming apps.
Ultra short-throw convenience for easy setup.
Cons
Noticeable fan noise in quiet scenes.
Inadequate black levels on dark screens.
The Hisense PX1-PRO 4K laser projectoris a standout performer, combining high-quality image resolution and an impressive feature set. Its minimal rainbow effect is particularly noteworthy, making it a preferred choice for those sensitive to this common projector issue. The convenience of ultra short-throw setup, coupled with a generous 25,000-hour lamp life, make it a worthy addition to any home theater setup.
Its connectivity options are also commendable, offering seamless integration with smart home devices. The built-in Android OS and availability of streaming apps essentially transform the PX1-PRO into a standalone multimedia hub. This projector doesn't just project images, it offers a comprehensive entertainment solution.
However, it isn't without its flaws. The fan noise, noticeable during quiet scenes, and the lackluster performance on black levels can detract from the otherwise immersive viewing experience. Despite these shortcomings, the overall robust performance of the PX1-PRO positions it as a compelling option for anyone seeking a feature-rich, high-quality projector.
---
Optoma GT1090HDRx – Best Laser Projector Under $2000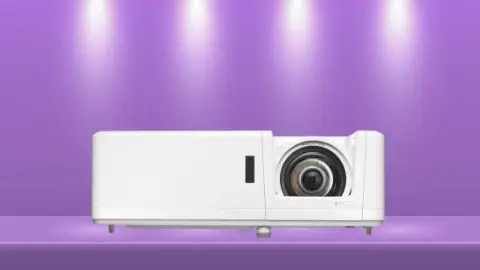 Pros
High brightness suitable for various lighting conditions.
Excellent picture quality with 1080p resolution.
Convenient short-throw capability for smaller spaces.
Long lifespan with DuraCore Laser light source.
Robust connectivity with diverse inputs.
Cons
Not a native 4K projector.
Some users reported lower-than-advertised brightness.
The Optoma GT1090HDRx is a compact yet powerful laser projector, designed to deliver an immersive cinematic experience in the comfort of your own home. Despite its compact size, it packs a punch with its high brightness of 4200 ANSI lumens and full 1080p resolution, offering crisp, clear images even in well-lit rooms. Furthermore, its short-throw capability ensures large, theater-like projection even in smaller spaces, a feature that sets it apart from many other home projectors.
The projector's performance doesn't end with its superior image quality. It also boasts a DuraCore Laser light source, ensuring up to 30,000 hours of use, effectively reducing maintenance and replacement costs. Plus, the GT1090HDRx's versatile connectivity options, including HDMI and USB ports, add to its appeal, making it adaptable for various home theater setups.
However, no product is without its flaws. While the Optoma GT1090HDRx offers 4K UHD and HDR compatibility, it doesn't provide native 4K resolution. Also, some users have raised concerns over the projector's brightness, although this criticism seems to be in the minority. Despite these minor shortcomings, the Optoma GT1090HDRx stands out as a reliable and high-performing projector, ideal for movie lovers and gaming enthusiasts alike.
---
Customer Impressions
Most modern projectors are very easy to use and set-up. The smart features and short-throw ratio offered by many of these projectors make it even easier.
Some users did report difficulty getting the picture of the Samsung LSP7T into focus, though it's highly rated by most buyers. The BenQ V7050i has among the highest ratings on the list, and buyers love its easy usability and bright, colorful picture.
For set-up ease, the Epson LS800 is among the highest-rated on the list thanks to the Epson Setting Assistant app you can download on your phone to pair with it.
The only annoying thing is that Epson doesn't include the name of this app in the instructions, which can leave some users floundering without guidance until they find it.
As far as long-term quality, all of these projectors have a good longevity and good support from their manufacturers. One clear sign of this is in the Optoma D2, which has replaced the SmartFIT system from old CinemaX models with an integrated 3X3 anti-warp adjustment. This means you don't need a smartphone to square the image, and also gives it a faster and easier setup overall.
For the ViewSonic X2000B-4K, the main issue reported in critical reviews is construction quality inconsistency. Some users report hot or dead pixels appearing on the screen within a few months of setting up the projector.
This is a relatively rare issue, and most buyers give the X2000B-4K high reviews for its image quality and dependability. If you do experience issues, you can reach out to the company's customer service for a replacement.
---
So What's the Best Laser Projector?
If high picture quality, space flexibility and easy set-up are priorities for you, and you're not too concerned about strong gaming performance, then our top pick is the BenQ V7050i.(>>> Find on ProjectorScreen.com).
That being said, the other projectors on the list all have their strengths. The exceptional picture quality of the LG HU810PW makes it very appealing for movie buffs who want the ultimate home theater experience, and the ultra-short-throw and advanced anti-distortion correction of the ViewSonic X2000B-4K gives it a lot of flexibility. For serious gamers, the Optoma UHZ50 and Optoma CinemaX D2 both have the responsiveness you need, with single-digit lag times and a high refresh rate.
The best way to find the right projector for your home theater is to do your research. Any of these options could be a great choice depending on your home, your budget, and the type of content you'll be using it for. We hope the reviews above have given you a good start on finding the perfect projector for you.
Laser projectors FAQs:
How do laser projectors work?
The specifics vary from one model to the next. Most laser projectors use an RGB system, with three lasers in the three primary colors. These lasers reflect off a chip covered in tiny mirrors that adjust to turn the image into what's projected on the screen. That reflected light is then magnified and focused by the lens before heading out to shine on your screen or wall.
 
The main benefit of this is less wasted light. With a traditional bulb-based projector, the light is white and shines through a color wheel to filter it into colors. As a result, more than half of the light produced is wasted, and some people may see flickering in the image. 
Is laser projector better than LED?
It depends. Laser projectors are typically brighter than LED models and produce a clearer, more colorful image in rooms with ambient light. A laser projector image is also often clearer with a better image contrast.
 
That said, LED projectors have their advantage, too. They tend to be lighter, more compact, and more affordable than laser projectors, one reason this technology is popular in portable projectors.They also last about 10,000 hours longer on average than a laser light source, so they're a great long-term value, too.
Are laser light projectors safe?
Absolutely! Now, you don't want to look directly into the lens when it's on or you might hurt your eyes, but that is true of any projector. Remember, the laser doesn't shine directly into the lens but is reflected off a chip. This means the light that comes out of a laser projector is no more potentially harmful than the light from a lamp-based projector.
REFERENCES AND FURTHER READING: