Released in November 2021, the Optoma UHZ50 is designed to meet the needs of a modern home entertainment set-up. It combines convenience features like easy smart home integration and image adjustment with a responsive display and advanced image technology. Want to learn more? We'll dig into the details in this Optoma UHZ50 review (>>> Check on Amazon.com).
Optoma UHZ50 Review of Main Specs:
| | Optoma UHZ50 |
| --- | --- |
| | |
| Resolution | 3840x2160 |
| Brightness (Lumens) | 3,000 ANSI |
| Contrast Ratio | 2,500,000:1 |
| Input Lag | 4ms |
| Throw Distance | 4.0' - 26.6' |
| Screen size | 34" - 303" |
| Speakers | 10.0 Watts × 2 |
| Check Price | BHPhotoVideo.com |
Viewing Area Needs
While the Optoma UHZ50 uses a laser phosphor light source, it uses a standard throw ratio similar to the brand's lamp-based projectors. Depending on your lens settings, you'll need between 9 and 12 feet of distance to fill a 100" screen.
That's easy to get in most home theaters and living rooms, but could be an issue in smaller spaces. (Our Top Laser Projector Picks can be found here)
Ambient light isn't a big concern for the Optoma UHZ50. Its light source produces a consistent 3,000 lumens and won't be negatively affected by most indoor light levels. Direct daytime sunlight may still cause washout, so you'll want to have curtains for large windows in your space, but they don't need to be black-out curtains, and you can watch with the lights on without sacrificing picture quality.
Video review of the UHZ50:
Installation
As long as you have sufficient space for it, the Optoma UHZ50 offers good installation flexibility. The 1.3x zoom and 10% vertical lens shift are helpful for fine-tuning the alignment.
It also features 4-corner adjustment and 2D keystone correction, with 3X3 image alignment to square the image on curved screens. Whether you use a table-top or mounted installation, it's simple to install the UHZ50.
The connectivity of the Optoma UHZ50 helps here, as well. It has 3 HDMI ports, along with USB, audio, and networking inputs. It also works with the Optoma Creative Cast app for screen-sharing from phones and other devices Thanks to that, users can connect all their content sources, and quickly switch between them without manually unplugging.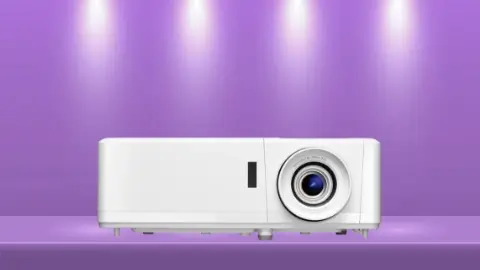 Pros
True 4K resolution
Cinematic color and contrast
Wide range of image and brightness settings
Seamless integration with home automation systems
Super-low input lag perfect for gamers
Flexible installation
Built-in Android-based media player
Bright enough to use in any indoor light environment
Cons
Longer throw distance than other laser projectors
Resolution and Picture Quality
The DLP display in the Optoma UHZ50 produces a true 4K resolution, with 8.3 million pixels for lifelike texture and detail. (Click here for more 4K projector options.) The color and contrast match this cinema-quality performance. The UHZ50 produces the full Rec.709 color gamut, and it supports HLG and HDR10 to ensure the authenticity of the image.
The 4 picture modes on the UHZ50 make it easy for users to adjust the image to the content and their preferences. This adjusts the lamp brightness as well as parameters like the contrast, saturation, and other image settings, so they're also a great way to modify the image to your space's needs.
Gaming
The measured input lag of the Optoma UHZ50 is as low as 4ms. That's as close to instant as you're likely to find from a projector, and will be unnoticeable even for the most serious, competitive gamers. Its frame refresh rate is high, as well, at 240Hz in 1080p and 60Hz in 4K.
For on-screen action, frame interpolation helps prevent blur or other clarity issues during fast-paced sequences. All of this adds up to make the UHZ50 one of the best gaming projectors on the current market, suitable for any type of game or level of player.
Smart Features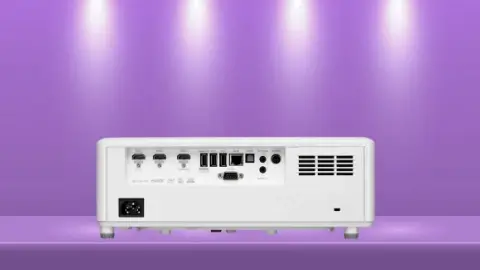 The Android OS on the Optoma UHZ50 lets you stream content directly from most popular media sources. You can search for and download your services of choice through the Optoma Marketplace app, and it's simple to do so, with an intuitive interface layout and navigation system.
Smart home owners will find a lot to love about the UHZ50. It supports Amazon Alexa and Google Home voice control, and not just for searches. You can use the full skills and commands available on these platforms, including the use of custom skills and automation routines. Support for IFTTT expands these options, allowing the UHZ50 to be seamlessly integrated with a wide range of other smart devices.
Optoma UHZ50 Review: The Bottom Line
Most retailers price the Optoma UHZ50 in the $2,500-$3,000 range, and it's an excellent value at that price. Few projectors offer this combination of robust smart home integration, picture quality, gaming performance, and straightforward installation (and those that do normally cost much more).
Whether this is your first projector or you're upgrading to a more modern 4K display, the UHZ50 is an excellent choice (>>> Check the current price on ProjectorScreen).
Comparisons vs. other projectors: