If you want the best picture quality you can find, you want 4K ultra HD. Resolution is only part of the story, of course, but the truth is the best 4K projector will also usually have other key features, like a good brightness, a high contrast ratio, and accurate colors.
The bad news is, 4K projectors often don't come cheap. While the price has been dropping the longer the technology is on the market, you should still expect to spend around $2,000 when you're shopping for 4K projectors.
Knowing that makes it even more important to get the right projector. The Sony VPL-VW715ES produces the best picture and is the winner if that's your main consideration. On the other hand, while the Epson EpiqVision Ultra LS500 takes the title for best overall 4K projector when taking into account factors like value, versatility, and usability.
The truth is, each of the projectors on this list has its strengths, and each one will be the right choice for a certain kind of user. Let's look at the most important features we considered before we dig into the full reviews.
Best 4K Projector – Top Picks for 2021:
| | VAVA 4K | Optoma CinemaX P2 | Samsung Premiere LSP7T | Epson EpiqVision Ultra LS500 | Sony VPL-VW715ES | LG HU85LS |
| --- | --- | --- | --- | --- | --- | --- |
| | | | | | | |
| Resolution | 3840x2160 | 3840x2160 | 3840x2160 | 1920x1080 4K w/pixel shifting | 4096x2160 | 3840x2160 |
| Brightness (Lumens) | 2,500 ANSI | 3,000 ANSI | 2,200 ANSI | 4,000 ANSI | 1,800 ANSI | 2,700 ANSI |
| Contrast Ratio | 3,000:1 | 2,000,000:1 | 1,000:1 | 2,500,000:1 | 350,000:1 | 2,000,000:1 |
| Throw Distance | 1.4' - 2.5' | 1.5' - 2.2' | 0.8' - 1.4' | 0.7' - 1.9' | 12.5' - 30.5' | 1.2' - 1.7' |
| Screen size | 80" - 150" | 85" - 120" | 90" - 120" | 70" - 130" | 60" - 300" | 90" - 120" |
| Internal Speakers | 30.0 Watts × 2 | 20.0 Watts × 2 | 30.0 watts | 10.0 Watts × 2 | No | 5.0 Watts × 2 |
| Price | Check on Amazon | Check on Amazon | Check on Amazon | Check on Amazon | Check on Amazon | Check on Amazon |
Throw Distance
A longer throw distance means you need more space to get the same size of image. That can be a problem for small rooms and can make installation more difficult even in larger spaces. Projectors with an ultra-short-throw (lower than .5:1) spare you the need to ceiling-mount the projector, making them a far more flexible and user-friendly choice.
Projector with the shortest throw distance: Samsung Premier LSP7T
Brightness
Measured in lumens, a projector's brightness is an indication of how powerful the internal light source is. If the projector is too dim, the picture will become washed out by other lights in the room, limiting your use of the projector to spaces that are completely dark—not always practical for everyday life.
In a completely dark room, a projector of 1,500 to 2,000 lumens is enough. The brighter the room, though, the more lumens you'll need. For most moderately lit spaces, a projector with a brightness of 3,000-3,500 lumens is often ideal.
Brightest Projector: Epson EpiqVision Ultra LS500
Smart Features
More and more people are setting up smart home theaters that integrate voice control and other helpful functions. Most 4K projectors offer some level of smart home support, including built-in smart TV interfaces and compatibility with Alexa or Google Assistant. Only one projector on our list offers comprehensive smart home integration through IFTTT, however: the Optoma CinemaX P2. This allows a more sophisticated use of the projector's smart features beyond simple voice commands.
Projector with the best smart features: Optoma CinemaX P2
Full Reviews
VAVA 4K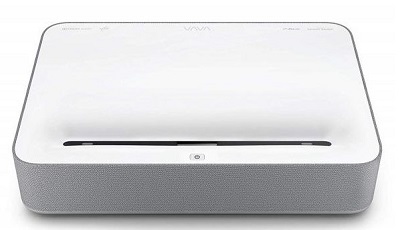 Laser projectors are the newest trend sweeping the home theater market, and with good reason. Projectors like the VAVA 4K offer an unparalleled combination of quality and convenience. Laser light sources last longer and can have a shorter throw ratio, so they're both lower-maintenance and easier to set up. Our buying guide of laser projectors can be found here.
The flexibility of the VAVA 4K Home Theater Projector is arguably its greatest strength. It lamp puts out 2,500 ANSI lumens, bright enough to avoid wash-out in most light levels when combined with the short throw. The ultra-short throw ratio gives you a 120" image from just two feet away. This means you don't need to worry about ceiling-mounting or other complicated installations. Click here for more Ultra-Short Throw projector options.
One unexpected bonus on the VAVA 4K is the sound. It uses a Harman Kardon soundbar with 60 watts of power. The overall output and quality exceeds what you'll get from most projectors or TVs. You'll only get better sound with full surround speakers, and it's definitely good enough on its own for most home theaters.
The contrast ratio is on the low side with the VAVA. That said, the HDR10 color and 4K resolution help to keep colors vibrant. While you can pay more to get a better picture, the combination of impressive features still make the VAVA one of the best 4K projectors you'll find.
Pros
Ultra-short throw makes it easy to install
Native 4K resolution with HDR10 color
Durable, industrial-grade laser with long life
Excellent sound quality for a projector
9 input ports for more connection versatility
Cons
Contrast isn't as sharp
Included smart navigation system doesn't work with all apps
---
Optoma CinemaX P2

The Optoma CinemaX P2 is another excellent option if you want a projector that can serve as an all-in-one entertainment package. This starts with its built-in soundbar, with two dedicated woofers and two mid-range drivers backed by 40 watts of power. Both the mid-range clarity and the bass response are impressive, so you won't necessarily need to hook up external speakers.
The Optoma CinemaX P2 also has a lot of smart features. It has an Android-based navigation interface that pairs with the Optoma Marketplace to download streaming apps. The options are limited, so most users still pair it with a streaming stick or other content source, but it opens up the potential to function independently of any accessories. It's also easy to integrate into smart home set-ups since it supports IFTTT and multiple voice control services.
You can use the Optoma CinemaX P2 in any space, too. The lamp performs well even in well-lit rooms and it only needs a couple feet of distance to produce a massive screen. Its user-friendly installation is another perk worth noting, especially when paired with the free SmartFIT app that automatically corrects the screen geometry.
Of course, none of this is as important as the picture quality—and the Optoma CinemaX P2 delivers on that front, too. It uses a 6-segment color wheel that covers the entire DCI-P3 spectrum and pairs that with a high dynamic contrast for a picture that's vibrant and realistic with fantastic depth and texture. The only potential issue is that the use of a color wheel can cause issues for those sensitive to rainbowing or color hotspots. For most viewers, though, it's the ideal home theater projector. For our more detailed review of this projector click here.
Pros
Colorful, realistic high-contrast picture
Ultra-short throw
Compatible with Google and Amazon voice control
Supports IFTTT for easy smart home integration
Hassle-free installation SmartFIT app
Built-in soundbar has high sound quality and output
Cons
Streaming options are limited
May trigger rainbow effect in sensitive viewers
---
Samsung Premiere LSP7T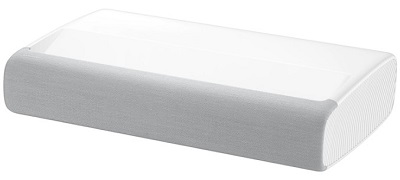 The Samsung Premiere LSP7T has similar strengths to the projectors above but sells at a lower price point. This makes it an excellent value for those who want a smart 4K laser projector with an ultra-short throw distance. In fact, it has the shortest throw on the list, producing a 100" image with just 12 inches between the screen and lens.
The smart features on the Samsung LSP7T are particularly impressive. Its smart TV interface has more options for apps than other projectors, making it a better option if you don't want to use external content sources. Along with that, it supports voice control through three popular services (Amazon Alexa, Google Assistant, and Bixby), giving users even more options for interacting with the projector.
High-quality built-in sound is another thing that makes the Samsung LSP7T an excellent value. With 30 watts of power and dual woofers and drivers, the speakers on this projector are on par with most Bluetooth speakers for volume and audio quality.
The main disadvantage of the Samsung LSP7T compared to more expensive projectors is that the picture isn't as defined or vibrant. The lamp isn't as bright and the contrast is relatively low, so while it has 4K resolution the picture may not look as sharp, especially in well-lit environments.
Pros
TIZEN Smart TV interface is robust and intuitive
Great color accuracy with Purcolor and HDR10+
Ultra-short throw (100" screen from 1 foot away)
Built-in Alexa, Bixby, or Google voice control
30-watt 2.2 channel sound system
Cons
Not bright enough for well-lit rooms
Lower contrast
---
Epson EpiqVision Ultra LS500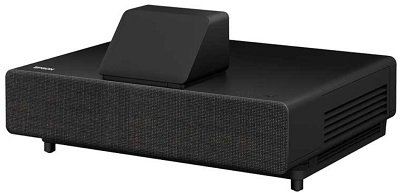 The Epson EpiqVision Ultra LS500 comes with a screen and the hardware to mount it. And not just any screen, either. This 100" ambient light rejecting (ALR) screen has a wide 178° viewing angle and resists glare while enhancing the image contrast. That makes the LS500 our top option for anyone setting up their first home theater.
The Epson LS500 uses a multi-laser array with 3LCD chip technology for the color. The result is a wide color gamut with no image artifacts like hotspots and rainbowing. Since the lamp puts out a powerful 4,000 lumens, you can watch it day or night, in any light level, with no quality loss.
If there are gamers in your household, they'll love the EpiqVision Ultra LS500. It has a low 16.7ms input lag with a fast frame refresh rate, supporting lag-free 4K gaming on the latest generation of consoles. That responsiveness is helpful for home theater use, too, keeping the on-screen action smooth for fast-paced content like sports.
Like many high-end projectors, the LS500 uses an Android-based interface with wireless connectivity for direct content streaming. It also has some support for voice control through services like Alexa and Google Assistant, though the commands are limited and we found navigation easier using the included remote. Click here for our more detailed Epson EpiqVision Ultra LS500 review.
Pros
Excellent color and contrast
Bright lamp can be used in any light level
Comes with a 100" ALR screen
Easy to install with ultra-short throw distance
Responsive with low input lag for gamers
Cons
---
Sony VPL-VW715ES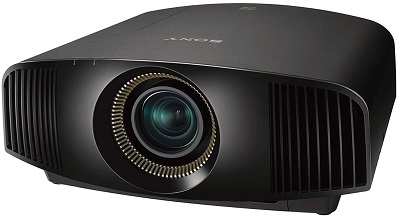 If you're buying a projector for a dedicated home theater, the Sony VPL-VW715ES is our top choice. The phenomenal picture quality of this projector is equal to what you'd get from professional movie theater projectors, giving you a true cinema experience right in your home.
The exceptional picture quality of the Sony VPL-VW715ES is mostly thanks to its advanced Silicon X-tal Reflective Display (SXRD) panel. This increases the dynamic contrast for rich, inky blacks, along with enhancing the 4K resolution to 8.8 million on-screen pixels, more than what you'll get with other 4K projectors. The dynamic HDR enhancement optimizes the color and sharpness even further, and it's all topped off by Motionflow technology for totally smooth frame transitions at all resolutions.
Unfortunately, the VPL-VW715ES isn't as versatile as other projectors on this list. It is fairly responsive, with a low enough input lag for casual gamers. The lamp isn't bright enough for lights-on play or viewing, though, and it has a long throw distance to boot (you'll need about 10 feet for a 100" screen). It was designed for use in large, light-controlled home theaters, and that's where it'll give its best performance.
Pros
Motionflow technology for smooth on-screen action
Sharp, detailed picture with true-to-life colors
Rich black levels and excellent picture depth
Full 3D support in full HD
Low enough input lag for casual gaming
Cons
Long throw distance
Low lamp brightness
---
LG HU85LS

The 3-channel laser on the LG HU85LS produces a wide color gamut with less loss and higher accuracy than projectors using segmented color wheels. Full HDR10 support ensures you'll see content the way it was intended, while Dynamic Tone Mapping further optimizes the color and contrast on a frame-by-frame basis. Add in the TruMotion technology and you have a projector that can handle any content beautifully.
For content, the HU85LS has the standard array of wired inputs, as well as an AI ThinQ smart system with support for most popular streaming services. It supports voice control through either Alexa or Google, as well, so it's a good choice for those who use a smart home entertainment system.
On-board Bluetooth support also lets you easily connect peripherals like speakers. That's good news because you'll probably want to use an external sound source with the LG HU85LS. The built-in speakers are weak, especially in the bass range, and won't give you the immersive sound experience most people want in a home theater.
The LG HU85LS is another ultra short throw option, producing a 100" image with around 18" of distance. It's relatively easy to install, although it's also a bit on the hefty side—not the best option if you plan to use your projector in different rooms around the house.
Pros
3-channel laser with dynamic tone mapping and HDR10 support
Smart AI ThinQ interface with voice control support
TruMotion technology for fluid frame to frame motion
Easy to install with short throw ratio
Bluetooth and Wi-Fi connectivity built-in
Cons
Larger and heavier than other projectors
Built-in sound isn't great
---
The Bottom Line
There is no one perfect home theater projector—and the more expensive option isn't always the best one for your home. Consider which features are the most important for your home, whether that's a bright lamp or an ultra-short throw ratio. As you can see, there's a great 4K projector out there for any budget and circumstance. Best of luck choosing yours!
REFERENCES AND FURTHER READING: