If you want the best picture quality you can find, you want 4K ultra HD. Resolution is only part of the story, of course, but the truth is the best 4K projector will also usually have other key features, like a good brightness, a high contrast ratio, and accurate colors.
The bad news is, 4K projectors often don't come cheap. While the price has been dropping the longer the technology is on the market, you should still expect to spend around $2,000 when you're shopping for 4K projectors.
Knowing that makes it even more important to get the right projector. In our opinion, the Optoma CinemaX P1 is the best overall choice when you consider all the factors together. >>> Check it's pricing on Amazon Having said that, each of the five projectors on this list has its strengths. Let's look at the most important features we considered before we dig into the full reviews.
Best 4K Projector Options For 2021:
| | Optoma P1 | VAVA 4K | LG HU85LA | BenQ TK850 | Optoma GT1090HDR |
| --- | --- | --- | --- | --- | --- |
| | | | | | |
| Resolution | 4K Ultra HD | 4K Ultra HD | 4K Ultra HD | 4K Ultra HD | 4K Ultra HD |
| Brightness | 3,000 lumens | 6,000 lumens | 2,700 lumens | 3,000 lumens | 4,200 lumens |
| Contrast ratio | 1,500,000:1 | 1,500,000:1 | 2,000,000:1 | 30,000:1 | 300,000:1 |
| Throw distance | 1'7" - 2'2" | 1'4" - 2'6" | 1" – 1'9" | 2'6" - 12'10" | 1'4" – 10'11" |
| Screen size | 85"-120" | 80"-150" | up to 120" | 30"-300" | 36"-301" |
| Price | Check on Amazon | Check on Amazon | Check on Amazon | Check on Amazon | Check on Amazon |
Throw distance
A longer throw distance means you need more space to get the same size of image. That can be a problem for small rooms and can make installation more difficult even in larger spaces. Projectors with an ultra-short-throw (lower than .5:1) spare you the need to ceiling-mount the projector, making them a far more flexible and user-friendly choice.
Projector with the shortest throw distance: LG HU85LA
Brightness
Measured in lumens, a projector's brightness is an indication of how powerful the internal light source is. If the projector is too dim, the picture will become washed out by other lights in the room, limiting your use of the projector to spaces that are completely dark—not always practical for everyday life.
In a completely dark room, a projector of 1,500 to 2,000 lumens is enough. The brighter the room, though, the more lumens you'll need. For most moderately lit spaces, a projector with a brightness of 3,000-3,5000 lumens is often ideal.
Projector with the brightest lamp: VAVA 4K
Smart Features
More and more people are setting up smart home theaters that integrate voice control and other helpful functions. Most 4K projectors offer some level of smart home support, including built-in smart TV interfaces and compatibility with Alexa or Google Assistant. Only one projector on our list offers comprehensive smart home integration through IFTTT, however: the Optoma CinemaX P1. This allows a more sophisticated use of the projector's smart features, beyond simple voice commands.
Projector with the best smart features: Optoma CinemaX P1
---
Optoma CinemaX P1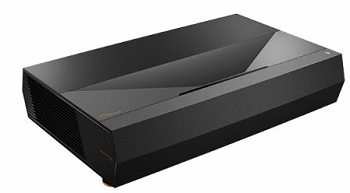 To start things off, let's look at one of the most popular 4K projectors on the current market: the Optoma CinemaX P1. This high-end, high-quality home theater projector uses a laser light source for impressive picture quality. It also offers impressive built-in features, including voice control compatibility and an integrated soundbar.
Optoma projectors are easy to set up as a rule. With the Optoma CinemaX P1, you get the SmartFIT app to do most of the work for you. It uses a 4-corner alignment system with auto-focus to instantly optimize the image. There's no need for ceiling mounts and other hardware, either. The ultra-short throw ratio of the Optoma CinemaX P1 can produce a 120" image from only 15" away.
For smart features, the Optoma CinemaX P1 has the best of any projector we've tested. Compatibility with common voice control programs is built in, and it also supports IFTTT for more thorough smart home integration. We also love the InfoWall feature, which can turn your home theater into your personal assistant.
The Optoma CinemaX P1 is an all in one home theater package. Even the sound is high-quality thanks to the 40-watt NuForce soundbar. If you're looking for the smartest and most convenient projector, the Optoma CinemaX P1 is the one you want in your home. Our full review of Optoma P1 can be found here
Pros
Get 120" image with only 15" of distance
Great sound quality with the NuForce soundbar
SmartFIT app instantly aligns image
No need for ceiling installation
Compatible with both Google Assistant and Amazon Alexa
Supports IFTTT
InfoWall feature displays weather and calendar on projector
Cons
Higher cost
Some users report difficulty using SmartFIT app
---
VAVA 4K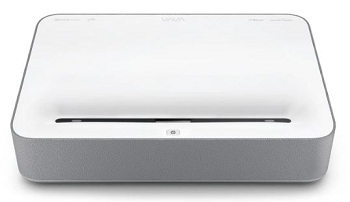 Laser projectors are the newest trend sweeping the home theater market, and with good reason. Projectors like the VAVA 4K offer an unparalleled combination of quality and convenience. Laser light sources last longer and can have a shorter throw ratio, so they're both lower-maintenance and easier to set up. Our buying guide of laser projectors can be found here.
The flexibility of the VAVA 4K Home Theater Projector is arguably its greatest strength. It uses an ultra bright light source that puts out 6,000 lumens—plenty to compete with any ambient light in the viewing area. The ultra-short throw ratio gives you a 120" image from just two feet away. This means you don't need to worry about ceiling-mounting or other complicated installations.
One unexpected bonus on the VAVA 4K is the sound. It uses a Harman Kardon soundbar with 60 watts of power. The overall output and quality exceeds what you'll get from most projectors or TVs. You'll only get better sound with full surround speakers, and it's definitely good enough on its own for most home theaters.
The contrast ratio is on the low side with the VAVA. That said, the high lamp brightness and 4K resolution help to keep colors vibrant. While you can pay more to get a better picture, the combination of impressive features still make the VAVA one of the best 4K projectors you'll find. >>> Full Vava 4K Projector review
Pros
Ultra-short throw makes it easy to install
Native 4K resolution with HDR10 color
Durable, industrial-grade laser with long life
Excellent sound quality for a projector
Brightest projector on the list
9 input ports for more connection options
Cons
Relatively low contrast ratio
Included smart navigation system doesn't work with most apps
---
LG HU85LA

If money is no object and you want the best 4K projector out there, the LG HU85LA is a strong contender. It not only has an exceptional picture quality in any space but also comes with an array of smart features built right in.
Like the VAVA above, the LG HU85LA uses a laser light source rather than a lamp. This allows it to have an ultra-short throw ratio no lamp-based projector can achieve. You can get a 120" screen from less than two feet away. That makes installation incredibly easy, allowing this projector to work well in literally any room.
And the picture itself is equally impressive. The LG HU85LA uses dynamic tone mapping to optimize the image on a frame by frame level. It also incorporates TruMotion technology so the movement between frames is completely fluid. In addition, you'll get true 4K resolution and HDR10 support. The end product is cinema-level color and detail.
Given all this, the smart functions of the LG HU85LA are just the icing on the cake. The CineBeam AI ThinQ system used in this projector is built to be compatible with both Alexa and Google Assistant voice control programs. Built-in Bluetooth connectivity lets you hook up external speakers and other peripherals, and you can stream content from smart devices using Miracast. Hands down, the LG HU85LA is the best 4K projector, if you're willing to pay the high price tag. Our full LG HU85LA review can be found here.
Pros
Ultra-short throw ratio
12-point adjustment eliminates distortion
Fluid frame motion with TruMotion technology
HDR10 support and dynamic tone mapping
Compatible with Bluetooth and voice control programs
Supports wireless mirroring through Miracast
Cons
Most expensive option
Not bright enough for well-lit rooms
---
 BenQ TK850

No 4K projectors are truly cheap, but if you're looking for the best value in 4K resolution, the BenQ True 4K TK850 is one projector you should check out. It's the best 4K projector under $2,000, with a bright lamp, a high picture quality, and full 3D support.
The BenQ TK850 has HDR10 support for colors. It uses a Rec. 709 color wheel, which combines with the bright lamp for an absolutely stunning picture. The contrast ratio is enhanced by the Dynamic Iris feature, which adjusts how much light the lens receives based on the level of light in the room.
The BenQ TK850 is an especially great option for sports fans. Its "sport" mode optimizes both the picture and the sound to give you an immersive viewing experience, with smooth movement and realistic colors and detail. The sound overall from the BenQ TK850 is on-par with TV speakers—not surround sound, by any means, but acceptable even without external speakers.
Most users find the BenQ TK850 easy to install and use. It has both zoom and keystone correction features, where are helpful in aligning the image. While the standard throw ratio makes it less suitable for small spaces, it's a great option for those looking for both performance and value. >>> Read the full review of BenQ TK850
Pros
Most affordable projector with native 4K resolution
Bright lamp
Supports 3D content
Zoom and lens shift make installation easy
Dynamic Iris system improves on-screen contrast
Cons
Longer throw ratio than other options
Fan is very noisy
---
Optoma GT1090HDR

Looking for an option that's kinder on your budget? The truth is, 4K is a relatively new technology, and it's not something you're likely to find for cheap. You can play 4K content for less than $1,000, though, using the Optoma GT1090HDR.
The Optoma GT1090HDR is an exceptional home theater projector. Along with support for 4K and HDR content, it has full 3D support. You'll be able to watch any content you want through the Optoma GT1090HDR. The high refresh rate ensures it'll always look great, too.
Now content from the Optoma GT1090HDR won't play in 4K resolution. You'll get the same standard HD available on most televisions. That's plenty of detail for most viewers, however, and the overall picture quality on this projector is high. It has a high contrast ratio for deep blacks, and the lamp is bright enough it maintains its vibrant color palate, even with ambient light in the room.
The Optoma GT1090HDR is user-friendly, as well as being budget-friendly. It has a built in zoom and vertical keystone correction, so aligning the image is a breeze. A short throw ratio also helps when it comes to ease of installation. The Optoma GT1090HDR can truly give you big screen entertainment in any room.
Pros
Supports HDR and 4K content
Full 3D from all content sources
Bright lamp can be used in well-lit rooms
Short throw ratio makes it easier to install
Long-lasting lamp
High contrast ratio
Dual HDMI ports for more connection flexibility
Cons
Doesn't display full 4K resolution
Keystone correction is disabled when viewing 3D content
---
The Bottom Line
There is no one perfect home theater projector—and the more expensive option isn't always the best one for your home. Consider which features are the most important for your home, whether that's a bright lamp or an ultra-short throw ratio. As you can see, there's a great 4K projector out there for any budget and circumstance. Best of luck choosing yours! In our opinion, the Optoma CinemaX P1 is the best overall choice. >>> Check it's pricing on Amazon
REFERENCES AND FURTHER READING: