Sony is a name most home consumers know, but even people who use their speakers, receivers, and other appliances might not realize they also make projectors. The VPL-VW715ES is among the most advanced projectors Sony has released to date, providing a stunning picture that has to be seen to be believed.
The price tag of the Sony VPL-VW715ES puts it outside the budget of most casual home theater owners. It's aimed at the high-end consumer looking to set up a professional-level home theater that can match (or even beat) the movie theater experience.
Even high-end consumers want to get a good value for their money. So is the Sony VPL-VW715ES worth the investment? (>>> Check the current price on Amazon) Let's break down its features and performance so you can answer that question for yourself.
Sony VPL-VW715ES Review of Features:
| | Sony VPL-VW715ES |
| --- | --- |
| | |
| Resolution | 4096x2160 |
| Brightness (Lumens) | 1,800 ANSI |
| Contrast Ratio | 350,000:1 |
| Throw Distance | 10.4' - 20.4' |
| Lens | 2.1x Powered zoom & Powered focus |
| Screen size | 50" - 200" |
| Input lag | 60ms |
| Price | BHPhotoVideo.com |
Picture Quality
The image produced by the Sony VPL-VW715ES is phenomenal, taking advantage of the company's advanced Silicon X-tal Reflective Display technology to optimize the viewing experience. The native 4K resolution is supported by a Digital Focus Optimizer on the lens and the X1 image processor, ensuring every frame is crisp and sharp.
The color and contrast on the VPL-VW715ES are leaps and bounds better than other home theater projectors we've reviewed. It uses a dynamic HDR enhancer and an SXRD panel that give inky, deep blacks and add more texture and depth to the image. You'll feel like you're right there in the action when you're watching shows and movies on this projector.
Other projectors have HDR support, but the difference with the VPL-VW715ES is that it uses a dynamic HDR enhancement. This gives you more vibrant colors and better detail across content formats. Along with that, the high 120 Hz refresh rate eliminates motion blur, with digital enhancement to make fast-paced action movies and sports smooth and seamless.
Pros
True 4K resolution with true to life colors
High dynamic contrast for rich black levels
Smooth on-screen action with Motionflow
Low enough input lag for casual gaming
Full 3D support
Cons
Not designed for lights-on viewing
High cost compared to most home theater projectors
Installation
The Sony VPL-VW715ES is designed for use in designated home theaters. It works best in a relatively large space where you have full control over the light levels. For a 100" image, you'll need roughly 14 feet of space, so that's something to keep in mind when you're assessing your viewing area.
As long as you have a suitable space, this Sony projector is flexible when it comes to the installation itself. It includes a powered zoom for the lens, along with both vertical and horizontal lens shift. You can also save 5 alignment settings so you don't have to waste time on adjustment every time you move it.
The connection options on the VPL-VW715ES are fairly standard, with two HDMI inputs and a USB port for installing updates. For more advanced home theater installations, it also offers a 9-pin port and LAN port, letting you hook it up to a network or control it through a computer.
One thing to note is that you'll need to use external speakers with the Sony VPL-VW715ES. While it has an Acoustic Surface sound system to optimize the audio signal, there are no speakers built into the projector. This isn't a deal breaker for most, since you'll likely want to use a surround sound system in a high-end theater.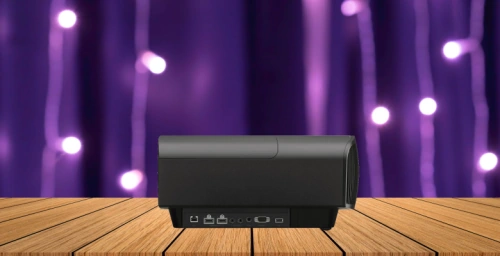 Can You Use the Sony VPL-VW715ES for Gaming?
The Sony VPL-VW715ES is by no means a gaming projector. That said, it does have a Gaming Mode that improves the response time between your input on the controller and what you see on the screen. The high frame refresh time helps here, too.
While it's not quite in the range serious gamers look for, it performs well enough for more casual players. You'll definitely enjoy how it looks. Some of the picture adjustment features are disabled in gaming mode, but it still provides a high image quality when you're gaming. Find comparison vs. VPL-VW325ES
The Bottom Line
The Sony VPL-VW715ES is designed for serious home theater aficionados. In that regard, it excels. Use of advanced technology like the Triluminos Display, Dynamic HDR, and X1 image processor produce an image that simply blows other home theater projectors out of the water.
Those looking for a projector to put in their living room or other multi-use space will likely find better value elsewhere. While it's easy to set up, the relatively long throw distance and low lamp brightness limit its versatility.
For those setting up a high-end home theater, though, this Sony projector is worth the investment. >>> Check the current price on Bhphotovideo. Paired with the right sound system and seating, you'll feel like you're in a commercial theater when you watch movies with this projector. If that's the experience you're looking for, the VPL-VW715ES is a great choice for you!
REFERENCES AND FURTHER READING: