Sony's Silicon X-tal Reflective Display (SXRD) technology delivers sharpness and resolution beyond what you'd expect from a home theater projector. With 8.8 million on-screen pixels, this delivers a level of realism you have to see to believe.
Both the Sony VPL-VW715ES and the Sony VPL-VW915ES offer this innovative technology. The main difference between them is the kind of light source they pair with it. Looking at all the factors together, we'd say the Sony VPL-VW915ES has the better overall performance, while the Sony VPL-VW715ES offers a better bang for your buck. (>>> Find the current price here)
If you're curious about the performance of these two projectors—and exactly where and how they differ—you'll find the answers in this review. Let's take a quick look at their major features side by side so you can see just what each one can do.
Sony VPL-VW715ES vs VPL-VW915ES Side by Side:
| | Sony VPL-VW715ES | Sony VPL-VW915ES |
| --- | --- | --- |
| | | |
| Resolution | 4096x2160 | 4096x2160 |
| Brightness (Lumens) | 1,800 ANSI | 2,000 ANSI |
| Contrast Ratio | 350,000:1 | Infinite (dynamic contrast) |
| Throw Distance | 10.4' - 20.4' | 10.4' - 30.6' |
| Screen size | 50" - 201" | 50" - 301" |
| Speakers: | No | No |
| Price | BHPhotoVideo.com | BHPhotoVideo.com |
Installation
The Sony VPL-VW715ES and Sony VPL-VW915ES both offer robust image alignment and adjustment options. This includes a broad horizontal and vertical lens shift and powered zoom and focus options. This spares you the need for professional installation in most cases with either projector.
While they're both easy to install on the whole, the VPL-VW715ES edges out the VPL-VW915ES because of its shorter throw distance. This allows it to be a bit more flexible and fit into smaller spaces where they 915ES won't work as well.
Easier installation: Sony VPL-VW715ES
Picture Quality
The picture quality on the Sony VPL-VW715ES is high. It has 4K resolution with dynamic HDR enhancement, produced by an aspherical lens that enhances the clarity. Thanks to the SXRD projection technology, you'll get vibrant colors, rich blacks, and sharp detail with excellent image depth and texture.
As impressive as the picture of the VW715ES is, the VPL-VW915ES is even better. This is mostly because of its enhanced dynamic contrast, which gives you a contrast ratio that's functionally infinite. Along with that, you'll enjoy better, brighter colors because of its advanced light source.
Better picture quality: Sony VPL-VW915ES
Durability
When it comes to the projector itself, both the Sony VPL-VW715ES and the Sony VPL-VW915ES are built to last both inside and out. Both have a durable, well-made housing with a high build quality for their internal components.
Where you'll see a difference between these two is in the light source they use. The Sony VPL-VW915ES utilizes a laser phosphor light source with a lifespan up to 20,000 hours. That far exceeds the performance of the UHP bulb used in the VPL-VW715ES.
Most durable projector: Sony VPL-VW915ES 
Sony VPL-VW715ES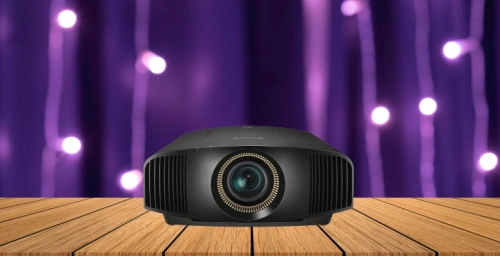 The image processing on the Sony VPL-VW715ES is some of the most advanced you'll find on the current market. It's X1 imaging analyzes each frame to reduce visual noise. This is combined with dynamic HDR enhancement and a digital focus optimizer that together provide a sharp, highly-detailed image unmatched by projectors from other brands. For color, it uses a Triluminos display with dynamic tone mapping that's both vibrant and true to life.
The Sony VPL-VW715ES maintains this high image quality during action sequences, too. It uses Motionflow technology to reduce blur at any resolution and from any content, including games. With an input lag of less than 60ms in gaming mode, it's a versatile way to get a professional image quality from any content source.
As far as usability is concerned, the Sony VPL-VW715ES is designed for permanent installations in dedicated home theaters. It includes the connections you need for advanced network control, including options for a 12-volt trigger and an RS232 connection. It also works well in simpler applications, though, with helpful features picture position memory that stores your settings for quick adjustments. Those alignment options include a motorized zoom and a wide lens shift, so you don't need a professional installation to get the most out of it. This comparison might be useful: Sony VPL-VW325ES vs VPL-VW715ES
Our only concerns about the Sony VPL-VW715ES are with its light source. It's not as bright as we'd like, firstly, at only 1,800 lumens. The advanced aspherical lens makes the most of this brightness, but it's still not the best option for lights-on viewing. The comparatively short lamp lifespan also gives it more maintenance requirements and a higher ongoing cost than the VPL-VW915ES.
Read our full review: SONY VPL-VW715ES
Pros
4K resolution with large-diameter aspherical lens element
Sharp, detailed picture with excellent contrast
Wide color gamut and high color accuracy
Low enough input lag for casual gaming
Robust image alignment features with memory settings
Cons
Relatively short lamp lifespan
Lamp may struggle with lights-on viewing
---
Sony VPL-VW915ES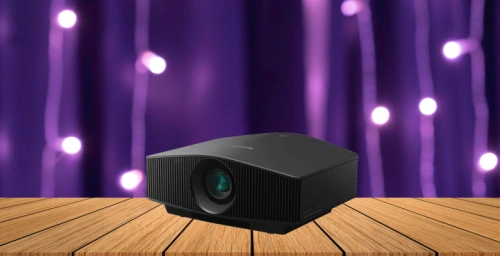 All the impressive picture features of the Sonly VPL-VW715ES are turned up a notch with the VPL-VW915ES. It has more vibrant colors, a higher contrast, and a brighter Z-Phosphor laser light source that maximizes the potential of the Triluminos display. That lamp is more durable, as well, with a maximum lifespan more than twice that of the VW715ES above.
One great feature of the Sony VPL-VW915ES is its dynamic iris technology. This adjusts the light source automatically to suit the content, in much the same way the X1 dynamic HDR enhancement maximizes the color and clarity of the image. As a result, the picture you see with this projector is stunningly realistic, with no motion blur or signal loss.
The Sony VPL-VW915ES is easy to both install and maintain. It also has a wide lens shift and powered zoom and focus controls, with Picture Position Memory for storing settings. Our only potential concern from an installation standpoint is the throw distance, which is rather long. It can take up to 20 feet of distance to get a 100" screen. That may not be an issue in dedicated home theaters, but can be a concern for smaller spaces.
Read our full review: SONY VPL-VW915ES
Pros
Ultra-high dynamic contrast
Sharp 4K resolution with Motionflow to reduce blur
Compact design with flexible installation options
Picture Position Memory saves focus and alignment settings
Requires minimal recurring maintenance thanks to long lamp lifespan
Cons
Long throw distance
High cost
What's the Bottom Line?
Either of these projectors will blow the majority of home theater projectors out of the water when it comes to the picture quality and overall performance. For most consumers, it comes down to a question of which is more important to you: getting the absolute best picture quality, or getting the best bang for your buck.
There's no denying the picture of the Sony VPL-VW915ES is better. Having said that, though, it's also twice the cost of the VPL-VW715ES (which is already not cheap, by most consumer standards). Since the VPL-VW715ES still offers incredible performance, many consumers will find it to be the better buy. (>>> Check current price on Bhphotovideo)
One thing is for certain, though. If you're looking for cinema-quality color, contrast, and sharpness, both of these projectors will more than fit the bill. We hope this comparison has helped you decide which one belongs in your home theater!