Sony's VPL line of projectors are designed to bring cinema-quality entertainment into a home theater. Their advanced image technology is certainly impressive—but what's the difference when you're comparing the Sony VPL-VW325ES vs VPL-VW715ES side by side? (>>> Check how much it cost on Amazon)
While these two projectors are quite similar, there are subtle differences between them. Let's take a closer look at just what those are so you can decide which one better meets your needs.
Sony VPL-VW325ES vs VPL-VW715ES Side by Side:
| | Sony VPL-VW325ES | Sony VPL-VW715ES |
| --- | --- | --- |
| | | |
| Resolution | 4096x2160 | 4096x2160 |
| Contrast | 9,000:1 (native) | 350,000:1 (dynamic) |
| Brightness (Lumens) | 1,500 ANSI | 1,800 ANSI |
| Input lag | 27ms | 39ms |
| Throw Distance | 12.5' - 30.5' | 12.5' - 30.5' |
| Screen size | 60" - 300" | 60" - 300" |
| Speakers | No | No |
| Today's Best Price | BHPhotoVideo.com | BHPhotoVideo.com |
Picture Quality
The Sony VPL-VW325ES blows most projectors out of the water when it comes to image quality. It goes beyond standard 4K resolution, with anti-blur technology and support for formats like IMAX and 3D. Whatever you like to watch, it'll look phenomenal played through this projector.
The Sony VPL-VW715ES takes this high picture quality a step further. It has enhanced color and contrast, including HDR tone mapping and dynamic contrast adjustment. Along with this, memory slots for your picture settings make it fast and easy to optimize the image settings to what you're watching.
Higher picture quality: Sony VPL-VW715ES
Brightness
Both of these projectors are best used in rooms with low ambient light. However, the Sony VPL-VW715ES is a bit brighter (1,800 lumens, compared to the 1,500 of the VW325ES), giving viewers more leeway to leave the lights on while they're watching.
Brighter projector: Sony VPL-VW715ES
Value
The Sony VPL-VW325ES is hardly cheap, at an MSRP of around $5,000. The list price of the VW715ES is about twice that, though, so it's affordable in comparison. Considering the improvements with the 715ES are subtle, this makes the 325ES the better overall value.
Better value: Sony VPL-VW325ES
---
Sony VPL-VW325ES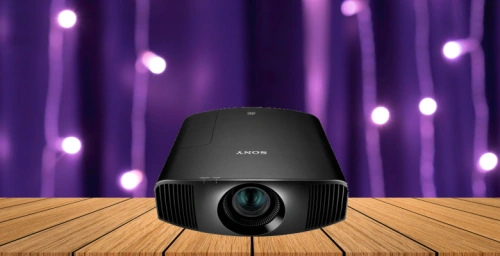 The advanced Silicon X-tal Reflective Display, large-diameter aspherical lens, and X1 processor of the Sony VPL-VW325ES give it a phenomenal picture quality. Its Super-Resolution Reality Creation technology analyzes the content pixel by pixel to enhance its sharpness and reduce noise. This means you'll see full HD content at nearly 4K resolution, and 4K content is even crisper than on other displays.
Paired with this is a Dynamic HDR enhancer that brings out the full detail of shadowy scenes and ensures life-like, nuanced colors across the picture. Motionflow technology maintains that sharp detail even during fast action sequences, while purists can use True Theater mode to maintain the original frame rate of movies. The VPL-VW325ES also has full support for 3D content and is compatible with IMAX Enhanced.
Now, the Sony VPL-VW315ES is made for use in dedicated home theaters, and that does limit its versatility. You'll need a lot of space for it, for one thing—around 13-14 feet for a 100-inch screen. It's also best in a completely dark space, and may lose contrast and saturation in even moderate ambient light. As long as you have a suitable space, though, it's relatively flexible during the installation, with a wide 2.06x zoom and 2D lens shift (+/-31% horizontal and +/-85% vertical).
Pros
Super-resolution upscaling for Full HD and 4K content
Colorful and high-contrast image with no motion blur
Supports IMAX Enhanced and 3D content
Flexible installation with lens shift and zoom
Low enough lag for casual gaming
Cons
Low lamp brightness
Long throw distance
Full review: Sony VPL-VW325ES
---
Sony VPL-VW715ES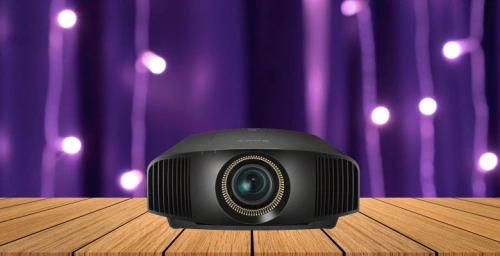 The Sony VPL-VW715ES has a lot in common with the VPL-VW325ES. It also uses an SXRD panel with an X1 processor and aspherical lens, resulting in a crisp, detailed picture (that stays sharp during action scenes thanks to Motionflow). You'll also get the same Reality Creation upscaling to bring a new level of detail to your favorite shows and movies.
Where the VPL-VW715ES outperforms the 325ES is its color and contrast. It has a high dynamic contrast, paired with HRD10 and HLG compatibility to ensure both the accuracy and the realism of your content. It also utilizes Dynamic Tone Mapping, further optimizing the color scene by scene for the most realistic and immersive viewing experience.
The Sony VPL-VW715ES uses a similar motorized standard-throw lens to the model above. Like the 325ES it needs a lot of space, but does have a wide zoom and lens shift to fine-tune the placement during installation. One handy added feature is its Picture Position Memory, which lets you save up to 5 screen formats to switch quickly between aspect ratios and aligment settings for different types of content. It's also a bit brighter, at 1,800 lumens, good news for those who like to keep the lights on while they're watching.
Pros
Sharp 4K image with Reality Creation upscaling
Exceptional color and contrast
Full HD 3D support
Flexible installation with zoom and lens shift
Acceptable input lag for gaming
Picture memory lets you store settings for quick switching
Cons
Long throw distance and relatively low brightness
Higher cost
Full review: Sony VPL-VW715ES
The Verdict
If you want to replicate a professional theater in your home, the Sony VPL-VW715ES is a great way to go about it. However, you'll get a very similar image quality and overall design quality from the Sony VPL-VW325ES for about half the price, which will make it the more appealing option for many buyers (>>> Check price on Bhphotovideo).