Those buying a luxury home theater projector have different expectations than the average consumer. Projectors in this category tend to cost upwards of $15,000 and include the same (or better) image technology as what you'd see in a commercial movie theater.
The Sony VPL-VW915ES is the company's latest entry in this high-end category. Its performance is certainly impressive, with an outstanding picture quality, a user-friendly design, and virtually no maintenance required. (>>> Check the current price on Amazon)
As impressive as the Sony VPL-VW915ES is, though, no projector is the perfect choice for every home. Let's break down its features so you can decide if it's the right one for you.
Sony VPL-VW915ES Review of Specs:
| | Sony VPL-VW915ES |
| --- | --- |
| | |
| Resolution | 4096x2160 |
| Brightness (Lumens) | 2,000 ANSI |
| Contrast Ratio | 350,000:1 |
| Throw Distance | 10.4' - 30.6' |
| Lens | 2.06x Powered zoom & Powered focus |
| Screen size | 50" - 300" |
| Input lag | 60ms |
| Price | BHPhotoVideo.com |
Picture Quality
Every step of the image production process in the Sony VPL-VW915ES is designed for optimal performance. This starts with the X1 Ultimate processor and Z-Phosphor laser light source, which has a digital focus optimizer built right in for the sharpest possible picture. Because of this, the image is even sharper and more detailed than what you'd get from other 4K projectors.
It's the contrast on the VPL-VW915ES that's especially impressive, though. With an advanced SXRD panel, dynamic laser control, and dynamic HDR enhancement, the black levels on this projector are stunningly deep and rich. This doesn't just improve the darker areas, either. Higher contrast creates more depth of field throughout the picture, providing a textured, realistic image that you can truly get lost in.
We also appreciate that you'll get this same high image quality no matter what you're watching. The Motionflow technology and fast 120 Hz frame refresh rate eliminate motion blur, so sports and action movies are just as high-quality. You'll get the same high quality on 3D content, too.
By the stats, the laser light source doesn't seem bright enough, at just 2,000 lumens. However, the Advanced Iris and Dynamic Laser controls make the most of the light it puts out. While the VPL-VW915ES is designed for use in a designated home theater, there's no noticeable picture wash-out in moderate light levels, so you can still enjoy lights-on viewing with this model.
Pros
X1 Ultimate image processor with Motionflow
Exceptional contrast and color accuracy
Aspherical lens with Digital Focus Optimizer for improved sharpness
Flexible installation options for quick, easy set-up
Store up to 5 alignment settings in Picture Position Memory
Low-maintenance, durable design
Cons
No internal speakers
Long throw distance
Installation
The Sony VPL-VW915ES is a hefty projector—likely the first thing you'll notice when you open the box. At a weight of almost 50 pounds, it can be more difficulty to ceiling-mount this projector. Once you find a way to get around that, though, it's otherwise easy to install. A 2.06x zoom and wide horizontal and vertical lens shift give you a lot of flexibility when you're aligning the image to the screen.
One thing to note is that you will need quite a bit of space for this projector. A 100" screen will need about 14 feet of distance. This isn't an issue for those building full home theater spaces but does limit its versatility for smaller rooms.
As for connection options, they include both standard home theater inputs and the extra connections you might need in a high-end set-up. You'll get 2 HDMI ports for content sources, along with a  USB input for installing updates. There are also 2 12-volt trigger connections, an RS232 connection and a network input. This allows you to integrate the Sony VPL-VW915ES easily into computerized home theater control systems.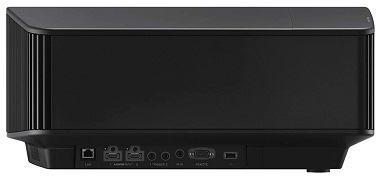 Performance and Durability
The laser light source in the Sony VPL-VW915ES lasts longer than traditional lamps. It has a rated lifespan of up to 20,000 hours, depending on use conditions. Once this projector is set up, its maintenance requirements are minimal, and it's built to last through years of even heavy use.
You will need external speakers to use the VPL-VW915ES, since there are no speakers built in to the projector. This is a minor omission, in our opinion. Most people with high-end home theaters are already planning to use an external surround sound system.
---
Sony VPL-VW915ES Review: What's the Bottom Line?
The cost of the Sony VPL-VW915ES is prohibitive to many consumers. If you are building a home theater with a luxury budget, though, this projector should be at the top of your list. (>>> Check the current price on Bhphotovideo) It's well-made, easy to install, and the picture quality is unmatched. A professional-level projector is the centerpiece of any high-end home theater, and the Sony VPL-VW915ES can serve in that role nicely.
REFERENCES AND FURTHER READING: