Our pursuit of an immersive cinematic experience at home led us to the Sony VPL-XW6000ES projector, a piece of hardware that, on paper, seemed to promise a fantastic visual journey. After weeks of rigorous testing and exploration, here's our in-depth Sony VPL-XW6000ES review. Get the Best Deal on Amazon Today!
Sony VPL-XW6000ES Review of Features:
| | Sony VPL-XW6000ES |
| --- | --- |
| | |
| Resolution | 3840x2160 |
| Brightness (Lumens) | 2,500 ANSI |
| Lens | 2.1x powered zoom & focus |
| Throw Ratio | 1.35:1 - 2.84:1 |
| Inputs | 2 x HDMI 2.1, 1 x RS-232, 1 x RJ-45 (Ethernet) 1 x USB |
| Dimensions | 18.1"W x 8.3"H x 20.4"D |
| Weight | 30.9 lbs |
| Today's Best Price | BHPhotoVideo.com |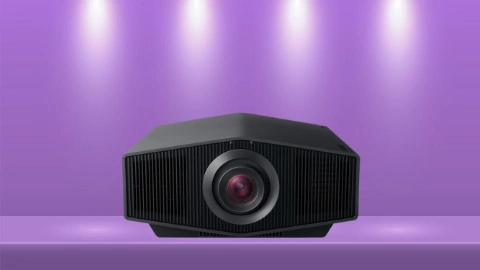 Pros
Excellent brightness and color accuracy, even in ambient light.
Powerful 4K SXRD panel and X1 Ultimate picture processor.
User-friendly with adjustable settings for personalized viewing.
Remarkable 3D movie experience comparable to commercial theaters.
Energy-efficient with low power consumption in standby mode.
Cons
Third-party 3D transmitter needs to be purchased separately.
High cost might deter potential buyers.
Design and Build: Modern and Compact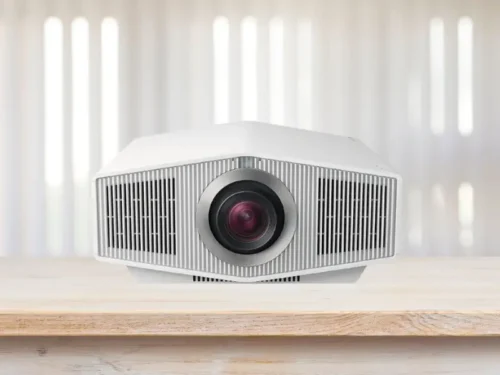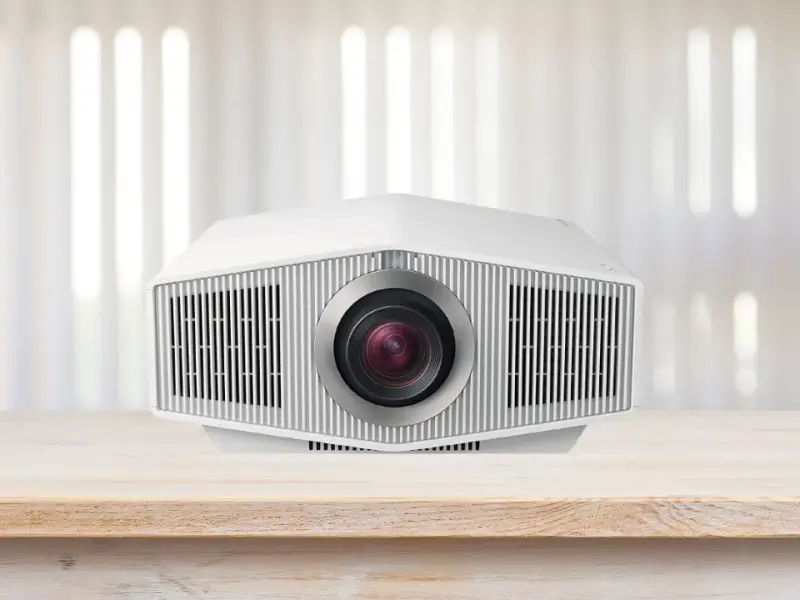 From the outset, this 4K projector by Sony grabbed our attention with its modern and compact design. Despite packing a powerful punch, the Sony VPL-XW6000ES weighs a manageable 31 lb and measures 18.13″ x 8.28″ x 20.34″. This laser projector is about 20% smaller in volume and 30% lighter than its predecessor, the VPL-VW915ES. This new exterior design seamlessly fits into any room, making it both an aesthetic and performance-oriented addition to your entertainment system.
Interface Options: Versatility and Usability
Equipped with a multitude of interface options, the projector offers two HDMI inputs compatible with HDCP 2.3, IR IN – Minijack, LAN – RJ45, 10Base-T/100BASE-TX, REMOTE – RS-232C, D-sub 9-pin (male), TRIGGER – Minijack, DC 12 V Max. 100 mA, 3D SYNC OUT – Minijack, and USB – Type A, DC 5 V, Max. 500 mA. This extensive range of connections ensures that the projector can readily interface with various devices in your home, enhancing its usability and versatility.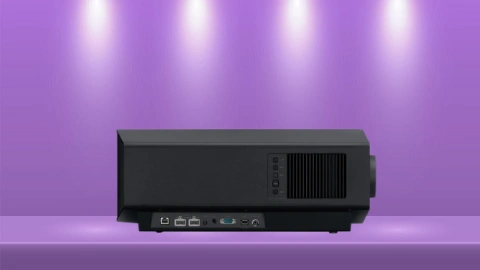 Projection System and Picture Processor: A Dazzling Display
Sony's proprietary 4K SXRD panel projection system, coupled with the flagship-level X1 Ultimate picture processor, results in a dazzling display resolution ranging from the basic 720 x 576/50p to an impressive 4096 x 2160/60p. The display system truly shines when projecting 4K content, displaying full 4K resolution with 24,883,200 (3840 x 2160 x 3) pixels.
Light Source: High Brightness and Longevity
The laser diode light source is a major upgrade from traditional lamp-based systems, providing up to 2,500 lumens of brightness. This is a long-lasting light source that allows you to enjoy perfectly clear 4K pictures at optimal brightness for up to 20,000 uninterrupted hours. Even on a large screen, the images remain vibrant and captivating.
Advanced Crisp-Focused Lens and Color Technology: Vivid Colors and Sharp Images
Additionally, the Advanced Crisp-Focused (ACF) Lens brings an added layer of clarity, producing sharper and more defined images. Furthermore, the Sony VPL-XW6000ES's native 4K SXRD panel, together with its TRILUMINOS PRO technology, ensures a color range that faithfully reproduces natural shades in every detail. Over a billion colors come alive on screen, providing an immersive viewing experience.
Wide Dynamic Range Optics: Natural and High Contrast Images
The projector features Wide Dynamic Range Optics, which reach a 95% DCI-P3 wide color gamut and up to 2,500-lumen high brightness, contributing to its compact design by maximizing the potential of the laser light source. This technology lends naturally colorful images, even at high brightness levels, and delivers a stunning, immersive contrast.
User-Friendly Feature: Picture Position Memory
However, one feature that truly sets the Sony VPL-XW6000ES apart from its competitors is the Picture Position Memory, which can store lens focus, zoom, and shift settings for up to five screen formats. This is an incredibly user-friendly feature that adds a high level of personal customization to your viewing experience.
Hands-on Experience: Brightness and Immersive Viewing
Our hands-on experience with the Sony VPL-XW6000ES was largely positive. The device's impressive brightness, a quality highly praised by customers, was indeed a standout feature. During a screening of a 4K movie on a 150-inch screen, the vivid, brightly lit images felt immersive and engaging, even with ambient light in the room. This experience resonated with several user reviews we examined, noting how the projector's brightness allowed for comfortable viewing even in non-ideal lighting conditions.
3D Capabilities: A Cinema-Like Experience
Upon testing its 3D capabilities, we were pleasantly surprised. As one customer pointed out, the Sony VPL-XW6000ES excels in delivering a 3D movie experience that rivals commercial theaters. Even with 3D glasses on, the brightness remained uncompromised, offering a remarkably immersive viewing experience. However, we shared the same concern voiced by many customers: the necessity to purchase a third-party 3D transmitter instead of having it built-in. Given the projector's high-end nature, this felt like an oversight.
Gaming Performance: Breathtaking Visuals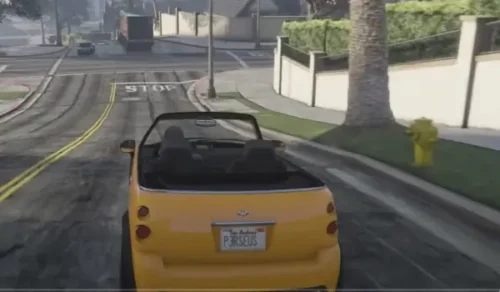 Now let's talk about the Sony VPL-XW6000ES's performance when it comes to gaming. Paired with a Sony PS5, the combination of the projector's 4K resolution, impressive brightness, and razor-sharp image quality made for a gaming experience that was nothing short of breathtaking. The visual performance, especially at 60 fps on a large screen, was mesmerizing. Gamers who prioritize visual quality and immersive experiences will certainly appreciate this projector.
Black Level Details: Adequate Performance
Black-level details have often been a sticking point for projectors, with many falling short of delivering true, deep blacks. While the VPL-XW6000ES is not entirely exempt from this criticism, it performs better than most of its competitors. Some might find the black level wanting when compared to certain high-end JVC models, but we found it more than adequate for most applications.
Noise Levels: Remarkably Quiet
As for noise levels, this projector outperforms many of its competitors, running impressively quietly at 26 dB. One of the customer reviews we analyzed praised this feature, indicating that it made a noticeable improvement compared to the VPL-VW675ES, a previous model.
Energy Consumption: Eco-friendly and Energy-Saving
When it comes to energy consumption, the VPL-XW6000ES impresses. In standby mode, it only draws 0.3 W when "Remote Start" is off and 0.5 W when it's on, proving Sony's commitment to eco-friendly and energy-saving technologies. The projector enters standby mode after about 10 minutes of inactivity, further conserving power.
Setup and Installation: Straightforward and Convenient
Setting up the Sony VPL-XW6000ES was straightforward, thanks to its powered lens zoom and focus feature. The lens shift feature, offering a Vertical +/- 85% and Horizontal +/- 36%, is an excellent addition that facilitates optimal positioning.
Pricing: A Premium Investment
However, a notable drawback is the VPL-XW6000ES's price. Given its high-end specifications and impressive performance, it's not surprising that it commands a premium. While this might deter some potential buyers, we believe the price is justified by the projector's capabilities. (>>> Check it's pricing on Bhphotovideo).
Conclusion: A Worthwhile Investment for Immersive Home Cinema
In conclusion, our Sony VPL -XW6000ES review finds this projector to be an exceptional piece of technology that offers a compelling blend of brightness, color accuracy, and resolution. It's an investment, certainly, but for those who value a truly immersive cinematic experience at home, it's a worthwhile one. This projector brings the best of Sony's image processing to your living room, offering a viewing experience that rivals and often surpasses a commercial cinema.
Sony VPL-XW6000ES versus other projectors: