What we love about home theater projectors is that there is something for every budget. Some people can purchase a lower-range projector and still have an excellent experience. A mid-range projector balances high-quality picture and value. And for those who want to invest significantly, a projector like the Sony VPL-XW6000ES can give you a commercial-grade theater projector right at home for you to use. But is it worth the high price tag? This Sony VPL-XW6000ES review will answer that and give you everything you need to know about this high-end projector (>>> Check its pricing on Amazon).
Sony VPL-XW6000ES Review of Features:
| | Sony VPL-XW6000ES |
| --- | --- |
| | |
| Resolution | 3840x2160 |
| Brightness (Lumens) | 2,500 ANSI |
| Contrast | No data |
| Throw Distance | 8.3' - 19.7' |
| Screen size | 40" - 200" |
| Speakers | No |
| Today's Best Price | BHPhotoVideo.com |
The projector uses a Native 4K SXRD panel. This new technology gives you native 4K in some of the most eye-popping visuals yet. Using the purest laser, this projector delivers the clearest possible picture, with 2,500 lumens. In addition, its 70mm Advanced Crisp-Focused (ACF) lets you make out every detail. The difference between a projector like this and something that costs a fraction of the price is its lens quality, and it shows.
Other technologies it uses to give you this incredible picture include Its TRILUMINOUS PRO technology. This can reproduce colors as naturally as possible, giving you true-to-life picture quality. Once you look at it, it's hard to go back to anything else. Everything, from its sharp picture to its frame interpolation, makes you feel like you're watching real people in front of you instead of a movie. Even with a cartoon, you may believe that what you're seeing is real.
It also includes technologies such as Full HD 3D. You're inside the movie when you watch a 3D movie on this projector. We were amazed at how eye-popping it is compared to other projectors that offer 3D capabilities, as this one stands above the rest and creates an amazing picture you can enjoy.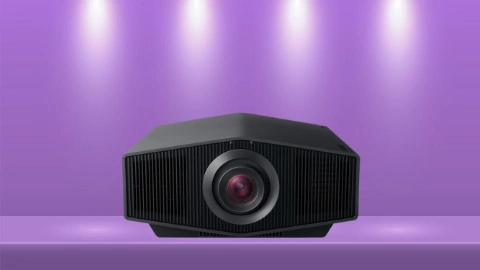 Pros
One of the sharpest projectors on the market today
The powerful lens gives you 20,000 hours of ultra-sharp picture
The design is sleek and light
Saves five settings for easy access
Easy to install
Cons
Sound
This projector does not have internal speakers. You are not investing in an all-in-one, but instead, something that creates the best possible picture. Therefore, you must purchase speakers separately in order to hear sound from anything you play on this projector. Purchase speakers that will immerse you just as much as the picture will.
Other Features
This is not a projector with many smart features, as it focuses on the picture. However, it does have a Picture Position Memory. You can store up to five screen formats, helping you to adjust your settings according to your room's needs. Otherwise, it doesn't have any app connections or anything like that. Some may be disappointed, but this projector only has the image in mind.
Installation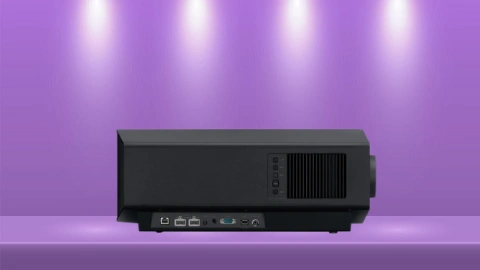 What we also love about this projector is how simple it is to set up and install. It's a light projector, and its installation instructions are quite simple. Once you take it out of its box, it's easy to get it going.
Sony VPL-XW6000ES Review: The Verdict
We can't stress this enough: this projector is for those who want to invest in their home theater. It's not affordable, especially considering you'll need speakers as well. However, if you're willing to invest, your home theater system will transform into something IMAX quality. In many cases, it will be better than some theaters offer (>>> Check it's pricing on Bhphotovideo).
Therefore, we highly recommend this projector for your home theater needs. However, if it's out of your price range, don't take out a second mortgage to pay for it. We have mid-range projectors that can also deliver beautiful picture in glorious 4K. Check out these reviews to learn more.