The quality of the graphics on the latest-generation systems is phenomenal, but to enjoy them to their full effect you need a projector that can do them justice. The best projector for PS5-based big-screen gaming setups needs to have a super-low input lag for both full HD and 4K gaming, with the contrast and color technology to bring your game environments to life.
The best overall projector to use with a PS5 is the Optoma UHD55, which has a super-low input lag, a high refresh rate, and a sharp, high-contrast picture (>>> Check on Amazon).
Your viewing space has a lot to do with this, though, and what works in one home may not be ideal for another. Check out the comparison below to find your ideal PS5 projector.
Best Projector for PS5 Gamers – Top Picks for 2023:
| | Optoma UHD38 | BenQ TK700 | BenQ TH685P | BenQ TH585P | Optoma UHD55 | BenQ TH690ST |
| --- | --- | --- | --- | --- | --- | --- |
| | | | | | | |
| Resolution | 3840x2160 | 3840x2160 | 1920x1080 | 1920x1080 | 3840x2160 | 1920x1080 |
| Brightness (Lumens) | 4,000 ANSI | 3,200 ANSI | 3,500 ANSI | 3,500 ANSI | 3,600 ANSI | 2,300 ANSI |
| Contrast Ratio | 1,000,000:1 | 10,000:1 | 10,000:1 | 10,000:1 | 1,200,000:1 | 500,000:1 |
| Refresh rate | 1080p/240Hz, 4K/60Hz | 1080p/240Hz, 4K/60Hz | 1080p/120Hz, 4K/60Hz | 1080p/60Hz | 1080p/240Hz, 4K/60Hz | 1080p/120Hz, 4K/60Hz |
| Input Lag | 4.2ms | 4ms | 8ms | 16ms | 4ms | 8.3ms |
| Throw Distance | 4.0' - 32.7' | 3.2' - 24.6' | 2'9" - 27'9" | 3.6' - 32.7' | 3.9' - 26.6' | 3'3" - 10'11" |
| Screen size | 33" - 300" | 30" - 300" | 30" – 300" | 30" - 300" | 34" - 302" | 60" - 200" |
| Speakers | 10.0 Watts Mono | 5.0 Watts Mono | 5.0 Watts Mono | 10.0 Watts Mono | 10.0 Watts Mono | 10.0 Watts Mono |
| Today's Best Price | BHPhotoVideo.com | BHPhotoVideo.com | BHPhotoVideo.com | BHPhotoVideo.com | BHPhotoVideo.com | BHPhotoVideo.com |
Responsiveness
Input lag and refresh rate are the two most crucial specs to note for gaming. The input lag indicates the delay between your moves on the controller and what you see on-screen.
Anything under around 30ms is considered acceptable for modern gaming consoles, and will be unnoticeable to most players.
The refresh rate indicates how many frames per second you see on the screen. For gaming, this should be 60Hz or higher, with 240Hz refresh rates giving the smoothest action.
All of these projectors have an input lag of 17ms or lower and have at least a 60Hz refresh rate. For the fastest projector, you want the Optoma UHD38, BenQ TK700, or Optoma UHD55, all of which have a minimum input lag around 4ms with a 240Hz refresh rate for full HD.
Most responsive: Optoma UHD38, BenQ TK700, Optoma UHD55
Resolution and Contrast
A higher-resolution picture will have more on-screen detail. This doesn't just create a more immersive playing experience, it also adds clarity so you can spot enemies, loot, or hidden easter eggs more easily.
There are three projectors on this list that produce a true 4K resolution: the Optoma UHD38, BenQ TK700, and Optoma UHD55. Of these, the UHD55 has the widest color gamut and sharpest image contrast, producing the best-looking picture of those reviewed here.
Highest resolution and contrast: Optoma UHD55
Brightness
Ambient light is the enemy of a projected image. The brighter the room, the more powerful the projector's lamp needs to be to maintain its full color saturation and image contrast.
In a dim space with just a few lamps on, the 2,300-lumen BenQ TH690ST will work fine. For brighter spaces, though, you want something with a brightness of 3,500 lumens or higher. The 4,000 lumen Optoma UHD38 can be used in just about any light environment, even outdoor spaces.
Brightest projector: Optoma UHD38
Throw Distance
In a larger room, a longer throw distance may not be an issue. For smaller spaces or complicated layouts, though, the short-throw BenQ TH690ST only requires about half the distance of a typical standard-throw projector, giving you more flexibility during the installation.
Shortest throw: BenQ TH690ST
---
Optoma UHD38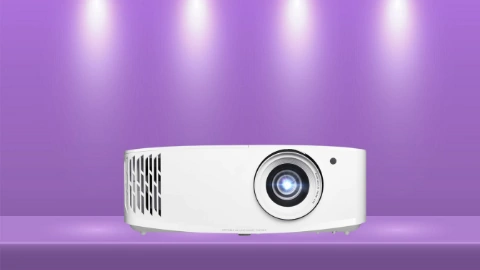 Pros
4K resolution for gaming and home theater
Enhanced contrast in Game Mode
Powerful lamp can be used even in bright rooms
Low input lag with high refresh rate
Wall color adjustment for screenless setups
Four-corner keystone correction
Cons
Long throw distance and limited zoom
You can play with the lights on in any space using the Optoma UHD38. Its 4,000-lumen lamp won't get washed out even in the brightest spaces, ensuring full color saturation and a sharp contrast every time you play.
The Optoma UHD38 has the responsiveness gamers need, too. It has a single-digit input lag for full HD gaming, paired with a high frame refresh rate to match high-end gaming projectors.
Its Game Mode also increases the contrast for enhanced detail across the screen. The 8-segment color wheel covers the full Rec.709 spectrum, doing full justice to the immersive graphics of a PS5 game.
The only potential downside of the Optoma UHD38 is that it's not the easiest to install. It's nicely lightweight and compact, fitting standard ceiling mounts and unobtrusive in tabletop installations.
That said, it uses a standard throw distance and a limited zoom, so it needs a larger space and fairly precise placement within it.
Fortunately, it does have four-corner correction for squaring the image. The Wall Color Adjustment is also a handy feature for screenless installations, maintaining the picture's true color even when it's not projected on a pure white surface.
---
BenQ TK700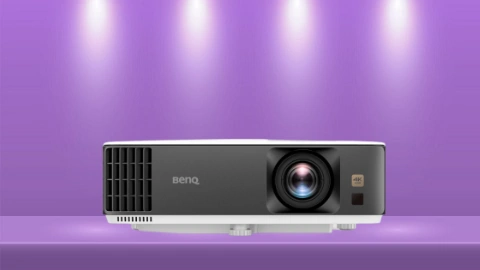 Pros
Response true 4K gaming
Bright enough lamp for most indoor spaces
Enhanced detail and color in dark areas in Game Mode
Strong color performance
Reasonable throw distance
Cons
The BenQ TK700 makes PS5 games look fantastic at any screen size. This starts with the use of XPR technology to produce a true 4K resolution, bringing the full detail and clarity to games in 4K.
Players of first-person shooters, horror games, and RPGs will appreciate the dark scene enhancement it brings in Game Mode, enhancing the detail and the color so you see everything that happens on-screen.
All parts of the screen benefit from BenQ's advanced color tuning and HDR color accuracy.
Another strength of the BenQ TK700 is its versatility. Its throw distance is shorter than most standard throw projectors, with 2D keystone correction to ensure a square image and a 1.3x zoom.
While the lamp isn't quite as powerful as the Optoma UHD38 above, it's still plenty bright for most rooms, even ones with lots of overhead lighting.
The BenQ TK700 is ultra-responsive, with no noticeable lag and a smooth, blur-free image in both full HD and 4K. The only thing it lacks for an immersive gaming experience is powerful sound.
The built-in speaker is functional but weaker than most will want to use on their own. It does have a 7.1-channel audio passthrough, so you an enjoy a beautiful three-dimensional sound scape when you attach an external sound system.
For our more in-depth review of this projector, click here.
---
BenQ TH685P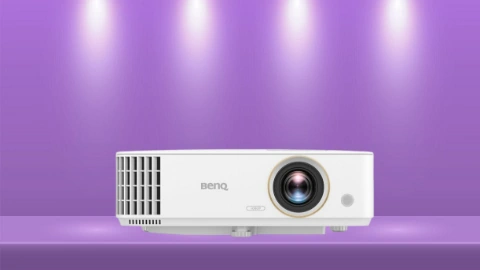 Pros
Excellent detail in both light and dark screen areas
Low input lag for full HD gaming
Reasonable throw distance
Bright lamp for lights-on play
Accepts 4K content
Great value
Cons
No 4K resolution
Weak built-in speakers
If you need a top-notch projector for big screen gaming in the under $1,000 price range, the BenQ TH685P is a model you should check out.
It's just as responsive as projectors that cost twice the price or more, with an 8ms input lag and 120Hz refresh rate in full HD. You can play 4K games on it, as well, while still maintaining blur-free action and an input lag even competitive gamers won't notice.
Now, that is the main sacrifice you'll make for the affordable price of the BenQ TH685P: it accepts 4K content, but its maximum resolution is 1080p. It still has the same wide color gamut and sharp contrast you'd expect from a BenQ gaming projector, however, as well as enhanced dark area detail in Game Mode.
As far as installation, the BenQ TH685P can fill a 100-inch screen with between 8 and 10 feet of distance and has a 1.3x zoom as well as vertical keystone correction. Like the BenQ TK700 above, though, you'll want to use it with external speakers to get a sound that matches the picture.
---
BenQ TH585P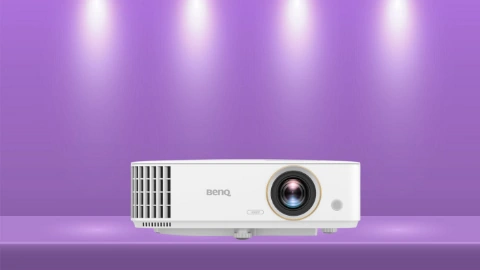 Pros
Vibrant and sharp full HD image
No noticeable lag for full HD gaming
Enhanced dark and shadow detail
Bright enough for lights on use
Flexible installation with vertical keystone and lens shift
Affordable price
Cons
No 4K resolution
Long throw distance
Speaking of gaming projectors that are an exceptional value, the BenQ TH585P is the perfect choice for big screen gaming on a budget. It has an MSRP of around $600 while still offering a low 16ms input lag for full HD games.
Now, the refresh rate of the BenQ TH585P is a bit slower than the models above. It also has a maximum resolution of 1080p, so if you want 4K gaming you'll need to look elsewhere.
These issues aside, it has a similar picture clarity and contrast to the TH685P above, with enhanced dark area detail in Game Mode to make it easier to see details in shadows.
The BenQ TH585P has a 3,500-lumen lamp that supports lights-on viewing and won't get washed out in even fairly bright spaces.
Its standard throw distance does mean you'll need a good-sized space, around 11-12 feet for a 100-inch screen, though features like 20% vertical lens shift and vertical keystone correction give you some flexibility with the placement.
---
Optoma UHD55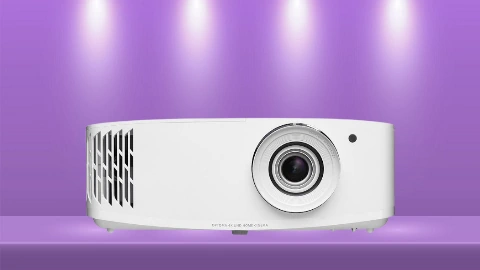 Pros
Detailed and responsive 4K or full HD gaming
Exceptional color and contrast
Robust image alignment options
Built-in voice control and IFTTT support
Wireless casting and streaming capability
Powerful lamp
Cons
Longer throw distance
High MSRP
If you're looking for the gaming projector with the best color performance, the Optoma UHD55 should be at the top of your list.
Its DLP display uses an advanced color management system, producing 95% of the DCI-P3 spectrum used in professional theaters, with HDR10 and HLG support to ensure the accuracy and realism of the hues you see.
The Optoma UHD55 can be used for both full HD and 4K gaming, with a frame rate and input lag to give you uninterrupted, blur-free play for even the most advanced gaming graphics.
It's an especially great choice for a smart gaming set-up. Its built-in media player connects to the Optoma Marketplace and Creative Cast App, supporting voice control through services like Amazon Alexa and Google Assistant as well as custom automation recipes using IFTTT.
With its 3,600 lumen lamp, the Optoma UHD55 works well in any light level. It also has robust image alignment options, with 3X3 warp and four-corner correction, as well as a 1.3x zoom and vertical lens shift.
You will still need about 10 feet of distance to fill a 100-inch screen, but as long as you have the space for it, it's fairly flexible.
---
BenQ TH690ST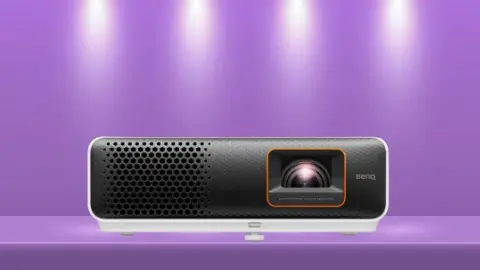 Pros
Responsive full HD gaming
Exceptional color from 4LED display
Short throw distance
Low-maintenance with long light source lifespan
Supports content up to 4K
Cons
Not a great choice for bright spaces
4K content is downgraded to full HD
The BenQ TH690ST is another top option for PS5 gaming on a big screen. This is the only true short throw projector on the list, requiring about half the distance as a standard-throw projector to produce the same image size.
It's also the fastest and easiest to set up, with automatic vertical keystone correction, +/- 30% horizontal keystone correction, and a 1.3x zoom.
The TH690ST uses a 4LED light source, as opposed to the bulb or laser used in other models. The advantage of this is it's much more efficient and durable, maintaining a consistent brightness and image quality for up to 30,000 hours.
The downside is that it's not as powerful, putting out around 2,300 lumens. That's the ideal level for moderately-lit spaces, but you'll notice some clarity loss in bright environments.
The native resolution of the BenQ TH690ST is 1080p. You can still play 4K games on it, they'll just be downgraded to full HD resolution.
On the plus side, its LED light source produces more nuanced, realistic color than a typical bulb-based projector. It has the responsiveness you need for PS5 gaming, too, with an input lag as low as 8.3ms and a 120Hz frame refresh rate. Click here for our more in-depth BenQ TH690ST review.
---
So What's the Best Projector for PS5 Gaming?
Any of these projectors will work beautifully with a PS5. While the Optoma UHD55 will be the best option for most (>>> Find on Amazon), the BenQ TH690ST is a great option in small spaces, and the affordable BenQ TH585P is the top choice for budget-conscious gamers.
We hope this review has helped you choose your perfect projector!