Many home theater projectors treat gaming like an afterthought, but that's not the case with the BenQ TK700. Every aspect of its design was made with gamers in mind, from its super-low input lag to its impressive image contrast and whole-screen detail. In this BenQ TK700 review, we'll go through the full details so you can decide if it's the right projector to give you a competitive edge (>>> Check on Amazon).
BenQ TK700 Review of Main Specs:
| | BenQ TK700 |
| --- | --- |
| | |
| Resolution | 3840x2160 |
| Contrast | 10,000:1 |
| Brightness (Lumens) | 3,200 ANSI |
| Input lag | 4-16ms |
| Throw Distance | 3.2' - 24.6' |
| Screen size | 30" - 300" |
| Speakers | 5.0 Watts Mono |
| Today's Best Price | BHPhotoVideo.com |
Installation and Space Requirements
The BenQ TK700 uses a metal halide bulb that produces 3,200 lumens of brightness. That's bright enough to use in most indoor spaces without needing to turn out the light or install black-out curtains on the windows.
While the BenQ TK700 is a standard-throw projector, its throw distance is shorter than many models in that category. You'll need around 8-10 feet between the lens and screen for a 100-inch picture, which is a doable distance in most rooms. There is also a 2D keystone correction, allowing users to square the image even if the projector can't be installed in the perfect position. The 1.3x zoom adds more flexibility, giving it a relatively easy installation overall.
Like many projectors today, the TK700 has dual HDMI ports, along with a USB input for peripherals and an RS232 connection for networking. That's a good mix of inputs for most modern home entertainment setups, though the lack of RCA inputs does make it more complicated to use older or specialized A/V devices like VCRs, past-generation gaming systems, or video equipment like camcorders.
Pros
Native 4K resolution
Excellent contrast and detail in dark areas
Bright lamp for lights-on use
Low input lag for gaming
Easy installation with reasonable throw distance
Full support for 3D content
Cons
Weak built-in speaker
No RCA or VGA input
Image Quality
The strong image quality of the BenQ TK700 starts with its native 4K resolution, bringing realistic, sharp details to both movies and games. For color, it uses a 6-segment color wheel that covers 96% of the Rec.709 spectrum, with HDR support and BenQ's proprietary color tuning to ensure the accuracy of the color signal.
Maybe the most impressive aspect of the TK700's display is its image contrast. It uses black detail enhancement to maintain a high level of detail in dark areas of the screen. This is especially helpful for gamers, making it easier to spot loot or enemies hidden in the shadows in any game environment.
Gaming Performance
The BenQ TK700 was made with gamers in mind and is one of the best 4K projectors for gaming on the current market. Its advanced gaming engine gives it a single-digit input lag for gaming in full HD, with a 240Hz refresh rate that ensures the smooth on-screen action you need for fast-paced first-person shooters and other reflex-based games. It supports gaming in 4K, as well, and while the input lag is a bit higher it's still well within the acceptable range for professional gamers, measuring 16-17ms with a 60Hz frame refresh rate.
Sound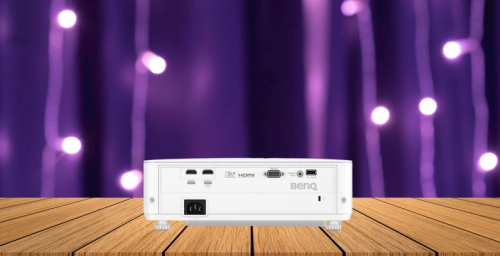 To get fully immersed in a game, you need sound effects as powerful and realistic as the picture. Unfortunately, the speaker that comes built-in to the BenQ TK700 isn't going to provide that. Its single 5-watt speaker is fine for basic TV show dialogue but is severely lacking in both volume output and low-end depth, so you'll want to connect an external sound source for truly powerful sound. On the plus side, there's a 3.5mm audio output on the connection panel, so you can easily connect an external speaker without the need for a receiver or other advanced equipment.
BenQ TK700 Review in Summary
With an MSRP of around $1,500, the BenQ TK700 sells at a very affordable price point compared to most 4K projectors currently on the market, and it's an even better value when you consider its versatility. It's one of the few home theater projectors that is equally well-suited to gaming as it is to movies and TV shows, while the bright lamp and reasonable throw distance give it good versatility across different spaces and set-ups. If you're a gamer who wants to upgrade to the big screen, the BenQ TK700 is a great way to do it (>>> Find on Bhphotovideo).
REFERENCES AND FURTHER READING: