Getting to watch your shows and movies on a big screen at home is the main advantage of a projector-based setup. While some projectors max out at a screen size of 100-120", all the models below can fill a 150" screen with ease, and many of them will go even bigger if you want it. Based on the features and picture quality, the Epson LS800 is the best projector for 150-inch screen in our opinion (>>> Check on Amazon).
 Its bright lamp, ultra-short throw, and built-in streaming give it a lot of versatility. That doesn't mean it's the right choice for every buyer, though. Check out the reviews below to find your next perfect projector.
Best Projector for 150-inch Screen 2023 – Top Picks:
| | Optoma UHZ50 | BenQ TK700 | ViewSonic PX701HDH | BenQ TH690ST | Epson LS800 | ViewSonic X2000B-4K |
| --- | --- | --- | --- | --- | --- | --- |
| | | | | | | |
| Resolution | 3840x2160 | 3840x2160 | 1920x1080 | 1920x1080 | 3840x2160 | 3840x2160 |
| Brightness (Lumens) | 3,000 ANSI | 3,200 ANSI | 3,500 ANSI | 2,300 ANSI | 4,000 ANSI | 2,000 ANSI |
| Contrast Ratio | 2,500,000:1 | 10,000:1 | 12,000:1 | 500,000:1 | 2,500,000:1 | 3,000,000:1 |
| Input Lag | 4ms | 4ms | 16ms | 8.3ms | 16.7ms | 40ms |
| Throw Distance | 4.0' - 26.6' | 3.2' - 24.6' | 3.6' - 32.7' | 1.8' - 10.0' | 0.9' - 1.8' | 1.0' - 2.4' |
| Screen size | 34" - 303" | 30" - 300" | 30" - 300" | 30" - 200" | 80" - 151" | 65" - 150" |
| Speakers | 10.0 Watts × 2 | 5.0 Watts Mono | 10.0 Watts Mono | 5.0 Watts × 2 | 10.0 Watts × 2 | 50.0 Watts |
| Today's Best Price | BHPhotoVideo.com | BHPhotoVideo.com | BHPhotoVideo.com | BHPhotoVideo.com | BHPhotoVideo.com | BHPhotoVideo.com |
Throw Distance
All of these projectors will produce a 150-inch image, but some of them will need a massive room to get there. If space is a concern, an ultra-short throw projector like the Epson LS800 or ViewSonic X2000B-4K can produce this image size with 3 feet or less between the lens and screen.
The BenQ TH690ST is a bit longer, but still only needs around 8 feet for this screen size, doable in most spaces. Check our 150-inch screen picks.
Shortest throw distance: Epson LS800
Picture Quality
For the most image detail, a 4K projector is the way to go. You'll get this resolution from the BenQ TK700, Epson LS800, Optoma UHZ50, and ViewSonic X2000B-4K. Of those, the wide color gamut and automatic brightness adjustment of the LS800 give it the most realistic image.
Best picture quality: Epson LS800
Streaming and Smart Features
Hands-free control is a convenient option in a smart home. The Epson LS800 does offer voice search through Google Assistant, though the commands are limited. For smart home owners, the IFTTT compatibility of the Optoma UHZ50 gives you more options for automation routines.
Best for smart homes: Optoma UHZ50
---
BenQ TH690ST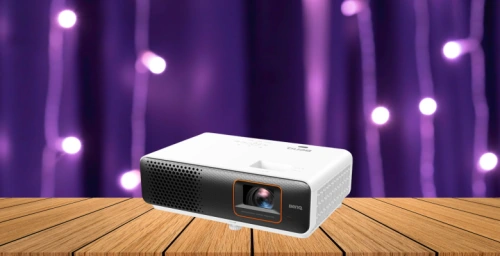 Pros
Colorful and sharp full HD image
Low lag with display adjustments in Game Mode
Short throw distance
Efficient and long-lasting LED light source
Accepts 4K content
Cons
4K content is downgraded to 1080p
Not suitable for bright viewing areas
The BenQ TH690ST is an ideal option for gamers who want a 150-inch image. It has a measured input lag as low as 8.3ms, paired with a 120Hz frame refresh rate for smooth action with no motion blur or noticeable latency.
Activating Game Mode also adjusts the picture, enhancing the contrast so you can see every detail, even in dark areas of the screen.
The BenQ TH690ST is also a good option for watching movies. Its 4-LED light source and DLP display combine for a high-contrast full HD image with strong color performance.
It covers roughly 98% of the Rec.709 color spectrum, which translates to nuanced and lifelike hues for all types of content. This includes 4K content, though it will be downscaled to a 1080p resolution.
The short throw distance of the BenQ TH690ST also gives it great flexibility in terms of your space. You'll only need around 8 feet of space to produce a 150-inch image, with a 1.2x zoom and 2D keystone correction to fine-tune the image placement and ensure a square picture.
The only thing limiting its versatility is its lamp brightness. At 2,300 lumens, it's bright enough for dim to moderate light environments, but you'll likely still need black-out curtains in rooms with lots of windows.
Full review: BenQ TH690ST projector
---
BenQ TK700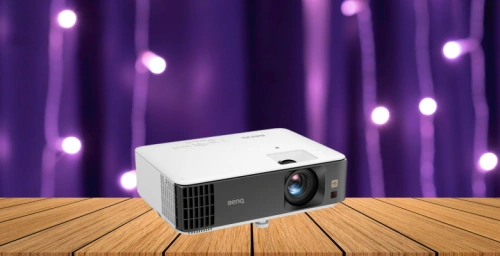 Pros
True 4K image with strong color and contrast
Low input lag for both full HD and 4K gaming
Bright enough lamp for any indoor space
Easy alignment with automatic keystone correction
Full HD 3D support
Cons
Short bulb lifespan (as little as 4,000 hours)
Long throw distance
Here's another great option from BenQ for gamers. The TK700 excels at both full HD and 4K gaming, with one of the lowest input lags you'll find on the projector market and a lightning fast 240Hz frame refresh rate for 1080p games.
The added Black Detail Enhancement uses advanced color tuning to bring out the full detail in dark areas without sacrificing color quality in the rest of the image.
You also won't need to turn the lights off when you're using the BenQ TK700. Its 3,500-lumen bulb is bright enough to maintain a crisp, saturated image in any indoor space.
The main downside of this traditional bulb light source is that it will burn out more quickly, with an estimated lifespan between 4,000 and 15,000 hours, depending on your brightness settings.
The TK700 also needs a larger room, around 12 feet to fill a 150-inch screen. On the plus side, the 1.3x zoom and automatic keystone correction give it a fairly fast and easy setup as long as you have enough space for it.
The BenQ TK700 uses XPR technology to produce a true 4K resolution, paired with a high HDR contrast and a strong color gamut that covers about 96% of the Rec.709 spectrum.
This makes it a strong choice for home theater use, too, though you'll likely want to use an external speaker if you're going for a truly immersive experience.
Full review: BenQ TK700
---
ViewSonic PX701HDH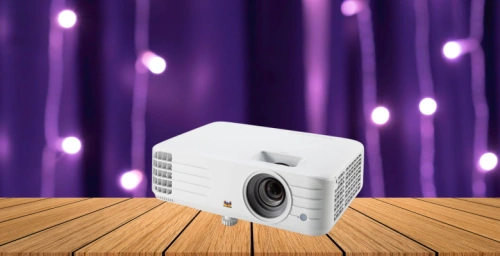 Pros
Precise image adjustment with vColorTuner
Bright lamp supports lights-on viewing
Flexible installation with zoom and lens shift
Supports active full HD 3D
Excellent value
Cons
No support for 4K content
Long throw distance
If you're looking for the best value in a projector for a 150-inch screen, the ViewSonic PX701HDH is a great choice. It supports all full HD content, including 3D content with active glasses.
Its color performance is especially impressive, using SuperColor technology for a wide color gamut and featuring a vColorTuner tool that lets users create their own custom color profiles.
The ViewSonic PX701HDH is also relatively flexible and easy to install. The 3,500-lumen bulb can compete with any light environment, and it includes a 5% vertical lens shift along with a 1.1x zoom and vertical keystone. Unfortunately, it does need a lot of space, even compared to other standard-throw projectors.
So long as you have room for it, though, the ViewSonic PX701HDH can handle all your entertainment needs. Its input lag is low enough even serious gamers can play without a worry.
It also does have a built-in speaker, and while the sound quality doesn't quite match what you'll get from a stand-alone speaker, it's loud enough you'll hear every sound effect and line of dialogue, even in a large space.
---
Optoma UHZ50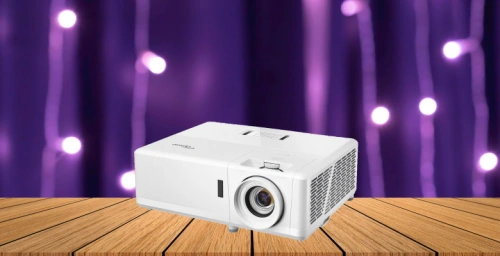 Pros
True 4K resolution with HDR10 and HLG support
Suitable for serious and professional gamers
Ideal brightness for indoor spaces
Vertical lens shift and 2D keystone correction
Wireless connectivity for streaming and voice control
Full HD 3D support
Cons
The UHZ50 uses a laser phosphor light source and DLP display for a consistently bright, sharp and colorful Ultra HD image for the entire 30,000-hour life of the laser.
There are also a lot of ways to customize the image, with four HDR picture modes, a brightness adjustment, and other settings to fine-tune the display.
The Optoma UHZ50 can also meet all of your entertainment needs. Its 3 HDMI ports include one with eARC compatibility, and all provide a fast 240Hz frame refresh rate and low lag for gaming.
It also has integrated wireless connectivity with a built-in media player and access to the Optoma Marketplace to download streaming apps. You can also mirror content through Creative Cast, and it supports IFTTT and voice control in smart home setups. For our more in-depth review of this projector, follow the link: http://projectortop.com/optoma-uhz50-review/
The main limitation of the Optoma UHZ50 is its throw distance, and you'll need a large room to achieve a 150-inch display. It's easier to set up than many standard-throw projectors, however.
This includes a 2D keystone correction of up to 30° as well as a 10% vertical lens shift and 1.3x zoom. It also supports curved screen projection and has a 3X3 anti-warp matrix to ensure an accurate image on any surface.
---
Epson LS800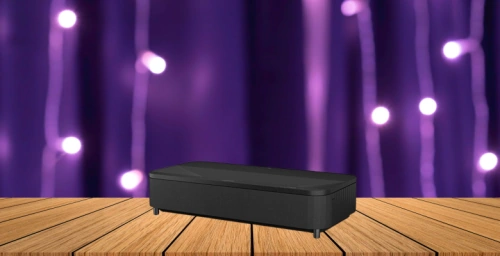 Pros
Vibrant Ultra HD image with no rainbowing
Bright lamp works in any light environment
Excellent sound from 2.1-channel speakers
Suitable for gaming
Ultra-short throw distance
Built-in streaming interface with Google Assistant voice search
Cons
Limited image alignment options
Higher cost
The 4,000-lumen lamp of the Epson LS800 won't get washed out even by bright natural light, making it a great choice for backyard movies and other outdoor environments.
That picture is phenomenal in any light level, with a 3LCD display that produces natural and accurate colors with no flickering or rainbowing. A built-in light sensor lets it automatically adjust the brightness and contrast to suit your space, ensuring the picture will look its best every time.
The Epson LS800 also offers true all-in-one capability. Its 2.1-channel Yamaha sound system includes a dedicated woofer for low-end power, along with dual 5-watt full.range drivers for clear dialogue and music.
The Android TV interface, meanwhile, lets you stream content directly through platforms like Prime Video, Hulu, Disney+, and more.
With its ultra-short throw lens, the Epson LS800 can fill a 150-inch screen from less than two feet away. While it lacks the image adjustment features of other projectors, this short throw means most users won't miss them, and it's fast and easy to set up on an entertainment center or table.
The only major downside of the LS800 is its price, which is reasonable considering the impressive features of this projector but still significantly higher than the other models on this list.
More in-depth Epson LS800 review
---
ViewSonic X2000B-4K
Pros
Sharp and colorful 4K image
Ultra-short throw distance
Embedded wireless connectivity
Excellent sound from built-in speakers
Suitable for casual gaming
Full HD 3D support
Cons
Low lamp brightness
No built-in streaming or voice control
The ViewSonic X2000B-4K comes with a custom Harman Kardon sound system with dual 10-watt tweeters and 15-watt woofers, giving it a sound quality and output on par with most standalone soundbars.
It also has embedded Wi-Fi and two-way Bluetooth for wireless streaming from phones and other devices, though it unfortunately lacks a built-in media player that would give it all-in-one capability.
The LED light source of the ViewSonic X2000B-4K is paired with SuperColor+ technology and HDR10 support. The result is a remarkably realistic image, with a color gamut wider than the Rec.709 spectrum and a level of depth and texture that make it easy to get immersed in your movies.
It also can be used for casual gaming, though its input lag is on the high side for reflex-based games like first-person shooters.
The downside of this LED light source is it's not as powerful as other light sources. You can leave a few lights on while you watch, but it's not a great choice for bright spaces.
On the plus side, you won't need much space to use the ViewSonic X2000B-4K thanks to its ultra-short throw distance. For our more in-depth ViewSonic X2000B-4K review, follow the link: http://projectortop.com/viewsonic-x2000b-4k-review/
---
Choosing the Best Projector for 150-inch Screen
If money is no object, it's hard to beat the Epson LS800 (>>> Check on ProjectorScreen.com). That said, not everyone has three grand to spend on a projector. The budget-friendly ViewSonic PX701HDH nearly matches the brightness of the LS800, and can also be used for both movies and gaming.
For a short throw at a lower price, the BenQ TH690ST is a top choice, while the Optoma UHZ50 is a great choice for smart home owners. We hope this review has helped you find your next projector!
Related Guides:
FAQs
What's the difference between a lamp, laser, and LED light source?
From the user's perspective, the main differences are brightness, longevity, and efficiency. Lamp-based projetors tend to be brighter, but they also use the most energy and have the shortest lifespans. An LED light source is the most efficient and lasts the longest, but also can't typically get brighter than around 2,000 lumens.
What is the rainbow effect?
This is an image issue that can be caused by projectors using color wheels. Some users will see color flashes around the image or a faint flickering that interrupts the picture. If you're sensitive to this effect, an LED projector or a 3-chip laser projector will ensure you avoid that issue.
What 3D glasses should I get for a projector?
That depends on which projector you get. Many of these options, like the Optoma UHZ50 or ViewSonic X2000, will work with most styles of 3D glasses, including the passive style you'd get at a movie theater.
Others, like the ViewSonic PX701HDH, will only work with active glasses, which have extra hardware to filter the left and right images right in the glasses, rather than on the display. If you're not sure which style to get, check the projector manual to see what kind of 3D content it supports.