The TH line of projectors from BenQ are designed with gamers in mind, combining a high refresh rate and low input lag with a sharp, high-contrast, colorful picture that lets players get fully immersed in the game environment. The TH690ST adds a short throw distance to those impressive features, giving it the versatility to bring big-screen entertainment to almost any space. In this BenQ TH690ST review we'll break down the full features of this impressive projector so you can decide if it's the best fit for your home, budget, and entertainment needs (>>> Check on Amazon).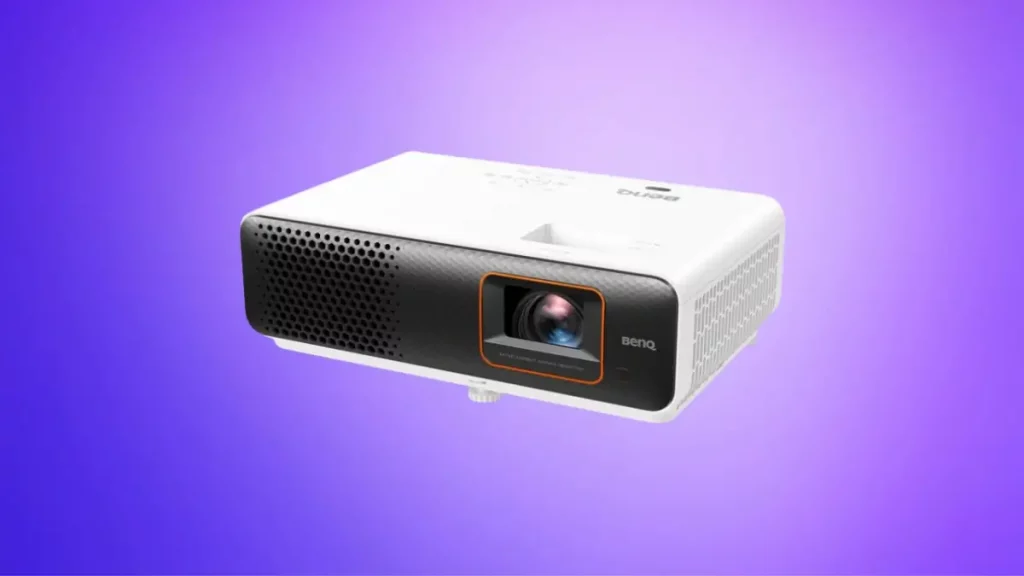 BenQ TH690ST Review of Main Specs:
| | BenQ TH690ST |
| --- | --- |
| | |
| Resolution | 1920x1080 |
| Contrast | 500,000:1 |
| Brightness (Lumens) | 2,300 ANSI |
| Input lag | 8.3ms |
| Throw Distance | 3'3" - 10'11" |
| Screen size | 60" - 200" |
| Speakers | 10.0 Watts Mono |
| Today's Best Price | BHPhotoVideo.com |
Space Requirements and Installation
The BenQ TH690ST uses a 4LED light source, as opposed to the lamp or laser used in other projectors. This gives its light source a long usable lifespan, lasting up to 30,000 hours and producing a consistent brightness and image quality throughout that timespan.
The down side of this technology is that LED bulbs simply aren't as powerful as other light source designs. The TH690ST has a maximum consistent brightness of 2,300 lumens. That's fine in a dark space, and can maintain a strong image with a few lamps on, but it will struggle to compete with bright overhead lights or natural light through windows.
While it may require some light control, the short throw distance of the BenQ TH690ST gives it good versatility across different sizes of space. It can fill a 100-inch screen with around 5-6 feet of distance, and supports both ceiling-mounted and table top installations. The 1.3x zoom and 2D keystone correction allow for fine-tuning of the image so you can quickly and easily set it up and start playing or watching.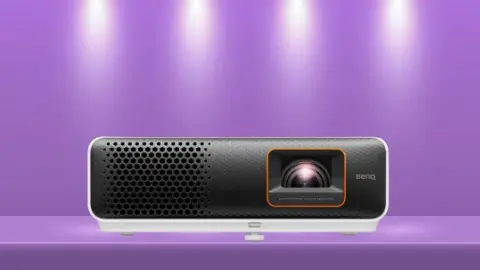 Pros
High image contrast with nuanced, vibrant colors
Low input lag and high refresh rate for gamers
Short throw distance
Easy to install and use
Low-maintenance with a long light source lifespan
Cons
4K content is downgraded to full HD
Lamp isn't powerful enough for bright spaces
Image Quality
The BenQ TH690ST uses a DLP display that produces a full HD resolution. It does accept content up to 4K, though higher-resolution videos will be downgraded to 1080p, so you will lose some detail for this type of content.
The 4LED light source is an advantage when it comes to the image color. It produces a broad color spectrum for nuanced, realistic hues, covering 98% of the Rec.709 spectrum and roughly 84% of the DCI-P3 spectrum. This is paired with a high native image contrast that brings the same level of detail and color accuracy to dark screen areas.
Gaming Performance
Here's where the BenQ TH690ST really shines. Activating Game Mode drops the input lag as low as 8.3ms with a 120Hz frame refresh rate. The result is an incredibly responsive display that's smooth with no noticeable lag, even when you're playing games on the latest consoles.
Activating Game Mode doesn't just cut down on lag, either. It also gives users multiple image modes to optimize the picture to your space. The high image contrast is a plus here, too, with great detail and sharpness across the picture, even in shadowy screen areas.
Sound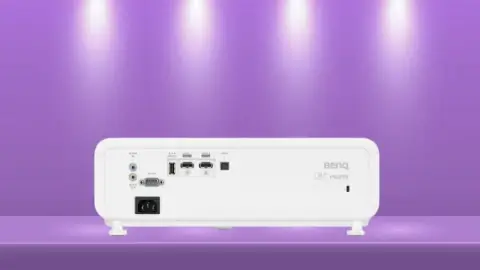 The BenQ TH690ST has two built-in 5-watt TreVolo chambered speakers. These give it a fairly balanced sound and have enough volume output to be clearly audible. While they're not going to give you a full surround sound experience, most users will find their output and sound quality acceptable for basic TV watching or gaming. If you'd prefer to use external speakers, the 3.5mm mini jack makes them easy to connect.
BenQ TH690ST Review In Summary
At an MSRP of just over $1,000, the BenQ TH690ST is reasonably priced compared to other gaming projectors, especially if you need a model with a short throw lens. While it lacks 4K resolution, it can play 4K content and produces a clear and colorful full HD image, so you won't miss details in either movies or games. It can also handle some lights-on use, though it's not the best choice for bright spaces. Whether it's the perfect projector for you all comes down to your space and how you plan to use your projector (>>> Find on Bhphotovideo).
REFERENCES AND FURTHER READING: