In the past, home theater projectors weren't very responsive, with a long delay for user input that made them unusable for gamers. Improvements in the technology over the last 10 years have slowly chipped away at this lag, and you'll find a lot of models on today's projector market designed specifically for gamers.
Looking at all the features combined, we'd say the BenQ TK700STi is the best gaming projector, with a low input lag, high frame refresh rate, flexible installation, and dedicated picture modes to optimize the display to your game style (>>> Find on Amazon). That's not to say it's the only option out there, though. We've picked out the top gaming projectors you'll find on the market today and reviewed them below. If you want to take your gaming to the big screen, one of these models is sure to be your answer!
Best Gaming Projector 2022 – Top Picks:
| | Optoma UHD50X | Optoma UHD38 | Optoma GT1090HDR | Optoma UHZ50 | BenQ TK700STi | Optoma UHD30 |
| --- | --- | --- | --- | --- | --- | --- |
| | | | | | | |
| Resolution | 3840x2160 | 3840x2160 | 1920x1080 | 3840x2160 | 3840x2160 | 3840x2160 |
| Brightness (Lumens) | 3,400 ANSI | 4,000 ANSI | 4,200 ANSI | 3,000 ANSI | 3,000 ANSI | 3,400 ANSI |
| Contrast Ratio | 500,000:1 | 1,000,000:1 | 300,000:1 | 2,500,000:1 | 10,000:1 | 500,000:1 |
| Throw Distance | 4.0' - 26.6' | 4.0' - 32.7' | 1.3' - 10.9' | 4.0' - 26.6' | 2.4' - 19.6' | 4.2' - 33.0' |
| Screen size | 34" - 303" | 33" - 300" | 36" - 301" | 34" - 303" | 30" - 300" | 34" - 302" |
| Input Lag | 16ms | 4.2ms | 16ms | 4ms | 4ms | 16ms |
| Speakers | 5.0 Watts Mono | 10.0 Watts Mono | 10.0 Watts × 2 | 10.0 Watts × 2 | 5.0 Watts Mono | 5.0 Watts Mono |
| Price | ProjectorScreen.com | BHPhotoVideo.com | BHPhotoVideo.com | BHPhotoVideo.com | BHPhotoVideo.com | Check on Amazon |
Input Lag
Also called input latency, input lag is a measure of the delay between the user's input on the controller and seeing that action on the screen. Anything under 60ms is considered acceptable for casual gamers. Serious players look for an input lag of 30ms or lower—and, obviously, the lower, the better.
All of the projectors below register an input lag of 16ms or below, and are suitable for use by even competitive gamers. The Optoma UHD38 is impressive, with an input lag as low as 4.2ms for full HD content. The BenQ TK700STi and Optoma UHZ50 beat it out by a hair with a 4ms input lag, which is as close to instant as you'll find from a projector.
Lowest input lag:  BenQ TK700STi, Optoma UHZ50
Frame Rate
Where input lag tells you how long the signal takes to reach the screen, the frame rate determines how well that movement is represented on the screen. A low frame rate can lead to choppiness, blurriness, and other issues that can be frustrating when you're playing.
All of the projectors below offer at least a 120Hz refresh rate for Full HD content, and the BenQ TK700STi, Optoma UHZ50, and Optoma UHD38 have a 240Hz refresh rate at full HD. The standouts on this front are the Optoma UHD50X and UHD30. They match the 240Hz 1080p refresh rate of the models above, with a refresh rate of 120Hz at 4K resolution, double the 60Hz 4K refresh rate of the other models.
Highest frame rate: Optoma UHD50X, Optoma UHD30
Image Quality
Most people talk about a projector's image quality in a home theater context, but this can be just as important for gaming. A sharp, accurate picture with high detail and clarity makes it easier to spot enemies and loot. High contrast is especially important for games, especially those in the horror genre and other games with lots of dark areas.
For the ultimate image quality, you want to look for a 4K resolution, which you'll get from most of the projectors below. Both the Optoma UHD38 and Optoma UHD50X have a high image quality for movies, with a strong color gamut and contrast to match their Ultra HD resolution. For gamers, however, the multiple game display modes of the BenQ TK700STi give it the edge, ensuring rich black levels and good detail in shadows for RPGs or first-person shooters, with excellent realism and smooth action for sports games.
Best image quality:  BenQ TK700STi
Brightness
Unless you want to game in the dark, you'll need a projector that can compete with ambient light. While you can get away with as little as 1,500-2,000 lumens in low light levels, a brightness of 3,000 lumens or higher is recommended for the typical light level in a living room or similar space.
All of the projectors on this list are bright enough for lights-on viewing. If you're looking for the brightest, the 4,000 lumens of the Optoma UHD38 will produce a clear, saturated image even in full daylight.
Brightest projector:  Optoma UHD38
---
Optoma UHD50X

The Optoma UHD50X is a versatile and responsive option in the mid-range price point. It's a great value for anyone who wants to game in 4K. While it's more responsive in Full HD, with a 16ms lag and 240Hz frame refresh rate, the lag only goes up to 26ms in 4K—still fast enough for serious gamers.
The picture quality of the Optoma UHD50X is high, too. Its true 4K resolution is enhanced by the use of Dynamic Black technology, which optimizes the lamp's output and enhances the contrast. Along with rich black levels, you'll get vibrant, true-to-life colors from all content sources, with support for both HLG and HDR10.
With a bright 3,400 lumen lamp, the Optoma UHD50X is also an excellent choice for lights-on viewing and multi-use spaces like media rooms and living rooms. Since it's a standard throw projector it does need a good amount of space (between 8 and 11 feet for a 100" screen). As long as you have enough room, it's relatively flexible in terms of installation, with manual zoom and focus controls along with vertical lens shift and keystone correction. Click here for our more detailed review of the Optoma uhd50x.
Pros
Low input lag even when gaming at 4K
Ultra-fast 240Hz frame refresh rate
Wide color gamut with HDR10 and HLG support
Lens shift and zoom for flexible installation
Dynamic Black technology for high contrast ratio
Compatible with current systems like PS5 and Xbox Series X
Cons
Use of color wheel may cause rainbow effect
Long throw distance
---
Optoma UHD38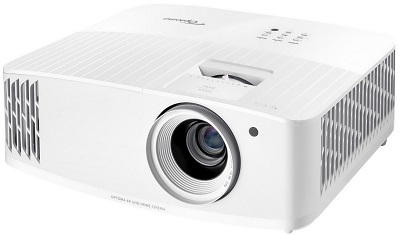 The Optoma UHD38 uses a DLP display with XPR technology that produces the full 8.3 million on-screen pixels of true Ultra HD resolution. This sharp detail isn't only for 4K content, either, thanks to its upscaling technology for lower-resolution content. The Dynamic Black contrast gives the display rich black levels, with Rec.2020 and HLG support for accurate, realistic color. You can tailor the display to meet your needs with picture modes including Normal, Bright, Film, and Detail.
The responsiveness of the Optoma UHD38 is its main strength for gamers. Its input lag for 1080p content is in the single digits, with a high 240Hz refresh rate for smooth on-screen action. The lag is still very reasonable for 4K content, at 16.7ms, on par with other high-end gaming projectors.
With its 4,000-lumen lamp, the Optoma UHD38 can maintain a high picture quality even in bright spaces. It is a standard throw projector so will need a larger space, and its installation flexibility is unfortunately somewhat limited. It does have 4-corner geometric correction but the zoom is narrow and there are no options like lens shift to help align the image.
Pros
Super-low input lag with high frame refresh rate
High-contrast true 4K image with HDR and HLG support
Upscales lower resolution content to near-4K
Multiple picture modes to fine-tune the image
Bright lamp works in any viewing space
Four-corner keystone correction
Cons
No built-in wireless connectivity or streaming
Long throw distance with limited image adjustment options
---
Optoma GT1090HDR

The Optoma GT1090HDR is a good fit for any space—and sells at a price that will fit into most buyers' budgets. Its short throw ratio produces a 100" screen from about 4 feet away, with a powerful 4,200 lumen lamp that won't get washed out even in full daylight. Basically, you can use it anywhere and get the same great picture.
The automatic keystone correction on the Optoma GT1090HDR is a handy feature, taking a lot of the time and frustration out of aligning the image. Not only is it easy to install, it's equally hassle-free in the long term. It uses a DuraCore laser with a lifespan of up to 30,000 hours. The dust resistance is exceptional, as well, with an IPX6 rating. In layman's terms, this is a no-fuss, maintenance-free projector.
You can watch 4K content on the Optoma GT1090HDR, but keep in mind it has a native resolution of 1080p (full HD), so it will be downgraded in quality. It still supports technology like HLG and HDR10 for color and has a high contrast ratio, as well as full support for 3D content from all sources. It's also one of the most consistently responsive projectors on the list, with an input lag around 16ms across systems and picture settings. Click here for our full Optoma GT1090HDR review.
Pros
Consistently low input lag in all image modes
Durable and low-maintenance design
Bright lamp suitable for any light level
Short throw ratio gives it lots of installation flexibility
Automatic keystone correction
Supports 4K input and 3D content
Cons
No 4K resolution
May cause rainbow effect for sensitive viewers
---
Optoma UHZ50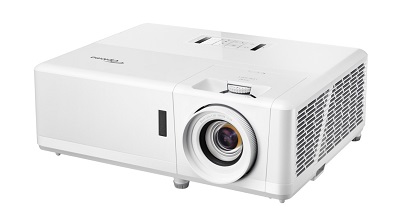 Here is another highly responsive projector from Optoma. In Enhanced Gaming Mode, the UHZ50 has an input lag of only 4ms in full HD, with a fast 240Hz refresh rate, with a 60Hz frame rate and 16.7ms input lag in 4K.
The Optoma UHZ50 uses a laser phosphor light source that has a long lifespan and produces sharp, bright, and vibrant images. Like other Optoma projectors, it uses a DLP display with support for HLG and HDR content, with exceptional dynamic contrast and enough brightness to maintain that picture even when you leave the lights on.
While the UHZ50 isn't quite a short-throw projector, it needs less space than most standard-throw projectors, producing a 100-inch image from as little as 8'9" away. It also has a 10% vertical lens shift, 2D keystone correction, and a 1.3x manual zoom, giving it a fast and easy overall installation. On the connectivity side, the option of wireless streaming, combined with 3 HDMI inputs, give users lots of options for how they get their content. For our more in-depth review of this projector, click here.
Pros
High image quality
Super-low lag in Enhanced Gaming Mode
Wireless connectivity with built-in streaming
Flexible installation with reasonable throw distance
Bright enough for most indoor environments
Speakers have good output and sound quality
Cons
Costs more than most projectors on the list
---
Optoma UHD30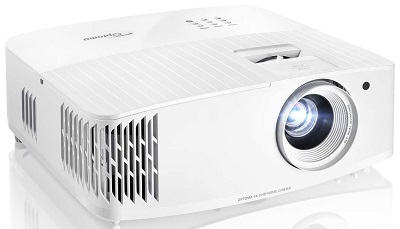 Another option from Optoma's UHD line, the UHD30 shares the low input lag and high frame rate of the UHD50X reviewed above. It's one of the best values in true 4K projectors, too, especially considering its impressive gaming specs. The picture quality of the Optoma UHD30 is on par with projectors in the $1,500-$2,000 price range, with a high contrast and UltraDetail enhancement along with true 4K resolution.
The colors on the Optoma UHD30 are vibrant and accurate, and it supports both HDR10 and HLG technologies. It does use a color wheel, something to be mindful of for those sensitive to the rainbow effect. For most, though, the picture is realistic with excellent depth and consistent brightness.
The only place the Optoma UHD30 falls short for us is its installation ease and flexibility. It's a standard throw projector, for one thing, so it needs a larger space and may require ceiling mounting. Its alignment and adjustment options are a bit limited, too, with no lens shift and only a 1.1x zoom. Click here for our more detailed review of the Optoma UHD.
Pros
Excellent option for 4K gaming
Wide color gamut with 8-segment color wheel
High contrast with UltraDetail enhancement
Fast frame refresh rate (240Hz at 1080p)
Plays 3D content in full HD
Cons
Long throw distance
Narrow zoom and no lens shift
---
BenQ TK700STi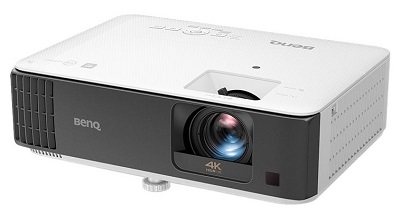 BenQ is a leading name in gaming projectors, and their TK700STi is a top choice for serious players. This starts with its responsiveness, with a 240Hz refresh rate and low 4ms input lag that let you get fully immersed in your game with no delays or other issues. You can also optimize the display to match your style of play, with dedicated picture modes for first-person shooters, sports games, and RPGs that enhance the detail and realism.
We also appreciate the flexibility of the BenQ TK700STi. Its 3,000-lumen lamp is bright enough to use in most spaces and it has a short throw distance, producing a 100-inch image with around 6.5-7 feet between the lens and screen. Combined with its 2D keystone correction and 1.2x zoom, this makes it fairly easy to install in any home.
The BenQ TK700STi comes with an Android TV dongle that gives it direct streaming capability. However, you will need to use one of the 2 HDMI inputs for this, which may be an issue for more complex set-ups. This is also a projector you'll definitely want to use external speakers with. The 5-watt speaker that's built-in is on-par with most laptop speakers in its sound quality and volume output, not ideal for gaming and movies. For our more in-depth review of the BenQ TK700STi, click here.
Pros
Dedicated picture modes for RPGs, FPS, and sports games
Low input lag with high frame refresh rate
4K resolution
Full coverage of Rec.709 color spectrum
Short throw distance
Android TV dongle for streaming
Cons
Limited image adjustment options
Weak built-in speaker
---
So What's the Best Gaming Projector?
Deciding on the best gaming projector is ultimately a personal and subjective decision. We'd say that the BenQ TK700STi currently is the best gaming projector (>>> Check on Projectorscreen). Anyway, all of the projectors reviewed above have the low lag, smooth frame rate, and strong contrast gamers need from a projector. The difference between them really comes down to their installation ease, price, and extra features like direct streaming. We hope this review has helped you decide which one best fits your needs!
REFERENCES AND FURTHER READING: