In the past, home theater projectors weren't very responsive, with a long delay for user input that made them unusable for gamers. Improvements in the technology over the last 10 years have slowly chipped away at this lag, and you'll find a lot of models on today's projector market designed specifically for gamers.
Looking at all the features combined, we'd say the Optoma UHD50X is the best gaming projector, offering a low input lag and high frame rate along with 4K resolution, and at a reasonable price. (>>> Find it on Amazon) That's not to say it's the only option out there, though. We've picked out the top gaming projectors you'll find on the market today and reviewed them below. If you want to take your gaming to the big screen, one of these models is sure to be your answer!
Best Gaming Projector – Top Picks for 2021:
| | Optoma UHD50X | Epson EpiqVision Ultra LS500 | Optoma GT1090HDR | BenQ TH685i | Optoma UHD30 | Optoma HD28HDR |
| --- | --- | --- | --- | --- | --- | --- |
| | | | | | | |
| Resolution | 3840x2160 | 1920x1080 4K w/pixel shifting | 1920x1080 | 1920x1080 | 3840x2160 | 1920x1080 |
| Brightness (Lumens) | 3,400 ANSI | 4,000 ANSI | 4,200 ANSI | 3,500 ANSI | 3,400 ANSI | 3,600 ANSI |
| Contrast Ratio | 500,000:1 | 2,500,000:1 | 300,000:1 | 10,000:1 | 500,000:1 | 50,000:1 |
| Throw Distance | 4.0' - 26.6' | 0.7' - 1.9' | 1.3' - 10.9' | 3.2' - 24.6' | 4.2' - 33.0' | 3.3' - 32.2' |
| Screen size | 34" - 303" | 70" - 130" | 36" - 301" | 30" - 300" | 34" - 302" | 28" - 301" |
| Input Lag | 16ms | 16.7ms | 16ms | 8ms | 16ms | 8ms |
| Speakers | 5.0 Watts Mono | 10.0 Watts × 2 | 10.0 Watts × 2 | 5.0 Watts Mono | 5.0 Watts Mono | 3.0 Watts Mono |
| Price | Check on Amazon | Check on Amazon | Check on Amazon | Check on Amazon | Check on Amazon | Check on Amazon |
Input Lag
Also called input latency, input lag is a measure of the delay between the user's input on the controller and seeing that action on the screen. Anything under 60ms is considered acceptable for casual gamers. Serious players look for an input lag of 30ms or lower—and, obviously, the lower, the better.
All of the projectors below register an input lag of 30ms or below, and are suitable for use by even competitive gamers. The BenQ TH685i registers the lowest lag at 8.3ms, beating the 8.4ms of the Optoma HD28HDR by a slim margin.
Lowest input lag: BenQ TH685i
Frame Rate
Where input lag tells you how long the signal takes to reach the screen, the frame rate determines how well that movement is represented on the screen. A low frame rate can lead to choppiness, blurriness, and other issues that can be frustrating when you're playing.
Most of the projectors below offer at least a 120Hz refresh rate for Full HD content. The standouts on this front are the Optoma UHD50X and UHD30. Their frame rate is 120Hz at 4K resolution, doubling to 240Hz when you drop the resolution to 1080p.
Highest frame rate: Optoma UHD50X, Optoma UHD30
Image Quality
Most people talk about a projector's image quality in a home theater context, but this can be just as important for gaming. A sharp, accurate picture with high detail and clarity makes it easier to spot enemies and loot. High contrast is especially important for games, especially those in the horror genre and other games with lots of dark areas.
For the ultimate image quality, you want to look for a 4K resolution, which you'll get from three projectors below: the Optoma UHD50X, Optoma UHD30X, and Epson LS500. All three also have HDR10 support and a wide color gamut, with coverage for the entire Rec. 709 spectrum. While the picture quality from the Optoma models is fantastic, the Epson LS500 edges them out thanks to its impressively high contrast ratio and 3LCD chip color technology.
Best image quality: Epson EpiqVision Ultra LS500
Brightness
Unless you want to game in the dark, you'll need a projector that can compete with ambient light. While you can get away with as little as 1,500-2,000 lumens in low light levels, a brightness of 3,000 lumens or higher is recommended for the typical light level in a living room or similar space.
All of the projectors on this list are bright enough for lights-on viewing. If you're looking for the brightest, the 4,000 lumens of the LS500 will produce a clear, saturated image even in full daylight.
Brightest projector: Epson EpiqVision Ultra LS500
Optoma UHD50X

The Optoma UHD50X is a versatile and responsive option in the mid-range price point. It's a great value for anyone who wants to game in 4K. While it's more responsive in Full HD, with a 16ms lag and 240Hz frame refresh rate, the lag only goes up to 26ms in 4K—still fast enough for serious gamers.
The picture quality of the Optoma UHD50X is high, too. Its true 4K resolution is enhanced by the use of Dynamic Black technology, which optimizes the lamp's output and enhances the contrast. Along with rich black levels, you'll get vibrant, true-to-life colors from all content sources, with support for both HLG and HDR10.
With a bright 3,400 lumen lamp, the Optoma UHD50X is also an excellent choice for lights-on viewing and multi-use spaces like media rooms and living rooms. Since it's a standard throw projector it does need a good amount of space (between 8 and 11 feet for a 100" screen). As long as you have enough room, it's relatively flexible in terms of installation, with manual zoom and focus controls along with vertical lens shift and keystone correction. Click here for our more detailed review of the Optoma uhd50x.
Pros
Low input lag even when gaming at 4K
Ultra-fast 240Hz frame refresh rate
Wide color gamut with HDR10 and HLG support
Lens shift and zoom for flexible installation
Dynamic Black technology for high contrast ratio
Compatible with current systems like PS5 and Xbox Series X
Cons
Use of color wheel may cause rainbow effect
Long throw distance
---
Epson EpiqVision Ultra LS500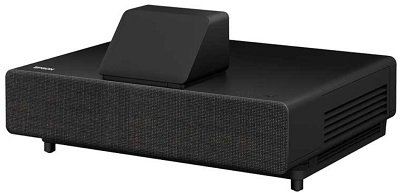 The Epson LS500 is the perfect choice for first-time projector owners who want a high-end home entertainment space. The multi-laser array and 3LCD chip design produce a sharp, realistic true 4K picture, with coverage for the full Rec. 709 color spectrum. Best of all, its advanced technology prevents annoying image issues like rainbowing or color brightness, letting you get fully immersed in the experience.
Like most laser projectors, the Epson EpiqVision Ultra LS500 has an ultra-short throw ratio. You only need 15" between the lens and screen for a 100" image, so you won't need to worry about ceiling-mounting or other complicated installation. It's a smart projector, too, with a built-in Android interface for downloading streaming apps and compatibility with Google Assistant. While its voice control functions are limited to searches, that's still a helpful option for smart home owners.
Some buyers might experience some sticker shock when they see the price of the LS500. Keep in mind, though, you also get a 100" screen included with the projector. And not just any screen, either. It's ambient-light reducing with glare reduction technology and a wide viewing angle perfect for viewing parties. While the LS500 might still be out of some buyers' budgets, it's worth the investment for a high-end home theater. Click here for our more detailed review of the Epson LS500.
Pros
True 4K resolution
3LCD design for bright colors with no rainbow effect
100" ALR screen included
Ultra-short throw for use in any space
Stream directly to projector through Android OS interface
Supports Google Assistant voice searches
Cons
High cost
Voice control options are limited
---
Optoma GT1090HDR

The Optoma GT1090HDR is a good fit for any space—and sells at a price that will fit into most buyers' budgets. Its short throw ratio produces a 100" screen from about 4 feet away, with a powerful 4,200 lumen lamp that won't get washed out even in full daylight. Basically, you can use it anywhere and get the same great picture.
The automatic keystone correction on the Optoma GT1090HDR is a handy feature, taking a lot of the time and frustration out of aligning the image. Not only is it easy to install, it's equally hassle-free in the long term. It uses a DuraCore laser with a lifespan of up to 30,000 hours. The dust resistance is exceptional, as well, with an IPX6 rating. In layman's terms, this is a no-fuss, maintenance-free projector.
You can watch 4K content on the Optoma GT1090HDR, but keep in mind it has a native resolution of 1080p (full HD), so it will be downgraded in quality. It still supports technology like HLG and HDR10 for color and has a high contrast ratio, as well as full support for 3D content from all sources. It's also one of the most consistently responsive projectors on the list, with an input lag around 16ms across systems and picture settings. Click here for our full Optoma GT1090HDR review.
Pros
Consistently low input lag in all image modes
Durable and low-maintenance design
Bright lamp suitable for any light level
Short throw ratio gives it lots of installation flexibility
Automatic keystone correction
Supports 4K input and 3D content
Cons
No 4K resolution
May cause rainbow effect for sensitive viewers
---
BenQ TH685i

If you're looking for the absolute lowest input lag on the list, the BenQ TH685i registers an impressively low 8.3ms. That's just about as close to instant as you'll find in a projector. This is paired with a 120Hz frame refresh rate that keeps the action smooth and prevents juddering or choppiness in even the most chaotic in-game moments.
Even the lamp of the BenQ TH685i is designed with gamers in mind. It's bright enough to stay vivid during lights-on play but employs LumiExpert technology to prevent the eye strain associated with excessive screen brightness. That's especially good news for those who tend to have marathon multi-hour playing sessions.
The Android TV interface on the BenQ TH685i gives you access to the 5,000+ apps of the Google Play store, including games along with content and music streaming apps. For console gaming, it's compatible with any system you can connect through HDMI or VGA. Both of these features are also useful for home theater purposes. Though we will say the picture isn't quite as sharp as some of the other options on the list, it's good enough to satisfy all but the pickiest movie buffs.
Pros
Super-low input lag
LumiExpert reduces eye strain during long playing sessions
Streams content directly through Android TV interface
Supports Chromecast and AirPlay for screen mirroring
Full 3D support
Compatible with both new and older consoles
Cons
Resolution and contrast aren't as sharp
Short lamp lifespan (4,000 hours in high performance modes)
---
Optoma UHD30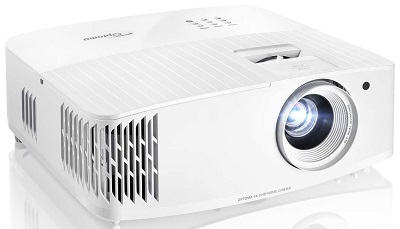 Another option from Optoma's UHD line, the UHD30 shares the low input lag and high frame rate of the UHD50X reviewed above. It's one of the best values in true 4K projectors, too, especially considering its impressive gaming specs. The picture quality of the Optoma UHD30 is on par with projectors in the $1,500-$2,000 price range, with a high contrast and UltraDetail enhancement along with true 4K resolution.
The colors on the Optoma UHD30 are vibrant and accurate, and it supports both HDR10 and HLG technologies. It does use a color wheel, something to be mindful of for those sensitive to the rainbow effect. For most, though, the picture is realistic with excellent depth and consistent brightness.
The only place the Optoma UHD30 falls short for us is its installation ease and flexibility. It's a standard throw projector, for one thing, so it needs a larger space and may require ceiling mounting. Its alignment and adjustment options are a bit limited, too, with no lens shift and only a 1.1x zoom. Click here for our more detailed review of the Optoma UHD.
Pros
Excellent option for 4K gaming
Wide color gamut with 8-segment color wheel
High contrast with UltraDetail enhancement
Fast frame refresh rate (240Hz at 1080p)
Plays 3D content in full HD
Cons
Long throw distance
Narrow zoom and no lens shift
---
Optoma HD28HDR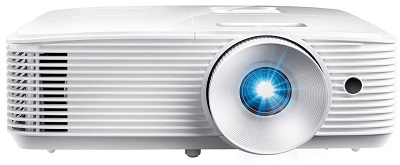 Gamers on a budget will want to check out the Optoma HD28HDR. It's 8.4ms input lag and 120Hz refresh rate make it the most responsive projector in the under-$1,000 price point. Along with an Enhanced Gaming Mode, it has a Game Display Mode that boosts visibility in dark areas, perfect for seeing obstacles and opponents.
The picture quality of the Optoma HD28HDR is impressive for the price, too. The use of Dynamic Black and HDR10 technologies add to the clarity and accuracy of the image. Its color gamut is narrower than the models above, but its 6-segment color wheel still covers most of the Rec. 709 spectrum and the bright lamp ensures full saturation on the screen. It plays all content with the same Full HD resolution, including 3D content and 4K input.
Installing the Optoma HD28HDR can be tricky, especially for those without much A/V experience. It may need to be ceiling-mounted because of the long throw, and its alignment options are limited to a 1.1x zoom and vertical keystone correction. That's an annoyance most people are willing to deal with, though, considering its fantastic gaming stats and affordable price. Click here for a more detailed review of the Optoma HD28HDR. 
Pros
Low input lag and high frame refresh rate
Bright lamp supports lights-on viewing
Game Display Mode boosts detail in dark areas
Supports 4K and 3D content
Best value
Cons
Limited image adjustment options
Comparatively low contrast and resolution
---
So What's the Best Gaming Projector?
Deciding on the best gaming projector is ultimately a personal and subjective decision. We'd say that the Optoma UHD50X currently is the best gaming projector. (>>> Find on Amazon) Anyway, all of the projectors reviewed above have the low lag, smooth frame rate, and strong contrast gamers need from a projector. The difference between them really comes down to their installation ease, price, and extra features like direct streaming. We hope this review has helped you decide which one best fits your needs!
REFERENCES AND FURTHER READING: