Do you want a projector that can handle both games and movies with ease? Then Optoma's got you covered. These versatile projectors have the features to meet your home entertainment needs, with a high picture quality, low lag, and flexible installation.
Looking at the Optoma UHZ50 vs. UHD50X side by side, the UHZ50 will be the better choice for most, especially smart home owners and gamers (>>> Check on Amazon). This isn't to say the UHD50X is a bad choice, though. Let's take a closer look at the specs so you can see how they differ.
Optoma UHZ50 vs UHD50X Side by Side:
| | Optoma UHZ50 | Optoma UHD50X |
| --- | --- | --- |
| | | |
| Resolution | 3840x2160 | 3840x2160 |
| Brightness (Lumens) | 3,000 ANSI | 3,400 ANSI |
| Contrast Ratio | 2,500,000:1 | 500,000:1 |
| Input Lag | 17ms | 25ms |
| Throw Distance | 4.0' - 26.6' | 4.0' - 26.6' |
| Screen size | 34" - 303" | 34" - 303" |
| Speakers | 10.0 Watts × 2 | 5.0 Watts Mono |
| Today's Best Price | BHPhotoVideo.com | |
Brightness
The Optoma UHZ50 uses a 3,000-lumen laser phosphor light source. This is bright enough for most indoor light environments, so you can use it with the lights on without sacrificing picture quality. For brighter spaces, the 3,400-lumen lamp of the Optoma UHD50X will be the better choice, maintaining full saturation even if there are a few windows or bright lights in your viewing area.
Brighter projector: Optoma UHD50X
Gaming Performance
For casual gamers, either of these projectors will work beautifully. The Optoma UHD50X has a measured input lag of around 16ms in full HD, or about 26ms in 4K, coming in under the 30ms threshold that's ideal for reflex-based gaming. Its 240Hz frame refresh rate helps here, too, keeping the on-screen movement smooth and blur-free.
While the UHD50X performs well for games, the Optoma UHZ50 is even better. Its input lag in full HD is an impressive 4ms, as close to zero as you're likely to find on the current projector market. This only goes up to around 17ms in 4K, and it has the same fast 240Hz refresh rate. That's great news for online multiplayer and professional or competitive gamers.
Better for gaming: Optoma UHZ50
Smart Features
The choice between the UHD50X and UHZ50 is obvious for smart home owners. The UHD50X doesn't have any built-in voice control or home automation support. Conversely, the Optoma UHZ50 has built-in support for Alexa and Google Action voice control. This isn't limited to voice searches, either, but includes custom skills and routines. It also supports IFTTT, allowing for seamless integration with other smart home devices.
Better smart features: Optoma UHZ50
Sound
This may not be a concern if you already have a surround sound system or other speakers. If you plan to use the projector's speakers, though, the 5-watt speaker installed in the Optoma UHD50X will prove disappointing, with a low output and sound quality. The 20-watt speakers in the Optoma UHZ50 are on par with a standalone Bluetooth speaker—not perfect, but loud and clear enough for casual TV and movie watching.
Better built-in sound: Optoma UHZ50
---
Optoma UHZ50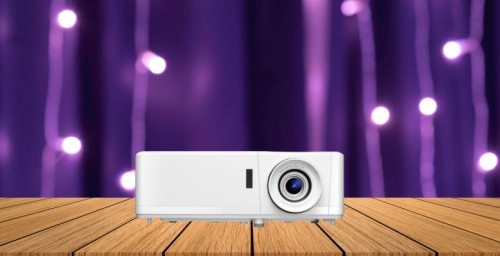 The Optoma UHZ50 is an excellent multi-purpose projector for a home entertainment system. For movies and TV shows, it has a crisp true 4K resolution with cinematic color and a high dynamic contrast. The 4 HDR picture modes give users more control over the picture and can be quickly adjusted while you're watching. Gamers will be equally impressed by the UHZ50. It has an input lag as low as 4ms in full HD, and a reasonable 17ms in 4K.
The 3,000-lumen lamp is bright enough to produce a fully-saturated, sharp image even with the lights on. As a standard-throw projector, it will need a good amount of space (at least 9 feet for a 100" screen). It gives good flexibility within that space, however, with a 10% vertical lens shift and 2D keystone correction along with manual zoom and focus controls.
The Optoma UHZ50 is just as easy to integrate into smart home systems. You can control it with your voice through Alexa or Google Action, including custom skills and commands, not just voice searches. It also supports IFTTT, expanding your options for integration into home automation routines and connection with other smart devices. Related comparison: Optoma UHZ45 vs UHZ50
Pros
True 4K resolution with high dynamic contrast
Vibrant, accurate colors with HLG and HDR
Bright enough for any indoor light environment
Low input lag, even in 4K
Supports voice control and IFTTT
Flexible installation
Cons
Long throw distance
Higher cost
---
Optoma UHD50X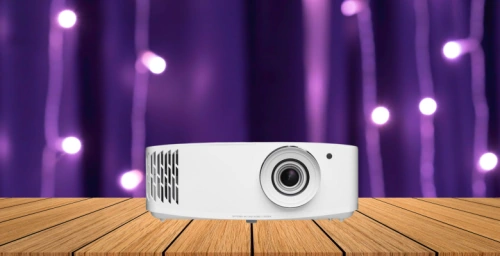 Visually, the Optoma UHD50X is impressive. Its true 4K display uses an enhanced 8-segment color wheel, displaying the full range of the DCI-P3 spectrum. HDR content is further enhanced by the Rec.2020 tone mapping, ensuring the accuracy and realism of the image, with dynamic black contrast for improved clarity and sharpness.
The Optoma UHD50X can also be used for gaming. Its input lag of around 25ms is fast enough most players won't notice any delay, even when playing the latest generation consoles in 4K. Along with this low lag it has a 240Hz refresh rate, for smooth on-screen movement with no blur or other image issues.
Like the UHZ50 above, the UHD50X has a standard throw distance, needing around 9-11 feet for a 100" image. It also has lens shift and keystone correction, though, so it's flexible to install as long as your space is big enough. It's not as great a choice for smart homes, though, with no voice control or automation support.
Pros
True 4K resolution with dynamic iris contrast
Enhanced color wheel (full DCI-P3 spectrum)
UltraDetail enhancement and HDR tone mapping
Bright lamp for saturated picture in any indoor space
Low enough lag for most games and gamers
Cons
Weak built-in speaker
No voice control or smart home integration options
---
The Bottom Line: Optoma UHZ50 vs UHD50X
Both the Optoma UHZ50 and the UHD50X offer an easy, flexible installation and versatile performance, with sharp true 4K resolution for home theaters and the responsiveness that gamers need. Based solely on performance, the UHZ50 is the superior projector. It also sells at a higher price point, though, with an MSRP about twice that of the UHD50X and a similar disparity in their street value. This makes the UHD50X the better value, especially for those who don't plan to use the home automation features of the UHZ50 (>>> Find on ProjectorScreen.com).