When it comes to buying a projector, how and where you plan to use it is as important as the specifications. Looking at the Optoma UHZ45 vs UHZ50, you'll see they're both built to excel in a multi-purpose entertainment space, combining a 4K resolution and high picture quality for movies with the responsiveness you need for lag-free gaming.
Looking at their performance, the Optoma UHZ50 will be the better choice for most, with more modern connectivity and a more flexible setup (>>> Check on Amazon). However, the Optoma UHZ45 typically sells for a few hundred dollars less, making it the better value for those who don't need wireless connectivity. Want to go deeper? Let's look at their main differences.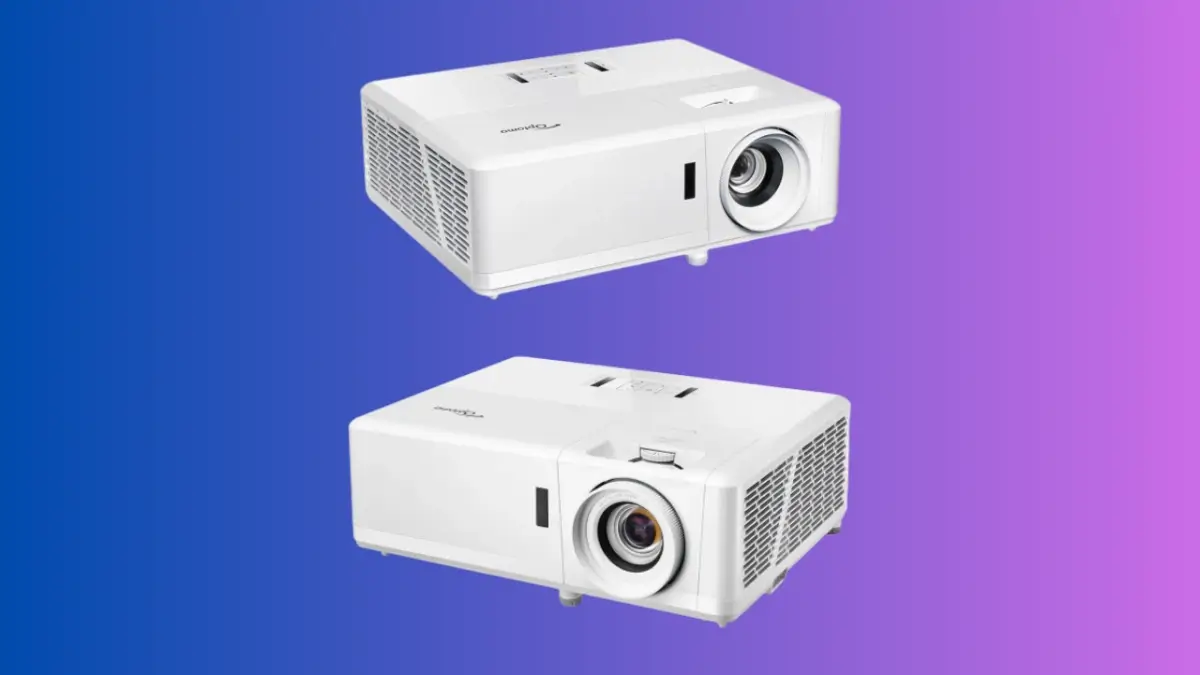 In This Comparison:
Optoma UHZ45 vs. UHZ50 Specs:
| | Optoma UHZ45 | Optoma UHZ50 |
| --- | --- | --- |
| | | |
| Resolution | 3840x2160 | 3840x2160 |
| Contrast | 2,000,000:1 | 2,500,000:1 |
| Brightness (Lumens) | 3,800 ANSI | 3,000 ANSI |
| Input lag | 4ms | 4ms |
| Throw Distance | 4.0' - 32.7' | 4.0' - 26.6' |
| Screen size | 33" - 300" | 34" - 303" |
| Speakers | 10.0 Watts × 2 | 10.0 Watts × 2 |
| Today's Best Price | | |
Brightness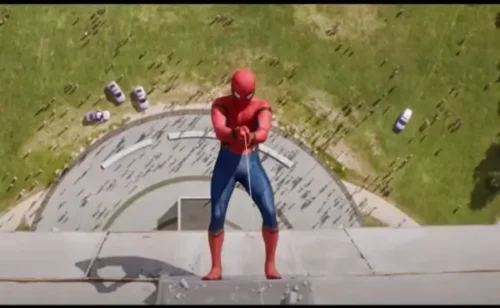 The 3,000-lumen lamp of the Optoma UHZ50 is bright enough for most indoor environments. You definitely won't need to turn all the lights off, and it can handle some natural sunlight, avoiding the need for blackout curtains in most spaces. For bright viewing areas, though, the 3,800-lumen Optoma UHZ45 has the extra power you need, making it the better option for partially outdoor spaces, or those who want a projector they can take outside for movies and block parties.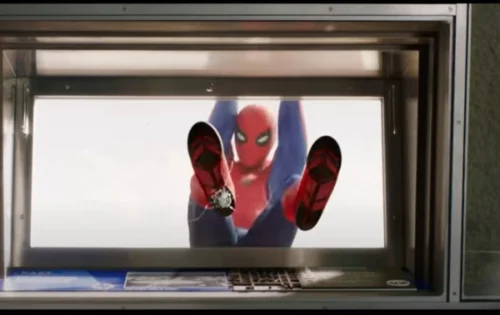 Brighter projector: Optoma UHZ45
Installation Flexibility
The lenses of these two Optoma projectors are similar, and both have what's called a standard throw distance, meaning they'll need a good amount of space to produce a large picture. There are more options for adjusting that image on the Optoma UHZ50, though. It has a wider zoom, for one thing, which functionally reduces its required throw distance. It also adds lens shift and other alignment options you won't find on the UHZ45, making it faster and easier to set up in smaller rooms or spaces with an odd layout.
More flexible installation: Optoma UHZ50
Smart Features
There is no wireless connectivity on the Optoma UHZ45. It's not built in to the Optoma UHZ50, either, but it does come with a Wi-Fi adapter. The UHZ50 is also set up for compatibility with smart home systems, including Alexa- or Google-based voice commands as well as automation routines through IFTTT. While it still doesn't have features like direct streaming or content mirroring, this array of voice command options makes it easy to integrate into smart home systems.
Better smart features: Optoma UHZ50
---
Optoma UHZ45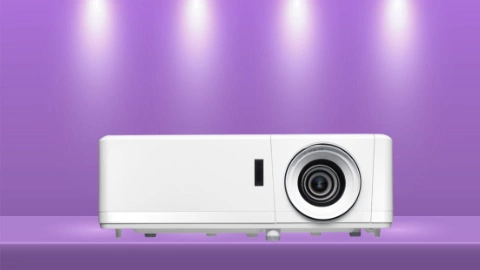 The Optoma UHZ45 is the perfect projector for an all-purpose entertainment space. Its high lamp brightness means it doesn't need a dedicated home theater space, and you can leave the lights on and the windows uncovered without ruining the picture. You can also use it for just about any type of content. Not only does it have a native 4K resolution, it also supports 3D content using any of the 4 common formats. It also has an input lag as low as 4ms with a 120Hz refresh rate in full HD, so gamers won't need to worry about added lag.
While it's flexible when it comes to content, the Optoma UHZ45 isn't quite as versatile when it comes to the physical space. It has a relatively long throw distance for a laser projector, needing around 10-12 feet for a 100-inch screen. (Check out this roundup review if you're looking for the best laser projector)The alignment features are basic, limited to a 4-corner adjustment and 1.1x zoom, so it can be tricky to set up in some spaces.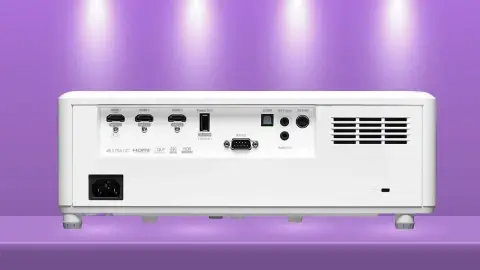 The 3 HDMI ports on the Optoma UHZ45 are another reason it's great for multi-purpose spaces. You can connect a game system, streaming stick, and cable box all at the same time and switch between them quickly. The unfortunate thing is you will need to use external content sources since it lacks any wireless connectivity, something that could be an issue in more modern entertainment setups.
Pros
4K resolution with HLG and HDR support
Bright lamp
Great choice for gaming
3D support
3 HDMI inputs
Good sound from built-in speakers
Cons
Long throw distance with limited alignment options
No wireless connectivity
---
Optoma UHZ50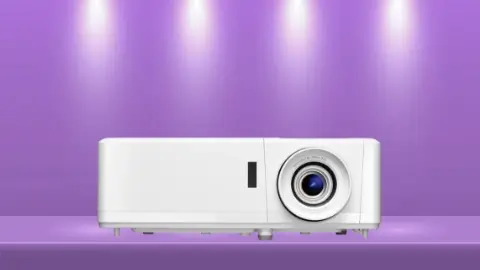 The Optoma UHZ50 has a lot in common with the UHZ45. It's just as responsive, with the same single-digit input lag potential that makes either projector a good choice for gamers. It also shares the UHZ45's 3D support and 4K resolution, with 3 HDMI inputs to support a variety of content sources.
One significant advantage of the Optoma UHZ50 is that it expands on those HDMI ports with an included Wi-Fi adapter. This adds the option of voice control through Amazon Alexa, Google Assistant, or IFTTT.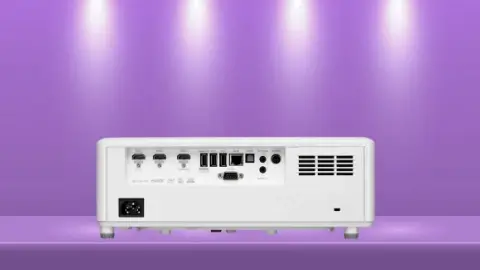 Whether you have a smart home or not, the Optoma UHZ50 is on the whole easier and more flexible to install. Its throw distance is a smidge shorter, only needing around 9-10 feet for a 100-inch image, thanks to its wider 1.3x zoom. It also adds 3X3 image alignment, a 10% vertical lens shift, and digital image shifting to the 4-corner adjustment of the UHZ45.
The UHZ50 also produces a sharper and more colorful image than the UHZ45. It has 4 HDR picture modes so you can optimize the display to your content. The Cinema Display Mode expands the color gamut to the full Rec.709 spectrum, producing more natural and lifelike on-screen colors for a more immersive viewing experience.
Pros
Sharp 4K image with strong color and contrast
Voice control through multiple platforms
Good brightness for most indoor spaces
Low input lag for gamers
Shorter throw distance and easier installation
Solid built-in speakers
Full 3D support
Cons
---
The Verdict
Either of these projectors will give you hours of entertainment, whether you prefer watching movies and TV shows or playing games on the latest consoles. If you want smart home capability, the Optoma UHZ50 is the obvious winner, and its superior image quality and more flexible setup are a plus for many buyers, too (>>> Find price on ProjectorScreen.com). On the other hand, the UHZ45 usually sells for a lower price, and has a brighter lamp, too. Choosing the right one is a matter of analyzing your space and budget needs to determine which one's the better fit.
Related Buying Guides: