A smart projector is a convenient choice for a modern home theater, letting you wirelessly access and play your favorite content and giving you more options for controlling the projector and integrating it into your broader smart home ecosystem. But what's the best smart projector for your home?
The truth is, there's no one answer to that question for everyone. If pressed to pick a favorite, the Optoma UHZ50 is a strong overall performer, with home automation integration capability as well as voice control and streaming, paired with a high image quality and low lag for gaming (>>> Check on Amazon). That said, each of the projectors on the list below will be the best choice for a certain kind of user. Read on to see how they differ and find the right one for your needs.
Best Smart Projector – Top Picks for 2023:
| | Optoma CinemaX D2 | Epson LS800 | BenQ V7050i | Optoma UHZ50 | Epson 2350 | Samsung LSP9T |
| --- | --- | --- | --- | --- | --- | --- |
| | | | | | | |
| Resolution | 3840x2160 | 3840x2160 | 3840x2160 | 3840x2160 | 1920x1080 4K w/pixel shifting | 3840x2160 |
| Brightness (Lumens) | 3,000 ANSI | 4,000 ANSI | 2,500 ANSI | 3,000 ANSI | 2,800 ANSI | 2,800 ANSI |
| Contrast Ratio | 1,800,000:1 | 2,500,000:1 | 2,000,000:1 | 2,500,000:1 | 35,000:1 | 2,000,000:1 |
| Input lag | 4ms | 16.7ms | 69.1ms | 4ms | 18ms | 55.9ms |
| Throw Distance | 1.5' - 2.2' | 0.9' - 1.8' | 0.2' - 1.1' | 4.0' - 26.6' | 6.2' - 48.7' | 0.4' - 0.8' |
| Screen size | 85" - 120" | 80" - 151" | 70" - 120" | 34" - 303" | 40" - 500" | 100" - 130" |
| Speakers | 10.0 Watts × 2 | 20 Watts | 5.0 Watts × 2 | 10.0 Watts × 2 | 10.0 Watts Mono | 10.0 Watts × 4 |
| Price | ProjectorScreen.com | ProjectorScreen.com | ProjectorScreen.com | ProjectorScreen.com | BHPhotoVideo.com | ProjectorScreen.com |
Brightness
A projector doesn't do you much good if you can't see the image. In a completely dark room, a brightness as low as 1,000-1,500 lumens can do the trick. Once you add ambient light, though, you'll need a more powerful light source to maintain the picture's color and contrast.
A 3,000-lumen projector like the Optoma UHZ50 or CinemaX D2 will do the trick in most indoor spaces. For outdoor spaces or especially bright rooms, the 4,000-lumen Epson LS800 is the top choice.
Brightest projector: Epson EpiqVision Ultra LS800
Throw Distance
To get a large image from a traditional projector meant having an equally large space. Today, though, you can find ultra-short throw options that produce that same image size from mere inches away. That isn't just good news in smaller rooms, but also eliminates the need for ceiling mounts in most setups and makes it faster and easier to get the projector up and running.
There are # ultra-short throw options on this list: the Optoma CinemaX D2, Epson LS800, BenQ V7050i, and Samsung Premier LSP9T. While the BenQ has the shortest potential distance, producing a clear image from just 3 inches away, the Samsung is the winner by a hair, needing less than a foot of distance for screens up to 130 inches.
Shortest throw distance: Samsung LSP9T
Input Lag
For gamers, the responsiveness of a projector is its most important stat, ensuring there will be no delay between your input on the controller and what happens on the screen. While many of these projectors can be used for gaming, the Optoma UHZ50 and CinemaX D2 stand out for offering an input lag as low as 4ms paired with a fast 240Hz frame refresh rate, ensuring instant responsiveness and a smooth response while you play.
Lowest input lag: Optoma UHZ50, Optoma CinemaX D2
---
Optoma CinemaX D2 Smart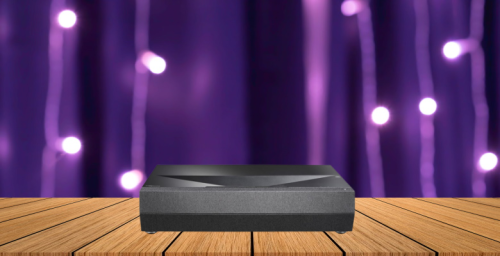 Pros
Sharp 4K picture with excellent color and contrast
Ideal brightness for most indoor spaces
Ultra-short throw with advanced geometric correction
Wall Color Adjustment for screen-free setups
Good sound quality and output from built-in speakers
Includes an Android TV streaming dongle
3D ready
Cons
Smart features are more limited than previous models
The flexible installation of the Optoma CinemaX D2 is its first strength. It has an ultra-short throw distance and powerful 3,000 laser light source that make it suitable for a variety of spaces, regardless of their size and light level.
Thanks to the wall color adjustment option you don't even necessarily need a screen, while the geometric correction tool lets you adjust the image on individual points to ensure it's square and free of warping on any surface.
You'll get similar versatility when it comes to your content. Its DLP display produces an immersive true 4K picture, with a high dynamic contrast and coverage for the full Rec.709 spectrum. The sophisticated Color Management System lets you fine-tune the colors further, while the ISF picture modes let you save settings optimized to your viewing area.
It also displays 3D content from most sources and is responsive enough for even competitive gamers, so it can handle all your entertainment needs.
The only place the CinemaX D2 is a bit of a let down is the "smart" promised in its name. Previous CinemaX models were honestly a bit stronger in this regard. It comes with an Android TV dongle that adds streaming capability and Google Assistant voice control, and pairs with the SmartFIT app to add automatic geometric correction and focus, but it lacks the home automation integration features and robust voice control support found on previous iterations.
Full review: Optoma CinemaX D2 Smart
---
Epson EpiqVision Ultra LS800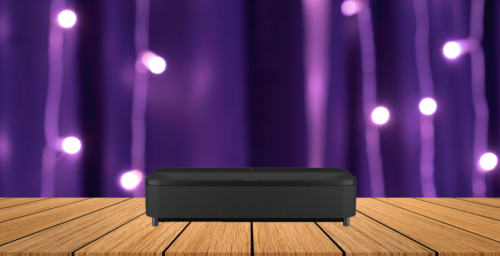 Pros
Sharp and high contrast 4K image
Realistic color with no rainbowing
Powerful lamp works well in bright spaces
Comes with a screen included
Ultra-short throw distance
Good choice for gaming
Built-in streaming and Chromecast
Integrated 2.1-channel sound system
Cons
Fewer image alignment features than other projectors
For those who are sensitive to the rainbow effect, a 3LCD display like the one in the Epson EpiqVision Ultra LS800 lets you enjoy your shows and movies without distracting flickering and other issues.
This is paired with a PRO-UHD pixel-shifting engine that produces the full 8.3 million on-screen pixels of a true 4K display. Add in the 10-bit HDR color processing and analog-to-digital video processing and you get a smooth, true-to-life image that you can truly get immersed into.
The Epson LS800 is also the perfect choice for those who want all-in-one capability. The included Android operating system has built-in Google Assistant and streaming from any app found in the Google Play store, along with Chromecast for mirroring from devices.
Its 2.1-channel speaker system has an output to match most standalone soundbars so you don't need external speakers. The icing on the cake is the included ALR screen, giving you everything you need to get set up right in the box.
That setup is fast and easy, too. Thanks to its ultra-short throw distance, it only needs around 14 inches for a 100-inch image. This means you can just place it on your entertainment center, power it on, and start watching, no need for ceiling mounts or other hassles.
You won't need blackout curtains or other light control measures, either, thanks to the 4,000-lumen DuraCore laser. That's bright enough it can even be used outside before dark without losing picture quality. For our more in-depth review of this projector, follow the link: http://projectortop.com/epson-ls800-review/
---
BenQ V7050i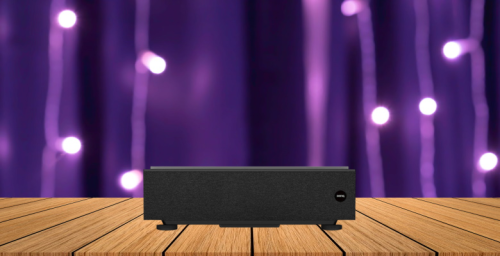 Pros
Sharp 4K image with multiple image modes
Wide color gamut
Produces a clear image with as little as 3 inches of distance
Integrated streaming interface with wireless casting
Google Assistant voice search
Good sound quality from built-in speakers
Cons
Input lag is too high for gaming
Speakers can't get very loud
The BenQ V7050i can produce a clear image with as little as 3 inches of distance, giving it the shortest throw on the list and a ton of versatility for fitting into rooms of any size. This short throw also makes the image look brighter than its 2,500 lumen rating might suggest, so while you likely won't want to use it outdoors during the daytime, you can use it in pretty much any indoor space without worrying about washout.
The CinematicColor system of the BenQ V7050i gives it coverage for 98% of the DCI-P3 spectrum, producing more nuanced hues than you'll see from a Rec.709 projector. It also uses HDR-PRO technology to bring the full detail of a 4K display, with a high dynamic contrast that delivers rich black levels and sharp details across the picture.
Film buffs will appreciate its Filmmaker Mode, which preserves the original image settings so you can see movies the way they were intended.
Our only major quibble with the BenQ V7050i is that it can't be used for gaming. Its input lag is high enough even casual players will likely find it frustrating, especially for reflex-based games like first-person shooters.
Its speakers also aren't as powerful as what you'll get with other options, though their TreVolo tuning and virtual surround sound produce balanced and clear audio, so you can use it without external speakers in smaller spaces.
It also comes with a built-in Android streaming interface, with AirPlay and Chromecast wireless casting and Google Voice Assistant support rounding out its smart features. For our more detailed review of the BenQ V7050i, click here.
---
Optoma UHZ50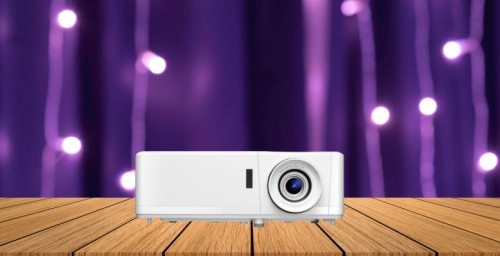 Pros
Crisp true 4K image with wide color gamut
Excellent choice for gaming
Can project onto angled walls or curved screens
Hands-free voice control through Google or Alexa
Supports IFTTT for easy smart home network integration
Good performance from built-in speakers
Compact and lightweight design
Cons
With a single-digit input lag and 240Hz refresh rate for full HD content, the Optoma UHZ50 is among the best smart projectors for gamers. It's also a great choice for watching shows and movies thanks to its Ultra HD resolution, support for HDR10 and HLG, and wide cinema-quality color gamut, with more than 1 billion displayable colors.
You'll also get lifelike 3D from nearly any source. In short, whatever type of entertainment you're after, the Optoma UHZ50 can handle it.
The smart features of the Optoma UHZ50 are equally robust. You can download streaming platforms through the Marketplace App and use the built-in media player and Digital Gallery to display personal files. It also supports both Alexa and Google hands-free voice control, with IFTTT support so you can integrate it easily into home automation routines.
All of these features are packed into a relatively compact package. The UHZ50 is less than 5 inches tall and weighs just over 10 pounds, small enough you can take it with you to the office for presentations or outside for backyard movies. Its 3,000-lumen lamp can handle moderate light levels without any washout.
While it does have a standard throw distance, needing around 10 feet to fill a 100-inch screen, it has robust alignment features that still give it a fairly flexible set up.
This includes both horizontal and vertical image shift, as well as 4-corner correction and a 3X3 anti-warp matrix. It also supports curved screen projection for things like flight simulators, further expanding its potential uses.
---
Epson Home Cinema 2350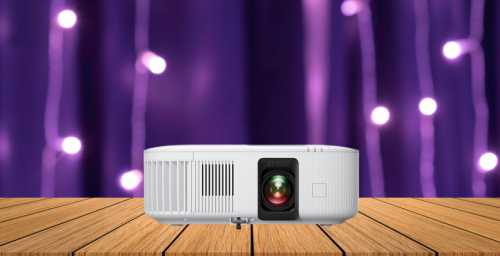 Pros
Pixel-shifted Ultra HD resolution
Cinematic color with 3LCD display
Good choice for gaming
Android TV interface with Google voice control
Produces images up to 500 inches
Relatively compact and portable
Excellent value
Cons
Long throw distance
Doesn't support 3D content
Less detail than a true 4K display
If you're looking for a smart projector on a budget, the Epson Home Cinema 2350 is a top option. It sells for half as much or less compared to other smart projectors, and still includes features like Bluetooth streaming and an Android TV dongle with Google Assistant voice control.
The main sacrifice you'll make for the lower price is resolution. The Epson 2350 has a native 1080p display, with a pixel shifting engine that roughly doubles the on-screen pixels but doesn't quite get to the detail of a true 4K resolution.
This doesn't mean it has a poor image quality, though. It still uses Epson's 3LCD color system and supports HDR10 for a strong dynamic contrast. It's also a good choice for casual gaming, with a measured input lag under 20ms for both 4K and 1080p content.
Along with being a great value, the Epson 2350 is relatively portable, with a compact design and a weight of about 9 pounds. It can also produce a larger image than many projectors, up to 500 inches diagonally, which can make it a smart choice for professional uses and institutions like schools or churches.
You'll need a lot of space to get that massive screen, though, and you will need to be mindful of the ambient light. Its lamp can handle low to moderate light levels but may be prone to washout in brighter spaces. Click here for our more in-depth review of the Epson 2350.
---
Samsung Premier LSP9T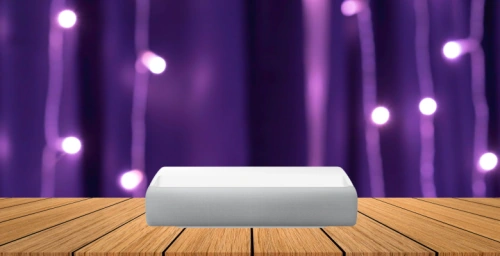 Pros
4K image with excellent color and strong contrast
Ultra-short throw needs just inches for a big screen
Support for multiple voice control agents
Tizen streaming interface with easy screen mirroring
Powerful and immersive sound from built-in speakers
Cons
Input lag is too high for gaming
High cost
The Samsung Premier LSP9T uses a Tizen Smart TV interface that has built-in voice control through multiple services, including Alexa, Google, and Bixby, and is ready to stream content through platforms like Netflix and Amazon Video right out of the box. You can also mirror content easily from phones by just tapping the phone to the projector.
The Samsung LSP9T is also one of the few projectors with audio quality to match its image quality. Its 4.2-channel sound system uses Acoustic Beam technology to fill your listening area with balanced, immersive sound.
On the image side, it has true 4K resolution with triple laser color and HDR10+ support. You can use the PurColor system to fine-tune the color and optimize the image to your space or use Filmmaker Mode to restore it to its original format.
Speaking of space, you don't need a ton for the Samsung Premier LSP9T. Its throw distance is measured in inches, giving it a fast and straightforward setup and maximizing the brightness from the laser light source.
Just about the only thing this projector can't do well is gaming. Even in Game Mode, its measured input lag comes in just under 60ms. This may be fine for casual players of puzzle games or RPGs but will mean a noticeable delay for faster-paced games. Full review: Samsung Premiere LSP9T Review
---
So What's the Best Smart Projector?
While the Optoma UHZ50 has the most robust smart features on the list, and is the best overall performer, that doesn't mean it's the best choice for everyone (>>> Check price on ProjectorScreen).
Buyers on a budget will love the value of the Epson 2350, while the super short throw and excellent sound of the Samsung LSP9T make it a convenient choice. We hope this comparison has helped you find the right smart projector for your home!
FAQs
Do all of these projectors have a built-in streaming interface?
All of them have streaming capability, but it's not integrated in all of the projectors. The Optoma CinemaX D2 and Epson Home Cinema 2350 instead come with an Android TV dongle that gives them the same functionality but must be plugged into an HDMI port to get it.
What's the best smart projector for home automation integration?
That would be the Optoma UHZ50. It's the only option on this list that supports IFTTT, along with its other smart features and voice control support, giving it a range of ways to integrate into smart homes.
Do I need a screen with these smart projectors?
Not necessarily. The Epson LS800 comes with a screen included, so you won't need to buy one yourself. For screen-free installations, the Optoma CinemaX D2 is a top choice, with Wall Color Adjustment and the ability to project on angled surfaces, and the Optoma UHZ50 can also be used on curved or slanted surfaces with no issues.
For the rest, a screen will ensure the best image quality, though you can project straight onto a wall as long as you have a flat, white surface that's large enough.