There's a model for everyone in Epson's Home Cinema line of home theater projectors. With the Epson 2350, you'll get a low input lag that's great for gaming, along with a streaming interface and a pixel-shifted Ultra HD resolution, all at a very affordable price.
Not sure whether this is the right projector for your needs? Check out its full details in this Epson Home Cinema 2350 review to help you decide (>>> Check its pricing on Amazon).
Epson Home Cinema 2350 Review of Features:
| | Epson Home Cinema 2350 |
| --- | --- |
| | |
| Resolution | 1920x1080 4K w/pixel shifting |
| Brightness (Lumens) | 2,800 ANSI |
| Contrast | 35,000:1 |
| Input lag | 20ms |
| Throw Distance | 6.2' - 48.7' |
| Screen size | 40" - 500" |
| Speakers | 10.0 Watts Mono |
| Today's Best Price | BHPhotoVideo.com |
Pros
Pixel-shifted Ultra HD resolution
Excellent color performance
Responsive enough for gaming
Includes a streaming dongle with voice control
Two-way Bluetooth connectivity
Flexible installation
Cons
Long throw distance
Smart features are limited
Installation and Space
The Epson Home Cinema 2350 uses a traditional bulb lamp that produces 2,800 lumens in its brightest mode. That's the ideal brightness for most indoor spaces, and powerful enough to maintain a clear picture even with some ambient light.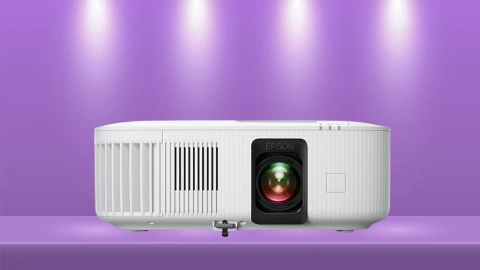 The only thing to keep in mind is that brightness drops to 1,900 lumens in Eco Mode. This dimmer setting will still suffice in a dedicated home theater space, and can handle a bit of light from lamps, but can't compete with natural sunlight or other bright light sources.
The standard-throw lens on the Epson 2350 does need a good amount of space for a big picture. You'll need at least 10 feet to fill a 100-inch screen, and potentially up to 15 feet depending on your other settings.
On the plus side, its 1.62x zoom and 60% lens shift give you some flexibility for aligning the image, and it has a 2D keystone correction to ensure a square image.
Connectivity
The rear panel of the Epson 2350 has the standard dual HDMI and USB inputs. It also supports streaming via Bluetooth from phones and tablets, and comes with an Android TV dongle that adds Wi-Fi connectivity, a streaming interface, and Google Assistant voice control capability.
Unfortunately, since this interface isn't built-in, you'll need to sacrifice one of the HDMI inputs to add this capability. That can be annoying in setups with multiple content sources. If you want to use a game system, cable box, and the streaming interface, you can't plug all of them in at once unless you have a receiver.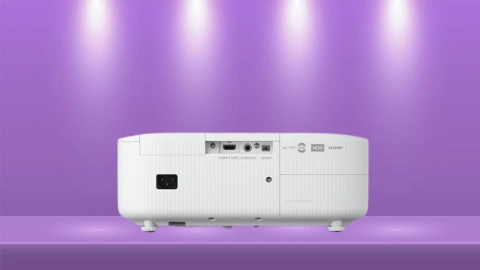 Image Quality
The Home Cinema 2350 accepts 4K content from all sources. That said, its native display resolution is 1080p. It uses a PRO-UHD pixel-shift engine to increase the number of on-screen pixels. The result is a more detailed image than a standard full HD display, but it doesn't quite match a native 4K display.
Where the Epson 2350 excels from a picture standpoint is its color performance. It uses 3LCD technology to produce the full RGB color signal in each frame, with over a billion colors and no pesky rainbowing or other issues to disrupt your viewing experience.
Gaming
You can play any type of games on the Epson 2350. Its measured input lag is around 20ms, which is low enough even most serious and competitive players won't notice any latency. This is paired with a 120Hz refresh rate for 1080p content, ensuring smooth on-screen action with no frame tears or freezing.
Epson Home Cinema 2350 Review in Summary
Versatility and value are the main strengths of the Epson Home Cinema 2350. It performs equally well for movies or games and has a flexible installation that can adapt to most indoor spaces, all at an MSRP a few hundred dollars lower than most 4K projectors.
That said, for something that calls itself a "smart projector", it doesn't offer much in the way of hands-free control or home automation integration. It also needs a lot of space and has a low lamp brightness in Eco Mode, which could limit its use in some rooms.
If these things aren't an issue for you, though, the Epson 2350 is an affordable way to super-size your home entertainment (>>> Check it's pricing on Bhphotovideo).
FAQs
Does the Epson 2350 have built-in speakers?
It does, although you may still want an external sound source. The single 10-watt speaker is relatively weak and won't produce the immersive sound you'll get from a dedicated speaker.
On the plus side, its Bluetooth connectivity means you can easily use a wireless soundbar or speaker system, and it also has a 3.5mm audio jack for wired sound.
How long does the lamp of the Epson 2350 last?
That depends on what mode you're using it in. At full brightness, it has an average lifespan of around 4,500 hours. That increases to 7,500 hours in Eco mode, though you'll sacrifice some brightness for that longer lifespan.
Check comparisons versus other projectors: