Epson's home cinema projectors combine high performance with value and convenience. Comparing the Epson 2350 vs 3800, you'll see both live up to this expectation – but which one is the better projector?
The truth is, there's no clear-cut answer to that question for everyone. Both use a similar 3-chip color system and pixel-shifting engine for the display, as well as a similar lamp and lens design.
Let's take a closer look at the main differences between these two projectors so you can decide which one is the best fit for your needs. (>>> Check on Amazon)
Epson 2350 vs 3800 Side by Side:
| | Epson 2350 | Epson 3800 |
| --- | --- | --- |
| | | |
| Resolution | 1920x1080 4K w/pixel shifting | 3840x2160 |
| Contrast | 35,000:1 | 100,000:1 |
| Brightness (Lumens) | 2,800 ANSI | 3,000 ANSI |
| Input lag | 20ms | 20.6ms |
| Throw Distance | 6.2' - 48.7' | 6.2' - 28.8' |
| Screen size | 40" - 500" | 40" - 300" |
| Speakers | 10.0 Watts Mono | 10.0 Watts × 2 |
| Today's Best Price | BHPhotoVideo.com | ProjectorScreen.com |
Gaming Performance
Either the Epson 2350 or Epson 3800 can be used for gaming. Both register an input lag of around 20ms, which is responsive enough for all but the most serious and competitive players.
That said, the Epson 2350 has a slightly lower input lag, as well as a faster 120Hz frame refresh rate for Full HD content (compared to the 60Hz refresh rate of the 3800). This gives it the edge for online gaming, first-person shooters, and other times that every second counts.
Better for gaming: Epson 2350
Space Flexibility
Both of these projectors have a long throw distance and will need a larger space to fill a big screen. The Epson 3800 has two advantages in this regard, however. First, its lamp is a bit more powerful, giving it more flexibility for different light environments.
It also has a wider array of image alignment features, including lens shift as well as zoom and keystone correction, giving users more ways to get the perfect fit for their space.
More flexible to install: Epson 3800
Wireless Connectivity
There are no wireless connectivity options on the Epson 3800. The Epson 3250 comes with Bluetooth and Wi-Fi capability, as well as an Android TV dongle that adds direct streaming. This gives it the advantage for modern streaming-based entertainment systems.
More wireless options: Epson 2350
---
Epson 2350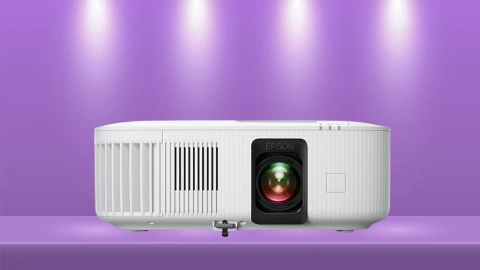 Pros
Excellent color with no rainbowing
High-contrast pixel-shifted 4K display
Low lag for gaming
Built-in Wi-Fi and Bluetooth connectivity
Includes an Android TV dongle
Good vareity of image adjustment options
Cons
Released in September 2022, the Epson 2350 uses an updated version of the PRO-UHD pixel-shifting technology found in other Epson home theater projectors. This gives it a resolution nearly to true 4K levels, though you'll still see some detail loss compared to a native 4K display.
On the plus side, its color production is phenomenal, using a 3-chip system that displays the full color signal in every frame with no risk of flickering, rainbowing, or the other image issues that can plague projectors using color wheels.
This high image quality is also good news for gamers, who will find a lot to love about the Epson 2350. It has a measured input lag under 20ms for both 4K and Full HD content, with a 120Hz refresh rate for smooth gameplay.
You can also save the dual HDMI inputs for gaming consoles in multi-use setups thanks to the built-in Wi-Fi and included Android TV dongle. It also supports Bluetooth streaming from phones and devices, so there are lots of ways to get your content to the projector.
The main downside of the Epson 2350 is that it has some space limitations. Its lamp is bright enough to use in moderate ambient light levels, but you may need to take light control measures in brighter spaces. (You can check out the roundup review of the best projectors for bright rooms on Projectortop.com.) 
You'll also need a large room to get a big screen. The 2350's throw distance is on the long side, even for a standard throw projector. Image correction features like automatic 2D keystone correction and 60% vertical lens shift add some flexibility, but even so it's somewhat limited in terms of where you can use it.
Full review: Epson 2350
---
Epson 3800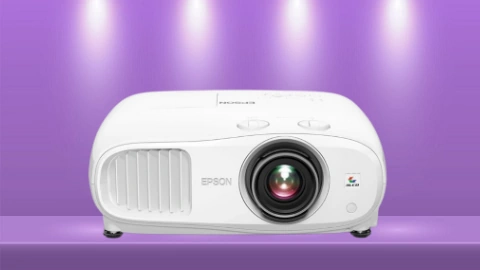 Pros
Immersive and realistic color
High-contrast, pixel-shifted 4K display
Suitable for most gamers
Supports 3D content
Flexible and easy to install
Ideal lamp brightness for most indoor spaces
Cons
No wireless connectivity or streaming
Long throw distance
The Epson 3800 uses similar 4K PRO-UHD pixel-shifting technology and 3LCD color to the 2350 above. It goes a step further, however, with full 10-bit HDR processing and 12-bit video processing.
This gives it a sharper image contrast and smoother on-screen action, giving it a more immersive overall picture. The slightly brighter lamp helps here, too, maintaining that contrast and clarity in a wider array of light levels.
The Epson 3800 also has a similarly long throw distance to the model above, and you'll need an average of 11-12 feet to fill a 100-inch screen. As long as you have the room for it, though, it's fairly flexible to install.
It has both horizontal and vertical lens shift as well as 2D keystone and a 1.62x zoom, so it doesn't need to be positioned perfectly head-on to the screen or wall to produce a square image.
The Epson 3800 delivers a similar versatility when it comes to how you use it. It has a low enough lag for most gamers to play frustration-free, albeit not quite to the 16ms mark that competitive gamers look for.
It also supports active 3D glasses and 3D content in multiple formats (frame packing, side-by-side, and top-bottom). That said, you will need to use the HDMI inputs to get this content to the projector since it lacks wireless connectivity or a streaming interface.
---
The Verdict: Epson 2350 vs 3800
The Epson 2350 and 3800 sell at a similar price point from most retailers, and offer a similar value for the money. This means you can make your choice based on the features you need.
The wireless capability and gaming performance of the Epson 2350 will make it the better choice for some, while others will prefer the 3D support and more flexible installation of the Epson 3800 (>>> Find on ProjectorScreen).
We hope this comparison has helped you decide which one is the right choice for your home!
Related Guides: